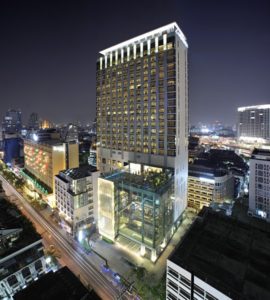 When in Thailand, and if luxury is what you crave and live for, Le Meridien Bangkok will make your cravings a thing of the past. This astonishing five star hotel situated in the center of Bangkok in the Silom business district is a sybarite's home away from home.
The hotel is near to famous Patpong Night Market, ten minutes from the Saladaeng BTS Skytrain station and a convenient five minutes walk from the new Silom MRT station therefore making it an incredibly accessible spot for both those who wish to visit you while on your stay in the urbane capital or for guests who wish to go on adventures to explore cosmopolitan Bangkok city. Le Meridien is less than an hour away in taxi from both the Suvarnabhumi International Airport and Don Muang airport. The hotel makes sure that going out is as easy as taking a breath and at the same time makes it a little harder considering the many little things one can indulge in within the hotel grounds itself.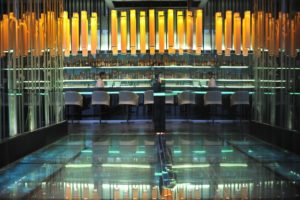 The hotel is fully equipped with everything guests may require during their stay. First off, is Bamboo Chic Bar, where guests may enjoy a drink or two in a futuristic contemporary lounge setting with turquoise glass floors which reflect the modern floating candle-like lamps hung from its ceiling. The unique and vibrant ambiance is perfect to explore their intricate assortment of signature cocktails,  their wide selection of wines and spirits from all over the world, and the perfect variety of snacks and delicatessens to combine with the beverages. Another gastronomic asset of the hotel is Latest Recipe, where one may experience an interactive dining experience inspired by tastes from all over the world through a culinary collection of recipes from Le Meridien Hotels from around the globe. The breakfast it provides, as many guests debate, could be seen as on the best in the city. Latitude 13 in the lobby area  is for coffee loving guests. This magnificent lounge area provides a list of delicious cold refreshments to beat the heat, hot beverages for the soul and a delicious assortment of snacks throughout the entire day, beginning right after the sunrise, for those early birds that nest under the hotel's pleasant luxurious comforts.
Le Meridien Bangkok, part of Starwood Hotels and Resorts is needless to say, synonym to lavishness and grandeur. It screams indulgence and opulence with its 282 effortless yet beautifully designed contemporary guestrooms and suites which are aimed to capture the beautiful cityscape in contrast to the pink evening skies and the rare purple oranges that unfold in the morning through the sweeping floor-to-ceiling windows in all its rooms. Guests can chose from a range of room options- the choices include Vista, Vista Plus, Vista Executive and the sumptuous Circular room. All of the latter have complimentary internet access, 24-hour in-room dining, and 24-hour front desk services which reflect on the unforgettable hospitality of Thai culture in general and Le Meridien in particular. The staff at the hotel make it a point to ensure that your troubles and theirs and consequently guarantee that you can count on them for whatever you may need.
The hotel offers a fully equipped fitness centre whereby guests can get fit in the grandeur of the hotel, a serene and placid SPA, and a refreshing outdoor pool to cool down after a heavy workout. The swimming pool area can be used to either alleviate oneself from the unforgiving Bangkok heat or get the perfect sun kissed tan laying down in the serenity of large and inviting hammocks. Not only is Le Meridien an incomparable accommodation choice while on holidays, it is also a perfect venue for business travellers who can make use of the Grand Atelier, the Atelier I, or the Atelier Boardroom for either large or petit comite entrepreneurial meetings and presentations.
Le Meridien Bangkok' s exceptional  style, luxurious comfort and majestic aesthetics make it a one of a kind hotel, a choice for rising entrepreneurs, loving couples, and united families to enjoy Bangkok city in all its grandeur from an awe-inspiring point of view.