On April 23rd at the St. Regis's Zuma Restaurant in Bangkok, 220 of Bangkok's food and beverage industry insiders got together to celebrate the first ever Bangkok Bar Awards.
After three successful years in Singapore and Hong Kong, the Bar Awards came to Bangkok to award winners in 12 different categories. The Bar Awards process started with a public nomination period from March 1st to the 14th. Thirty-nine industry leaders representing different facets of the F & B industry then whittled the list down to the top 10 in each category before later voting for the winners.
"For the first ever awards in Bangkok, we're especially proud that Bangkok's female bartenders have swept up all of The Bar Awards' individual categories," says Tron Young, one of The Editors of The Bar Awards across Asia. "We also hope this first list for Bangkok will serve to recognise the industry's best, and spur on the city's F&B players to continue to push their local scene to greater heights!"
Best Restaurant Bar – Vesper Cocktail Bar & Restaurant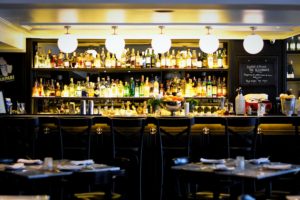 Founded in 2014 , Vesper is a drinking den and an Italian restaurant by Choti & Debby Leenutaphong, a husband-and-wife team of passionate foodies and restaurateurs (il Fumo Restaurant & Bar) along with their long-time collaborator Chef Luca Appino of the famed La Bottega di Luca.
At Vesper, they have two obsessions: serious cocktails served in an unpretentious setting and Italian cuisine with full respect to ingredients and traditions. In 2016 they earned spot 17 in Asia's 50 Best Bars.
Vesper Bar & Restaurant, Bangkok– 10/15 Convent Road, Silom, Bangkok. Open 7 days.
Best Hotel Bar – The Bamboo Bar at the Mandarin Oriental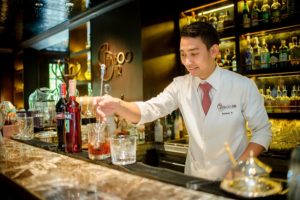 One of Bangkok's most iconic bars, the Bamboo Bar first opened their doors in the late 1940's. The bar has played host to some of the world's most famous patrons, Ray Charles, Sean Connery, Louis Armstrong, Eartha Kitt, Eric Clapton, Richard Clayderman, Roger Moore, Dionne Warwick, Duke Ellington, Marlon Brando, Noël Coward, Bryan Ferry, and Mick Jagger have all enjoyed the atmosphere of the Bamboo Bar with a few of the stars entertaining the lucky guests who happened to be there that night.
The Bamboo Bar, Mandarin Oriental, Bangkok– 48 Oriental Avenue, Bangkok. Open evenings from 5pm.
Best Cocktail Bar – Teens of Thailand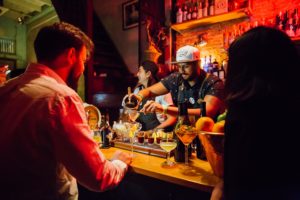 Conspicuously hidden behind two large, carved wooden doors, this old shophouse turned funky gin bar does understated in all the right ways. Teens of Thailand didn't make Asia's 50 Best Bars 2016 list for no reason, their creative gin concoctions are good enough to make gin lovers weak in the knees. Sip these infused gin cocktails surrounded by sensual photographs hanging on bare walls.
76 Soi Nana, Charoen Krung Rd, Bangkok, Thailand. Closed Mondays and Tuesdays.
Best Beer Bar – Mikkeller Bangkok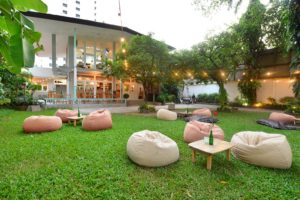 Opened 3 years ago, Mikkeller Bangkok was the first Mikkeller Bar in Asia, aside from the two in Copenhagen, Denmark and one in San Francisco, USA. The Mikkeller Family has grown a lot since then, with bars in multiple cities across the world. Situated only a few minutes from the busy streets of Sukhumvit and Thonglor. Mikkeller Bangkok is conveniently located in a quiet street on Ekamai Road (Sukhumvit Soi 63). Situated in an old Thai house from the 50's, they feature 30 rotating taps of the finest beers from around the world, as well as a constantly growing bottle selection.
Mikkeller Bangkok, 26 Ekkamai 10 Yaek 2, Phra Khanong Nuae Watthana, Bangkok. Open evenings from 5pm.
Best Bar Food – Bunker BKK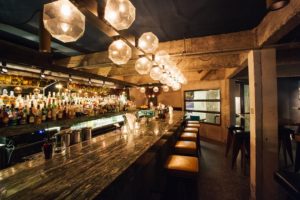 Bunker is a casual fine dining restaurant with craft beer and cocktails. Our flavors are inspired by the culinary landscape of modern day metropolitan American cities like LA, SF, and NYC. We dedicate and pride ourselves on sourcing ingredients of the highest quality and sustainability from both in and out of Thailand. Bunker is a place where simplicity, quality, and attentive care come together to provide an enjoying dining experience.
Bunker BKK, 118/2 Soi Suksa (Sathorn 12), Bangkok 10500. Kitchen Mon-Sun 5:30PM – 11PM
Bar Sun-Wed 5:30PM – 1AM & Thurs-Sat 5:30PM – 2AM
Other winners of the 2017 Bangkok Bar Awards included
The Rising Star Award
"Ann" Pinsuda Pongprom (The Bamboo Bar at Mandarin Oriental Bangkok)
Best Bar & Beverage Publication
DRiNK Magazine
Best Hospitality Team
Q&A Bar
Most Creative Cocktail Bar
Bronx Liquid Parlour
Best New Cocktail Bar
Backstage Cocktail Bar
The Ada Coleman Award
"Chacha" Suwincha Singsuwan (Rabbit Hole)
Bartender of the Year
"Chacha" Suwincha Singsuwan (Rabbit Hole)
On June 18, The Bar Awards will name the city's best establishments and personalities in Singapore, followed by awards parties in Hong Kong on Aug 20 and in Kuala Lumpur on October 22