What a great opportunity – competition sailing to help hone skills, meld teams and test vessels – and just three months before the Asian Games happening in Jakarta this August.
That's precisely what the 2018 Top of the Gulf Regatta Presented by Ocean Marina provided.
Held off Jomtien Pattaya from 27th April to 1st May 2018, the regatta is the largest multi-class sailing event of its kind in Asia with competitors coming from as far afield as Australia, Japan, Singapore, Hong Kong, and the UK, to name just a few of the more than 25 participating countries.
Because the 2018 Top of the Gulf Regatta represented such an ideal lead up to this year's Asian Games, many countries sent their national teams and Olympic sailors to compete, including Thailand who had their full national sailing squad racing in preparation for the regional championships.
Ocean Marina Yacht Club is the regatta's permanent home and as South East Asia's largest marina facility provides a convenient and safe base for a regatta of this size and diversity.
Up to 12 classes of boats participated this year including keelboats, multihulls, One-Design Platus competing for the Platu Coronation Cup, a series of dinghy classes, Optimists competing in the Thailand Optimist National Championships, and for the second consecutive year the IOM Class of radio controlled boats.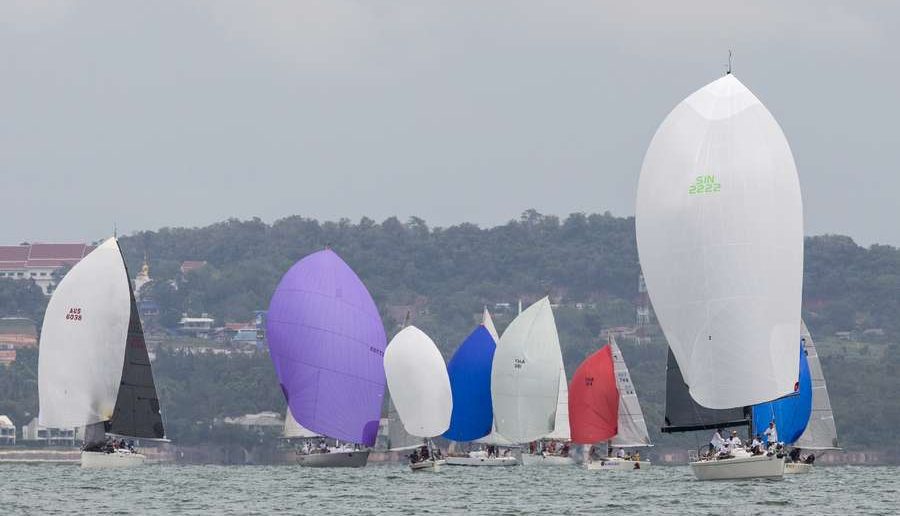 Founded in 2005, the regatta is owned and organised by Ocean Property and hosted by Ocean Marina Yacht Club with support from the Yacht Racing Association of Thailand, Royal Thai Navy, Royal Varuna Yacht Club and Pattaya City.
The regatta saw a strong line-up of international and Thai sailors, with more than 200 boats and over 600 sailors in total this year.
Top of the Gulf Regatta organisers have always viewed sailing as a sport for all, and since year one have supported youth sailing with Optimist (8 to 15 years) and dinghy (7 to 12 years) classes included in the regatta.
As the award-winning regatta enters it's 14th edition, organisers hosted a demonstration of the S\V14. A boat built in Thailand and designed primarily to be sailed by people with disabilities. This initiative by Disabled Sailing Thailand hopes to give people with disabilities the opportunity to sail and perhaps in the future, the chance to compete at international level including the Paralympics. Organisers believe making the sport more accessible is key to growing sailing in the country.
The 2018 Top of the Gulf Regatta has a reputation for delivering close and competitive racing, and this year the weather made the competition even tougher. Over the four days of the regatta, sailors experienced everything from moments of becalm to 25 knot squalls, thunder and lightning, and blue skies indicative of sailing in the tropics.
Results by Class
Keelboats, Class 1: IRC 1 competition former Optimist World Champion Noppakao Poonpat has driven the THA72 expertly winning five of the six races contended. An excellent result for her first time helming a boat of this size and calibre. The competition was tough with TP52 Ark 323 crewed by an all-Chinese team coming a close second.
Keelboats, Class 2: IRC 2, saw David Dimmock and crew on the Club Swan 42 Loco (USA) won the class with one race to spare, ahead of Gary Baguley's El Coyote (AUS) in second. Jean Rheault's Souay1 (CAN) whose results, particularly in the second half of the series, saw them slide into third place overall.
Cruising Class boats had a little more action than expected this week, with some windward/leewards replacing their "traditional" long distance series of races, and the sailors seem happy with the change. A single race on the final day brought their series tally to five. The all-Japanese crew on Team Spray took the win by a single point from Pote Suyasinto's all-Thai team on Le Vent. Two points further back was Tim McMahon's Sail Quest Hi Jinks in third.
One-Design Platu Class saw some exceptionally close racing during the week with no boat dominating. A few slips along the way in the ever-changing weather conditions had seven out of the 11-strong fleet on the podium at least once during the regatta. Despite a sixth place in the final race, Rolf Heemskerk's Team Viewpoint (MAS) were crowned 2018 Platu Coronation Cup winners, defending their title in the process. Ithinai Yingsiri's Thai team on Pine-Pacific were in the running throughout, but they had to settle for second overall, ahead of Chris Way's Easy Tiger III (AUS) in third.
Wins in the final two races of the series saw Kirati Assakul and his crew on the Crowther 42, Sonic, defend their Ocean Multihulls title from newcomer Dominique Demachy who sailed his KL 28 Edenko well.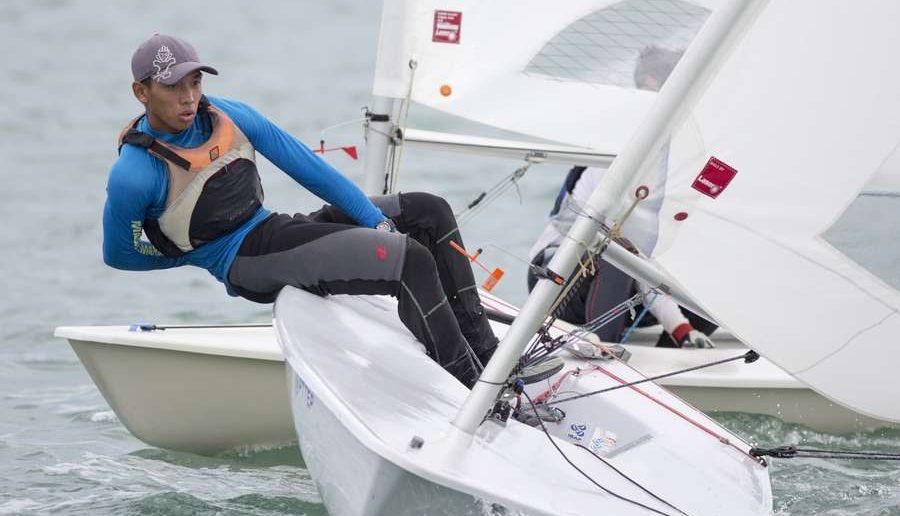 Dinghy Classes (9a, 9b, 10)
Keerati Bualong, Thailand's top Laser sailor and two-time Olympian won Class 9a with a masterful showing. Not always leading from start to finish, having to come from behind at times and mastering the mixed bag of conditions, he finished with a clean sheet – six wins from six races. Second and third was a much closer affair with Chusitt Punjamala putting together a string of second places in the last two days to place second overall, three points ahead of Jarunpong Meeyusamsen in third.
Class 9b (Laser 4.7s): Saranrong Poonpat and Sophia Gail Montgomery traded places throughout the series, but it was Saranrong who performed better on the final day and secured the win by a single point. Paliga Poonpat held onto third from a late charging Chanokchon Wangsuk.
The Double-Handed Monohull Dinghy Class (Class 10) saw a mix of 420s, 470s, 49ers and 49er FXs competing together on handicap. Having led from Race 1, Navee Thamsoontorn/ Nut Butmarasri (470) held on to take the title despite two third places on the final day. Suthida Poonpat/ Narisa Satta (470) had an excellent last day with a 2,1 scoreline tying them on points with Suthon Yampinid/ Kittipoon Kumjorn (420). However, after count-back, Suthon Yampinid/ Kittipoon Kumjorn were awarded second place.
Thailand Optimist National Championships
The Optimist entries were divided into two fleets – Gold and Silver fleets with a total of five races in the series. A hard last day for Hong Kong hopeful Duncan Gregor in the Gold Fleet saw him finish fifth overall, and the top international youngster. Having had a slow start to his competition, M.L. Weka Bhanubandh put in some solid performances to finish second overall and top sailor Under 12 (years of age), with Patihan Vorrasart in third. Yoth Srimanchanda comfortably won in the Silver Fleet with Attasuk Boontawee's two bullets on the final day enough for him to sneak into second ahead of Krithphet Suwannarai in third.
The Optimist championship glory and title, however, went to the most consistent sailor on the course over three days, whose 4,1,1,1 scoreline ensure he defended his title. Panwa Boonak – the 2018 Thailand Optimist National Champion.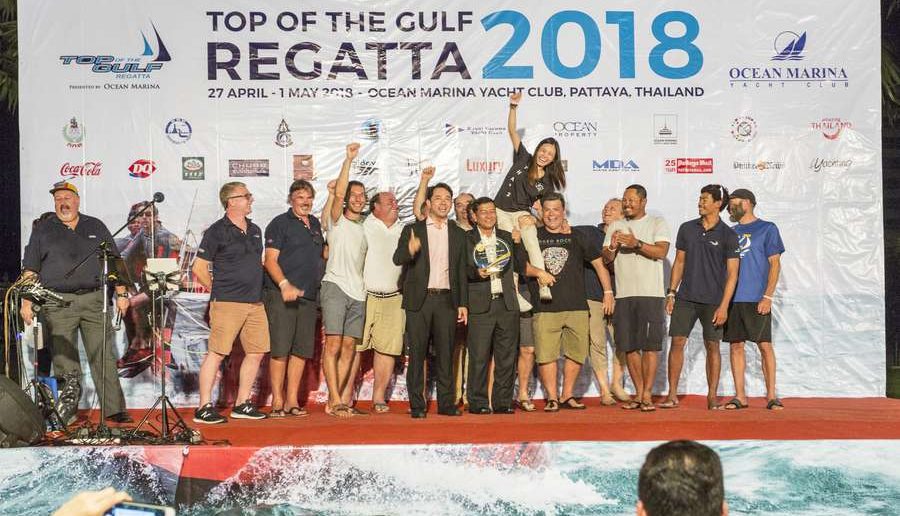 After some outstanding competition and significantly changing weather, all sailors, young and old, beginner and professional, came together for the Ocean Marina Gala Dinner. Prizes were presented by Mr Ittipol Khunpluem, Vice Minister for Tourism and Sports Thailand, and Admiral Thanee Phudpad, Vice President of the Yacht Racing Association of Thailand and brought to a conclusion the 2018 Top of the Gulf Regatta.
Michael Cullen
All photos by Guy Nowell/ Top of the Gulf Regatta