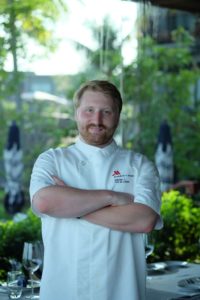 Chef Xavier Charest-Réhel is the exciting new Head Chef at Big Fish & Bar, the seafront dining destination at Hua Hin Marriott Resort & Spa.
A Canadian national, Chef Xavier is only 25 but has a lifetime of culinary experience, having been born into a family of chefs and worked in kitchens from the tender age of 12. Having started his career at L'Incrédule, the sophisticated French bistro in Longueuil, Quebec, he then joined Toqué!, the stylish Montréal venue that is headed up by star chef Normand Laprise and was once selected as the "Best Restaurant in North America".
Laprise took young Xavier under his wing and the two formed a close relationship. Having started out as a pot washer, Chef Xavier rose through the kitchen ranks to become Commis Chef and then Chef de Partie, before moving to Laprise's second restaurant, La Brasserie T!, as Sous Chef.
Capturing the trend of modern millennial dining, Chef Xavier – a self-confessed hipster – started up his own eatery, Norman Luncheonette, which was named as one of the "Top Ten Best Food Trucks" by Tourisme Montréal. On the back of this success, he moved to Italy in 2013 to learn from the masters of gastronomy, and then on to Phuket to become Executive Chef of Breeze at Cape Yamu, which was honored as the "Best Restaurant in Phuket" and one of Asia's "Top Six Champagne Sunday Brunch" destinations.
He still co-owns the food truck today – one of his many culinary ventures, along with brewing his own craft beer, Cheval Blanc. Chef Xavier's cuisine reflects his deep love of food, art and travel. Every dish is a work of art, drawing upon his global experiences and influences, including Jackson Pollock. Harnessing authentic local ingredients and fresh produce, Chef Xavier gives a unique, artistic twist to every dish.
Having achieved so much in a relatively short time, Chef Xavier is now bringing his dynamic, award-winning culinary style to diners at Big Fish & Bar, which overlooks Hua Hin's sandy beach and the glittering Gulf of Thailand. Guests can look forward to inventive menus that are funky yet simple, artistic yet artisan, and always created with love and passion.
With Chef Xavier at the helm, Big Fish & Bar is strengthening its reputation not only as one of Hua Hin's most exciting dining venues, but also as a "must-eat" destination for foodies from Bangkok, and all across Asia.