Are you part of a rare breed who is tired of large crowds, the hectic flow of people from a train to its platform, and the desert of concrete jungle our cities have been enslaved to? If you long to come closer to the magical properties nature has to offer, if you yearn for the freshness of a mountain breeze, and if you wish to see nothing but vibrant green rice paddies all the way to the horizon, Mae La Noi is the place to be. This small yet beautiful almost undiscovered paradisiac district in the south of Maeh Hong Son Province helps one swiftly slow down the restless motion of typical urban life transforming its visitors' state of minds from stressed and overworked to peaceful and untroubled. Mae La Noi promises its visitors to help them return to the city carrying at ease the simple yet essential human emotions the city life has stripped from us with its candid and unpretentious atmosphere which as gifts of nature tend to do, takes one right back to the utmost basics. Mae La Noi has three beautiful rivers which go through it and which are all a blissful attraction and aesthetic offering from Mother Nature to the viewers who are most in touch with the unique environment a flowing body of water can create. The rivers include Yuam, Mae La Luang and Mae La Noi River, all of which people can enjoy the view from and watch the rumbling flow of water with unintended patterns and tones of blue.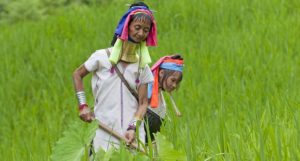 As you may expect from any undiscovered and almost virgin land to tourists, no one speaks English in this community oriented district situated about thirty kilometers north of Mae Sarian. The area is designed for long undisrupted walks, hikes to key spots to watch a beautiful sunset in all its radiance with no buildings to interrupt it, and typical local meals injected with all the fresh vitamins of the locally grown organic vegetables. Not only is an english speaking person rare to find in the area, but the choice of accommodation is limited to bed and breakfast spots and beautiful bamboo resorts too. Such rudimental places allow you to sleep in the middle of fields in tastefully designed typical bungalow rooms which will make the experience of Mae La Noi even more unforgettable with a one of a kind experience. The nights in Mae La Noi, in contrast to the city, are calm and silent carrying a cool gentle wind from the hills around. One can expect to have deep sleep like never before and awaken gracefully with the chirping of birds and the minute sounds of an incredible ecosystem preparing to start its day.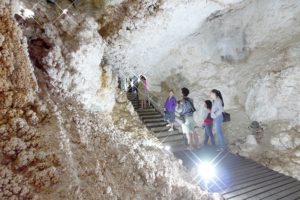 Although the beautiful region is not tourist oriented there are a couple of interesting places to visit apart from enjoying the gifts of mother nature. First off we have alluring Cave Kaew Komol, an ancient calcite crystal cave situated to the east of the town. This is a relatively famous attraction amongst Thai tourists which takes about 20 minutes to walk through and explore. The Cave is quite strict with its rules and does not allow hats, coats, backpacks or cameras inside the premises, they pursue a kind of tourism that is respectful to nature and open to small setbacks such as not being able to take photographs to make the curious underground chamber much more enigmatic than it would otherwise be. Tourists are only allowed a flashlight which many find is not really necessary since the cave is well lit and already allows visitors to basque in all its curious and virtuous glory. This natural phenomenon which is hard to find nowadays and not many would ever be attracted to is definitely worth it as well as interesting for people who are fascinated with the power and magic of nature. The entrance fee is a mere very worth it 80 baht, which includes a truck service going up and down one of the steepest hills from where the ticket booth is found.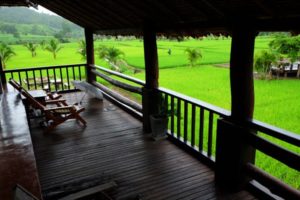 If you are a coffee enthusiast and want to enjoy some good home brewed coffee, teas and other such drinks, the Mae La Noi Coffee Shop will be your "it" spot for breakfast and to relax at any time while enjoying its beautiful panoramic view overlooking the depths of the valley below.
Another interesting area to explore in this honest and unembellished district and a must-see if one is interested in local culture is a hill tribe village in Huay Hom which is a short 30Km to the east and which surprisingly specializes in authentic thai coffee. In fact, the district has lots of genuine and traditional hill tribe villages found hidden in the mountains of the Mae La Noi main road. Some of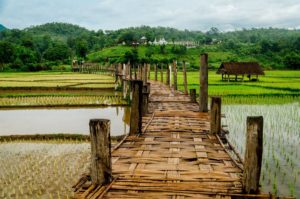 these include Lawa and Karen which can be found comfortably nestled in the voluptuous mountains and the plain sailing lowlands of Mae La Noi. The remote location of these small customary villages means that most of them are unfortunately still traditional and one can rarely find tourists passing through them. Once you get further into the mountains, some of these villages are mainly only accessible by walking for a long time or four wheel drives which can go through geographically difficult roads. What confirms and ensures the purity of these almost tribal villages is that it is highly advisable that tourists go in search of these small towns with the help of a local guide, otherwise one may be prone to get both lost in translation and lost geographically and physically speaking.
Most importantly and not to forget, is the fact that reaching Mae La Noi, is a very easy task. There are several buses which go from Chiang Mai, Mae Sot and Mae Hong Son to the unexplored district in extremely reasonable prices. To put things into perspective, an air conditioned bus from Mae Hong Son to Mae La Noi is only 150 Baht.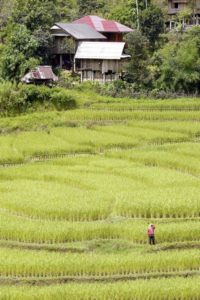 One can conclude that matter of factly, city life has nothing which particularly stands out as being wrong, but everything about Mae La Noi is right. So why not? Nothing can go south while going back to basics. An ingenious trip back in time always allows you to come back to the frenetic present in a more refreshed manner and having a perspective which without such an insightful trip you would never have the opportunity to feel deeply or realize in time before technology and stress consume you. In addition, it is the perfect excuse to force one to expand their thai vocabulary and have an intense and much needed practical session of pronunciation and comprehension with locals who don't speak a drop of english in order to improve conversation making while back to the daily urbanite life.