The 10th Anniversary of the Annual Amateur Charity Golf Tournament organized by the Rotary Club of Royal Hua Hin was held on the 29th November 2019 at the Banyan Golf Club.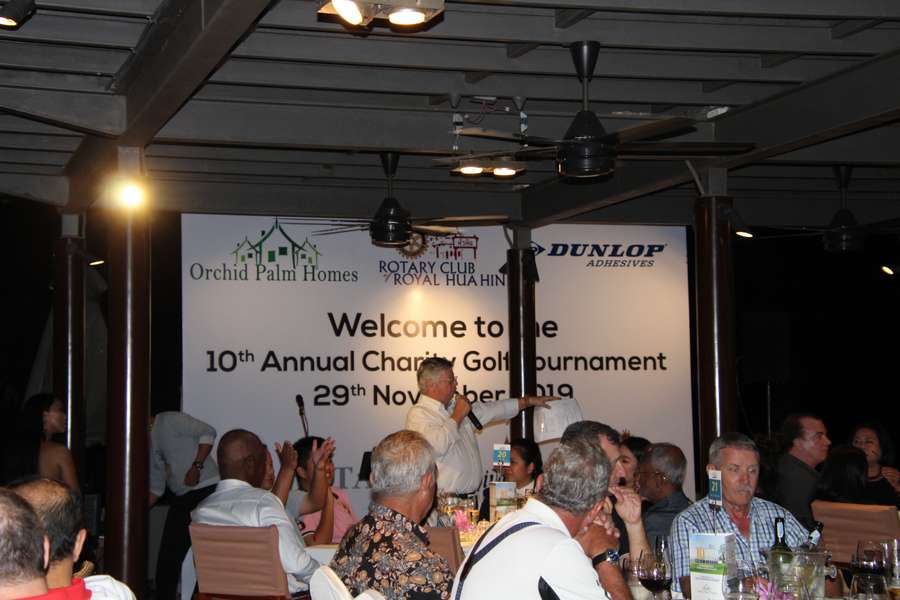 When the first tournament was held in October 2010 459,000 Thai Baht was raised for local charities which at the time was nearly double what the committee predicted to be raised.
This year has surpassed all expectations with an amazing Thai Baht 1,342,767 being raised to support Charities in the coming Rotary year, which marks our 10th Anniversary as the most successful tournament the Rotary Club Royal Hua Hin has run.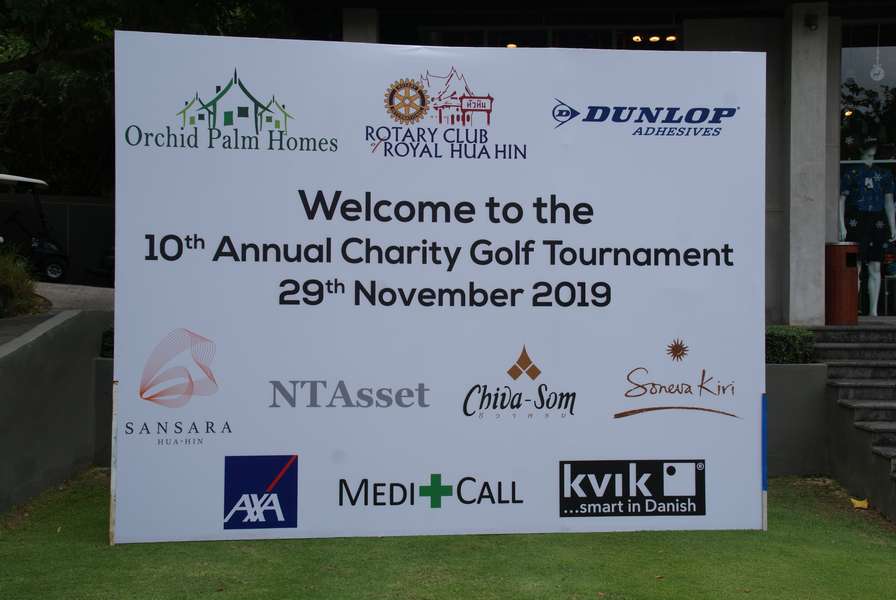 The event was supported by 32 teams and 128 players representing countries around the globe who enjoyed favourable weather conditions that made it a perfect day for a game of golf.
All the players enjoyed refreshments provided by Take 5 at the 9th hole including prosecco and Chang beer who sponsored the event whilst listening to entertainment from Surf 102.5 who were broadcasting live and conducted over 11 interviews with sponsors and players alike.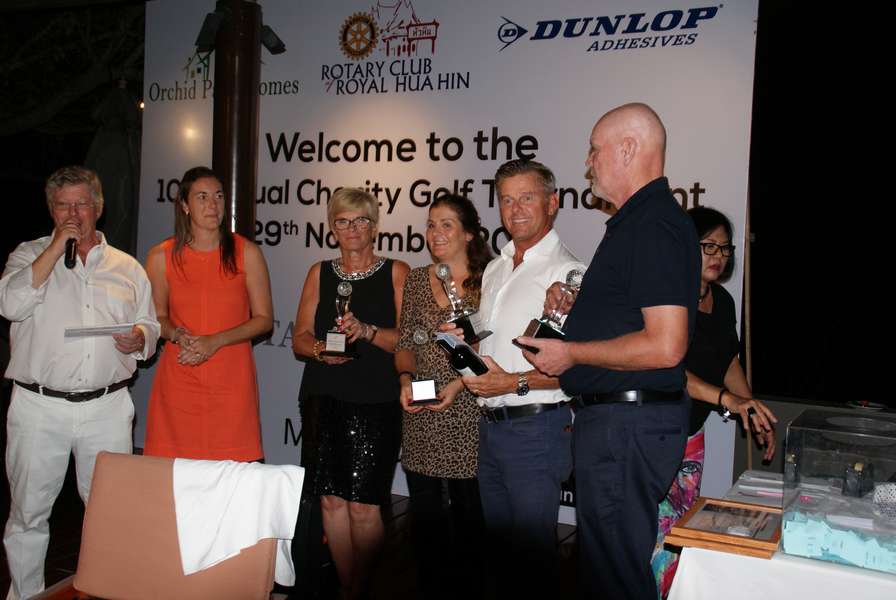 It is important to note that the Rotary Club Royal Hua Hin thank the Support provided by Banyan golf Club 33 sponsors especially the main sponsors who included NT Asset, Dunlop Adhesives, Sansara Black Mountain, MediCall, AXA Insurance, KVIK Kitchens, and their own Rotarian Lizzy Ginsel who made a generous donation. Without these there would be no tournament and therefore no money raised to help us support the local communities. According to Einar Brathe, Managing Director of Kvik Hua Hin, "We've been a sponsor of the Rotary Golf Tournament for 5 years and are pleased to participate as the money raised does so many good things plus it's a terrific day out with great folks."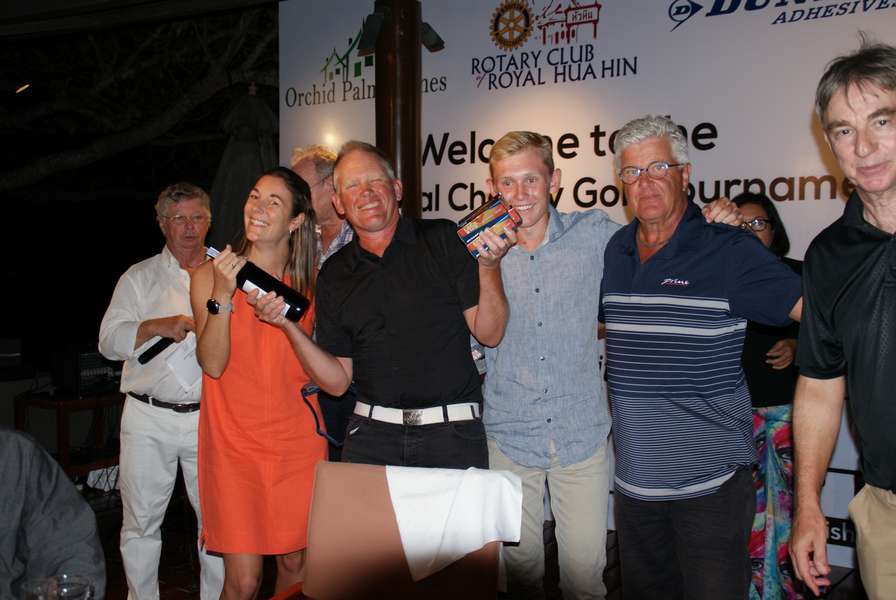 Once again Orchid Palm Homes was the main sponsor for this event.  Following on from the golf the highlight of the yearly tournament is the evening Awards Dinner. The champions for 2019 was Team DanSea who scored a net 55.2 with the runners up Hua Hin Twilight Golfers with a net 58.3 and the Oddballs coming third with a net 59.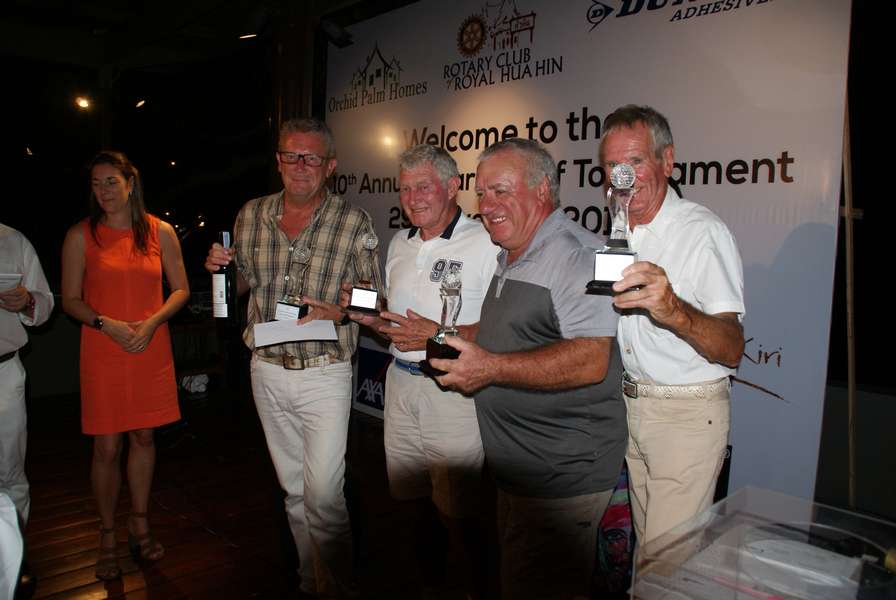 This year the dinner was attended by 180 people which was the maximum for this event with priority being given to their sponsors and guests. Apart from awarding prizes there was also a raffle for valuable prizes donated by sponsors that increased the overall total of the fund raising event. Suresh Subramaniam with Sansara, another sponsor of the tournament, had this to say, "At Sansara, we are big believers in the importance of giving back to the community. As such we are pleased to help sponsor the Hua Hin Rotary Club's annual golf tournament, knowing that the money raised will have a real impact on the lives of those in need".
Mark your calendar for next year as the 2020 tournament will be held on Friday 27th November again at the Banyan Golf Club.