Pattaya turned on the style for the sixth Ocean Marina Pattaya Boat Show with four days of excellent weather welcoming 4,554 visitors to the Gulf of Thailand's premier marine event at Ocean Marina Yacht Club which saw a extensive in-water display of global yacht brands as well as a diverse range of onshore exhibitors. This yearly event got its start in 2012 underscoring the Gulf of Thailand as a strategic yachting hub in South East Asia.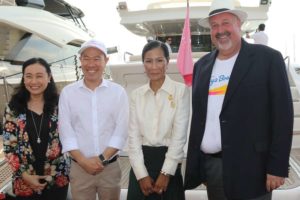 "We have an exciting line-up of exhibitors at this year's Ocean Marina Pattaya Boat Show ranging from day boats to luxury superyachts as well as marine products and services, luxury properties and much more." said Mr. Napong Paripontpochanapisuti, Acting Assistant Managing Director, Residential Business, Ocean Property Co. Ltd., organisers of the Ocean Marina Pattaya Boat Show.
"This year's show has been a great success. Not only has the line-up of exhibitors and displays been excellent, but the number of visitors and the quality of visitors has been very good too," said Mr. Scott Finsten, Harbour Master of Ocean Marina Yacht Club.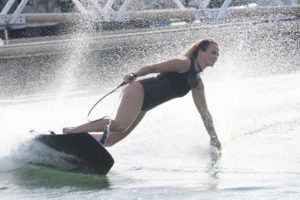 Turning heads at the show were JetSurf Thailand who were showcasing their new jet-powered surfboard and were one of multiple in-water activities which drew crowds daily. Pop-up restaurants dotted the marina front and provided visitors with al fresco dining options while kids activities and games ensured visitors of all ages were catered too.
The Networking Cocktail Party was attended by more than 300 of the industry's movers-and-shakers, and a charity auction of stunning Gulf of Thailand framed photos raised 40,000THB for Disabled Sailing Thailand, a non-profit organisation based in Pattaya who are building boats designed for disabled sailors.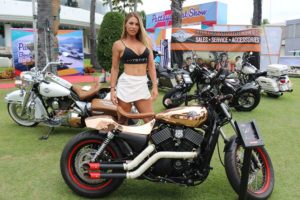 The Ocean Marina Pattaya Boat Show continues promote Thailand's marine industry and showcase the Gulf of Thailand's onshore facilities and offshore cruising grounds. Speaking of its central role in the region, Ms. Ewa Stachurska, Simpson Marine's Group Marketing Manager noted how important it was to hold an annual boat show in Pattaya, and how its growth will help to develop and increase brand awareness in the area.
Situated on Jomtien Beach in Greater Pattaya, Ocean Marina is Thailand's premier marina resort complex and the largest in South East Asia, a short drive from Bangkok and just one hour from Suvarnabhumi Airport. The world-class marina is complemented by a yacht club, accommodation, fine dining and recreational facilities as well as two luxury residences – San Marino and Ocean Portofino.
Ocean Marina is home to the annual Ocean Marina Pattaya Boat Show and Top of the Gulf Regatta – Asia's largest multi-class regatta – and has been the official venue for leading international events, including CataWorld Cup, 24th SEA Games, as well as large-scale concerts by Grammy, Cool FM and more. Ocean Marina was recently awarded "Best Marina in Thailand 2017" from Asian Lifestyle Tourism Awards.
Organisers have confirmed the dates for the 7th Ocean Marina Pattaya Boat Show: 29th November to 2nd December 2018 at Ocean Marina Yacht Club.