Natalia Vladimirovna Glebova was born in Tuapse Russia, a seaport situated on the northeast shore of the Black Sea. Here, she studied classical piano and graduated from a professional musical school at the age of 12. She also won various regional rhythmic gymnastics championships.
At the age of 13 she and her family moved to Ontario Canada. Growing up, Glebova worked as a model and attended Ryerson University in Toronto where she received her Bachelor of Commerce in Information Technology Management and Marketing. She has also worked as a motivational speaker for grade school and high school students.
In 2002, for the first time, she watched the Miss Universe Contest on television and afterwards her life was never the same. In 2004, Glebova attempted to win the Miss Universe Canada pageant where she placed as 3rd runner-up. Glebova competed again in January 2005, and won the title.
Glebova competed in the Miss Universe pageant held in Bangkok, Thailand in June 2005, where she became the fourth Canadian in ten years to make the initial cut of semi-finalists. She competed in the evening gown and swimsuit competitions, advancing to the top five where she competed in the final interview round. Throughout the contest, Glebova gave the traditional Thai greeting known as a "Wai" on every appearance which helped her win over Thai audiences and judges. At the conclusion of the pageant, Glebova was crowned Miss Universe 2005.
As Miss Universe, Natalie traveled extensively and immersed herself in a campaign to increase awareness of HIV and AIDS. She attended the G8 Summit in New York City on August 11, 2005, which reflected on ending poverty in underdeveloped regions and ending gang activity and drug cartels in Colombia.
In 2007, after her year as Miss Universe ended, she published her first book, "Healthy Happy Beautiful" and it turned out to be a major best seller. In 2018 Natalie published "I am Wining, A Guide to Personal Empowerment" which delivers a road map towards stimulating a champion mindset for personal happiness and successful living. Sharing her knowledge, she offers training to women competing in National and International Beauty Pageants and she is an accomplished motivational speaker. Natalie is married to Dean Kelly and In April of 2016, she gave birth to their daughter Maya.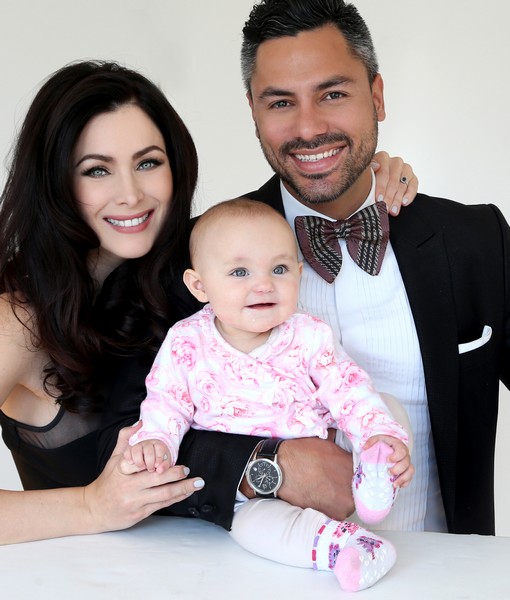 HOT Magazine had the distinct pleasure of catching up with Natalie in between her busy schedule.
HM: Natalie, you were born in Tuapse, Russia where you lived until you immigrated to Canada at the age of 13 with your parents. What memories do you have of those early years and during that formative period were there any specific people or events that set you on the path to where you are today?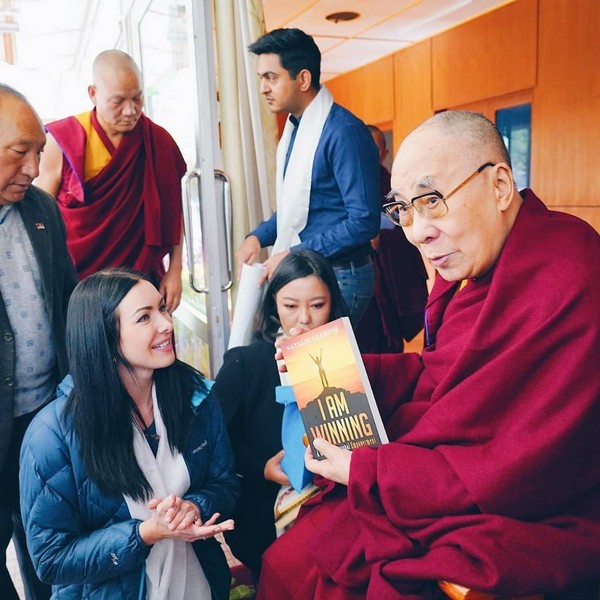 NG: My memories from childhood are happy ones – living in a small town on the coast of the Black Sea, going to the beach in the summer, and spending a lot of time with my grandparents at their house. My parents always wanted a better future for us, and to see me grow up in a more secure country (at the time we were leaving, the communist regime just ended so there was a lot of uncertainty). They packed a few bags, sold everything else and came to Canada where we started a brand new life. My parents really inspire me to this day, with their perseverance, vision, and fearlessness to do everything they can for their daughter. It was not easy the first few years as immigrants in a new country, but they came through the tough part with flying colors and gave me everything I needed – secure life, education, and happy life.
HM: Miss Universe, there isn't a bigger beauty pageant on the planet than that. Had you entered other pageants and at what age did you set your sights on the big prize?
NG: I hadn't heard about Miss Universe pageant until I was in my early 20's and the first pageant I ever saw on TV was Miss Universe 2002 where Oxana Federova from Russia took the crown. That pageant really inspired me to give it a shot for Miss Canada. I entered online, then was invited for an interview, got accepted to the local pageant for my province, and later selected as one of the candidates for Miss Canada. I was 22 when I entered this pageant. My first try for the title got me to the top 5, and fell just short of winning. So the next year, I tried again, this time winning Miss Canada at 23 years old and getting the chance to represent my country at Miss Universe 2005 pageant held in Thailand.
HM: How did you prepare for the Miss Universe Pageant and how much time in a week did you spend on it?
NG: I basically lived and breathed pageant preparation. I would spend hours getting ready for it in every single aspect of the competition. I watched past contests to really know every detail of this competition and visualized myself on the stage doing each part – evening gown, swimsuit, and answer segment. I approached this task as a business or academic project – I made a detailed plan of everything I needed to do in order to place at the top – from wardrobe, to fitness, to skincare and of course interview skills – and checked items off as I completed them. I feel that this has helped me win because I visualized myself at my best and did everything possible to make that vision a reality. At the end, the Universe manifested this victory for me – or rather, I manifested it myself!
HM: Your answer to the final question at the Miss Universe pageant was, "The biggest challenge in my life is to always think positively, but I always try to maintain a positive outlook on life". That is a big challenge indeed and one that most of us struggle with daily. How do you maintain a positive attitude on a daily basis?
NG: I maintain a positive attitude by focusing on good rather than bad things in life. I try to compliment more instead of criticizing. And I count my blessings daily – I look at how much I have and feel grateful rather than think of what I don't have. When things don't go as planned or I have a streak of bad luck, I use affirmations to stay positive. Writing sentences of positivity and gratitude on my computer or journal, or saying them out loud gets me right back to my happy self again.
HM: How did it feel to wake up as Miss Universe on the very first day, did you feel like a princess, and what was that particular day like?
NG: That incredible day was 15 years ago and it's hard to believe time flew by so fast! It was a very interesting day as the pageant took place at 8 am in order to be broadcast live in US at 9 pm, so after winning the crown at 10 am my day just got started. I was whisked away to a celebration and press conference held at the Dusit Thani Bangkok, then there was a whirlwind of media and sponsor visits, which all seem like a blur to me now. I honestly don't even remember what I was feeling because I was so busy and didn't even have time to be alone – I was constantly surrounded by press, cameras, fans, organization staff, so I couldn't even gather my thoughts. To this day, the moment of crowning seems like a dream and it's hard to remember exactly what I was feeling. I think it was more shock and adrenaline, followed by temporary amnesia!
HM: What was the year of being Miss Universe like? What were some of your fondest memories and what important contributions as Miss Universe, traveling the world in that capacity do you feel you made?
NG: I always look at my year as Miss Universe as the most interesting year of my life but also the toughest. Your life is not your own for one year. I would get my itinerary for the day or week sent to me and had to live in a designated apartment in New York City away from my friends and family.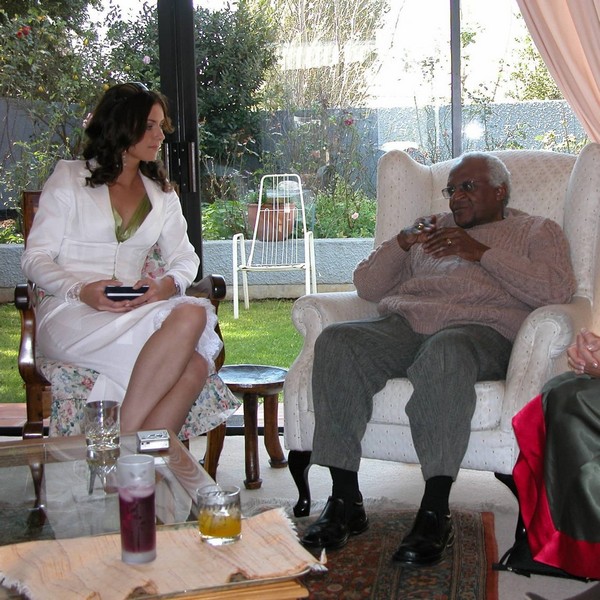 Jet setting around the world comes with this package, so does jet-lag and extreme exhaustion. However, I got to visit the most interesting places and meet the most incredible people during that year! The most fascinating person I've met was Archbishop Desmond Tutu when I was visiting South Africa on a goodwill mission. It was interesting to chat to him about the AIDS pandemic in his country, and I learned a lot on that trip about this issue, which was actually my social cause as Miss Universe. On that trip we visited orphanages and hospices where children and adults were dying from the disease as well as youth centers and clinics where they offer information and testing for HIV. I even took a public test myself to set an example and raise awareness for people to know their status. Throughout the year I traveled to over 20 countries, spreading awareness, raising funds, volunteering at AIDS organizations, and meeting many people affected, which gave me a deeper understanding of the stigma surrounding this illness, and I used my platform to the inform the public and educate others.
HM: You are from Russia and then Canada. The 2005 Miss Universe Pageant, which you competed in, was held in Thailand and that is where you decided to make your home. How did that happen?
NG: After spending a year in NYC, I decided to come back to the place where it all started for me. Throughout the year as Miss Universe I was invited to come back to Bangkok several times, to do ad campaigns and social work, and I had made some important contacts in the entertainment industry. So when it was time to decide where I would live after passing the crown on, an interesting job offer materialized for me. I was asked to be the brand ambassador for Singha who were also the main sponsor of the pageant that year. The original plan was to come to Thailand for a year to work, and see where it would go from there. I loved living in Thailand so much that after my contract was up, I decided to make it my permanent home.
HM: What is your work now and what are your passions in life?
NG: My husband Dean and I started a company together called Travelbook (travelbook.com) which is a travel-sharing platform to discover and book experiences. We are both avid travelers and between the two of us have been to over 100 countries. We love to share experiences with others and encourage them to see more of the world as we believe traveling is the best way to grow, learn, and become a more educated person. So people can use the platform to document their travels with photos, videos and check-ins that are easily accessed and can be shared with their friends as recommendations. Users are able to book hotels and flights directly from the platform, so it's a kind of one-stop place for travelers to dream, plan, book and share their trips.
We also have a travel YouTube channel (Travelbook Family) where we showcase amazing resorts and destinations for families. I also do freelance writing and blogging for magazines and travel websites.
My passions in life are traveling, music and DJing, parenting, and health/wellness. Since music has always been such a great passion of mine, I decided to learn how to DJ and now one of my favorite jobs is playing at beach clubs and pool parties around South East Asia.
HM: You have 500,000 followers on Facebook, how important is social media to you personally and professionally?
NG: Personally, I use social media to connect with my friends and fans around the world. I feel that platforms like Instagram, and now our own – Travelbook is a great way to share our travel experiences and hopefully inspire others to get out of their comfort zone to travel. Professionally, it is a great way to promote our brand, and brands I'm associated with by endorsements, and that of course is part of my work.
HM: In addition to your busy business life, your other full-time job is being a mother to your daughter Maya. How has motherhood affected you as a person?
NG: Motherhood has been a very unexpected and most wonderfully pleasant surprise of my life. I never planned kids for my future but left the door open to the possibility one day. However, I never could have dreamed how amazing a love between parents and children can be! I can honestly say that this has been the best experience I've had in my life, and my love for Maya grows more and more every day! Being a mom has made me more fulfilled and satisfied with my life. I'm much more productive and purposeful now that I'm a mother.
HM: Being animal lovers ourselves, we were very pleased to see that you have worked with the Soi Dog Foundation and also work with the World Wildlife Fund to stop the trafficking of endangered species. For those of us who don't have the public platform that you do, what can we do to help the plight of Thailand's street dogs and rally against animal trafficking?
NG: Everyone can do their part in order to help street animals in their own way – from small to very involved activities. You can sponsor a dog or cat by giving a monthly donation to Soi Dog Foundation, like I do – it's a monthly credit card charge so you don't even have to do anything. If you are really passionate, you can also volunteer with the foundation or find another one that helps street animals. Most importantly, you can spread the word against animal trafficking to your friends through any platform – take a stand against eating shark fin soup, buying ivory products, and taking photos with gibbons and slow lorises. The more awareness there is out there, the more likely we will see these horrendous trades come to an end. So speak up, post links on social media, and if you see your friends engaging, gently explain to them how the behavior hurts the animals and our eco-system.
HM: Finally, for young girls who have a dream that is as big as yours was, what words of advice and wisdom do you have for them?
NG: My best advice to give to young women (and men) that have big dreams is – write it down, make a plan, work hard every day on it. No successful business or person has ever happened by accident – it all took vision, planning and hard work. Even if you fail the first time, pick right back up and start again, whether the it's another goal or the same one. Never let anyone tell you that you can't! If you can dream it, you can achieve it, and nothing is impossible if you really truly want it! I was told I would never even win Miss Canada because I was an immigrant, and I proved them wrong, and so can you, no matter what obstacles stand in your way.
HM: Thank you Natalie
Several photos courtesy
of Fadil Berisha