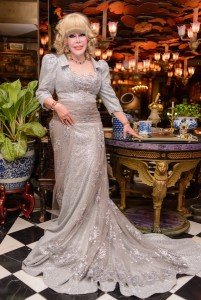 Khun Sumanee Guna-Kasem is a well-known Thai Socialite, business woman and one of the most prolific collectors of antiques in Thailand. Her collection's value has been estimated in the billions of baht. The world's high profile auction houses know her well and she once famously outbid the Sultan of Brunei on a piece she wanted for her collection.
She was born at Siriaj Hospital, the same hospital where His Majesty, The King of Thailand currently resides. The house where she spent her early years was very near where Bangkok's Central Embassy Shopping Mall sits today but back then the whole area was nothing but rice fields. Her parents bought land and built their house near a convent school she attended so she could walk to school.
Her father started his career as a policeman but advanced in Government, so much so that by the time war broke out in Viet Nam he was sent to Saigon as Thailand's Ambassador. While he was in Saigon Khun Sumanee was sent to England to further her studies.
In 1962 Khun Suminee married Pracha Guna-Kasem who was working for Thailand's Foreign Affairs Ministry. Pracha's first foreign posting was to Cairo where they spent two years. They then moved to Hong Kong where Pracha was posted as Thailand's Consul General spending three and a half years there.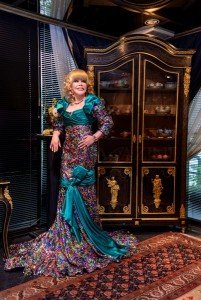 From Hong Kong they were sent to the United States where for six years her husband was Thailand's Permanent Representative to the United Nations. Khun Sumanee says that for her husband it felt like home as he had received his Doctorate in Philosophy from Yale University after attending Oxford on scholarship.
Khun Sumanee enjoyed her time in New York and became acquainted with many famous people including Jacqueline Kennedy Onassis and Neil Armstrong, the first man to walk on the moon.
After New York Khun Prascha was sent to Geneva as Thailand's Ambassador. It is here that she purchased many of her most extraordinary Jewelry pieces from the world's best known auction houses. Prascha's final Ambassadorial posting was to France and Algeria.
Prascha went on to other posts inside the Government which included Permanent Delegate to UNESCO, Director General of Economic Affairs, Permanent Secretary of Foreign Affairs, and Director General of ASEAN-Thailand, amongst others. Sadly Khun Prascha passed away several years ago.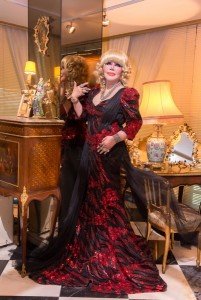 Khun Sumanee lives in a ten story building with a personal staff of 50. The building was a gift to her from her father almost 50 years ago, shortly after she wed. She recounts that back then foundations weren't made of steel and cement rather they used hard woods. She remembers her mother going down to the Chao Phraya River to meet the barges carrying some of the 5,000 teak logs that were harvested in the north of Thailand for their building's foundation.
Fourteen years ago she and her husband set up a foundation called the Maneemondcha Foundation which provides scholarships for underprivileged Thai's. Because of her father's love for dogs, as does she, the foundation also looks after 800 dogs in Thailand. Khun Sumanee has 5 dogs herself, each with their own nanny.
HOT Magazine had the distinct pleasure of sitting down with Khun Sumanee to discuss her amazing life story.
HOT Magazine: Khun Sumanee, your father was a Diplomat for Thailand. As a child growing up you must have lived in many countries. What childhood memories are most memorable?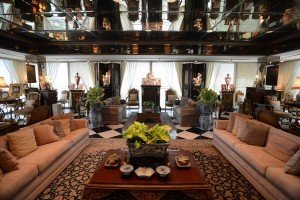 Khun Sumanee: Being the child of a diplomat gave me many opportunities to see different wonderful things in the world, meet very interesting people, go to such exciting places and experience a great many things. One thing that I hope will never happen again is a world war. I lived through the Second World War as a young child in Penang, Malaysia. I saw the war as a child but had to grow up very quickly. It was certainly not all riches and roses, as some people think the life of a diplomat's family is, because at this time I remember spending one whole week underground in a tiny hand-made bunker with very little to eat. For me, at that age, it was both exciting and terrifying. That said, the family of a diplomat have been taught to keep their composure and not show ever emotion.
HOT Magazine: What was Thailand like when you were growing up?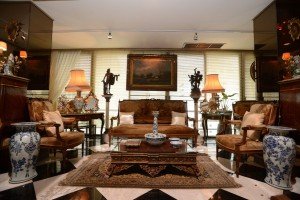 Khun Sumanee: I actually didn't spend much time in Thailand as a youngster, but the Thailand that I knew after the War was quite a bit different that today. Thailand was so peaceful and quiet, full of culture (as it still is today) and full of romance. Certainly, the enormous buildings of Bangkok were nowhere in sight back in those days!
HOT Magazine: Your husband was also a Diplomat for Thailand. Where did you meet and did you know right away that you wanted to marry him?
Khun Sumanee: My husband and I first met at Oxford, in England, where he was studying. As you know, they only take the best at Oxford, but that wasn't what grabbed me. I returned home and saw him again in Bangkok when I was about 22 years of age. He eventually went to Yale University in America and quickly earned the qualifications needed to return home as Second Secretary. My father, who at that time was undersecretary of the Foreign Ministry, was very impressed with his abilities. I guess this was the time my attraction to him grew when we met again. We were engaged only for three months before we wed. Our marriage was sponsored by His Majesty King Bhumibol.
HOT Magazine: Were you and your husband posted to many different countries and if so which one was your favorite?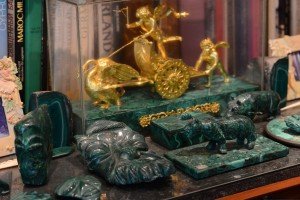 Khun Sumanee: I loved every country we were posted to. However, my favorite would have to be New York. Normally, an Ambassador would spend 4 years at one post, but we stayed 6 years in what was then known as the capital city of the world. I can simply say that it was the most exciting place to live, full of interest, always elegant, growing and much more formal than today. If you can picture the formality and elegance of a day gone by such as the reception scene in the movie My Fair Lady…always exquisite and total class.
HOT Magazine: We understand you have one son. Can you tell us about him?
Khun Sumanee: Yes, I have a son. His name is Pramond which is again given to him by His Majesty the King. He was born in Thailand just before my husband was at his first overseas post, that being in the Middle East. Pramond is an only child and studied in Thailand and Hong Kong as a child and then America. He created 'His And Hers' canine perfume which was sold in Bloomingdales (which greatly impressed me at the time because he was so young!). Returning back to Bangkok with a master's degree, amongst other things he was one of the first to import luxury cars into Thailand, purchased and developed property in Sukhumvit, was a three time elected democratic politician in Lad Prao, Bangkok and is currently writing a book concerning his interest in Buddhism.
HOT Magazine: Our magazine ethos is "Luxury Living and Exclusive Lifestyle" which can certainly be used to describe your life. Can you tell us about this beautiful home which we are sitting in here in Bangkok?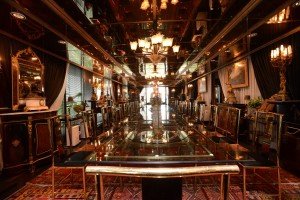 Khun Sumanee: Thank you for your praise of my home and your description of my lifestyle. But to be honest I consider myself to be a simple person with simple tastes. On the other hand, I am in the public eye and represent the country so I have certain standards to uphold. I must consider the reputation of my dear husband and family. If I wanted a life of luxury only I would be set, however, I constantly work to carry the name of the Guna-Kasem and Chongcharoen families, maintain our properties and belongings, care for generations of employees, etc. My home here has been, and still is, a meeting place for distinguished persons, a place to host receptions, have dinners, meet with overseas ambassadors and company executives plus it is a place a keep my art collection. Of course, one must have a home for the family's personal belongings, dating back several generations, many of which hold special, personal memories for me.
HOT Magazine: Do you have other homes?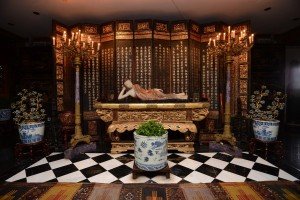 Khun Sumanee: I have many places I could stay or properties that I own, but here is the only place that I would call home. This building was a gift from my father about the time of my wedding. It gives me a warm feeling, as anyone's home should, with years of memories. The most recent memory, of course, is meeting you here and having this lovely, relaxed discussion.
HOT Magazine: You are a great collector of art, furniture and jewelry. Have you always been a collector?
Khun Sumanee: Yes, I do collect but not specifically as a Collector. And I had not realized that I was a "great" collector. You are too kind! I cannot remember when I began keeping beautiful things that meant something to me. I suppose that after a while 'keeping' becomes 'collecting', which can be a habit but is a pleasant habit.
HOT Magazine: We've read that you have a very large collection of Jewelry sets, what is it about Jewelry that interests you?
Khun Sumanee: I really do not know how many pieces of jewelry I own. But I can tell you all about every piece, including their histories. I have no favorite, because each necklace, each bracelet, each ring, each locket, each cufflink, each hair pin, each button and every single stone is important to me and means something different to me.
HOT Magazine: Besides Jewelry, what other items have you collected that are most special to you?
Khun Sumanee: As I said previously, I cannot be officially considered a Collector, and have never thought of myself as one. It is a title that others sometimes use, but I do not think that way. I have acquired items over the years, some of which happen to have been of artistic standard or historical value, yes. I have been told that I have a good eye for quality. And my financial advisors over the years have never deterred me from purchasing for investment…hahaha! Still, my belongings have been a good conversation piece over the years during official, and less formal, occasions. Again, I cannot name a favorite as each has its own particular place in my heart.
HOT Magazine: You have your own charity called the Maneemoncha charity project which is a combination of your's and your husband's names. Can you tell us about it?
Khun Sumanee: Maneemondcha Foundation is primarily designed to further education, knowledge, experience plus provide scholarships for the less fortunate of the younger generation in this wonderful country we call home. The family has agreed that these issues are the most necessary to further Thailand in a successful and prosperous way. I was lucky in many ways as I child, I acknowledge that, and I wish to share my fortunes in a positive and respectful way. My father always said 'knowledge is the greatest treasure' and this is so true.
HOT Magazine: You support many causes, is there one that you are most passionate about and why?
Khun Sumanee: Another major cause that we are so committed to is the care and future well-being of Bangkok's stray animals. Unfortunately, there are too many homeless dogs and cats living on the streets.
HOT Magazine: Finally Khunying Sumanee, You've lived an extraordinary life, from what you have lived and the life lessons you've learned, what most would you like to share with our readers?
Khun Sumanee: Life can be short, as I saw at the beginning of mine during World War II. From this I have learnt to consider every moment as special and important. I believe we all have a reason for living and each of us has a uniqueness in life, no matter whatever occupation one has or wherever one lives or whenever one succeeds and fails etc. Having said that, we all have this life and enjoy what you have whilst you can. At the end of the day you can only take two things with you, that being your self-respect and integrity.
HOT Magazine: Khun Sumanee, you have been so gracious, we thank you for all of the time you have spent with us.