Visootha "Nikki" Lohitnavy is the Winemaker and General Manager for her family-owned and operated GranMonte Winery in Khao Yai's Asoke Valley. Nikki also has the distinction of being Thailand's only female Oenologist and Viticulturist.
Bangkok was home until her parents decided to buy a 10-acre parcel of Khao Yai land, where her father dabbled in his hobby of grape growing and winemaking. That was back in 1999, and from that point on, family weekends and holidays were spent 'on the farm', sparking Nikki's interest in all things' botany, including her father's viticultural pastime.
In December 2008, Nikki graduated with a bachelor's degree in Oenology and Honours in Viticulture from the University of Adelaide (Australia). She is the only scholar in the university's history to do so, and her research was published in two highly respected UK and US scientific journals.
Returning to her homeland, Nikki adopted new winemaking innovations and techniques to the family's GranMonte. The vineyard has now expanded to 40 acres under vine plus a further 35 acres in the neighbouring Wang Nam Khiao region. It produces 120,000 bottles and is expected to grow to 300,000 a year. Nearly a quarter of the current production is exported to Asian and European markets.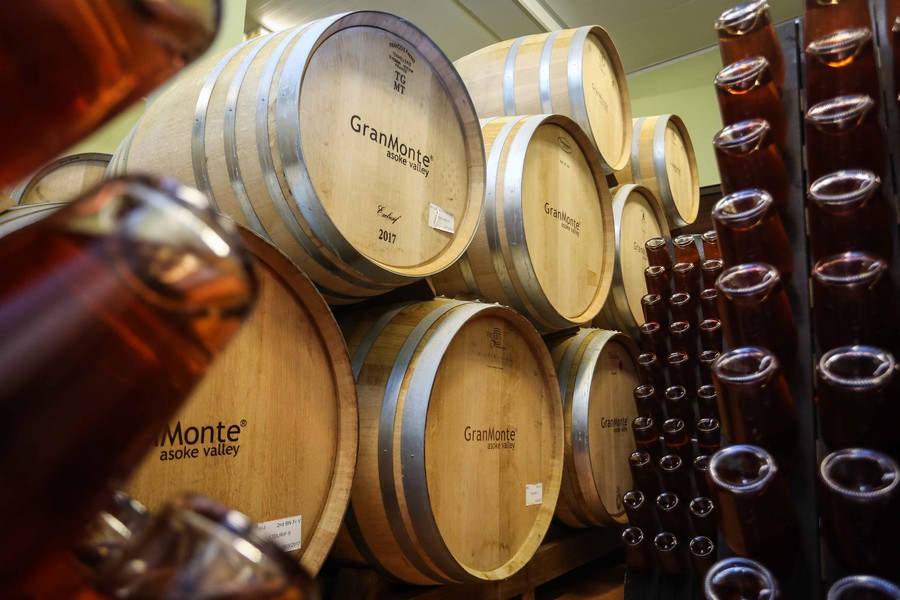 Commercial wine-growing in the non-traditional region of the 'tropics' has come about through several factors, including the impact of climate change in the traditional wine regions and through technological and viticultural advances. This 'New Latitude' viticulture is now found in Thailand, Vietnam and Bali and other unlikely locations like Bolivia, Ecuador, Kenya, Namibia, India and Sri Lanka.
Nikki is now seen as a leader in this field and hosts visiting winemakers and scientists to understand better how to adapt to the changing climate's impact in their regions. Such leadership was acknowledged when Nikki was listed in Forbes' Inaugural 30 Under 30 Asia (2016) alongside other "top promising young leaders, daring entrepreneurs and game-changers" in the manufacturing and energy sector.
HOT Magazine recently had the pleasure of sitting down with Nikki, and we are pleased to share our discussion here.
Nikki, you took over as winemaker in 2008, so how has the vineyard and business evolved over these last thirteen years?
The first few years focused on setting up systems and plans for our vineyard staff to manage their work efficiently and build and train a team that can work in a winery environment. Thai people know agriculture, but viticulture and winemaking are new, so training is essential. Viticulture is yet to be taught in the universities here.
A vineyard works to a different schedule. For instance, we have now moved to harvest at night to ensure the fruit is best cared for. The harvest and crushing is the busiest time of year which then leads to the detailed winemaking process. So, working in wineries is a very different (agricultural) lifestyle.
Once those systems were in place, I focused on the hospitality side, first expanding the retail shop. We created a restaurant in what was the family home and then expanded it. And about ten years ago we built our accommodation called GranMonte Wine Cottages. My sister Mimi has now come into the business to look after marketing and public relations. This has allowed me to focus on vineyard expansions, wine production, plus research and development.
The vision has always been to have a wine tourism business. Education is a big part of that in Thailand, where wineries and locally made wine are relatively new. Through our vineyard tours and tastings, we help people develop an understanding of the whole process. That gives our product context and something they can feel more of a connection to. Also, the restaurant and accommodation are now expected facilities when visiting a wine tourism business like ours.
Current statistics suggest only 10 percent of the world's winemakers and vineyards managers are women. However, female enrolment rates for Oenology and Viticulture courses are edging 40-50 percent. That puts you into an emerging vanguard. How do you see yourself in this context?
It's great to see more women in this industry. When I was studying in Australia, around 20 percent of our classes were female. In one of the leading Australian wineries where I worked, the mix was more 50:50 in those senior positions. However, in Europe, I did not see such a high female presence.
I've never thought women could not do this job. I think it's for everyone – all the tasks. In the vineyard, harvesting, to in the winery from cleaning the pumps and the fermentation tanks – everything – women can do as well as men. In fact, seventy per cent of our team of some 50 staff are female, including my assistant winemaker, who has been with me since 2010.
I've never really encountered any challenges or been treated differently as a female in this industry. I've always worked hard and, as part of the team, been accepted accordingly. It's what I love and put in more than 100 percent. The only situation I've ever encountered was my high school careers advisor in Melbourne, who said you shouldn't study Oenology because you are an Asian female. I guess she was wrong.
You could be viewed as a trailblazer in the world of winemaking here in Thailand and internationally. Would you encourage other women to take up this profession, and what advice would you give them?
I absolutely encourage anyone to take up this career path, especially young Thais interested in wine. The industry is still young here, so we always accept people looking to do their internship. Be it students from horticulture, entomology and geology. These studies are all critical in viticulture.
I know one young lady who did her internship with us and wanted to study oenology, so I suggested some universities and assisted as best I could. She has now completed her qualifications and is working in Bordeaux, France. Maybe she will come back to Thailand one day and share her knowledge as well. So, my advice is simple – it's possible, just go for it!
Is there anything else you would like to add?
We are excited about our new plots at Wang Nam Khiao, which will add to our range through different varieties. Even though it's less than 100 km away, the microclimate and soils are different, meaning different wines. Our Thai wine industry is developing continually. Our wines win awards internationally, and we encourage the public to give them a try and support us as we grow.
By Michael Cullen