Towards the tail end of last year, HOT magazine had the distinct pleasure of sitting down with famed chef and restaurateur Alain Ducasse, a man with legendary status in gastronomy. The locale for the interview was his restaurant located within the fabled Raffles Hotel in Singapore.
Chef Ducasse won his first Michelin star as head chef at La Terrasse in the French Riviera's classic Hotel Juana. His food at flagship restaurants like Louis XV at Hotel de Paris Monaco and Alain Ducasse at The Dorchester in London set his status as one of the world's best chefs. He is one of only two chefs to hold 21 Michelin stars and the first to own restaurants in three cities, each carrying three Michelin stars simultaneously.
Today, the Ducasse portfolio includes 60 establishments, from haute cuisine restaurants to Bistros and Cafes, in seven countries on three continents.
Earlier this month Alain partnered with celebrity chef Wolfgang Puck for a Four Hands Dinner at Puck's CUT at 45 Park Lane Restaurant in London. The pairing of two of the world's most legendary chefs was the biggest news in the city's Gastronomy scene since anyone could remember, and rightfully so.
The name Wolfgang Puck is synonymous with the best of restaurant hospitality and the ultimate in all aspects of the culinary arts. The famed chef has built a brand encompassing three companies, and currently holds three Michelin stars (two for his restaurant Spago Beverly Hills and one for CUT, which earned its star just one year after opening). Puck is also more widely known for catering the Governors Ball, the Academy's post-Oscars celebration, which he has been doing for 29 years. Puck has amassed such a following that he's become a celebrity figure in his own right.
The pair, Ducasse & Puck, created what could only be described as a gastronomic fusion of excellence, with each chef presenting alternate dishes throughout the evening. Guests were treated to a culinary journey with exceptional pairings of the duo's key dishes.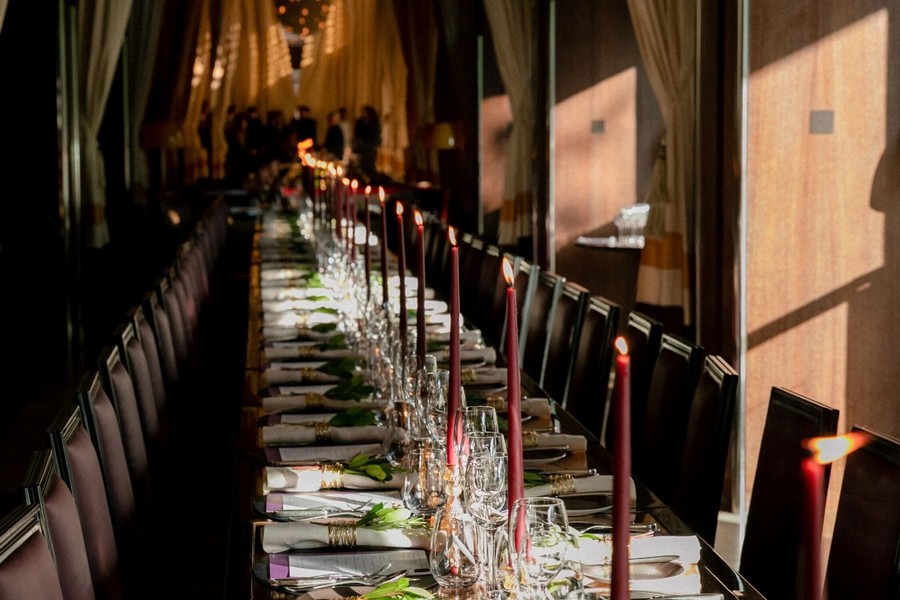 Both chefs were accompanied by their award-winning teams, with Puck's headed by Elliot Grover and Ducasse's, led by Jean-Phillippe Blondet, Executive Chef at Alain Ducasse at The Dorchester.
Fortunate patrons were welcomed into the lobby of 45 Park Lane on the evening of June 7 while a string quartet played. Waiters offered flutes of champagne, while guests chatted excitedly.
With a menu so exclusive, pricing for the dinner had to be requested. However, few did. As they say, if you have to ask how much, you can't afford it. Combining French and American cuisine, each chef presented alternating dishes for a total of eight courses throughout the night, each accompanied by a wine pairing.
The evening commenced with Puck's delectable pretzel bread, served alongside homemade butter. The bread's outer layer, perfectly seasoned with salt, harmonized exquisitely with the creamy butter, paying homage to Puck's proud Austrian heritage.
Following that, Ducasse's culinary expertise shone through with the amuse-bouche course. As the recipient of an impressive 21 Michelin stars, three of which graced his renowned Alain Ducasse at The Dorchester just nearby, his presentation of a simple scallop elevated by citrus beurre blanc and Kristal caviar was a tantalizing preview of the culinary journey to come.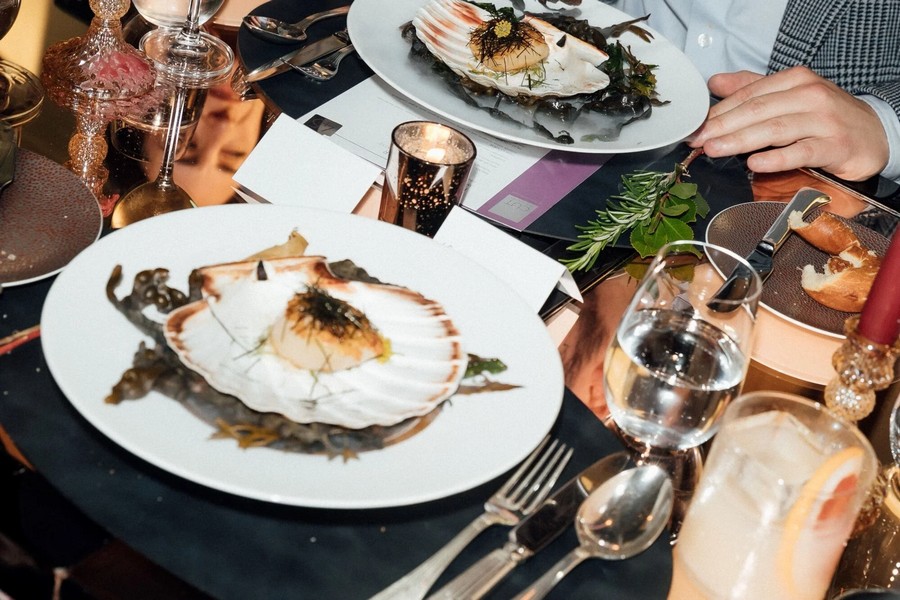 The attentive waitstaff seamlessly delivered handmade sweet pea agnolotti, accompanied by a flavorful ragout of white asparagus, fava beans, and morel mushrooms, as the starter course. Soon after, the fish course arrived—a delightful combination of Cornish turbot, courgetti, and sea thong marinated in green anise, complemented by a loquat condiment.
The pinnacle of the evening unfolded with the meat course—a dual offering featuring Puck's renowned Australian Wagyu beef paired with grilled New York steak. The dish was elevated further with the addition of crispy shiso, togarashi, and yuzu kosho emulsion, leaving the table in silent awe as guests savored each bite. It was a true testament to the culinary prowess of both Puck and Ducasse.
As the sun dipped below the horizon, glasses were filled with wine, and the soft glow of candlelight illuminated cheerful faces. It was a celebration of gastronomic excellence and the simple joy of partaking in an impeccably orchestrated dinner party, where no detail was spared in creating a truly unforgettable evening.
To cleanse palates before dessert, small plates of strawberries and lemon sorbet arrived. The strawberries were delicately peppered, accompanied by subtle hints of olive oil—an exquisite twist on a classic summer dessert.
For those with an ounce of space left, the dessert itself was a delightful masterpiece. A Marjolasian creation comprising cashew nougatine, espresso mousse, and cappuccino ice cream graced the plates, perfectly paired with a dessert wine. It was the epitome of indulgence and the perfect finale to an extraordinary dining experience.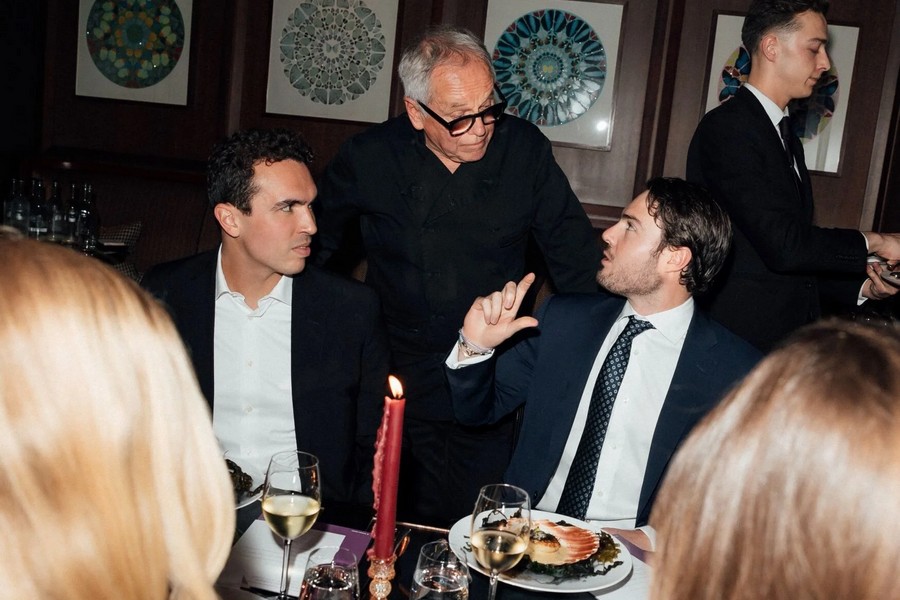 Then, the culinary maestros themselves, Puck and Ducasse, emerged as the stars of the evening, receiving warm applause and numerous handshakes.
A woman turned to Ducasse and remarked, "I'll be in Paris this weekend. Where would you suggest I dine?" "Without a doubt, my restaurant," he replied, his face beaming with a smile. Both chefs were impeccably dressed in their pristine culinary uniforms, radiating an evident sense of satisfaction. Beyond all the glitz and glamour, these internationally acclaimed chefs simply reveled in the joy of their craft, delighting in showcasing their extraordinary skills. It was an absolute pleasure, and perhaps even a privilege, to be part of such an experience.