Bangkok's bright lights may be dimmed for now, but Southeast Asia's most liveable – and lively – city will roar back to action as soon as the pandemic eases.
That's the view of Chomratkamol "Gor" Soontortarawong, Executive Sales Director at Lazudi Bangkok, who says even as daily life goes back on hold, the condo market is still buzzing driven by new arrivals to Thailand and strong sales in the city centre.
Chomratkamol has had a ringside view of the city that is continually growing, evolving, and bouncing back. "This period is no different," she says, "It's presenting a challenge like no other, but one the City of Angels will recover from."
What impact has the pandemic had on Bangkok's condo market?
"I've worked in real estate in Bangkok for 18 years – so I've seen a few ups and downs in the market! Last year, during the first round of the pandemic, people were understandably frightened to go out for viewings, and things stalled for a few months.
During this third wave, things are not as badly affected. There are viewings – mostly virtual tours – and negotiations every day with discounts out there to be picked up.
In fact, I'm going to say it… I'm busy… unbelievable, right?
I was worried about the impact of a major lockdown on our sector, but it seems people keep searching and making appointments. The clients out there are keen to buy or rent; if not, they would not make appointments during this difficult time."
But who rents in a pandemic?
"The leasing market is still going very well. Expats, foreigners just arriving, and Thais Looking to relocate are all checking out the market. Some are making bookings from quarantine. That's partly because rental fees have dropped by 10 percent or more. The CBD of Bangkok – Sukhumvit, Sathorn, Silom – is always popular, but right now, the same budget can land a larger space. People with a one-bedroom unit can now look for two bedrooms at the same price or relocate to a new building. Bangkok rental prices have been going up a lot over the last few years. But this time, the opportunity is there for tenants to upgrade.
We have foreign couples and independent arrivals – people coming here vaccinated, with work permits looking for the long-term – sitting in hotel quarantine looking forward to having a condo the moment they get out, and there's much more choice for them.
What about bargains for buyers?
"For sure, there are discounts out there.Thai buyers focus mainly on new developments, and foreigners tend to look more for resale in those key CBD locations – Sukhumvit, Silom, Sathorn – or the riverfront.
Some sellers who have many properties might be trying to get rid of some of them for the cash or might be happy to drop the price in the locations they want to exit.
But if you want to buy in certain areas, the price is holding its value. For example, in Thong Lor/Prom Pong, the prices won't drop that much and will start rising as soon as the market reopens fully – hopefully next year.
It's the most expensive and exclusive area, where expats especially can find anything they need in their soi; fine dining, an excellent international supermarket, English-speaking people, and a community. It also has double-access via Sukhumvit and Petchburi roads, so the expressway and airport are easy to reach. It's not only the building they are looking for, it's the surroundings they want to buy into."
What's changed for your work during the pandemic?
"The challenge has been to innovate at a time when people can't travel or are worried about in-person viewings. As sales agents, we have to keep the communication open and clear to find the best option for each person looking to rent or buy.
We do a lot of virtual tours over LINE or Whatsapp right now, especially for those in quarantine who want to see units and are ready to book and move in right away (rental).
I know some developers who have their own in-house applications to reach clients. It's been rewarding to embrace the challenge and adapt to this new time. I know Bangkok will come back, it's the capital city of 10 million people, so no matter what, real estate transactions are moving all the time. The price never drops in the CBD, but the city is also becoming better connected with the BTS reaching new areas, bringing that condo market online.
For example, 'Gen Z' Thais, who have been working for a few years, there are many affordable new developments in Bang Na thanks to the sky train connection.
Bangkok is constantly developing, and I'm confident the market will be strong next year."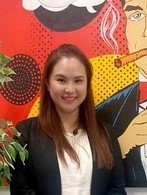 Chomratkamol "Gor" Soontortarawong, Executive Sales Director for Lazudi Bangkok, can be reached at +66 (0)91-028-8445, or gor@lazudi.com.