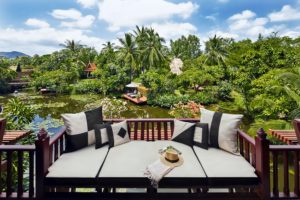 When in Hua Hin, the accommodation options are endless, however the best merging of luxury, comfort and aesthetics occurs only at the Ananatara Hua Hin Resort. As one of the leading resorts in the beach city, designed as a traditional Thai village, Anantara Hua Hin Resort is a lush private haven with sloped rooftops that rise over the lotus-covered lagoons, where guests can enjoy walks through the overflowing green of jungle gardens, designed by Asia's leading landscape architect, Bill Bensley.
The Anantara Hua Hin forms part of the Anantara hotel and resort chain owned by the U.S.-born hotel magnate William Heinecke who came to Thailand as a child and started his first business before he turned 18. A Thai citizen since 1992, he oversees an empire of more than 150 hotels and resorts.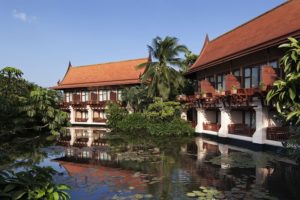 The Anantara Hua Hin Resort has the distinction of being the very first Anantara of a brand that now encompasses forty-two, spanning Cambodia, China, Indonesia, Maldives, Mozambique, Qatar, Sri Lanka, Thailand, United Arab Emirates, Vietnam and Zambia. Other hotel brands in Heinecke's portfolio, through his company Minor International, include such well-known names as the Four Seasons and St. Regis.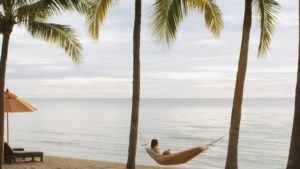 The Anantara Hua Hin Resort is the perfect retreat for a memorable and relaxing holiday with beachfront dining and Anantara Spa journeys, with yoga, boxing and Thai cooking classes. Guests can also stroll vineyards and championship golf courses as well as savor the authentic indulgences of one of the most celebrated Hua Hin hotels.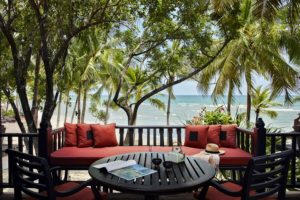 The Anantara Hua Hin's luxury rooms come decorated with delicate Thai silks in combination with the majestic and exotic views of the beach front. The Thai inspired interiors of the resort are designed purely with style and comfort in mind, equipped with terrazzo tubs in the bathrooms and large private terraces outdoors. Whether looking out on the exotic gardens filled with greenery or the stunning blue ocean views, either one radiates the sense of a prodigious blend, laid-back luxury.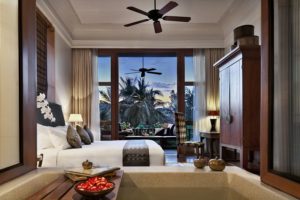 The Ananatara Hua Hin offers six different kinds of rooms with specialized and diverse features which allow guests to be accommodated in the most precise way possible catering to their needs. All the rooms feature a work desk with power sockets, Wifi internet access, IDD Telephone with voicemail, international satellite TV, DVD player, an in-room safe, individually controlled air conditioning and ceiling fans, a mini bar, and tea and coffee making facilities apart from the singular features of all the various rooms.
The Premium Garden View Room with a space of 32sqm allows one to gaze across unobstructed views of the resort's landscaped gardens through full-length sliding doors. These rooms feature dark wooden shutters which add local style to the contemporary interior, a balcony or terrace with garden views is available.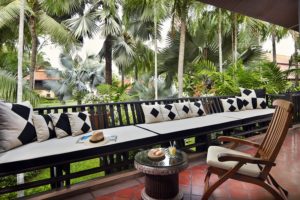 The Deluxe Garden View Room with an area of 34sqm allows guests to step into a contemporary haven with hardwood flooring and elegant furnishings, enjoy a scenic view through the clear glass bathroom wall whilst taking a shower and wind down after a long day with dinner on the private balcony.
The Premium Sea View Room allows guests to experience beachfront living and drink in the dazzling views of the Gulf of Siam from the private terrace or balcony.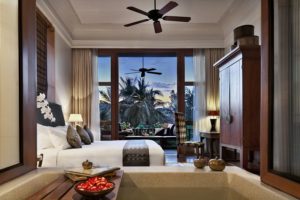 The Junior Lagoon View suites allow guests to retreat to a holiday haven with beautiful views, dine al fresco on the private terrace, share romantic baths with a loved one in the terrazzo tubs for two as well as benefit from exclusive access to Club Lagoon which is reserved exclusively for suite guests, it is a calm hideaway which features a pool overlooking a lotus covered lagoon. Access to the Lagoon Pool & Bar offers and includes benefits such as access to the Anantara Spa where the more you go the more you end up saving, the Lagoon Pool Bar which offers a discount of 15% on all orders, complimentary afternoon canapé with a selection of cocktails, wines and beers at lagoon bar between 5.00 pm – 6.00 pm, daily morning yoga, nespresso coffee making facilities, complimentary shuttle service to town, a late check out of 4.00 pm, complimentary laundry or pressing of four pieces per day and a Platinum tourist card which allows guests who are staying in the suites to save up to 15% at the Bluport Hua Hin shopping mall.
Another one of the rooms at the resort is the Anantara Garden View Suite with 64 sqm, one of the resort's most luxurious and indulgent accommodation. It permits guests to set a soundtrack for an intimate dinner for two with the suite's CD player, simply plug an iPod into the available docking station and curl up on the spacious daybed with oversized pillows for afternoons siestas or naps at any given time during the day.
Finally, the sixth type of room available is the Anantara Sea View Suite with 64 sqm of space designed with beautiful Thai motifs and which allows guests to soak up sea views from a private balcony, recline on the daybed, with silk pillows and dine outdoors with the backdrop of the Gulf of Siam.
Something that shouldn't be left out is the dining options of the resort. The Anantara's Issara Café is where breakfast is served and where you can savour your morning coffee while breathing in the clean refreshing seaside air. Rim Nam is the hotels traditional Thai restaurant where dishes are meant to be shared in Thai fashion. Baan Thalia is the resorts authentic Italian restaurant where homemade pastas and hand spun pizzas can be had with wines from old and new worlds. Sai Thong is their al fresco beachfront venue where you can enjoy freshly baked breads or barbequed treats. Loy Nam is the hotels swim up bar where exotic cocktails, fresh juices and tasty snacks can be had. Sala Siam is their contemporary lounge where special teas, pre-dinner aperitifs and fusion tapas can be found. The Lagoon Pool Bar, which is reserved for guests staying in Suites, is where complimentary freshly squeezed juices, healthy spa cuisine and cocktails are available in a serene pool side setting. The resort recently set up their own hydroponic garden where pesticide free vegetables are grown and used in the hotels prepared meals.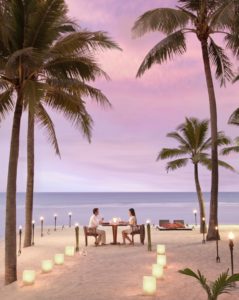 One of the services offered by every Anantara is their "Dining by Design" where you can select a romantic location of your choice at the hotel for a delightful evening of fine food and romance. You can choose between a Seafood BBQ, Italian, Thai or a Wine Dinner where each course is carefully paired to the perfect wine. All is prepared by your own personal chef and served to you by your own personal waitperson.
If your holiday requires recreation, this is the place. The resort boasts a fitness centre, two tennis courts, Mountain Bikes, Sea Kayaking, Yoga, Muay Thai boxing lessons and even a very popular Thai cooking class. For Hua Hin residents, the hotel offers day rooms where from 9AM to 6PM up to two adults and two children can have a room for the day and take advantage of all the amenities that the resort offers.
While staying at the Anantara you will want to visit one of their seven spa treatment suites offering single or couples treatment rooms with dual rain showers.
Whether your purpose for visiting is a holiday, business meeting or special celebration, the Anantara Hua Hin Resort is the perfect oasis of calm, combining luxury with tranquillity in a retreat fit for royalty.
Anantara Hua Hin Resort
43/1 Phetkasem Beach Road
Hua Hin, Prachuabkirikan 77110
+66 (0)32 520 250
huahin@anantara.com / anantara.com