The Marriott, has over 4,500 hotels & Resorts that it either owns or manages around the world but only eight of them have the privilege to be called a "Marriott Marquis Hotel". To be a Marquis hotel, the premises not only have to be luxurious, they must also be of a certain size, larger than life, with over 1,000 rooms and great meeting & banquet facilities that can accommodate large groups of people. The Marriott Marquis Bangkok Queen's Park Hotel has over 1,300 hotel rooms and is the very first Marquis hotel in South East Asia. The nearest Marriott Marquis previously was in Dubai.
The Bangkok Marriott Marquis Queen's Park welcomes both business and leisure guests with 5-star hotel rooms and suites and a truly unparalleled location in what is known as the EM District, near the city's most celebrated shopping, dining and nightlife attractions. South East Asia's very first Marriott Marquis hotel, features rooms with modern Thai-inspired design elements, mesmerizing panoramic views of Bangkok's city centre and a vast assortment of 5-star amenities.
The hotel offers 7 different room categories; Deluxe, Deluxe Park View & M Club are all 32 square meters in size, with the M Club room coming with club floor benefits.  Larger suites include the 1 bedroom M Suite and the Family suite which both give you 72 square meters of space.  The Grand Marquis Suite is also one bedroom but gives you 128 square meters to wander around in, and then there is the Sky Suite, at a jaw dropping 750 square meters in size, however you will have to wait until June or later to book it.
We had the pleasure of staying in one of their M Suite's, which at 72 square meters was plenty of room for the two of us.  It had a spacious sized living room/ lounge, a very comfortable separate bedroom with an even more comfortable king size bed and a large bathroom with shower and separate bathtub.
The Suite came with club floor benefits which included the usual amenities but what stood out was their evening Happy Hour.  Here, it lasted four hours instead of the usual two and included cocktails as well as sparkling wine and different red's and white's.  The hotel is owned by the Chang Beer family so it was only natural that Chang would be the featured beer.
The Bangkok Marquis also showcases a stunning range of on-site restaurant options to make life easy for guests who are in a rush or who may not want to step out of the hotel for a bite to eat. The five on-site restaurants are varied and of high quality. Firstly, there is the Goji Kitchen and Bar which we reviewed last month.  Goji is the main breakfast restaurant and is also open for lunch and dinner.  You can order ala carte' but I recommend you opt for either their lunch or dinner international buffet.  Both are outstanding and filled with too many delicious items to count. Another in-house restaurant offering international dishes is the Lobby Lounge, the perfect place to reconnect with friends, family or colleagues after a day of excitement in Bangkok. The restaurant also features specialty cocktails, coffee, tea and light international dining options in a friendly and inviting atmosphere.
If western cuisine is not what you came for, the Bangkok Marquis also has The Pagoda, a Chinese restaurant that allows guests to embark on culinary journeys never to be forgotten. The award-winning chef of The Pagoda, Chef Oscar Pun is a native of Hong Kong.  Chef Oscar has spent more than two decades perfecting the elegant art of Cantonese cookery, including spells in renowned five-star hotels and Michelin-starred restaurants. In 2011 he transferred to the luxurious Kempinski Hotel in Beijing as Executive Chinese Chef, overseeing a 300-seat restaurant and extravagant banquets in the vast ballroom. Following spells at two other major hotels – Macau's City of Dreams and Beijing's Shangri-La Kerry Hotel – Chef Oscar has now arrived at the Pagoda and is ready to delight diners with his impressive Chinese culinary creations.
Another excellent eatery at the hotel is the Soba Factory. The Soba Factory offers one of the best Japanese dining experiences in the city, feature a diverse menu boasting of a wide assortment of inventive Japanese dishes in the comfort of a sleek, modern restaurant setting.  Not to be forgotten is the local cuisine, which is why the Bangkok Marquis has the Siam Tea Room where guests can enjoy a taste of Bangkok through the taste of traditional Thai dishes, teas, pastries and lots more.
The gastronomy a hotel offers is one of the most important aspects of a hotel, but the entertainment features must not be forgotten either. The Marriott Marquis Bangkok has a lot to offer to make guests feel at home and comfortable while in their journeys in South East Asia. Some of its main attractions are the revitalizing signature Quan spa, which requires to set an appointment as it is in high demand amongst guests. The hotel also has several outdoor pools where one can enjoy the rays of the Thai sun as well as views of the modern concrete jungle. The hotel also boasts an extremely well-equipped gym which ensures guests can keep fit and fresh during their stay.
As much as the hotel is a holiday hotel, it is also most certainly a business hotel too.  The Marriott Marquis was designed with 37 event rooms encompassing almost 6,500 square metres of venue space at the heart of Bangkok's city centre. The largest meeting room seats up to 1,100 people, offering state-of-the-art event planning and catering services. Even the biggest of Indian Weddings can be accommodated here.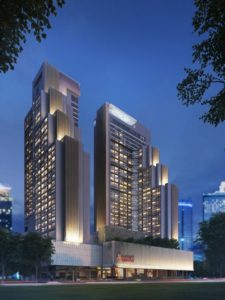 Whether you are coming to Bangkok and require a room, are already in the city and need to plan an event, or you simply desire a really good meal, drop in to the Marriott Marquis Bangkok Queen's Park and see for yourself why there are only eight of these gems in the entire world.
Marriott Marquis Bangkok Queen's Park
199 Sukhumvit Soi 22
Klong Ton, Klong Toey, Bangkok
+66 (0)2 029 5555