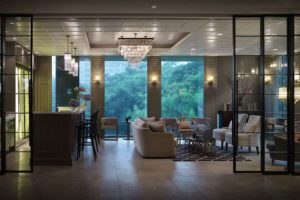 There exist places where the finesse of modernity and the beauty of classic design converge to create a perfect combination of western and eastern elegance. This allows the appeal of both to put together a display which makes luxury living a privilege. With décor of discrete and stylish touches, it is easy to feel as if one has entered a building in the streets of Vienna, until the touches of orientalism grab your attention. This month, HOT Magazine has the pleasure to review a fantastic apartment residence, where east meets west at the centre of Bangkok's major business and embassy district.
The Oriental Residence offers one of the greatest and most complete residential experiences in Bangkok, with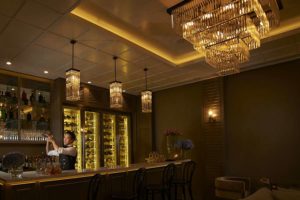 a large variety of rooms that are suited aptly to the needs of any traveller or resident. We start by reviewing the rooms, which come in six different varieties.
The first of those is the standard Grand Deluxe room, which affords all types of single traveller a fantastic stay. With creamy colours which exude cosiness, the Grand Deluxe's 45 square metres of elegance come equipped with every standard amenity. The room is equipped with a queen size bed, an LED television, free Wi Fi access, a overhead lighting and a hardwood floors, for the comfort of your feet. Keeping your valuables is also a personal safe.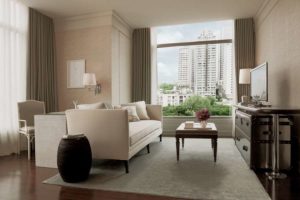 During our inspection visit we had the pleasure of staying in their 70 square metre One Bedroom Suite, filled with luxurious amenities and elegance. It includes everything the standard room has to in more spacious surroundings and a work desk where one can concentrate on important matters. The room is Apple friendly, with an iPod docking station for music to accompany your every moment there.
Are you a picky sleeper? No worries, the room features a pillow menu, which allows you to pick a perfect set of feathery goodness for you to indulge in a great night's sleep. Feel more like a film night don't really want to cook it up today? Worry not, as the kitchen includes a microwave. Get your popcorn ready and grab a drink at the mini bar. Can't go wrong. These suites come overlooking the famous Bangkok skyline, the nearby park and embassies.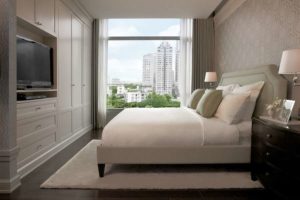 The rain shower and stylish bathroom with double sink vanity is definitely a highlight of this room. Services include in-residence dining, the receipt of international newspapers and a classy evening turndown.
If you're here with your family, be sure to choose the Two Bedroom Suite's 120 square metres. Luxurious and convenient for extended families, it affords every luxury in the standard suite but with three quarters of added space.
But if you really want to live it up, make sure to choose the Three Bedroom Suite. Apt for a large family, it's 160 square metres are perfect to accommodate everybody's needs without exception.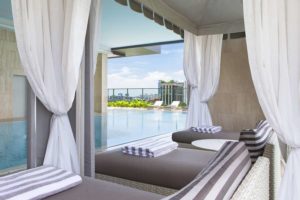 Feeling playful? It's easy at the Oriental Residence with their Play Deck. Go for a relaxation session and tap into the more laid back part of what the place has to offer. A large and beautifully laid out patio overlooking the city skyline grants you every sight you need and a lavish swimming pool with fantastic tile patterns makes you want to jump in upon sight.
The Oriental Residence features two world class restaurants. Café Claire, which we review in this issue, and Savelberg Thailand. The latter, founded and owned by Dutch master chef Henk Savelberg is a restaurant of French delight. Savelberg, whose restaurant in the Netherlands has been awarded a Michelin star for 17 years in a row, has made it a priority to serve quality food in every sip and bite.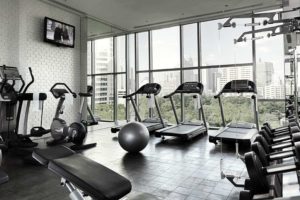 Feeling more like burning down some of them calories. While it isn't for hardcore fitness freaks, it does allow for the general health regard, with an array of dumbbells and running machines, keeping in shape can be done without leaving the building. This can also be done at any time of the day, as the gym remains open 24 hours.
All in all the Oriental Residence is a one of the most luxurious spaces for comfort living in the heart of Bangkok and it's within easy walking distance of the Central Embassy Shopping Mall and the Ploenchit BTS Station. The Oriental Residence boasts everything one may need to enjoy a comfortable stay and it's definitely worth checking in if you haven't already.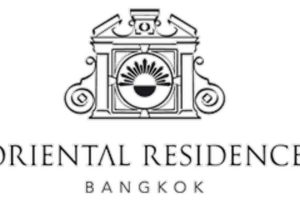 Oriental Residence Bangkok
110 Wireless Road,
Lumpini Pathumwan Bangkok
+66 (0)2 125 9000
www.oriental-residence.com