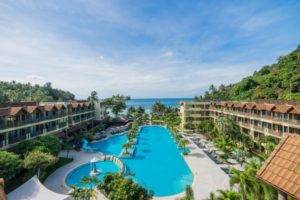 If your next destination is Phuket, we recommend that you stay at the Marriott Merlin Beach Resort and Spa. This breath-taking resort is located at a perfect and conveniently secluded spot of the Tri-Trang Beach not too far from the craze and excitement of the party beach, Patong and the Phuket Old Town .
Phuket Marriott Resort & Spa, welcomes all kinds of customers, from business travellers, to couples, friends or vacationing families. This 5-star accommodation of peace inducing and serene surroundings make it seem a world away from reality; traffic, loud disturbing noises, and crowds, are terms unknown on the grounds of this revitalizing spa resort.
To assist and allow guests to easily unwind from the dangers of stress and a fast-moving society is what the Phuket Marriott aims to do through its five-star luxury spa. The massage rooms are of terracotta, Sino-Portuguese colonial-inspired tiles and warm teak wood floors all especially designed and placed in a combination to enhance the powers of relaxation through mind easing décor. The Spa offers an array of services treatments and amenities. Full body scrubs and rejuvenating body wraps to cleanse, moisturize and regenerate both body and soul. A variety of massages; from oil massage, to traditional Thai massage to even couple's massage for a unique experience for two. Facials are available too and well as plunge pools and manicure/pedicure to pamper the most exploited parts of the human body which are our hands and our feet.
The rooms at the Phuket Marriott allow you to keep unwinding in a beautifully designed atmosphere. Whether it be a room or a suite, it is a treat to the soul unlike any five-star elegance. The rooms offer sophisticated style following the spa mood with terracotta tiled floors and rich finished wood. The modern amenities offered feature plush bedding, a pull-out sofa in case you may need it, and a private balcony with marvellous panoramic scenic views. The variety of rooms is endless, all divided into their strongest features, these include Deluxe Lagoon Pool View, Superior Lagoon Pool View, Premiere Lagoon Pool view, Premier Pool access with direct access through the private balcony towards the pool, Premier Andaman Sea View and Premier Beach access with direct entry to the beach front, Merlin Suite, Royal Suite, Deluxe Garden Terrace and Deluxe Andaman Sea View. The rooms may vary from one another in what they offer to the eyes, but it can't be said that one is better than the other as each has its unique spin and style.
The hotels location on Phuket is one of its biggest attractions.  Not only does it have it's own private beach, but it is very near several other great beaches.  Freedom beach, known for its white fine sand and crystal clear water is just around the bend.  You can take one of the hotel's kyak's to get there.  Two other nearby beaches are both excellent and worth visiting.  Paradise beach has a lovely tropical atmosphere and the Tri Trang beach is just across the street.  Location, location, location, as they say.  The hotels swimming pools are also a top attraction.  The resort encourages guests to take advantage of the Phuket weather and relax by one of their three outdoor pools, and work out in their fully equipped modern gym. The resort also features an activity program for kids, as well as excursions in and around Phuket for people who want to spend time exploring what Phuket offers.
Another very important aspect of the resort are its dining options. With eight different eateries at the resort, dining never gets boring. D.O.C.G. is the resort's Italian restaurant dedicated to fully embody the concept of La Dolce Vita, importing products directly from Italy and having availability of a superb selection of fine Italian Wines, cheese and cured meat. The Merchant Kitchen and the Beach Grill, on the other hand offer International dishes from all over the globe and are both open for breakfast, lunch and dinner. Both restaurant offer both local delicacies and international favourites and have an outdoor seating space at the lagoon pool. The Lounge, also offers international dishes, situated at the lobby it is open for lunch and dinner. Phuket Coffee Co. is the resort's coffee house serving freshly baked bread and artisan pastries by the beachside. The coffee is freshly roasted and all the coffee varieties one can think of are offered, therefore coffee lovers or those on the run shall not miss it. The Thai Pantry is the in-house local cuisine restaurant which allows guests to discover the authenticity of classic Thai dishes from top to bottom of the diverse Thai Kingdom. Finally the Pool Bar is the place to be for refreshing cocktails and once in a while day drinking while on the vacation of a lifetime.
Phuket, the mountainous island of the Andaman sea, can be enjoyed while being accommodated in any corner of the archipelago, even in a small hidden bed and breakfast. However, if pure serendipity and relaxation is what you strive for, the perfect holiday in Phuket will only be best enjoyed in a few select places, and the Marriott Merlin Beach Resort and Spa falls into that category. Its luxurious rooms, stunning views, several refreshing swimming pools, top-notch in-house eateries and its five star Spa services will make anybody's trip to Phuket, an unforgettable and treasured holiday.
Phuket Marriott Resort & Spa,
Merlin Beach
99 Muen-Ngoen Road,
Tri-Trang Beach, Patong
Phuket, 83150 Thailand
Phone: +66-76-335300