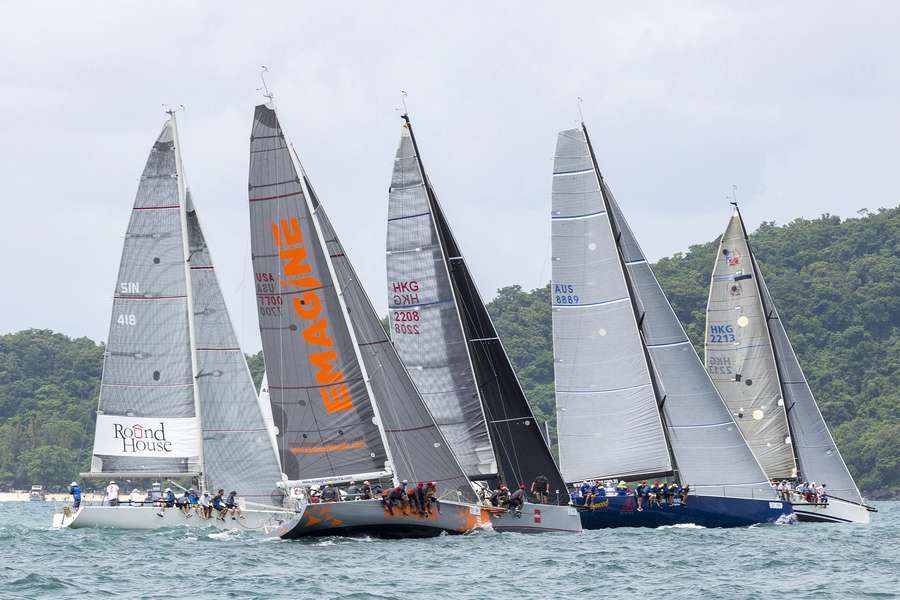 The 15th anniversary Cape Panwa Hotel Phuket Raceweek took place July 18th thru the 22nd headquartered at the 5-star Cape Panwa Hotel, the racing takes place around the islands of Phuket's southeast coast.
Having grown in popularity, the award-winning regatta welcomed 38 boats and more than 500 sailors and families from 20 countries around the world to compete.
Cape Panwa Hotel Phuket Raceweek is the first event in the 2018/19 Asian Yachting Grand Prix – a circuit of 13 top-tier sailing events throughout Asia – and has gained a reputation for providing competitive world-class racing and an unrivalled beachfront social scene.
The day before the start of racing saw weather warnings by the Thai Meteorological Department on the back of tropical storm 'Son-Tinh' heading to Thailand. The word "Typhoon" was being bandied about the skippers briefing as all were wondering "what's going to happen tomorrow?"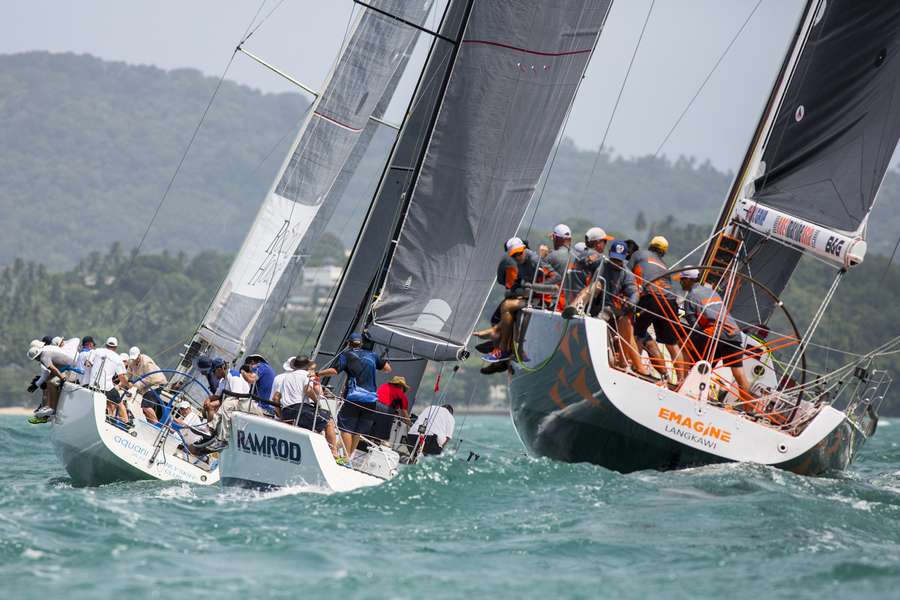 DAY 1
But what a difference a day makes. Following the Mount Gay Rum-sponsored Opening Party, sailors were on the beach bright and early for the start and were welcomed by blue skies, plenty of sun and a fresh 16 knots of breeze – an ideal day for racing in the tropics.
Following a brief AP postponement onshore, the fleet were on-the-water and heading for the start line. Due to a rolling sea state the Race Officer decided to keep the smaller, sporty Firefly 850s and Pulse 600s onshore and finally got their race card underway early afternoon, and as the day wore on the breeze started to drop off.
The day's breeze definitely favoured the bigger boats and in IRC I Ray Roberts and his crew took the first two wins of the series on their TP52, Team Hollywood. Gordon Ketelby's Farr 40 Ramrod corrected out for second in Race 1, just three seconds ahead of 2016 IRC Racing II winner, the modified Sydney 40 East Marine Emagine, skippered by Phuket-based Aussie Scott Bradley. In the second race of the day East Marine Emagine went one better placing second on corrected time with another Sydney 40 Aquari, skippered by Craig Nicholls, leap-frogging Ramrod to finish third.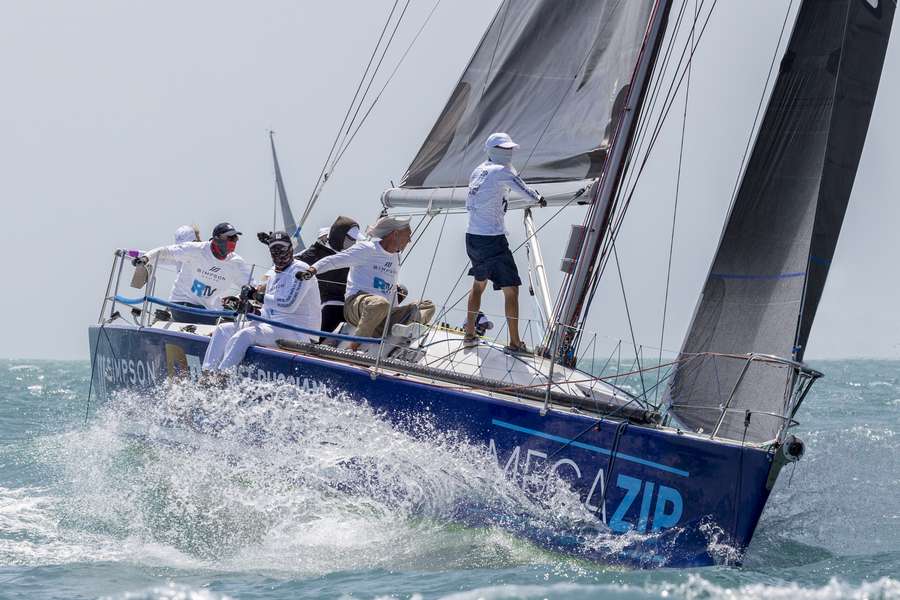 Seconds made the difference in the one-design Firefly 850 class and it was George Eddings' Blue Noze who sailed to victory in Race 1, 53 seconds ahead of Hans Rahmann's Voodoo while defending champion Twin Sharks, skippered by John Newnham finished third.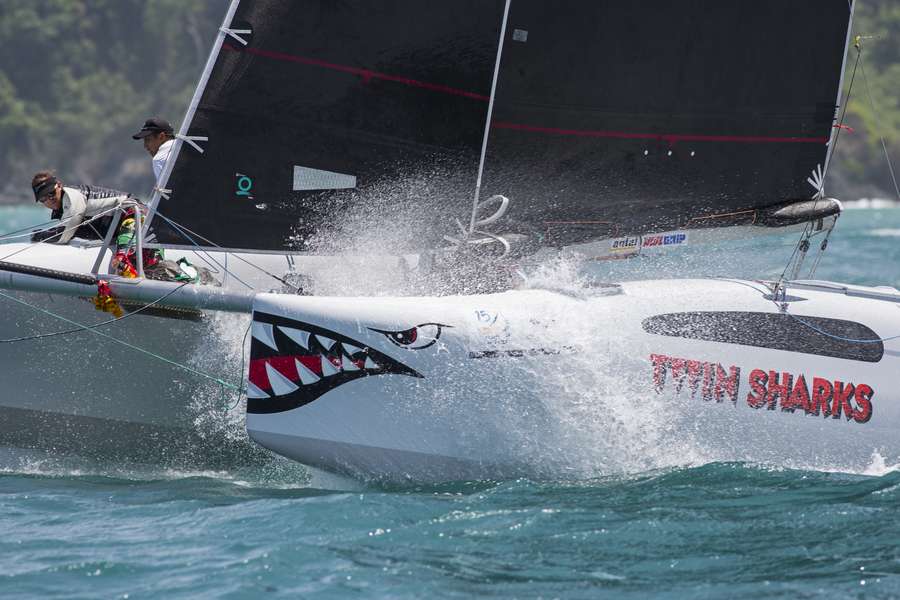 It was all change in Race 2 of raceday 1 as Twin Sharks was fast out of the blocks and lead around the short course to finish in a time of 00:26:17. Moto Inzi finished in second and Surf Patrol were just nine seconds back in third.
In the one-design Pulse 600 class the five entries enjoyed some close racing on flat water in Chalong Bay and completed just a single race. The first win of the series went to Brian Wood's SuDu Yellow, thirteen seconds back in second was Pixalux, skippered by Mick Tilden, with Simon Oliver's SuDu Red in third.
DAY 2
Taking advantage of Chalong Bay's sheltered conditions, all classes raced into the bay today except IRC I which, lead by Ray Roberts' TP52 Team Hollywood, enjoyed a fast windward/ leeward before heading off around Bon and the southern islands.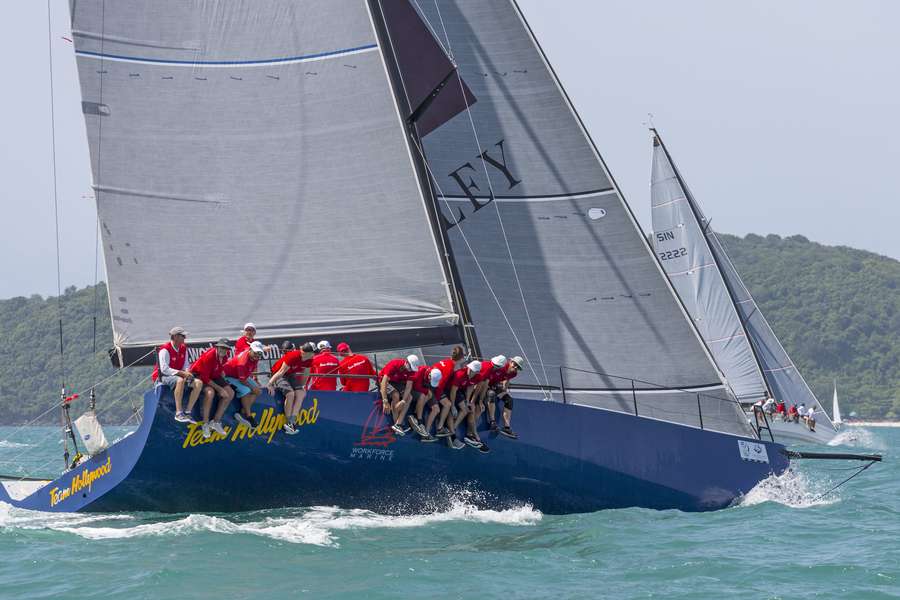 While Team Hollywood continued to dominate with two more wins, the pack of chasing 40-footers enjoyed their own battle, switching places and where one mistake and a few seconds are the difference between hero and zero. After a slow start on Day 1, David Dimmock's Loco jumped back into contention with a second place in the first race while Craig Nicholls' Aquari placed third with just 30 seconds separating second to fourth in the first race – a sign of how close the 40-foot racing is.
There appeared to be no stopping Neils Degenkolw's Phoenix in IRC II who added two more wins to their scorecard for the day, making it four for four. However, for the rest of the fleet, encouragement came in the form of Sailescapes Farrgo Ladies who were on their transom in Race 1 to finish less than a minute behind on corrected time. Third place went to the Farr 1104 sister-ship, Krabi Boat Lagoon Pinocchio skippered by Susan Parker.
In Race 2, the Platu The Fox revelled in the breeze to take second place, just seven seconds ahead of the second all-female crew on Krabi Boat Lagoon Pinocchio.  Despite claiming line honours in both races, the J/130 Jing Jing couldn't correct out onto the podium and had to settle for two fifth places.
After more than two hours of racing, just 20 seconds separated the top two in Cruising Class with Keith Barry's Beaux Esprits getting the better of defending champion Lady Bubbly and with that, take a two point lead in the standings. Third place went to Venture, skippered by Tony Pfeiffer.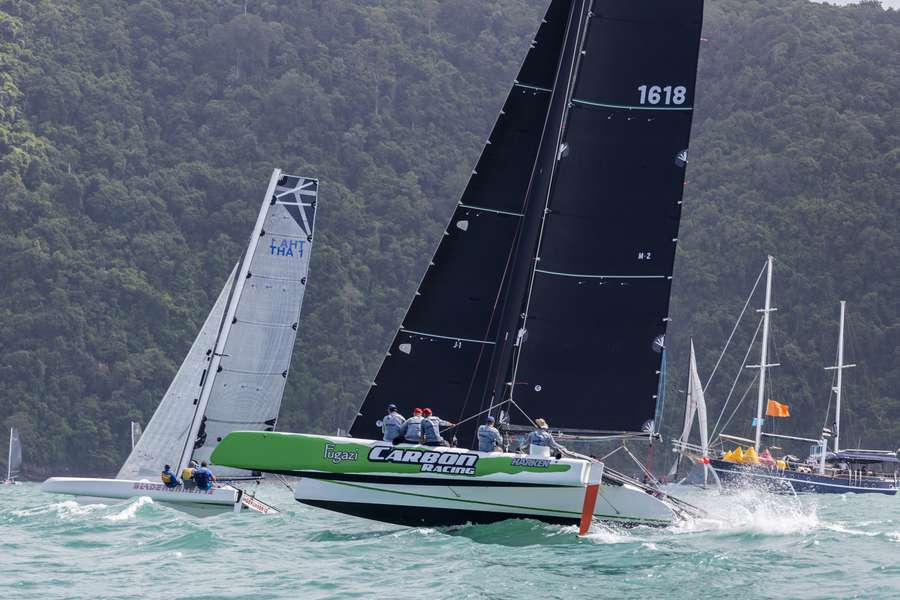 In Multihull Racing, Scott Galle's Bladerunner IX got the better of Fugazi in both races despite Fugazi claiming two line honours by more than 11 minutes each time, and with it they sat two points behind Fugazi in the overall standings. Cosmo continued their consistent run of third places with two more for the day.
John Newnham's Twin Sharks recovered from a third in the first race of the series and with two wins making it three bullets so far and a clear lead in the overall standings. Two seconds for Hans Rahmann's Voodoo brought them up the ranks into second overall while a 3,4 for Surf Patrol gave them a slim one point margin in third place.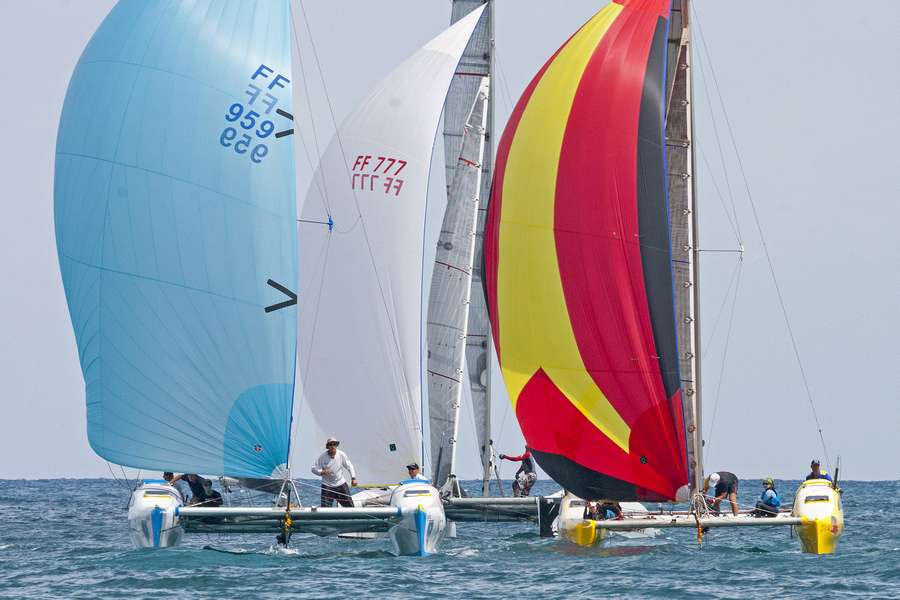 Mick Tilden's Pixalux was back on the pace following up his second in Day 1 with three wins from three races. There wasn't much in it in the first race, however, as Simon Oliver's SuDu Red finished just 14 seconds behind while Zam Bevan's Multihull Solutions H30 was further back in third. Racing continued to script in the second and third races of the day with SuDu Red second in both and Multihull Solutions H30 third. Meanwhile Day 1 winner, Brian Wood and his crew on SuDu Yellow, never started any of the races and dropped to fifth place overall.
Day 3
They say "bad things come in threes" and Day 3 was clear proof that good things also come in threes as it was another fantastic day of sailing with 1-and-a-half metre swells on the outer course, the downwind runs proved to be a surfers paradise where gains were made, and lost.
Sixteen knots and lumpy seas saw the Race Officer start the Firefly 850 and Pulse 600s outside and send them into Chalong Bay for some flatter water while the rest of the fleet enjoyed some spectacular racing on the outer course.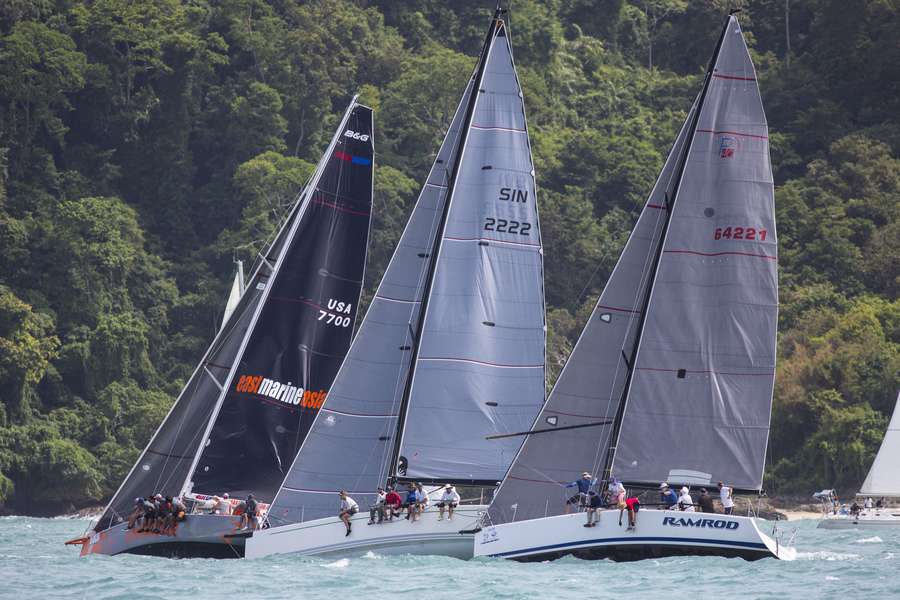 Two windward/ leewards were the order of the day for the IRC classes and in IRC I Ray Roberts' Team Hollywood added two more bullets to their unblemished record. While Roberts was streaking away into the distance, the four 40-footers were thriving on the close racing with just metres in it on-the-water. In the first race, following an issue with a spinnaker drop on the first run, East Marine Emagine slipped back and crossed the line in fifth, correcting out also in fifth. Loco sailed well, crossed the line in second and corrected out in third while Aquari beat Ramrod over the line by just five seconds claiming second place on handicap in the process.
With their spinnaker tangled at the end of the first downwind leg, the all-Russian crew on Megazip broached, recovered and then struggled to free themselves. Finally, after dropping the spinnaker they struggled to regain their rhythm and DNF'd (did not finish) the first race.
Aquari initiated some urgent repairs to their steering system between races and then went on to claim their second place of the day ahead of Loco in third.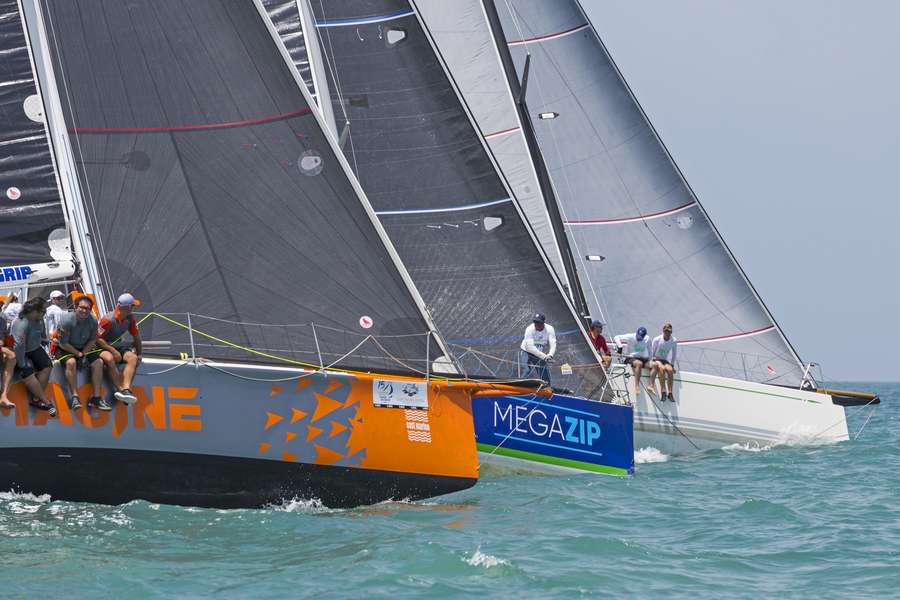 Four 40-footers up against a TP52 is a tough challenge and as a result, the organisers have introduced a special IRC I – 40 Division to the results sheet. Reviewing the six races so far, it's clear how close these four are on-the-water and on handicap. Aquari currently sits top of the standings while Loco and East Marine Emgaine are tied on points with Loco in second based on countback.
Two more races for IRC II and two more wins for Phoenix means they were undefeated and carry a 10-point lead into the final day. Despite two DNS' (did not start) yesterday, Prime Factor were back out on the course today and quick into their running with two second places, and with the discard now in play they sit second overall.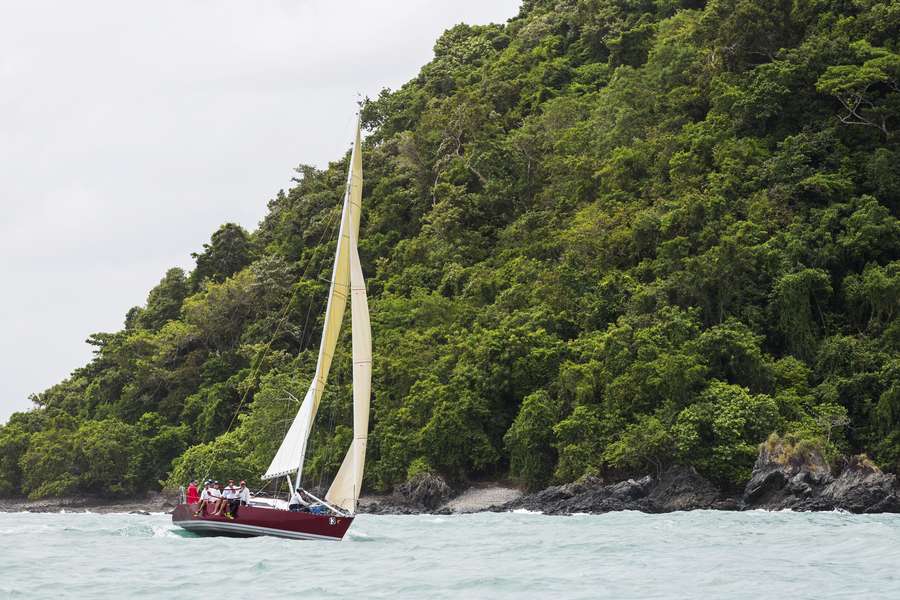 A slow start for Sailescapes Farrgo Ladies in Race 1 hurt them and although they managed to sail over Krabi Boat Lagoon Pinocchio to cross the line ahead, they had to settle for fourth on corrected time. They fared better in Race 2 claiming third place and with that are third in the overall standings with just one day to go.
It can take some serious breeze to get the cruisers throwing spray and today, they came into their own – surfing waves and flying off the top – putting on a show for the international media corps on cue. And with this new found love of speed, there was some shaking-up of the results sheet. Sand Groper got on the podium for the first time with a third in Race 1 while Lady Bubbly scored their first place of the series in Race 2. A 1,2 for Beaux Esprits saw them remain firmly at the top of the standings while a 2,3 for Venture put some space between themselves and Linda to remain third overall.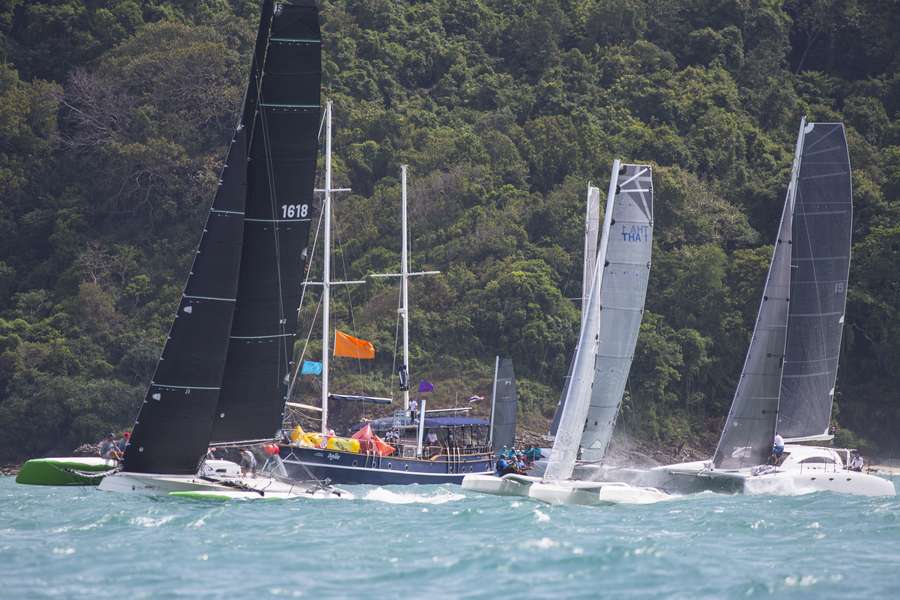 Watching the trimarans in the Multihull Racing class surfing the morning rollers was a sight to behold with Fugazi setting a blistering pace in Race 1 to cross the line first and correct out in first place. Just 20 seconds behind was Bladerunner IX. The tables were turned in Race 2 which now means both are tied on points with the break in favour of Bladerunner IX, leaving plenty to play for tomorrow.
Two third places for Cosmo saw them sitting comfortably in third overall.
A little slow off the start in the day's first Firefly 850 race for Twin Sharks didn't do them any damage in the results stakes as they sailed well to win the race. At the second start Twin Sharks and Voodoo were close to "rubbing" at the pin-end. Voodoo bared away, performed a 360 and Twin Sharks sailed off in to the distance and with it, claimed another bullet. That left the five-time defending champion with an eight point lead and one hand on the trophy.
Voodoo recovered well in the second race and finished the day with a 4,2 remaining second overall, ahead of Blue Noze in third.
The Race Officer rattled off three fast and furious races for the Pulse 600s which shook up the standings. A 1,3,4 for Pixalux wasn't the outcome Mick Tilden and crew would have wanted, especially as a 2,1,1 for SuDu Red saw them narrow the gap to a single point while a 3,2,2 for Multihull Solutions H30 kept them in third overall and comfortably ahead of SuDu Grey.
DAY 4
There were some tired faces on the beachfront as the sailors prepared for the fourth and final day of racing and the 16+ knotter made for a fitting finale to a memorable 15th anniversary Cape Panwa Hotel Phuket Raceweek.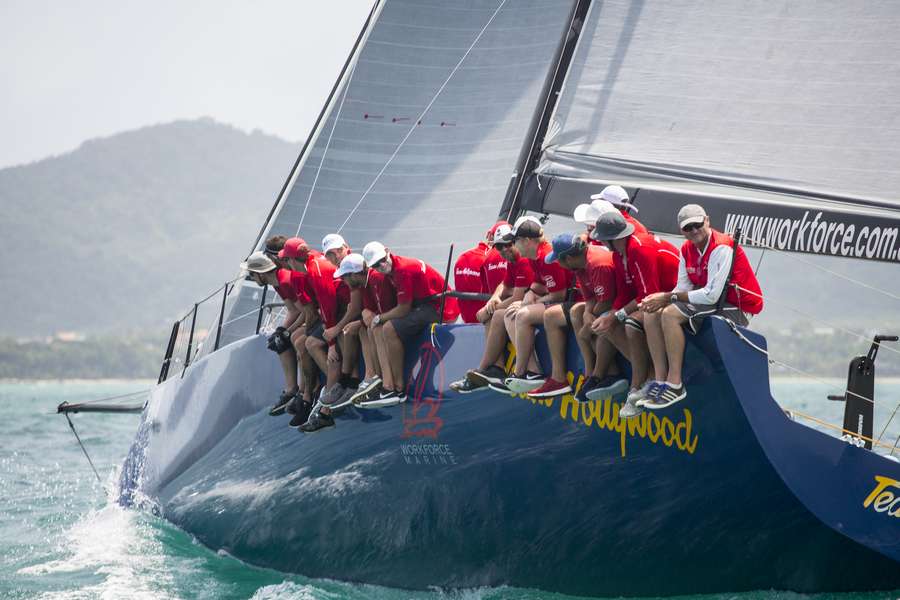 Ray Roberts' Team Hollywood have barely put a foot wrong all regatta. With slick crew work, the TP52 thrived in the conditions and the results sheet showed a dominating performance – eight wins from eight races. This is the third consecutive IRC I title for Ray Roberts, and second for Team Hollywood (2016 he won on his other TP52, Millenium Racing).
Chris Nicholls' Sydney 40 Aquarii found their rhythm in the second half of the regatta and put a string of second places together to claim second overall while a slow starting, but fast finishing, Loco, skippered by David Dimmock, finished with a series of third places to move them up the standings to third overall.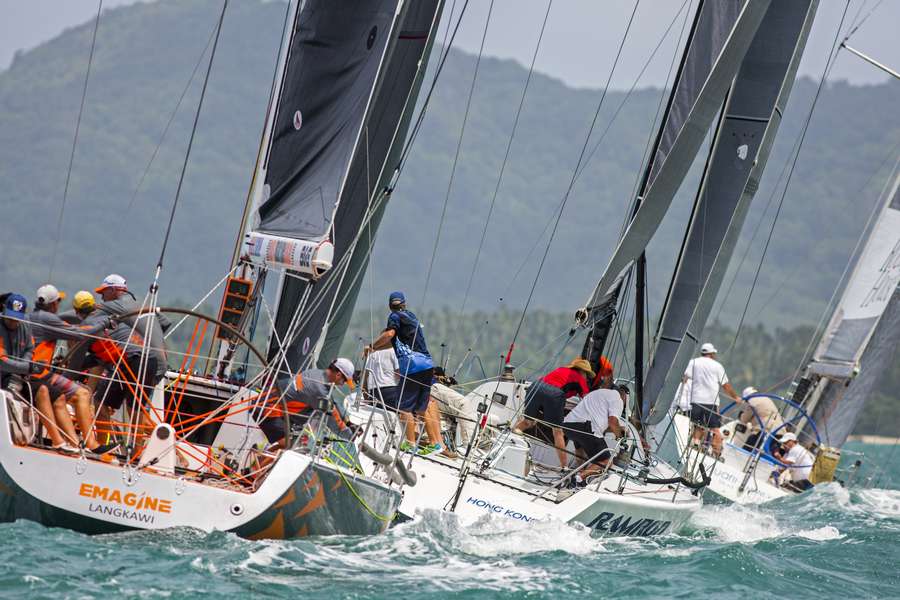 In the IRC I – 40 Division, four competitive 40-footers (2x Sydney 40, 1x Farr 40 and 1x Club Swan 42) were enjoying some neck-and-neck battles on-the-water, where the smallest error was enough to cost a place. In the end it was the ever-young Aquarii that proved they can still mix it with the best on IRC handicap and won overall. Loco upped their game in the second half of the regatta to claim second while East Marine Emagine tied with Ramrod and won on count-back. Racing was so close that on a number of races less than 15 seconds were the winning margins on corrected time.
Susan Parker and her crew on Krabi Boat Lagoon Pinocchio put in some acrobatic displays the day before and on this day they certainly had the bit between their teeth as they corrected out a full minute ahead of sister-ship Sailescapes Farrgo Ladies, and less than 30 seconds behind Phoenix to claim second.
A DNF in the final race for Phoenix blew it open for the rest of the class and the podium places, and it was the fast finishing Krabi Boat Lagoon Pinocchio who claimed their first place of the series and with that tied Max Palleschi's Prime Factor. On count-back it was the ladies who took second overall with Prime Factor having to settle for third, and with seven wins from eight races Phoenix defend their title and three-peat.
A single race showdown in the Cruising Class saw Chris Mitchell's Lady Bubbly take the days win, adding to their win the day before. However, it wasn't enough however to overhaul Keith Garry's Beaux Esprits who held on to win the series by a single point. Venture, skippered by Tony Pfeiffer finished third.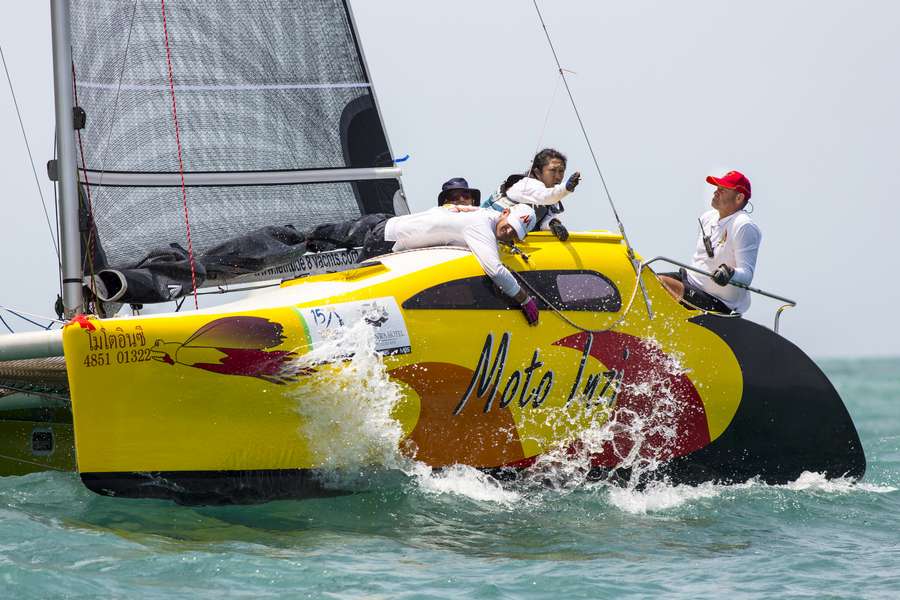 Multihull Racing was finely balanced with Bladerunner IX and Fugazi tied at the top coming into the final day, and with two races planned anything could happen. Fast out of the blocks in Race 1 was Scott Galle's Bladerunner IX and although Dan Fidock's Fugazi went on to claim their seventh line honours, the time difference just wasn't enough and Bladerunner IX corrected out ahead to draw first blood. Fugazi would need to win the final race to tie the points and force it to a decision on count-back.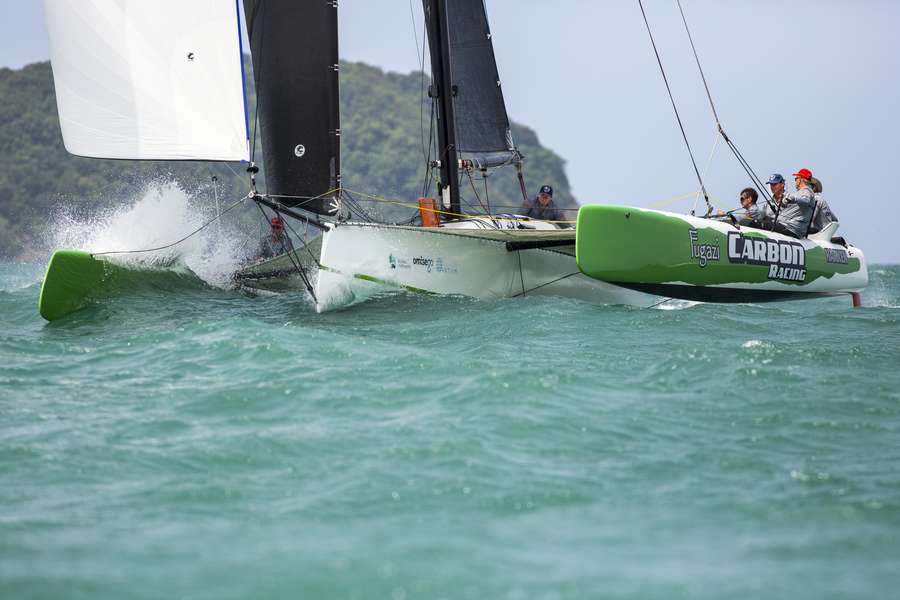 The second race saw the fleet off on a longer course, around the islands and flying their hulls the two trimarans made light work of it. Despite finishing 13 minutes head, it wasn't enough and Fugazi had to settle for second in the race and second overall. After some close racing and having come from behind, Bladerunner IX were crowned class winners while Cosmo had to settle for third overall.
With just one race scheduled for the day, John Newnham and his Twin Sharks team had the title already in the bag and soon after crossing the start voluntarily DNF'd leaving today's bragging rights for someone else. And it was Voodoo, skippered by Hans Rahmann, who was bridesmaid in five races so far during week, that upped their game and took the final race win of the series and with that, safely secured second overall. A well-earned third place, and overall, went to George Eddings' Blue Noze.
John Newnham extended his winning streak to six consecutive Phuket Raceweek wins and while that deserves praise, you only need to look at the time sheets to see how close the racing was between these one-design pock-rockets throughout the fleet.
In the dial up for the Pulse 600s a port-starboard incident between Pixalux and SuDu Red saw Pixalux complete their penalty turn as the start gun went off. SuDu Red sailed off-the-line clean and Pixalux was playing catch-up for the rest of the race. They managed to sail back into contention and finish second behind Simon Oliver's SuDu Red and tied the series points, but due to more first place finishes for Pixalux, they claimed the title while Zam Bevan's Multihull Solutions H30 finished third overall.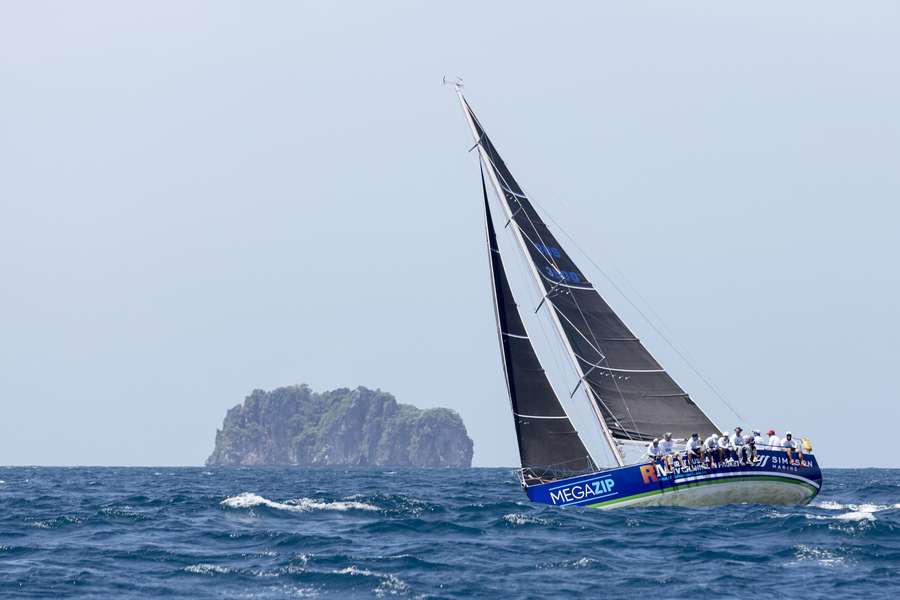 It was four days to remember, great winds, great racing and great parties. Raceweek 2018 came to a close on the 22nd of July at a lavish gala dinner held in the gardens of the Cape Panwa Hotel. Attended by VIPs, international media and more than 500 sailors and guests, the prize presentations were presided over by Vice Admiral Somnuk Preampramot, Commander of the Third Naval Area Command who presented the prizes to the overall regatta winners.
The regatta is organised by Media Business Services with support from the Tourism Authority of Thailand, Sports Authority of Thailand, Phuket Yacht Club and the Yacht Racing Association of Thailand.
All photos by Guy Nowell/ Top of the Gulf Regatta.