When selecting a hotel, I like to visit the Trip Advisor website to read the comments from prior guests of their actual experiences. With an impending stay at the Chatrium Riverside Hotel in Bangkok I found the review page especially revealing. The headlines read, "Perfection + Value + Luxury"; "Amazing! Would 100% go back!"; "Friendly staff and nice view". A Malaysian reviewer effused, "The room is big and the staff are friendly. They know the day I check in is my birthday and they prepare a cake for me". It is precisely these little extras that differentiates a five-star hotel from a four-star.
After spending several wonderful days at the Chatrium Riverside I have to report the comments posted on Trip Advisor are accurate and unexaggerated. I would echo them all. From the moment of driving up to the entry, we were made to feel welcome and special.
The Chatrium Riverside is located on the Chao Phraya River, on the business side of town. This means when traveling from Hua Hin you cross the Rama 9 Bridge and then navigate to the hotel.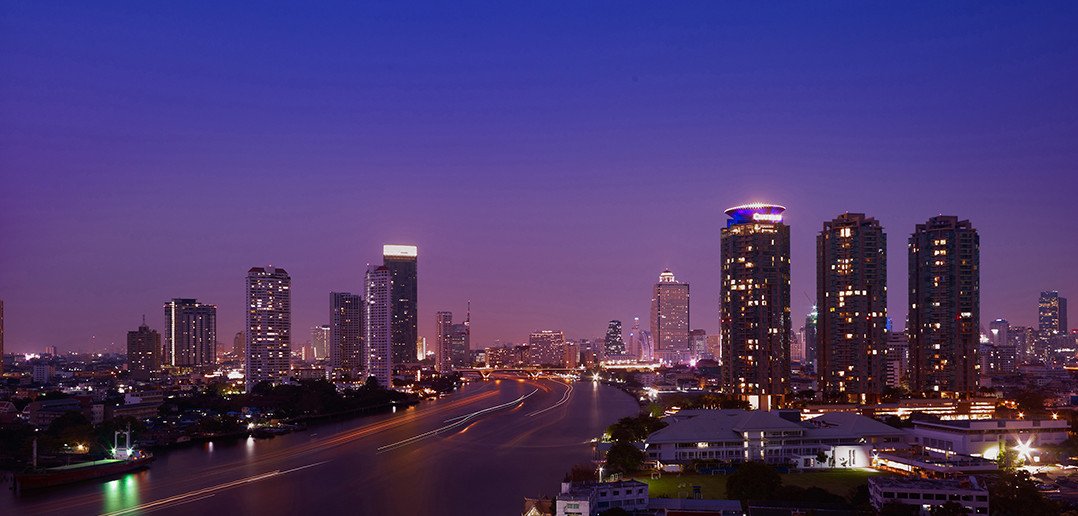 For rooms, the Chatrium offers mostly suites in a 1, 2 or 3 bedroom configuration. All suites are large and spacious and include a kitchen, separate lounge area, a spacious deck from which to soak in the river or city views and supremely-appointed bedrooms and bathrooms. For those who prefer a room to a suite, the Chatrium offers their "Grand Rooms". At 60 square meters in size, these are also generously spacious.
If you feel like relaxing all day at the hotel, enjoying their luxurious facilities, (as we did on day one), rest assured you will never be bored. The swimming pool is massive, majestically positioned overlooking the river. There is also a smaller pool with Jacuzzi jets. The full-service restaurant at the pool area delivers food and drinks right to your sun-lounger. To offset this indulgence, or for the health conscious, the Chatrium's fitness facility is superlatively equipped to get your body pumping.
When one's appetite rises, there are six – yes, count 'em – six options within the property to satisfy the urge. The lobby level River Barge Restaurant is the choice of venue for breakfast, taking in the ebb, flow and action upon the Chao Phraya River. For lunch and dinner there is an à la cart menu of Thai and International favorites. Alternatively, for dinner only there is a freshly prepared International buffet with sensational cooking stations and live entertainment.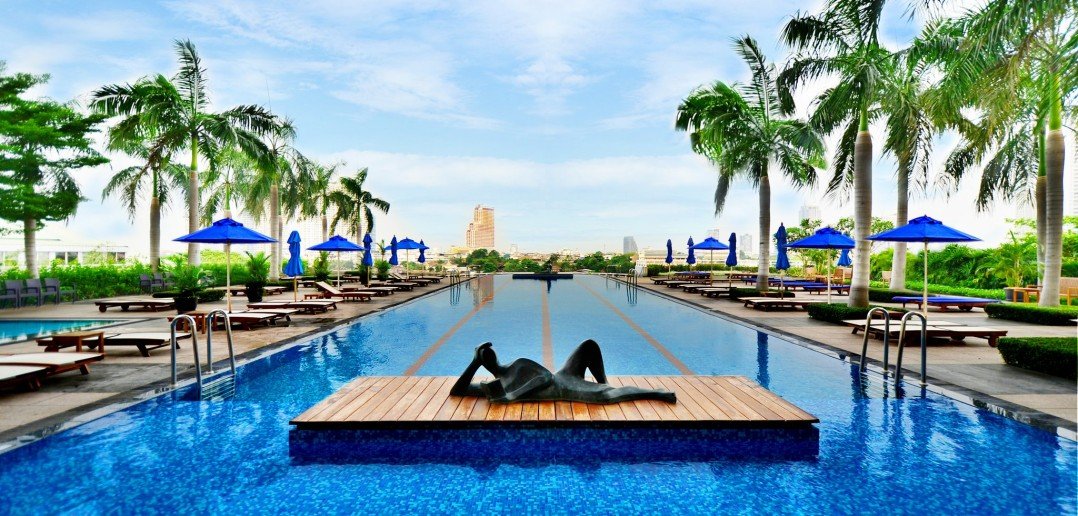 If you feel like treating yourself then get in the elevator and press floor 36. Here you will find the exciting Silver Waves Restaurant with its truly breathtaking panorama of the Chao Phraya and Bangkok skyline. The river inspired décor and authentic live entertainment provides a truly immersive culinary experience in which to savour the flavours of their Chinese delights. This facility also includes four private dining rooms in a variety of sizes, ideal for hosting private parties. Further restaurant choices include the Chartrium's 'Pier 28', their Lobby Lounge, room service and their 'Treat Gourmet' corner offering scrumptious baked goods and delicious coffee. Speaking of coffee, there is an on-site Starbucks and a 7-11, oh, thank heaven.
A really enjoyable feature of staying at the Chatrium Riverside are the boats. Not only the flotilla of bustling boats you see from your suite plying the river, but also the Chatrium's exclusive boat for the complimentary use of their guests. This service can drop you at the BTS Sky Train station, linking easily with the heart of Bangkok. A relaxing boat ride to Thaksin Station adds an extra layer of charm to the riverside location. Of course you don't have to take a boat; there are an abundance of taxis poised to take you anywhere you desire. But a ride on beautiful, Thai-style vessel is a calming and exotic experience not to be missed whilst a guest at the Chatrium.
A further virtue of the Chatrium Riverside's location, is the easy walk to Asiatique; a favorite Bangkok entertainment destination treasured by Bangkokian's and tourists alike. A trigger for our booking of the Chatrium was that we held tickets to see American Music entertainer Kenny G., performing before a sold out crowd at Asiatique on Sunday November 16th. The Chatrium's convenient location, and ease of access before and after the show, really made the occasion. Kenny G. would agree as he was also staying at the Chatrium.
For Thai's and expats with valid work permits, the Chatrium offers a very special rate. Starting from THB 2,877++ per night in their spacious 60 sqm Grand Room City view with balcony. Breakfast is included for up to two registered guests and they offer a complimentary extra bed and breakfast for one child up to 14 years of age. Complimentary internet is provided as well as free use of their shuttle boat. They also are happy to give complimentary room upgrades applicable to 1 and 2 bedroom Grand Suites. Be sure to book through their website to qualify for the above as well as be treated to a Welcome Drink upon arrival, 500 baht to be used on chargeable hotel facilities as well as early check-in and late check-out when rooms are available. This offer is valid from now until 31 October 2015 with blackout dates from 29 December 2014 – 01 January 2015.
The next time you're planning a trip to Bangkok, seriously consider the Chatrium Riverside. The service, the views, the rooms and the price are impossible to beat. As with Trip advisor's happy clients, I'll definitely be coming back.
www.chatrium.com
info@chrb@chatrium.com
+66 (0)2307 8888