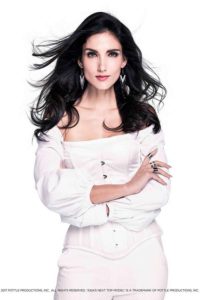 Cindy Bishop is a Thai-American beauty queen, business woman, model, host, actress and mom. At the age of 18 she represented Thailand in the Miss World pageant. Cindy is the owner and creator of "Mama's Secret," a maternal skin care line and she is an ambassador for Fin Free Thailand and the Camillian Home for Disabled Children. Cindy has been acting in films and on TV since 1997 and can currently be seen hosting "Asia's Next Top Model" TV show. HOT Magazine recently had the delightful pleasure of sitting down with Cindy to discuss her very busy life, both professionally and personally.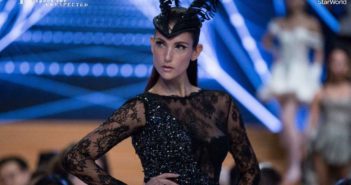 HM: Cindy, many people when they first meet you, don't think you are Thai, they think you are Farang. Why is that?
CB: Well, for one I have blue eyes! That and the fact that I only have 1/8th Thai blood (My grandmother was half Thai) But since I was born and raised here, I only feel Thai.
HM: What was your childhood like and where did you grow up?
CB: I had a wonderful childhood in Pattaya. When I was growing up, it was a quiet but rapidly growing beach resort. I spent most of my childhood years playing on the beach or exploring under the water as my father owned one of the first diving operations in the region.
HM: At the age of 18 you won the Miss Thailand World competition and then went on to compete at the Miss World Pageant in India. As a little girl did you dream of representing Thailand in the Miss World Beauty Pageant or did this goal come later in life to you?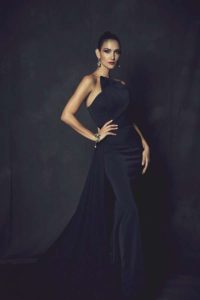 CB: No, I never dreamed of being a beauty queen. I did love to model and perform though, so when the opportunity presented itself as soon as I graduated from high school, I went for it!
HM: To compete at that level requires huge determination and discipline. Where did that come from? Was it instilled at a young age?
CB: Yes, my father always instilled in me how important it was to have a good work ethic and self-discipline. My parents always told me that I could be anything I wanted to be, but that I would have to work hard to achieve my dreams. And that's the same thing I tell my children now.
HM: You graduated from the Bangkok University, majoring in public relations. At that time, did you see yourself moving into the corporate world or were your aspirations different?
CB: Not really. I don't think I'm cut out for the corporate world to be honest. I much prefer to have the freedom to create and be my own boss, hence my various entrepreneurial projects. The degree was more of an asset to have in my field of entertainment work.
HM: You have many accomplishments, one of them being a Supermodel. Did the modeling come after the Beauty Pageants or before?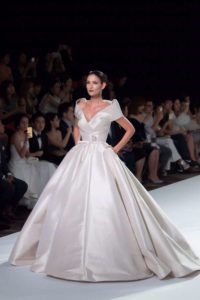 CB: Modeling has always been my first love. I remember putting on my own one-girl fashion shows for my parents' guests at our house parties, so there was definitely a dream there, although I didn't know it at the time.
HM: Most people know you from your acting, both in Movies and on Television. Did acting come naturally to you or did you attend an acting school or classes?
CB: Again, with most things in my life and career, I was pretty much thrown into acting and had to learn as I went. My first role on TV was a sit-com series for Channel 3 where I played a witch in disguise (think I Dream of Genie but instead of a bottle I had a broom) I've been very lucky to have had the chance to work with the A-listers in the industry, so it was a chance to learn from the best!
HM: Of all the parts you've played in film and on TV do you have a favorite role, one that you enjoyed playing the most and if so, why?
CB: My favorite role to date would have to be "Lily van der Woodsen" in the Thai adaptation of Gossip Girl. It was so interesting for me to be able to portray such a well-known character, loved all over the world, but in a totally different language and culture.
HM: For the last two years you have hosted the very popular TV show "Asia's Next Top Model". How does acting in a reality TV show differ from playing a character in a drama and which do you find more challenging?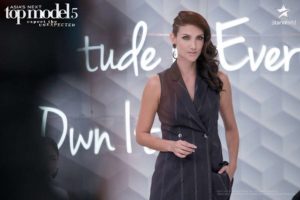 CB: They are extremely different. For one, I'm not "acting" on ANTM. True, there are some scripts I have to follow, but that's mainly for me to describe the rules and details of the various challenges the girls will have to face that day, or when I have a message to deliver via "Cindy Mail". Everything else is real and unscripted and happens on the spot. How I am ultimately portrayed, depends on the editors. I do play up my Tiger Mom persona at times when needed to get my point across but pretty much what you see is what you get on the show. I would say it is more challenging than playing a character in a drama, as the emotions are real and can be very strong for everyone involved.
HM: In addition to modeling and acting you are also the owner and creator of "Mama's Secret" maternal skin care line. Please tell us about that?
CB: It was a project I started after giving birth to my son, Aiden. I had a hard time finding a stretch mark lotion that I really liked so I started looking at producing my own line of cream, oils and lotions for pregnancy and beyond. Our customers love the natural ingredients and our signature Lavender Oil scent. So far its been going very well and I'm quite proud of my brand 🙂
HM: You are an Ambassador for the Camillian Home in Lat Krabrang, and Fin Free Thailand, what can you tell us about these organizations and the work they do?
CB: Fin Free is a project that aims to help spread awareness about the dangers of eating shark fin soup in the hopes of saving these magnificent creatures from extinction and preserving our ocean ecosystems. The Camillian Home is a wonderful home for children living with disabilities and HIV providing them a good education and quality of life.
My two new projects include Operation Smile, which provides dental and reconstructive surgery for children born with cleft lip & palette. The 7% Project aims to reduce the number of children dying from road accidents by increasing the number of kids wearing helmets from only 7% to 100%.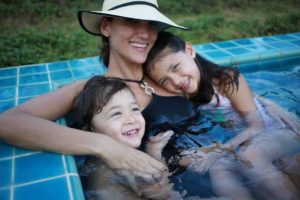 HM: Twelve years ago you married fellow actor Byron Bishop and from that union you have two adorable children, Leila Carmen & Aiden William. How do you balance such a busy life and do you have much of a social life outside of family and your professional pursuits?
CB: It takes a team! My husband and I are very hands on and involved with every aspect of the kids so between the two of us and some help from Grandma, we make them our priority. As for work, social, and personal life, I am very good at organizing and planning how to balance them all at the same time. It can get extremely crazy at times, but I wouldn't have it any other way!
HM: Thank you Cindy for taking time out of your busy schedule to be with us.
To get to know more about Cindy you can follow her on IG: @cindysirinya and Facebook @CindySirinyaBishop. You can also subscribe to her YouTube channel; Cindy Sirinya Bishop for weekly clips of family, daily life, advice and travel vlogs.
Cindy's website, www.cindysirinya.com is where you can find her take on style, wellness and her travel blogs.