In 1995, Sonu Shivdasani, an Indian-British hotelier, along with his wife Eva Malmstrom, launched the Soneva Fushi resort on the deserted Maldivian island of Kunfunadhoo. They also built their house there, where his wife, a Swedish fashion model, developed the design and furnishings for their unique resort and private home.
They had no idea that their intensely personal vision of a locally crafted villa and environmentally responsible lifestyle would form the basis of a successful collection of world-class hotels, resorts, and spas. But that's precisely what happened. Soneva Fushi was the first 'castaway' resort in the Maldives, pioneering a trend for back-to-nature luxury holidays.
In 2009, the Soneva Hotel group built a second, even more spectacular hotel – Soneva Kiri – on the unspoilt Thai island of Koh Kood. They followed that up with another Maldive destination, Soneva Jani, a stunning resort that set new standards in this destination that is already known for its world-class hotels.
Soneva also launched their ultra-luxurious 23-metre yacht named Soneva in Aqua. Located in the Maldives, it combines Soneva's luxurious hospitality with the freedom of a private charter on the Indian Ocean, merging imaginative luxury with the freedom to explore the oceans unfettered by the limitations of time.
This highly refined yacht measures 23 metres (75 feet) in length and 6.40 metres (21 feet) in width, with exceptionally spacious interiors. The vessel features one master cabin that comes with a glass-bottomed spa tub, and an ensuite shower, plus a VIP cabin with its own ensuite shower. In total, the yacht can accommodate four adults and two children.
Amenities onboard include an external raised sun deck, a dining area and a bar on the main deck, daybeds, lounge seating and an outdoor Jacuzzi. There is also additional sun deck space for spa treatments, an internal library and lounge plus Wi-Fi connectivity.
Sailing from Soneva Fushi and Soneva Jani, voyages range from half & full-day cruises to live-aboard adventures around the Maldive archipelago. Each bespoke charter is tailored to your needs, whether you want to explore the best surf breaks, dive spots, drop anchor at deserted islands, or simply sail towards the sunset.
Their highly experienced crew includes a captain, mechanic, Barefoot Butler, head chef, and wellness therapist. Upon request, you can also be joined by a divemaster, surf instructor, astronomer, or digital storyteller.
With your own dedicated Head Chef, every meal is tailored to you. It can start with a healthy sunrise breakfast on deck, a picnic lunch on a castaway beach, sundowners on the sands, and a barbecue with the catch of the day on a deserted island under the stars. The freedom of choice is yours on the high seas.
The experienced crew also includes a dedicated wellness and yoga expert. If you wish, you can start your day with sunrise yoga or Tai Chi on deck, indulge in a massage, or meditate under star-strewn skies. A wide range of treatments and personalised wellness activities are all available to you.
If desired, an itinerary designed by Soneva in Aqua's Captain offers you the chance to explore reefs beneath the calm waters, uninhabited islands, and fascinating marine life at leisure.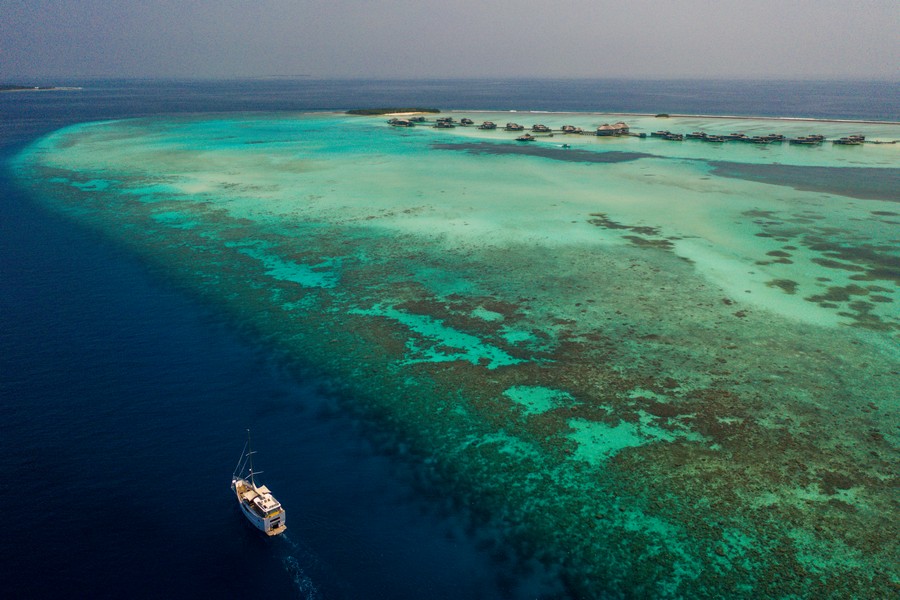 A favourite guest activity is night snorkelling with manta rays. Majestic manta rays are a common sight when dropping anchor in the Goidhoo Lagoon. With the clear skies lit up by the moon and stars, night-time snorkelling is an utterly magical experience. – slip overboard into the balmy waters and let the lights from the yacht illuminate these gentle giants as you glide alongside them.
You can also learn the ancient art of freediving. Long predating modern scuba diving, freediving is a quieter, more mindful way to connect with life under the ocean. Guided by their certified freediver, you can learn the relaxation techniques required to hold your breath for longer and how to propel yourself through the water, then take the plunge and put your newfound knowledge into practice.
While Soneva in Aqua primarily relies on its engine for power, they are more than happy to roll out the sails when conditions allow.
Soneva in Aqua's complimentary personalised photography and videography service will capture the most precious moments of your voyage, whether you're relaxing on board, paddling across the waves, or exploring below the surface. All pictures and videos are edited and transferred direct to your personal device before the end of your stay.
A choice of one, two, and three-night excursions are available depending on how much of the Maldivian sights and islands you wish to explore. Longer itineraries are also available on request. For more information on Soneva in Aqua or any of Soneva's resorts, visit www.soneva.com.