Glowing a softening white gold, the setting sun heads towards the Mae Nam horizon, paving a line of warm orange light across Bophut bay toward me. A yacht sails taut, slips across the bay, returning from a day cruising the tropical waters and islands surrounding Koh Samui.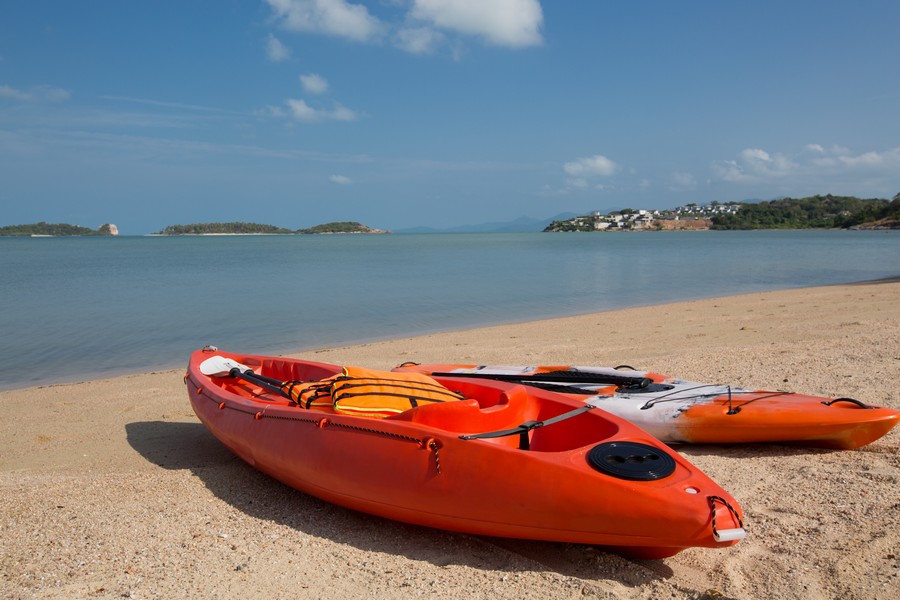 Gentle waves lap upon the shell-strewn sandy beach directly in front of the 19-meter pool I'm lazing in. The only other sounds are the chirping of birds in the trees surrounding the villa as they make themselves comfortable for the onset of another balmy evening.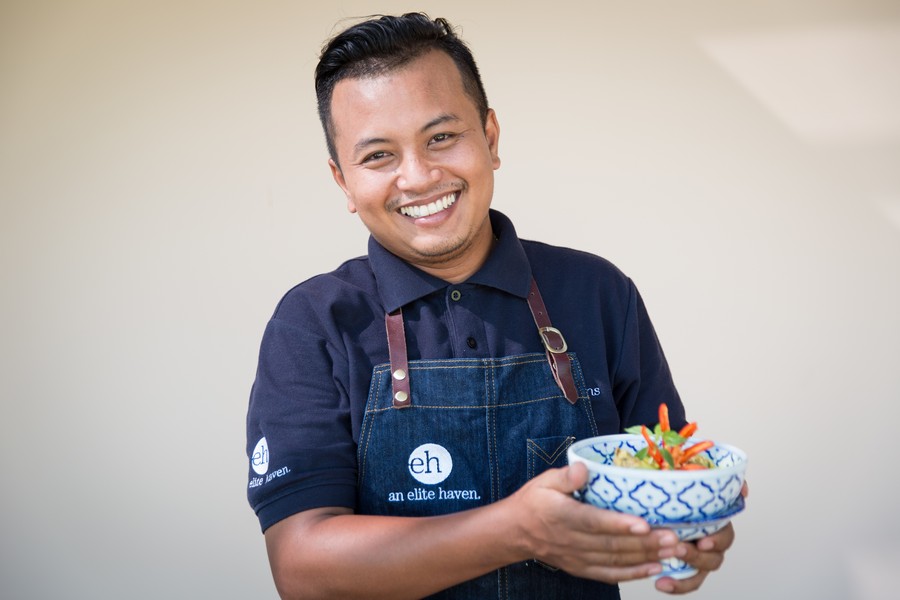 I have an hour to dinner, and the chef is already at work. I've selected Thai dishes from the Villa menu, and Villa Manager Melie is preparing the dining pavilion overlooking the pool and beachfront lawns. I've enough time to enjoy a refreshing dip and reflect on my first day in the luxurious Angthong Villa in the Plai Laem region of Koh Samui's north-east shoreline. I'm thinking as the sun finally sets, could this be the new and COVID safe way for families and groups of friends to holiday?
Let me describe my setting because this is holiday rental accommodation on a different level. With no immediate neighbours and absolutely beachfront, Angthong Villa is grand opulence and yet comfortable modern living. This elegant five-bedroom villa fuses modern materials with Asian architecture. Wood, stone and mosaic adorn floors, walls and ceilings. Handcrafted lamps hung from the high vaulted wooden ceilings add a luxurious dimension.
The eclectic décor ranging from Chinese ceramics to natural wood artefacts and comfortable furnishings lend a homely and grounded feel to this magnificent villa.
Angthong Villa is all about contemporary indoor and outdoor living. Facilities include two fully-fitted kitchens and dining areas, satellite Smart TV entertainment, indoor and outdoor sound systems, a small up-to-date gym, massage Sala, an outside bar area, and a pool table. That 19-metre pool I've already mentioned is the visual and literal centrepiece of the villa. Oh, and don't forget the uninterrupted all the way to the horizon sea views and beachfront setting.
Full-time staff like Villa Manager Melie, onsite chef, housekeeper, and gardener-pool person, look after your needs. Whether it be the lavish complimentary breakfast, exceptionally discreet housekeeping including turndown service, maybe transport to the island's easily accessible attractions, day trip bookings, or any other holiday requirements.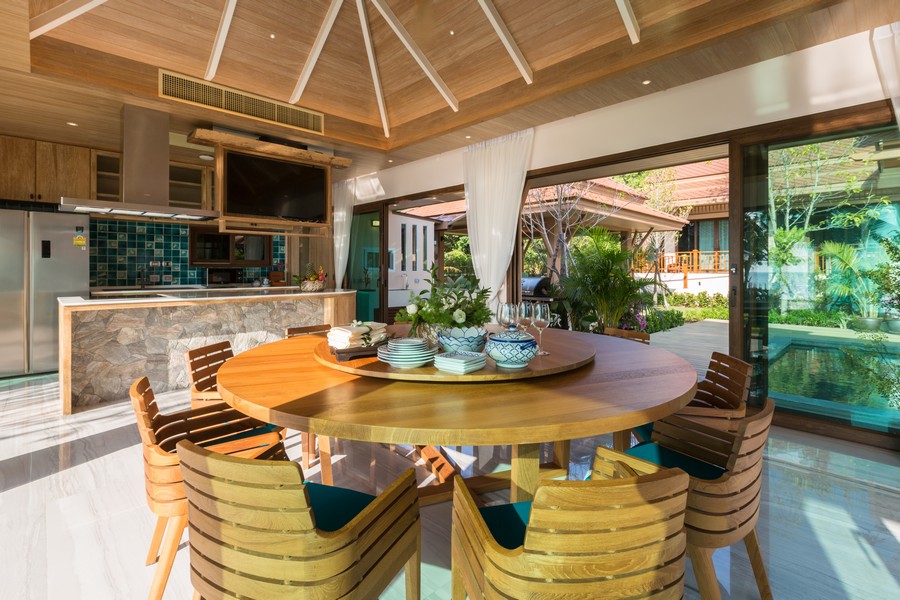 Breakfast is included with other meals available on request. You can choose from self-catering, which Villa staff can assist with provisioning, before or upon your arrival. All groceries and beverages are at market price plus 20% handling fee and the 7% government goods and service tax. Alternatively, select from the extensive in-house menu of tasty homemade Thai or international meals that your onsite chef can prepare for you. Or, a combination of the two – you are on holidays, after all. This is a highly evolved personal style of service.
Angthong Villa is one of 300 private luxury havens in the most desirable holiday locations of Koh Samui and Phuket in Thailand; Indonesia's Nusa Lembongan, Bali and Lombok; Sri Lanka; the Maldives and India; along with Japan's nature wonderland and famous ski resort region of Niseko. All are hand-picked by Asia's leader in high-end holiday rentals Elite Havens.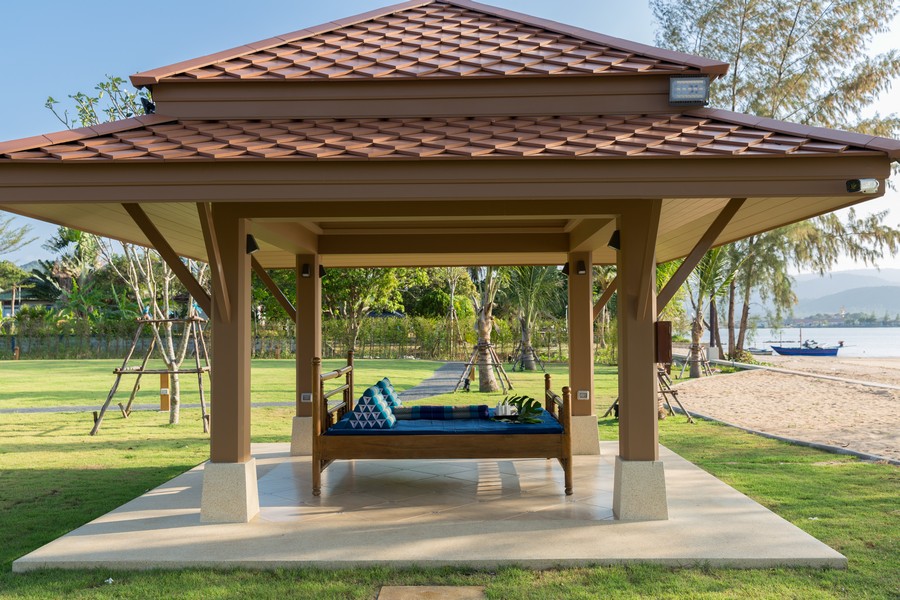 Established in 1998, Elite Havens features an exclusive portfolio of villas and chalets in the best locations. They pride themselves on the principles of consistency, personalised service, and attention to detail, ultimately, to ensure villa guests are free to safely "create lasting memories." Now part of Dusit Thani group of companies, one of Thailand's leading hospitality groups, Elite Havens moves into its third decade of providing "nothing less than spectacular holidays."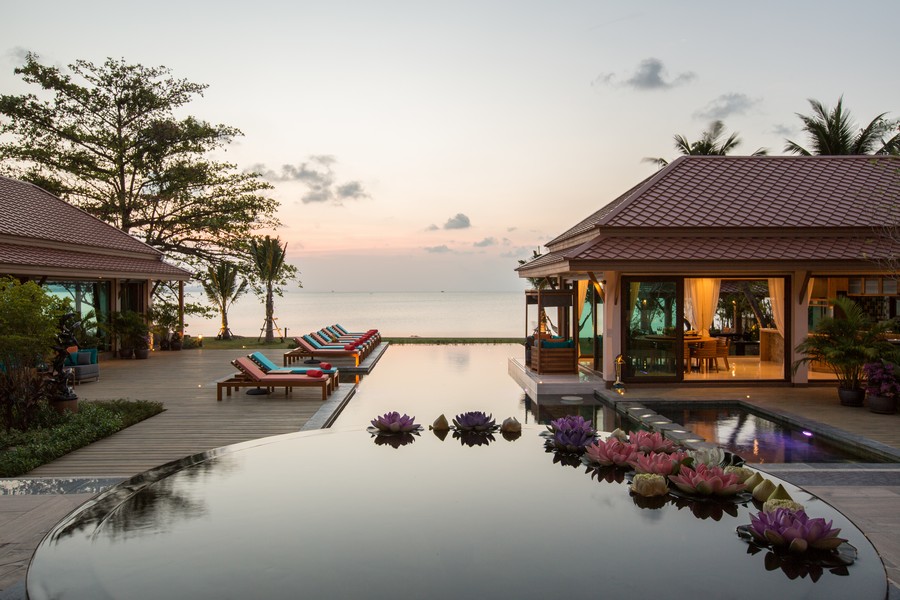 In Thailand, Elite Havens has forty-five villas on Koh Samui and a further ninety-three on Phuket, including several from their Signature Collection – the ultimate selection of the most exclusive villas and chalets in each destination. These Signature villas excel in every aspect from architecture to design and location. All with outstanding facilities offering enhanced luxury at every level. Angthong Villa, where I find myself, is indeed one of the Elite Havens Signature Collection.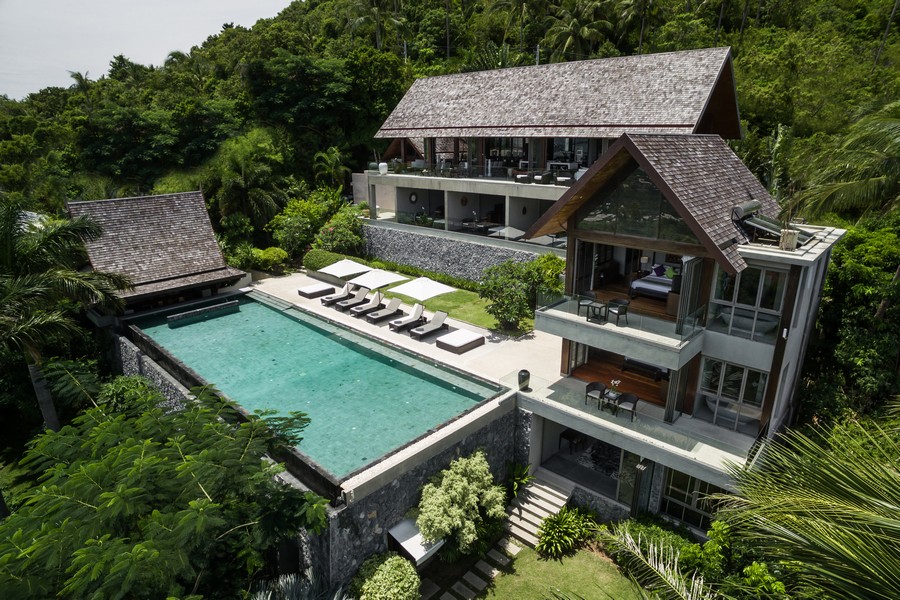 Another such property I visited is perched high atop the hills behind Bophut boasting a breathtaking sunrise-to-sunset panorama of Bophut Bay right across to neighbouring Koh Phangan. Suralai is an exclusive villa, ideal for families or groups of friends seeking a sophisticated yet relaxed escape. All six luxurious bedrooms have ocean-view terraces, as does the vast living and dining pavilion, while alongside the 25-metre infinity-edge pool is a shady relaxation and outdoor dining Sala with a swim-up bar. As with all Elite Havens, Suralai comes with friendly staff, including a highly experienced villa manager and your own full-time chef. This is a villa designed for an exquisite time with family or friends in the most memory making setting.
So, who are Elite Havens villas and chalets for? In reality, anyone looking for the luxury of space, and a safe environment in this COVID impacted world. Somewhere special to have time together. Perhaps extended family gatherings, special occasions, or multi-generational family holiday time together. Given Elite Havens diversity of locations across Asia, it comes back to your interest. Beach, family-focused, ski, golf, wellness, or those exceptional life celebrations from destination weddings to milestone events.
As highlighted, holidaying and travelling in these pandemic restricted times is about taking extra precautions to protect your family or friends. With those significant concerns in mind, Elite Haven is now certified as adhering to the Amazing Thailand Safety and Health Administration (SHA) program. Reassuring for anyone looking to plan their next holidays.
And speaking of holiday planning, check out the promotions page on the Elite Havens website to see the latest offers. For this forthcoming holiday season, they have 'Family Funcation' special offers for their two Thailand locations. These Koh Samui and Phuket family promotions may provide a desirable alternative to busy hotel or resort vacation options. And as Elite Havens is now a member of the Dusit Thani Group, Dusit Gold frequent guest reward program members receive an additional 5% off any existing promotions at Elite Havens.
Returning to my sunset coloured in-pool musings – could this style of holidaying be the new and COVID safe way for friends and family to holiday together in this current travel restrained world and on into the 'new normal'? I certainly think it has a lot going for it.
Visit their website to learn more about Elite Havens and to be inspired for your next unique and exquisitely special holiday. www.elitehavens.com
Michael Cullen