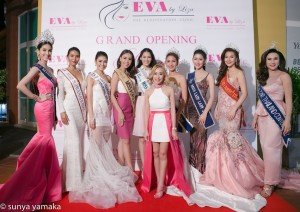 On Friday February 5th, over 9 major beauty pageant winners as well as top models and actresses from around Thailand came to celebrate the opening of EVA by Liza, a full service beauty and dermatology clinic in Bangkok.
With a philosophy of professional care beyond international standards, EVA by Liza's focus is two-fold, Surgery and Comprehensive Skin Care, all in a clean and safe environment providing all of their clients with the highest degree of customer care in both clinical and beauty treatments.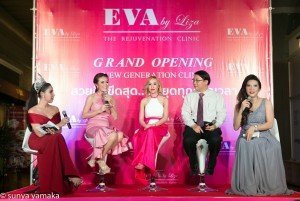 The EVA team consists of an experienced Plastic Surgeon, honored Medical Dermatologist and a Professional Aesthetic Beauty Team. Their experts offer surgical options such as; breast augmentation, hip surgery, tummy tuck (abdominoplasty), liposuction, dimple repair, ear pinning (otoplasty), eyelid lift, face lift surgery, vaginal tightening, rhinoplasty and scar removal.
Breast augmentation, hip augmentation, nose repair, chin augmentation can also be accomplished without any surgical procedure for small improvements.
Under Comprehensive Skin Care EVA by Liza provides Botox injections to rejuvenate the skin, Hyaluronic acid filler to reduce facial wrinkles, Collagen injection to stimulate the lymph nodes and remove toxin on the face, Anti-Melasma to reduce dark spots, freckles and pigment spots on the face, Meso Fat treatment to improve absorption and liquefaction of fat and cellulite, Oxygency to accelerate exfoliation and skin regeneration and smooth peeling with Microdermabrasion. Thread Lifting methods such as collagen threading and thread logs are also part of their offerings.
EVA by Liza uses the latest generation of machines including Hi-Fu (high intensity focused ultrasound) providing lifting technology without any surgical process, a Q-Switch Laser that helps to reduce spots, tattoos, pigmentation of the skin and to tone the skin, a Fractional Laser to stimulate collagen and elastin production and an I.P.L. (soft laser) that improves skin brightening and radiance.
With the baby boomer generation exploding in size, EVA by Liza is the next best thing to discovering the eternal fountain of youth
EVA by Liza – The Rejuvenation Clinic
02 019 0959
Warisa_liza@hotmail.com
The Walk Kaset-Nawamin, 511 (No. D203, 2nd floor)
Prasoet Manukit Road, Ladprao, Bangkok