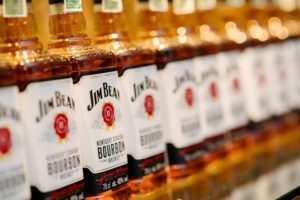 The success story of Jim Beam began when founder, Jacob Beam, son of a German immigrant, started selling the corn-whiskey recipe created by his father. He sold his first barrel of Old Jake Beam in 1795.
Jim Beam continued to grow and expand developing rigorous standards for its production and quality, until Prohibition brought all alcohol distilleries to a screeching halt in 1918. For over a decade, bourbon production was effectively out of business.
Fast forward to the end of prohibition and at the age of 69, the man known as "The Colonel and The Legend" brought the brand back to life by rebuilding the distillery in Clermont in 120 days. He unveiled Jim Beam® shortly thereafter and It's been the world's No. 1 bourbon ever since.
On August 16th, at Bangkok's W Hotel, Independent Wine & Spirit (Thailand) Company & Jim Beam, presented "Bartenders 4 Bourbon." Acclaimed mixologist and Jim Beam Brand Ambassador Ricky Paiva was on hand to share his knowledge of Bourbon and Jim Beam to 120 of Bangkok's top bartenders. The grueling afternoon class consisted of learning the history of Bourbon along with tasting different Jim Beam Bourbon's and making cocktails.
Later in the evening at the W's Woo Bar there was an after party where the Jim Beam Citrus Highball was the star of the show. Celebrities, socialites and generally fun people spent the evening enjoying J.B.'s Citrus Highball's which were described as the ultimate noon-time tipple, an after-work refresher or weekend party-starter.
Thai band Room39 were on hand along with DJ SG, the former cranking up the Woo Bar's ambiance with their pop and rock, the latter playing his beats and tunes to take guests into the stroke of midnight.
Extravagant and entertaining, the Citrus Highball party at the Woo Bar was truly one to commemorate!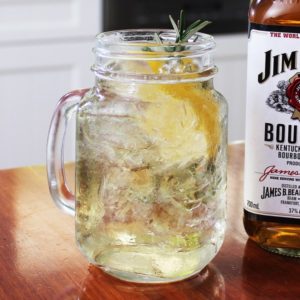 How to make a Jim Beam Citrus Highball
INGREDIENTS
45ml Jim Beam® White Label
20ml fresh lemon juice
Soda water
Crushed ice
Slice of lemon
Sprig of rosemary
PREPARATION
Pour 45ml of Jim Beam® White Label over a packed glass of ice. Add 20ml of fresh lemon juice. Top with cold soda water. Stir with a long spoon and enjoy. Garnish with a lemon slice and a sprig of rosemary.