HOT Magazine recently had the pleasure of meeting up with K.Ton, GM of the Amari Hua Hin Resort who is celebrating his one year anniversary at the hotel and the resort's five year anniversary.
HM: With your one-year tenure, how has the hotel changed and what have you seen as your role in that change?
KT: It's been an amazing and positive change measured by the increase in our online rankings through various online reputation management, which are not only from our own social media channels or online travel agent website, but from renown leading review platforms, such as TripAdvisor. It's undeniable that nowadays, online review platforms play a vital role and ranking can be so important to the success of businesses. Compared to offline marketing, these reviews seem to be a word-of-mouth strategy by which guests can get recommendations or information for making comparisons and decisions.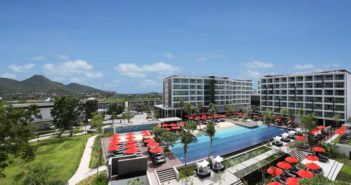 To give you a precise number, the Hotel's ranking has increased from No. 17 to No. 11 via TripAdvisor. Breeze Spa has gone up in rank from No. 50 to No. 6, and Shoreline Beach Club, our beachfront restaurant, has gone up from No. 115 last year to No. 28 this year. We have been developing a straightforward strategy, "Happy Staff, Happy Guests", following one of Amari's brand hallmarks, "Positivity So Infectious". We believe that the staff's positive attitude makes a strong impression on the guests. If the staff exudes happiness, guests can be infected, leading to a good and memorable experience. This strategy has been quite successful, as seen from the higher percentages in the guests' satisfaction surveys and the engagement of the staff's having gone up to 94% with a dramatic reduction of staff turnover from a two-digit to a one-digit percentage.
Of course, as a general manager, I am proud to see this huge progress within one year.
HM: Amari Shoreline Beach Club is the only beach club in Hua Hin to have its own swimming pool and quality restaurant. I'm sure that your guests love the club, but is it also popular with Hua Hin residents?
KT: Yes. According to the tracking report, we have more guests coming in from outside than guests staying at the hotel to visit the restaurant or 70% :30%. Of the outside visitors, 40% are our local Hua Hin residences and most of them become our repeat guests that usually call us directly or book through our social media channels.
HM: Within the last year, several new large hotels opened in Hua Hin and the 300-room Holiday Inn is set to open at the end of this How do you see Hua Hin's hotel industry fairing in 2018?
KT: I think Hua Hin will have the same demand on the weekend and oversupply on the weekday anyway, meaning that there are still opportunities on the weekend and slow demand during the weekdays. We, as a city, need to develop our strategy to invite repeat guests and more potential clients, rather than managing the prices during the week. The strategy has not only been push by one organisations; companies, hotels, local shops, transportation provider, or government but everyone to discuss on the direction of the growth. We as a city will succeed together in a "win-win" situation.
HM: What are your plans for your second year at the helm of Amari?
KT: Making Amari Hua Hin the perfect home away from home getaway for all travelers: golfers, business travelers, families, couples or groups of friends. For families that travel with children, we are enlarging the Kids' Club to keep the children occupied and even happier while staying with us as well as to develop to have more repeated and royalty guests.
HM: For the hotel's fifth anniversary, do you have any special events or promotions that are taking place?
KT: This year, Amari Hua Hin is celebrating the fifth anniversary with three main events. To show our gratitude to the staff, we will arrange a special activity and give them a service recognition award after a religious ceremony. Second, for Amari's loyal guests, we will launch a special deal called "happy5" with good prices and great offers from F&B and the Spa. Third, we will have a special event for all guests and partners around November or before the high season starts.