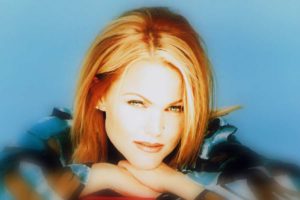 Back in 1987 the song Heaven Is A Place On Earth launched Belinda Carlisle's solo career globally. Before going solo Belinda had attained stardom for being the lead singer of the Go Go's, one of the most successful female bands of all time.
It's been 40 years since the punk-influenced Californian teenager sat on the curb of a Hollywood sidewalk drinking beers with her gal pals and set about forming the band. Within three years they not only had the number one album in America but had broken down the door for every female guitar group that followed. That number one album, Beauty and the Beat, included the smash hits We Got The Beat and Our Lips Are Sealed.
Their stardom was well televised. Just a month before MTV aired for the first time, the Go Go's mega hit single Our Lips Are Sealed was released. Songs from their double-platinum album "Beauty and the Beat" were soon in constant video rotation. Rolling Stone magazine called them "The world's best female rock band."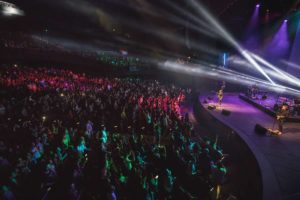 The Go Go's sold more than eight million albums in three years and counted Kurt Cobain and British acts like The Specials and Madness amongst their biggest fans. But by 1985 Carlisle was ready for the fresh challenge of a solo career. Her Gold certified solo album debut, Belinda was released in 1986 spawning the hit single, Mad About You, before her second album, Heaven On Earth, elevated her to the next level as one of the most successful female artists of the decade.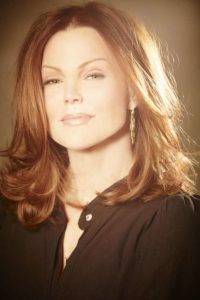 Heaven Is A Place On Earth is one of those career records that transcends its place in time. A number one hit in both the US and the UK, it reached the top spot in 8 different countries, earning Belinda Carlisle a prestigious Grammy nomination for Best Pop Female Vocalist in the esteemed company of Whitney Houston, Carly Simon, Suzanne Vega and Barbra Streisand.
Belinda spends several months each year in Thailand and loves to visit Hua Hin, always staying at the InterContinental Hua Hin Resort. HOT Magazine recently had the pleasure of sitting down with Belinda to discuss her amazing trajectory in the music business.
HM: Belinda, did you know as a young girl that you wanted to be a famous musician or did your life unfold before you?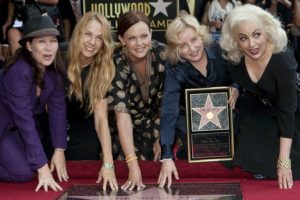 BC: The only thing I ever wanted to do when I was little girl was to travel around the world so I wanted to be a travel agent because I thought that would be a good way to see the world. As a teenager however I thought that being in a rock band would be a better way to see the world. At that time the punk rock movement was happening in the States – actually in the UK also – which gave the opportunity to all these kids to play music who would normally never have the chance. They could be terrible but still get gigs at the clubs, and actually, if you were terrible that was cool. I was in a couple of punk bands, a band called the germs, and then Metro Squad where I was a backup singer. From there I found the Go Go's, and that was the beginning of my career as a singer. I never really had aspirations to be a singer, I just loved music growing up and I just kinda fell into it.
HM: How did the Go Go's come to be formed?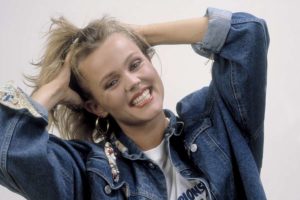 BC: Back in 1977, there were 50 kids in the punk scene in LA, and everybody was in a band, and they were horrible, most of them. We were sitting on the curb one night, drinking beer and probably on acid and it was basically; hey, let's form a band, what are you going to do? "I'm gonna play bass" I actually wanted to play bass but someone took that. It was basically like tapping something, "I tap guitar, I tap bass, so I had a choice between playing drums – which I did not want to do – or singing, and that's how the band was formed. And we had Charlotte who was a guitar player who joined the band because she knew how to plug guitars into the amplifiers.
HM: How long after the Go Go's started making music did you realise the trajectory of success you and your band mates were heading for?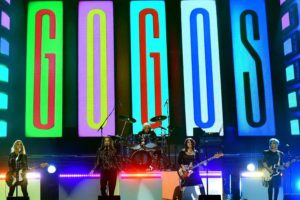 BC: Well, the minute we formed the band, you know, our first show we sold out. We never had a problem getting people to come see us. We thought we were the greatest singers in the city. Within a year we were playing in New York, San Francisco, L.A and had really established a name for ourselves. You couldn't get a ticket to a Go Go's show. But, record executives would come to our shows and say "we love you because everybody loves you but we can't sign you because you're women and there's been no track record of an all female band that's been a success, so I'm sorry".
HM: Do you think getting that kind of response it made you push harder?
BC: No, I don't think it made us push harder. We went on tour, we were on our way to England to open up for Madness & The Specials which were two bands back in the 80's. Madness were so huge in Europe that as a favour they got their record company to release the Go Go's song "We Got the Beat." The Sales Rep didn't like the song but they pleaded with them and We Got the Beat became a big dance hit in the States. So, we knew at that point that we just needed to keep our heads down and work hard. We had a manager who was also a woman, female roadies, no guys allowed, it was a girl's club and our manager had a clear vision.
HM: What were your early days of fame like?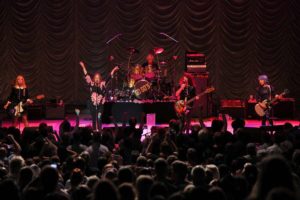 BC: Well you have to understand that most bands take years and years to make it. When we formed the band in 1977 we had no idea how to play instruments or how to write music. We used to write songs by putting masking tape on the neck of the guitar and writing songs by numbers, fret 6 to fret 3 etc. and that's how a lot of our stuff was written. We went from that in 1977 to being the number one band three years later, really working hard.
But we had no expectation and we did not know it was going to explode like it did. So you know, seeing yourself on the cover of every magazine and have people call your name as you walk down the street… back then I didn't have the confidence to be able to handle it, it always made me feel really weird, and undeserving. There was also all the self-sabotage like drugs and things that go along with that. When you're that young there's no positive way to handle it. It's very hard to come out the other side and not be damaged.
In the U.S. the paparazzi can be quite aggressive, here in Thailand I don't think it's that way, even for bigger bands there is a level of respect, they're not in their face, even though they are huge stars here, these people can still enjoy somewhat of a life. In the US it's as if you're in a fish bowl…
I've had my picture taken at the grocery store. You know, putting my groceries in the car then seeing it in the papers and I'm not even that news worthy, they bug me. They have no respect for people.
HM: Were you excited or frightened by a solo career?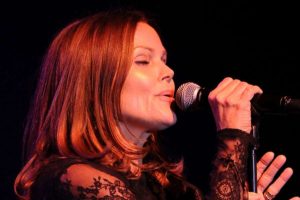 BC: I didn't know anything else, so I assumed I had the opportunity to do a solo career but I was freaked out. Going on stage without the security blanket of four of the girls, it was difficult.
HM: But there was an adjustment period, it wasn't necessarily excitement, it was just what it was, right?
BC: Well, yeah of course. The success of my first two albums established me and validated me as a singer and a recording artist so that was exciting. But I think to that point, it was exciting making the album, but I didn't think about having to actually go out and support it and be on stage on my own. Then it was horrifying, absolutely horrifying.
HM: Do you still get that? You don't get that right now, right?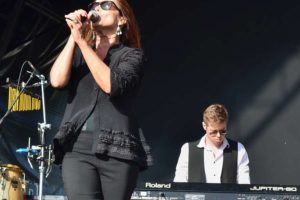 BC: No, I'm rarely nervous when I'm on stage. It's so easy, it's second nature for me.
HM: Do you find it harder to talk to someone one on one instead of large groups?
BC: When I do shows it's easier for me to be in a stadium where everything looks like a big blur than it is for a small club, it's harder work and it's more intimate, people expect more than just singing the songs. It's always challenging but I don't get nervous. Thank god!
HM: With all the success came the rock n' roll lifestyle, you were a party girl to the point where even John Belushi felt he needed to give you the speech about the perils of drugs and fame. When you look back on those years, what do you feel about them?
BC: I have no regrets. I mean, I had a great time, and so wild, but, they're good memories and they actually really made me who I am now. You know, I look at 99.9% of those times most of the times with a smile. But there's nothing really that I regret. When you're that young with no responsibilities and rich and famous…
HM: In 1986 you married movie producer Morgan Mason, son of Oscar winning actor James Mason and Pamela Mason and you have one son together Did married life and motherhood slow you down as far as working and partying?
BC: No! (Laughs) Not at all. No, I mean, no, it didn't. I don't really know what to say, my husband is really supportive and for years and years I sort of led a double life and he didn't. I was partying so much and that's another story but no, it didn't stop me there.
HM: And how about having your son?
BC: No, that didn't stop me either. When I got sober about 13 years ago my son was around 13 years old, and that's when I started making up for lost…, the only real regret I have is not having been the kind of mother that I should have been for my son because I was not really very present as a mother because I was such a mess.
HM: At the beginning…
BC: Yeah at the beginning.
HM: Because you're obviously very present now…
BC: Yeah and that's how I made up for lost time.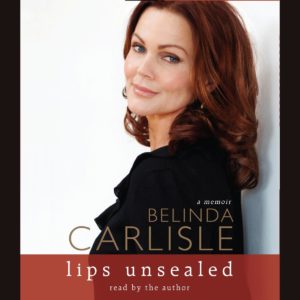 HM: In 2010 you wrote a memoir called Lips Unsealed which dug deep into your personal life in the past. Was it difficult to put your life out there for others to read about or was it quite cathartic?
BC: It was fairly easy for me to talk about. But I have to say the experience of writing a book was like therapy times 100 because a lot of realisations I came to during that, I didn't come to during my therapy sessions or my 12 step program. So it was pretty intense at times, I don't think I'd do it again.
HM: Last year saw the 30th anniversary of Heaven is a Place on Earth, when you recorded that song did you think that it would shoot you into stardom like it did?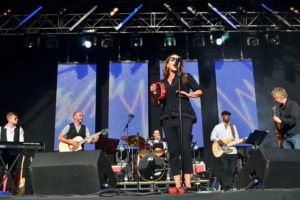 BC: I knew it had the potential of a global number one hit but I never really knew because of what's going on with the charts and that, there are a lot of variables, but I knew it had a lot of potential.
HM: Where can your fans see you in 2018?
BC: I have a lot of dates in the States and then I have Australia too so, I'll be doing some stuff in Europe but for the most part it will be in the states.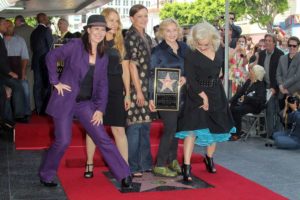 HM: You led an extraordinary life. What moments really stand out?
BC: Probably the Hollywood Hall of Fame is probably one that comes to mind, but I mean I've had a lot of amazing moments in a forty year career.
HM: You are a big animal rights supporter. In 2018 you drove a tuk tuk across India to raise awareness for animal causes. Have you always been a strong supporter of animal rights and why did you choose India?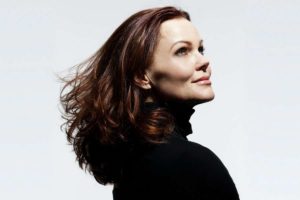 BC: I'm a lifelong animal advocate, I did the first "I'd rather go naked than wear fur" Prada campaign with the Go Gos. I'm part of an organisation called Mercy for Animals promoting veganism and I always wanted to have a donkey sanctuary. I also love dogs and I love India, so I thought I had to find a way to combine the two. I see there's a big need to change people's consciousness towards animals in India. Although it's changing it's still really bad for the most part. I have a lot of friends in India and one of them approached me about doing a project in Calcutta, it's called the Animal People Alliance and in three years we've made a lot of headway, I think we're about to go into Rajasthan in Jaipur, and yeah it's coming along, it's not easy though.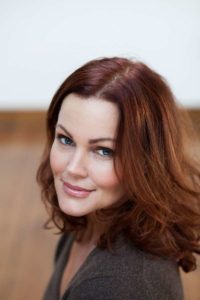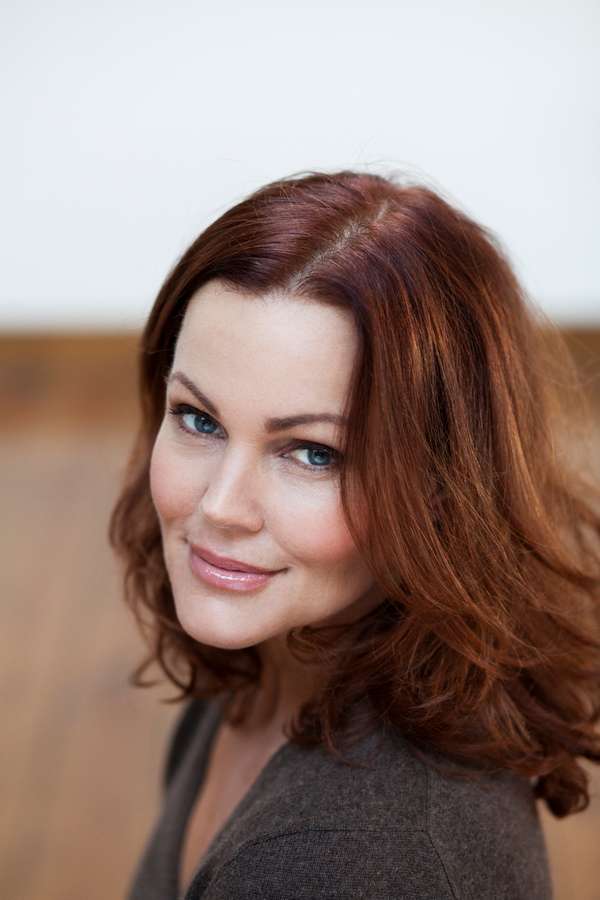 HM: You're also very active in LGBT causes. Is there any reason you started helping out the LGBT community?
BC: Well, I have a gay son, first of all. Most of my friends have always been lesbian or gay, I have very few straight friends.
HM: Finally Belinda, you once said you were planning to make Thailand your home. Why is that and are you still planning do so?
BC: I love Thailand. I love Asia. Once you have that taste you never want anything else. So yeah.