Russ Downing, Managing Director of HOT Hua Hin Property, recently had the pleasure of meeting up with International property developer Michael Tan, Founder and CEO of Sanctuary Lakes Global Group. Michael and his company have developed housing projects in his native Malaysia as well as in China, America, Australia and now Thailand with his first project being built in Hua Hin which is called Sanctuary Lakes Hua Hin.
RD: Michael, you have been a developer for over 40 years. What did you do professionally prior to Real Estate Development and what was the catalyst that led you into property development?
MT: I obtained my degree in economics from Sydney University, Australia in the late 60's. My family business was in property development. That is where my career began. I have served as director of few publicly listed companies and have learned to look at "the forest rather than the trees"
RD: You're native Malaysian and still reside there. With many development projects in Malaysia what was the catalyst for branching out internationally?
MT: While the business was growing in various states in Malaysia, we also began to look at opportunities outside Malaysia. We've had projects in Melbourne, San Francisco & Toronto. Currently outside of Malaysia, we are developing Sanctuary Lakes Huahin, and Sanctuary Peak in Sichuan China.
RD: Throughout your development career you've built tens of thousands of residences worth over 1.5 billion U.S. Dollars. Have you ever thought of developing commercial properties?
MT: Over the years, we have become more focused in our business approach. We believe we should be sticking to our knitting and doing what we do best, developing "Resort Residential". This is where we can "create and deliver value assets" and creating an impact in the process.
RD: Your Sanctuary Lake Development in Melbourne is a truly massive and impressive project which includes a Greg Norman designed golf course. What can you tell us about it?
MT: Sanctuary Lakes, Melbourne, has a total of more than one thousand acres consisting of 3,000 homes plus a shopping center spread over 100 acres. The project was completed in 2010.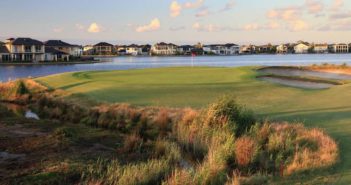 We have changed the image of the surrounding area and have lifted the standard of living there. We have added pride to home ownership and our proud that Sanctuary Lakes was awarded the best environmental design in Australia.
It has been very satisfying for me in particular. A buyer did mention that staying home is like a holiday in a resort. Another had thanked me for providing the enjoyment in a home which he couldn't have had otherwise.
RD: Before purchasing the land for a new housing estate, do you conduct a lot of market research, or, after 40 years of doing this, do you have a gut instinct telling you that a project will be successful?
MT: We are developers. We "develop undeveloped land". We are pioneers in that direction. We achieve new frontiers. Our approach is a new concept. Market studies of past projects are of no relevance to us. Bankers very often don't share our view. Consequently, our projects are very often self-funded. Our experience, our gut instincts are our guidance.
RD: Your very first real estate project in Thailand is called Sanctuary Lakes Hua Hin. Why did you choose Hua Hin for your first foray into Thailand?
MT: We did not choose Hua Hin, Hua Hin chose us. It came to us coincidentally. The chemistry was there from the beginning. The terms are conducive. The gut feel is good. In a simple terms, all are just fated.
RD: If you were talking to a potential home buyer in Hua Hin, what would you say to convince them to purchase a house at Sanctuary Lakes Hua Hin?
MT: Sanctuary Lakes Huahin is ideally located. It is only 15mins from Blu Port and Market Village, the 2 biggest shopping centers of Hua Hin. The world-renowned Bangkok Hospital is located just next to these 2 shopping malls. Sanctuary Lakes Huahin is second to none. It is the hamlet in harmony with nature. Each house will have natural lighting and ventilation. The owner staying there will call it "my home, my enjoyment".
RD: Michael, when you're not planning and building new real estate projects around the world what do you like to do for fun and relaxation?
MT: In each project I seek an impact. I enjoy the challenges. Outside my work, my pursuits, among others, are challenges in golf, skiing, driving, musical instruments, singing and health.
Thank you Michael for your time in talking with us.