It's been my experience that one of the big differentiators between a 4 and 5 star hotel is the level of service you receive from the hotels staff.
Four-star hotels provide quality service to patrons, frequently offering extras such as child-care services, poolside food service and a concierge to assist with making reservations or getting tickets. The staff at five-star hotels go out of their way to personalize each of those guest services, using the guests' names and anticipating each guest's needs.
We recently had the pleasure of staying at the Hilton Sukhumvit Bangkok on Soi 24 and we couldn't have been more pleased with our choice. We chose the hotel because of its location, being close to meetings we were attending (CBD) and within quick walking distance to the new EM District encompassing The Emporium, the EmQuartier and the soon to come EmSphere. The hotel's sales literature states that it is the perfect base for business and leisure travelers alike and that fit us to a T.
Upon arrival and introductions we were whisked to the club lounge where drinks were served while the staff filled out the necessary paperwork. They say your first impression is your lasting impression. Our first impressions were of the friendly professionalism shown by the staff and that impression continued throughout the entire length of our stay with every staff member we encountered. Whoever is setting the example for the Hilton's team members deserves to be congratulated.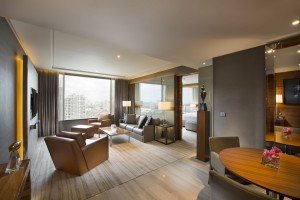 Once the short paperwork was completed we were escorted to our room and were very pleased with what we found. We booked into their one bedroom King Executive Suite's with Lounge Access. The suite was spacious at 77sqm's, approximately 830 square feet, which consisted of a living and dining area, a large separate bedroom and a sumptuous bathroom with dual sinks, a large tub and separate rain shower. Music and volume controls were located in the bathroom as well as an electronically operated shade that opened allowing views of the Em District from the bathtub. The suite also had dual 42" HDTV's as well as a home theater system.
Having lounge floor access allowed for a more relaxed breakfast environment, afternoon tea and evening cocktails. It's worth the extra amount you pay to have these privileges.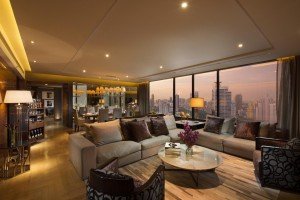 The hotel has a total of 280 spacious deluxe guest rooms and suites including wheel chair accessible rooms. Their presidential suite is 137 sqm , approximately 1,475 square feet on the 23rd floor with panoramic views of the city. The exquisite 3-room suite features a large master bedroom, living room, dining or conference table and a full bath with a window-lined tub.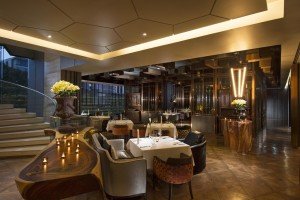 Dining is exceptional at the Hilton Sukhumvit with three restaurants in-house. Scalini is a traditional Italian-American restaurant where you can indulge in "comfort foods". Chic and relaxed, with a focus on fine foods and high-quality ingredients, this restaurant has a feature staircase, a vibrant open kitchen, tempting charcuterie and extensive food and wine displays. Here you can dine on freshly made pasta dishes or treat yourself to a delicious, rustic handmade pizza prepared in their live interactive kitchen. Local Thai and Asian specialty items can be enjoyed during both the buffet breakfast period as well as from the a la carte menu.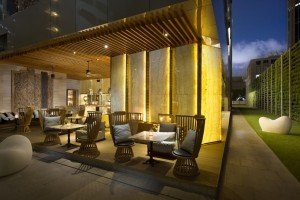 The menu at their popular restaurant Mondo showcases tapas dishes with influences and flavors from all over the Mediterranean and Asia. Mondo features an open kitchen, a charcuterie and cheese tower adorned with delicious meats and cheeses as well as a bench-mounted, manually operated meat slicing machine. They offer an outdoor deck that features a whisky cabinet along with a unique whisky tasting table. In the evening it's nice to enjoy a drink from their outdoor whisky bar.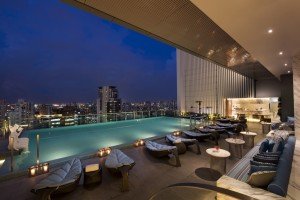 The Hilton's pool is located on the top floor of the building where you will also find their pool bar restaurant called Lapse. Here you can order refreshing cocktails and light snacks while you soak up the sun by the infinity pool. Serving a range of beverages, this relaxed and informal bar is the perfect place to enjoy an evening view of the city's skyline. Also on the top floor you'll find the Hilton's fully equipped fitness center.
When it comes to business the Hilton offers The Summit which combines a contemporary penthouse setting with support from dedicated Hilton team members. The summit is the ideal space to host both small and medium-sized functions. With Bangkok's skyline as a backdrop, this destination meetings floor redefines urban events with three state-of-the-art venues spanning 55-72m2 each.
For hosting big events the Hilton's Ballroom is Ideal for gala dinners and large parties, the Ballroom features a 384m2 large daylight foyer, as well as a 64m2 boardroom.
Our stay at the Hilton Sukhumvit was exceptional on every level. Several days after checking out I was asked to complete a quick on-line survey rating my stay. When completed I was asked if I would like to share my experience on Trip Advisor which I happily did. When finished and sent I looked at other Trip Advisor comments about the Hotel and was pleased to see that while almost everyone raved about the hotel the majority of the comments were about the staff and how great they were to interact with, which totally mirrored our experience.
If you travel to Bangkok frequently for business or pleasure, The Hilton Sukhumvit makes an ideal home away from home.
Hilton Sukhumvit Bangkok
11 Sukhumvit Soi 24, Khlong Ton, Bangkok, 10110, Thailand
TEL: +66-2-6206666 FAX: +66-2-6206699
Email: bkksu.info@hilton.com