Low-key and uncrowded, fronted by a five-kilometre beach, the town of Hua Hin is surrounded by three of Thailand's biggest national parks. Its central location on the gulf coast means easy access to plenty out-of-town beaches, too, fresh seafood comes cheap, and Bangkok is always just three hours away.
So why doesn't Hua Hin get more of the 32 million tourists who visit Thailand every year? It's certainly popular with Thais, but you'll find more foreigner holidaymakers in Phuket, Koh Samui and the north. Whatever the reason, for my wife Vivien and I, living in Hua Hin since 2015, this is part of the attraction. It keeps the costs down and the crowds reasonable so we can enjoy the great beaches; natural beauty and wildlife in the nearby national parks; and historical elements of Hua Hin that have made it the "Royal Coast". We do have the international hotels, championship level golf courses, modern infrastructure, and all the elements people coming to Thailand look for—just at a less frantic pace.
We've been exploring the region since arriving, and thought it was time to share some of the best day trips from town. Whether you're just on holiday or scouting Hua Hin as a potential retirement haven, try not to miss these excursions…
Wild Elephants: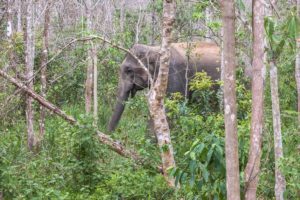 You'll see elephants in many places across Thailand. Typically, they're domesticated, but if you want to see some in the wild the best place is the Kui Buri National Park, just over an hour's drive south of Hua Hin.
The drivers and guides who take you through the park are actually local farmers who, for years, fought with the elephants to protect their crops. But in 1999 large grass prairies were created on 12,000 rai (approx. 4,700 acres) of land within the park's boundaries. This meant the elephants had enough to eat without rampaging through farmers' fields. Over the last 18 years the wildlife population has increased to over 200 wild elephants and 150 gaurs (the world's largest wild cattle species). The elephants now offers farmers and other local people income– so elephants have gone from enemy to friend.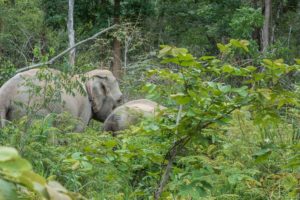 You can't take your own vehicle into the park proper and must go with the approved tour vehicles and guides (800 Baht). Perched on wooden benches in the back of a 'pick-up' trucks with your guide (and chief wildlife spotter) beside you, off you set.
Tours typically start mid-afternoon when the wildlife start getting active again after the heat of the day. You take a circular route stopping at several locations where elephants, if about, can be easily seen. Overall you can spend three to four hours travelling through the park.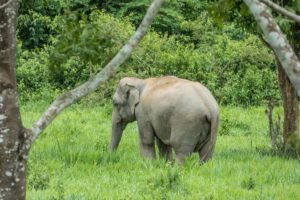 Everyone we know who has done this tour have had multiple sightings of elephants – so a good success rate! We certainly did, thanks to our ever watchful guide! We also captured some great photos and I was even able to take a short video of a small family of Guar that were just 30 meters from our vehicle.
Thai Wineries: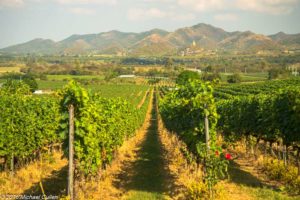 About a 45-minute drive inland sits the vast Monsoon Valley Vineyard. Driving from town you'll pass through aloe vera and pineapple plantations. You can buy freshly picked fruit straight from the farmer from their rustic roadside stalls.
The size of vineyard is the first surprise, it covers an expansive 162 hectares (400 acres) of verdant countryside –it's not some twee tourism venture. The vines stretch out in long rows as far as you can see. A temple glistens gold in the far distance. Hedges of manicured bougainvillea line one side of the entrance road as you make your way past the vines and into the vineyard proper.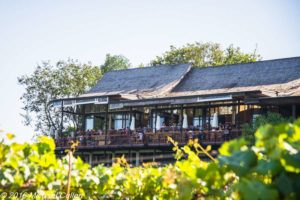 Sitting in prime position atop the hill overlooking the vineyard is the main 'sala'. This large Thai-inspired open-air pavilion houses the tasting rooms, wine bar, bistro, retail shop and wine cellar. There is also an educational exhibit on viticulture and oenology.
Visitors can take guided vineyard tours in safari-style Land Rovers. For the more independent, there are the mountain bikes, or you can simply stroll by foot amongst the vines. A more exotic option is to jump on one of the vineyards elephants—you don't get the tour commentary but seeing the vineyard atop an elephant is special.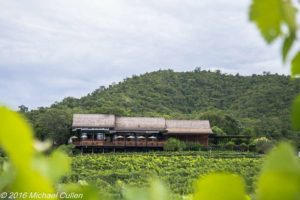 I highly recommend lunch at the bistro, especially combined with a wine-tasting package makes for a fantastic long lunch overlooking the vines! Try the spicy grilled beef sirloin salad with lemongrass, Thai herbs and red grapes, or Vivien's favourite, the sesame crusted salmon salad with a spicy red wine vinegar dressing. The premium wine tasting package with generous samples of Colombard, White Shiraz (Rose) and Shiraz greatly compliment a quality lunch.
The vineyard has been operating since 2004 under the Monsoon Wines label. These wines are part of a growing movement called 'New Latitude Wines' i.e. wines produced outside the traditional regions of 30 and 50 degrees latitude in either the northern or southern hemispheres. Thailand, Vietnam, and India are three countries leading the way for these wines.
A Mystical Cavern: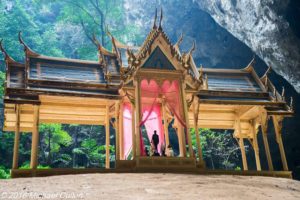 Sam Roi Yot National Park is 40 kilimetres south of Hua Hin and covers 98 square kilometres. The park is divided into two sections by the limestone peaks it takes its name from "Mountain (Khao) of Three Hundred Peaks (Sam Roi Yot)". The entry fee of 200 baht gives you access to both sections for a day, although it's worth more than a day visit.
The park's highlight for many is the coastal section. Phraya Nakhon Cave is short-listed among the most magnificent caves in Southeast Asia, and it is truly beautiful. Although there are several caves in the park, Phraya Nakhon is the most famous, thanks to the presence of Kuha Karuhas (Royal) pavilion.
The cave is formed from two caverns with natural erosion of the limestone providing a dramatic result. Light streams down through large openings in the cavern roof to illuminate the darkness and encourage plant life.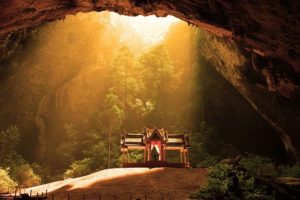 At the centre of the main cavern, bathed in light and framed by trees on one side and stalactites and stalagmites on the other, sits the beguiling Kuha Karuhas (royal) pavilion with its saddled roof, sparkling upturning finials and statue of Phraya Nakhon.
Folk stories suggest one-time local ruler, Phraya Nakhon, stumbled upon the cave after his ship was forced ashore in bad weather some 200 years ago. His dramatic discovery has since been recognised by visits from several Thai Kings, including visits by recently deceased King Bhumibol.
In 1890 to mark the first royal visit from King Rama V, the Kuha Karuhas pavilion was built. Its precise positioning ensured sunlight showers over it mid-morning.
The ceiling of the cavern is estimated at 50 metres high, with various side caves accommodating spooky shrines, and another area occupied by Pagoda stone cairns giving the sense of an ancient graveyard.
The cave is a two-kilometre walk (which takes around an hour) from the track entrance at Bang Pu village. Bring sensible walking shoes and enough water as the track is a little challenging. It's best to be in the cave around 10 a.m. to see the royal pavilion sunlit in the most glorious light.
There are beach side restaurants awaiting your return to Bang Pu village for a rewarding, tasty and inexpensive lunch!
Blessed with Beaches:
Hua Hin is a beach town and developing a reputation as the best place in Thailand for kitesurfing thanks to nearly 10 months of ideal wind conditions. The shallow warm waters also make it one of the safest places to learn this sport. But when you tire of the five-kilometre arc of sand in front of the town there are other beaches to choose from…
Khao Takiab beach is the next beach immediately south of Hua Hin and stretches for seven-kilometres south to the small community of Khao Tao. The northern end of Khao Takiab is where the action is. Beach-side boutique resorts, small cafés and local restaurants line the beach offering umbrella covered sun beds. Eucalyptus and Casuarina trees also provide their own natural cooling shade. You can get an Thai-style or European hour-long massage for 300 baht and, for the more active, there's horse riding along the beach or golf at the Sea Pines Golf Course that borders the beach.
Sai Noi beach is directly south of Khao Takiab and only 15 kilometres from central Hua Hin. This small beach with its own Beach Club is where you can 'get away from it' whilst enjoying all the facilities and service the Beach Club and beach front facilities have to offer. The drop-off from the beach is pronounced here, but you can use of the Beach Clubs two pools if you prefer.
Dolphin Bay is just 45 kilometres south of Hua Hin and is named for the pod of Indo-pacific humpback dolphins, five or six of which are pink, that live in the bay for 10 months of the year. The bay's five kilometre beach is ideal for sunbathing, beach volleyball, and long walks or jogging, especially at sunrise or sunset.
Just 28 kilometres north of Hua Hin, you'll find a wide, long and flat beach with gentle surf at Cha Am. Casuarina trees line the foreshore and locals have set-up a multitude of sun beds, deck chairs and umbrellas where for 100 baht you can laze about for the whole day. Beach side stalls will cook delicious and inexpensive Thai food to order and deliver it right to your sun bed along with a cold drink.
By Michael Cullen
This article originally appeared in International Living Australia, https://internationalliving.com/au/day-trips-hua-hin-top-3/