By Russ Downing:
Earlier I wrote about my client's experiences in buying Hua Hin Real Estate. Quite frequently the type of home they originally thought they wanted was not the one they signed on the dotted line for. Whether it was more expensive than what they had originally in mind or it was a new home versus used or vice versa.
What I've learned over the last almost ten years as a Hua Hin Property Agent is that it's best to keep an open mind and explore all of your options before making that big decision.
Previously I discussed the advantages of buying a new home. In this article we'll focus on the advantages of buying a pre-owned property.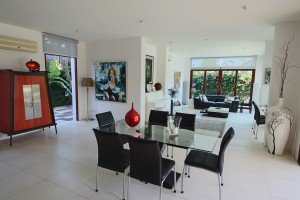 Move in right away: In Hua Hin there are only a couple of developers that are building homes on "spec", without waiting for a buyer. The normal scenario here is you view one or more show homes and then pick the plot that you would like your house built on making any design changes along the way. The disadvantage is that you have to wait six months to a year to move in. When buying a pre-owned home you can usually move in right after the purchase contract process is complete, which is usually 30 days or so.
Achieve a larger discount: A big perk of buying a resale home is that the purchase price is usually more negotiable with a pre-owned home than it is with a new home from a developer. Popular developers with a proven track record don't feel the need to discount because they know they will sell out based on their good reputation. A private homeowner on the other hand just wants to sell his one home and move on, consequently it's normally easier to achieve a descent discount.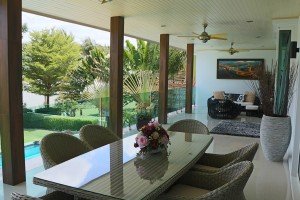 Peace and quiet: A common fear of buyers purchasing in a new development is that they can't be guaranteed how long they will be living on a building site. If you're buying a home to use as a holiday home, when that holiday finally rolls around you don't want to be floating in your pool listening to jack hammers and pile drivers. Almost all resale homes are in fully finished developments. Which leads into another benefit of buying a resale, you most always know what the development is going to look like when it's finished, because it is finished. A finished development that is planted out with nice landscaping has character and charm which is lacking in developments with continued construction.
Enjoy a larger land plot: Larger land plots are another advantage in buying pre-owned. In Hua Hin, land prices have and will continue to rise. It's not unusual now to see new homes in the 8+ million baht category sitting on land plots of 550 square meters or less. Only just three years ago if you were paying that much for a home you could expect at least 800 square meters of land. New projects now face ever higher land prices and those costs are shared by all of the new buyers in that project.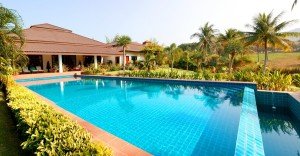 Enjoy the development's amenities without waiting: It's not true of all new developments but a lot of new projects will build the amenities at the end of the project cycle instead of at the beginning. That communal swimming pool, club house and fitness center you bought into is expensive and developers tend to wait until they have made the majority of their profit before they invest in those big ticket items, which helped sell their project to begin with. With a resale home all those amenities are already in place.
New home snags are already taken care of: A new home consists of tens of thousands of parts and with any new home you are going to have a few problems or snags. If a home has been lived in for a few years then all those initial snags should have been taken care of by the builder before the original owner accepted the home.
Enjoy the convenience of being closer to town: As mentioned earlier, land prices continue to increase in Hua Hin. To make homes affordable developers are having to buy their land further away from Hua Hin's center where land prices aren't as high. Older homes were built when land prices close to Hua Hin weren't as expensive. That's why you'll find older homes closer to Hua Hin center. This can be quite important to older people looking for a home in Hua Hin.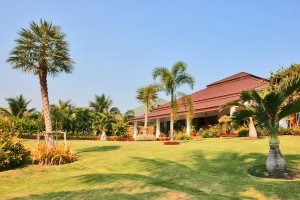 Immediately enjoy your lush tropical garden: With Hua Hin's wonderful climate, plants, flowers and trees grow quickly. Nonetheless, a tropical garden that has been allowed to grow and mature for several years will always be more lush and lovely then a garden that was just planted.
New or used? From my experience in the Hua Hin property market the bottom line is this; find a house you like, consider its pros and cons — objectively, as well as emotionally — and think about the compromises you're willing to make. The more logically you approach buying a house here in Hua Hin, the more you're going to love living in it for a long time to come.
ABOUT THE AUTHOR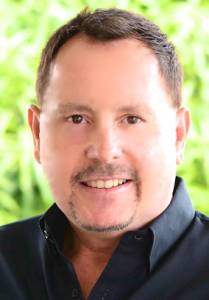 Russ Downing is Managing Director of HOT Hua Hin Property and has for the last 8 years headed up the Hua Hin judging team for the Thailand Property Awards, widely seen as the Academy Awards for the Thailand Property Sector. Russ's articles have been translated and re-printed in a large popular Chinese magazine and he has had 3 of his luxury listings chosen for the Wall Street Journal's "House of the Day" feature with near worldwide exposure in the WSJ's U.S., European and Asian editions as well as online.
If you are looking to purchase a home in Hua Hin contact Russ at 084 387 5699 or russ@hothuahin.com, www.hothuahinproperty.com.