Koh Samui, a jewel in the Gulf of Thailand, is a destination that has long captivated travelers with its pristine beaches, azure waters, and lush landscapes. But beyond its natural allure, the island is also home to some of the world's most luxurious resorts, each offering a unique blend of opulence and serenity.
From secluded sanctuaries nestled amidst coconut groves to modern marvels that blend Thai tradition with contemporary design, these resorts offer more than just a place to stay; they offer an experience that promises to be unforgettable. Whether you're planning a romantic getaway, a family vacation, or a solo retreat for some much-needed self-care, our guide to Koh Samui's most luxurious resorts will help you find your perfect slice of paradise.
Four Seasons Resort Koh Samui: A Sanctuary Amidst Coconut Groves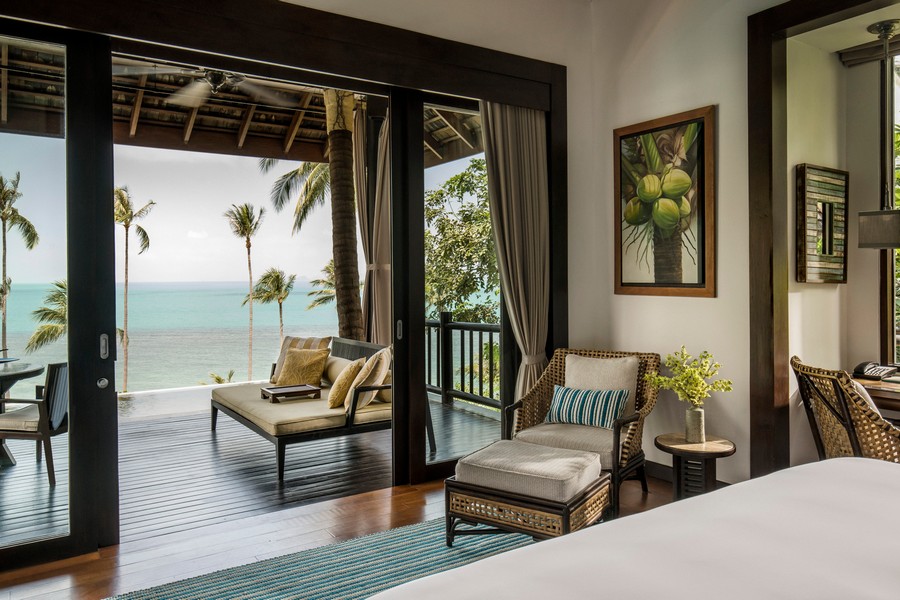 Imagine waking up to the sound of waves gently lapping against the shore, as you find yourself enveloped by lush coconut groves. Welcome to Four Seasons Resort Koh Samui, a secluded paradise offering panoramic views of the Gulf of Thailand. The resort is a haven of tranquility, featuring a private beach that promises an exclusive escape from the world. The spa is nothing short of world-class, offering treatments that blend ancient traditions with modern wellness. When it comes to dining, the resort offers a variety of options, including the beachside CoCoRum Bar and the hilltop KOH Thai Kitchen, each offering a unique culinary experience. One of the standout experiences here is the "Bill Bensley Experience," where guests can explore the resort's lush gardens and hidden corners with the famed landscape architect himself. Whether you're celebrating love, exploring the beauty of Koh Samui, or simply looking to unwind, Four Seasons Resort Koh Samui offers an unparalleled experience of luxury and natural beauty.
Conrad Koh Samui Residences: Where Modernity Meets Thai Tradition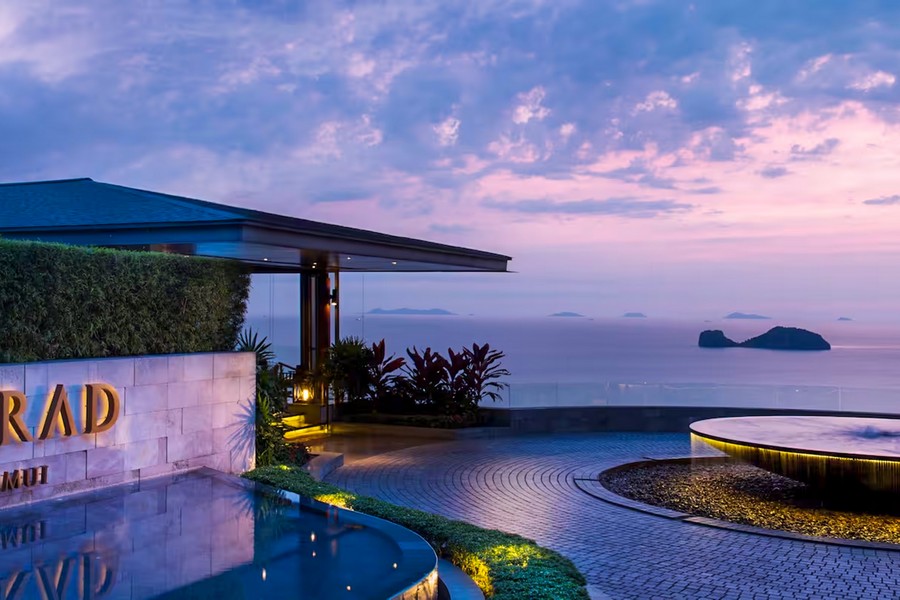 Conrad Koh Samui Residences is a masterpiece that blends traditional Thai architecture with modern design. Each villa in the resort comes with its own private infinity pool, offering stunning ocean views that make for the perfect Instagram moment. The resort is home to multiple dining venues, including Jahn, which serves contemporary Thai cuisine in an elegant setting. But what sets this resort apart is its "Luxury Yacht Charter." Imagine sailing through the crystal-clear waters surrounding Koh Samui, exploring hidden beaches and secluded islands, all while enjoying the luxury and comfort that Conrad Koh Samui Residences is known for.
Banyan Tree Samui: A Tropical Sanctuary
Perched on the hills of a private bay in Lamai, Banyan Tree Samui overlooks the azure waters of the Gulf of Thailand. The resort is a tropical sanctuary that offers all-pool villas, each designed to offer privacy and luxury, enveloped by lush jungles and stunning ocean views. The Banyan Tree Spa is a blissful retreat that offers a range of treatments designed to rejuvenate your mind, body, and soul. Dining at the resort is a bespoke experience, with several restaurants offering a range of culinary delights. The resort's Wellbeing Sanctuary is a unique offering that combines spacious pool villas, bespoke dining offerings, and blissful spa treatments into one exclusive wellbeing journey. Whether you're on a romantic getaway or a wellness retreat, Banyan Tree Samui offers an experience that is both luxurious and deeply rooted in the natural beauty of the island.
The Ritz Carlton, Koh Samui: A Coconut Plantation Turned Luxury Resort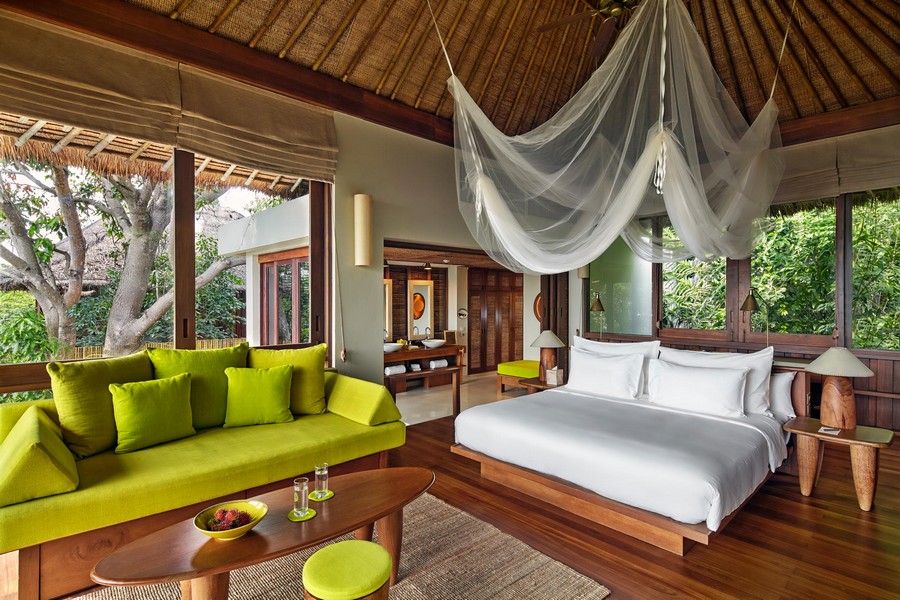 The Ritz Carlton, Koh Samui is a luxury resort that has transformed a former coconut plantation into a haven of opulence and wellbeing. The resort features a variety of suites and private pool villas, each offering a unique blend of luxury and Thai tradition. The resort is a paradise for those looking to experience a range of activities, from Muay Thai boxing classes to southern Thai cooking classes. One of the highlights of the resort is Thailand's only ocean swimming pool, offering a unique swimming experience subject to seasonal and weather conditions. Dining at the resort is a vibrant culinary journey, with multiple restaurants and bars offering a range of options from southern Thai cuisine to international favorites. It's a place where luxury meets authenticity, offering a unique Thai experience that is both opulent and deeply rooted in local culture.
Six Senses Samui: Exceptional Island Experiences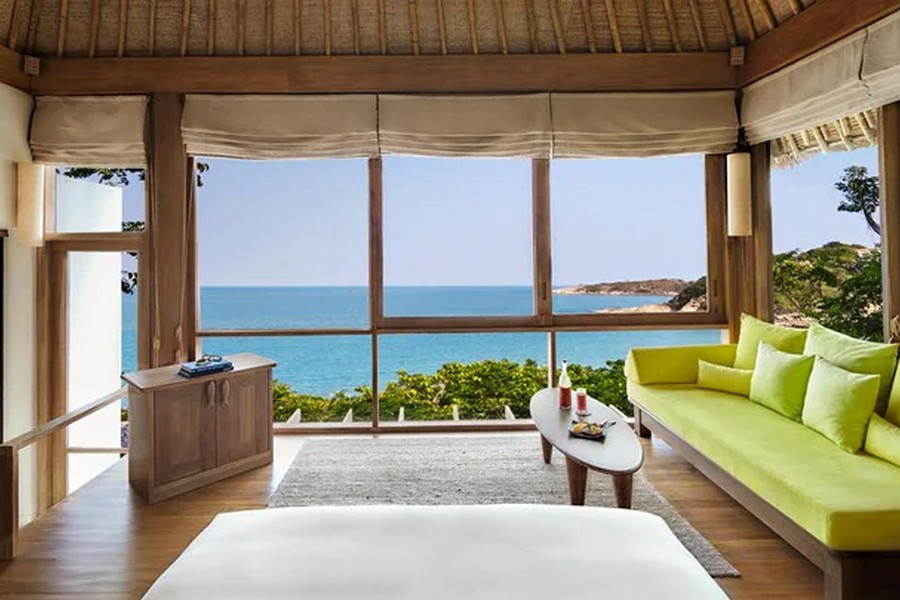 Six Senses Samui is not just a resort: it's a spectrum of exceptional island experiences. Located on a gently sloping headland on the northern tip of Samui, the resort offers 67 spacious villas, each offering glorious ocean or tropical landscape views. Sixty of these villas even come with their own private pools. One of the unique aspects of the resort is its small farm, which serves a big conservation purpose. Guests are invited to feed the animals and even gather freshly laid eggs for their breakfast. The resort is committed to sustainability, offering a range of experiences that are both luxurious and eco-friendly. Whether you're looking to relax by the infinity pool, explore the natural beauty of Koh Samui, or indulge in some farm-to-table dining, Six Senses Samui offers an experience that is both luxurious and deeply connected to the natural beauty of the island.
Koh Samui is more than an island, it is a canvas where luxury and nature paint a harmonious picture. Each of these five resorts offer a unique experience that goes beyond mere accommodation. From the Four Seasons Resort's intimate connection with nature to the modern opulence of Conrad Koh Samui Residences, from the wellness focus of Banyan Tree Samui to the cultural richness of The Ritz Carlton, and finally, the eco-luxury of Six Senses Samui—each resort is a destination in itself. So, as you ponder your next escape, consider these paradises where opulence meets serenity, and where your next stay is not just a vacation, but an unforgettable experience.