Chiang Mai offers so much as one of Thailand's top domestic and international tourism destinations. Layers of rich cultural, historical and religious links, abundant natural attractions, a vibrant creative scene, markets and shopping, and extensive entertainment, cafés, dining, and bar scene. No matter your taste or budget, Chiang Mai has it in spades.
To help with your next visit to Chiang Mai, we've scowered the bar scene to present a curated list of watering holes. We are talking about stylish drinking establishments with a great atmosphere and quality drink offerings. Some are intimate, some innovative, some are even trendsetting, while some could best be described as more traditional. All are, by our assessment, worthy of a slice of your valuable holiday time and precious dime.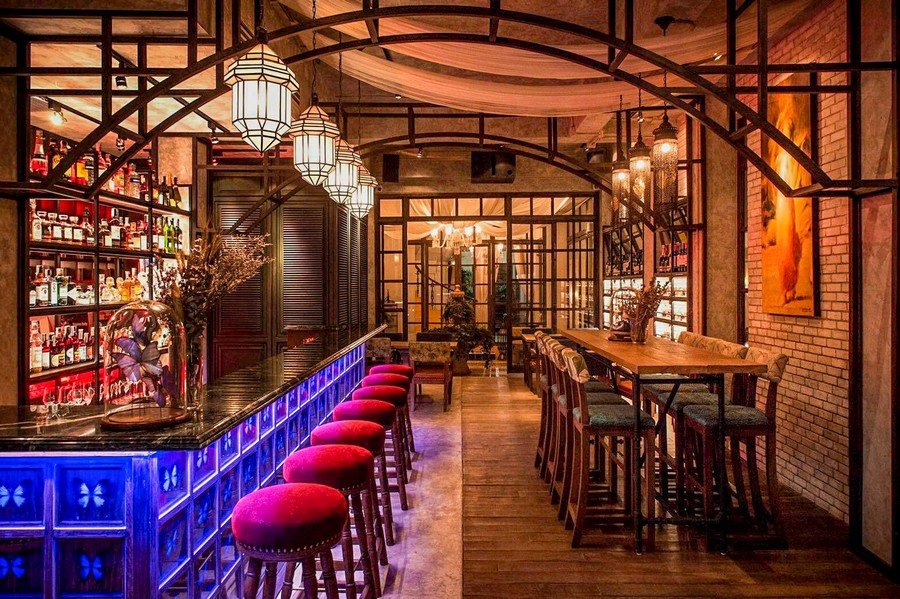 Caravan Bar
A great looking bar with a distinctly eclectic European feel in trendy Nimman's Lane 9 is the best way to describe Caravan. First, choose your seating option. Will it be perched on the red velvet bar stools watching the mixologists do their thing right before you? If in a group, perhaps the tall long bar table. Chandeliered rooms towards the back offer more romantic lounge settings.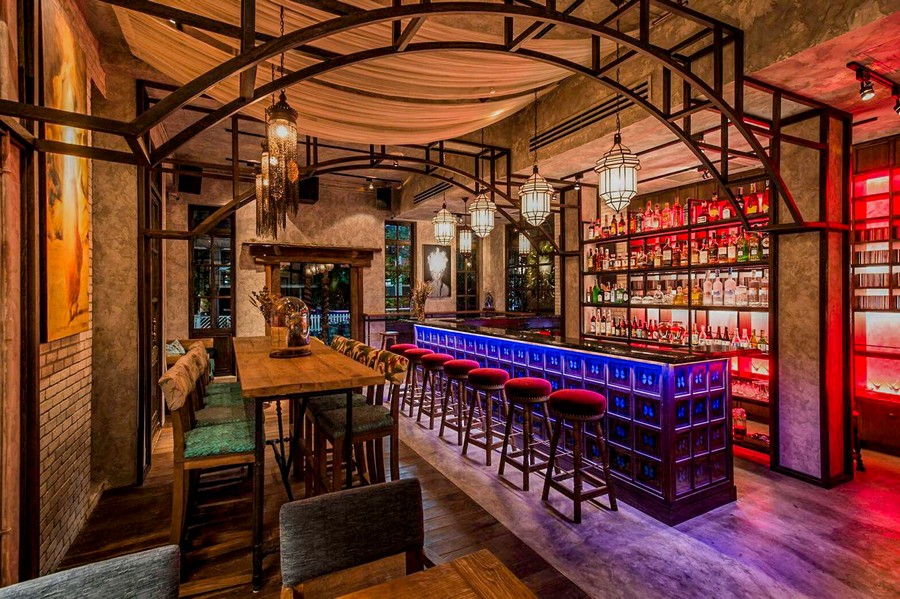 DJ beats set the atmosphere, and Caravan's signature cocktails are a great starting point for your visit. The 'Noklae' with Bourbon, Campari, Pandan Syrup, juice of passionfruit and lime, or 'Creamy Crush' featuring Cointreau, White Crème de Cacao and yoghurt could sure get the evening started. Caravan's extensive beverage offering covers cocktails, spirits from all over the world, including a fine selection of single malts, a tempting assortment of craft beers, and a thoughtful wine list.
Open from 6:00 pm, seven days a week. For more info: www.facebook.com/caravanbar.chiangmai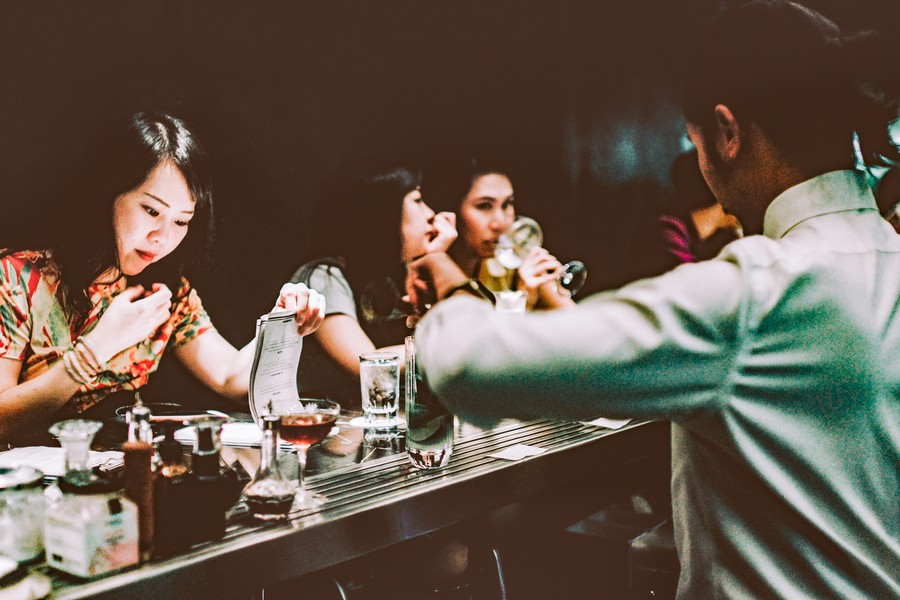 The White Rabbit
Taking inspiration from prohibition times when bars were for only 'those in the know', this small and softly lit cocktail bar is the realised dream of head bartender and long time local bar professional Poom Khamhaeng. The White Rabbit is in the old town not too far from Chang Phuak Gate and is perhaps Chiang Mai's first speakeasy. It focuses on classic and crafted cocktails served simply, though elegantly. Customers are enticed to 'follow the white rabbit' into the unknown, discovering new cocktail creations, often heroing locally sourced ingredients.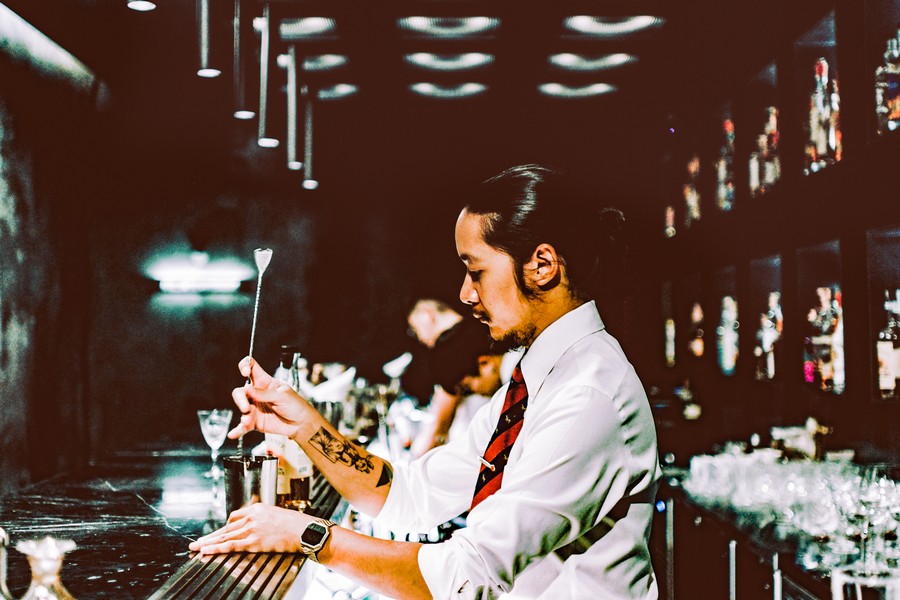 The White Rabbit's bestseller 'Make Me Invisible' is an excellent example of this creativity, seeing the tongue-numbing makwean pepper expertly mixed with Jameson Irish Whiskey, lychee, lime juice, and lactose-free milk. Sweet and sour, easy to drink, and you can't have enough of it. The floral and foamy 'Lucid Dream' is another that caught our attention – Gin infused with Damark Rose, D.O.M, Strawberry Shrub, Rooibos Tea, Lime juice, Balsamic Rosemary Foam.
Closed Wednesdays and open from 6:00 pm all other evenings. More info: https://www.facebook.com/TheWhiteRabbitSpeakEasy/
Looper & Co.
A laneway off Ratchawong Rd on the Ping River side of town is home to several creative outlets, including Looper & Co., an espresso bar by day and cocktail bar by night. Upcycled clothing stores, a Paint Club to express your creativity on canvas, and the Warehouse Hotel are some of Looper & Co's neighbours with industrial grunge, the street's design aesthetic. This is especially evident in the shared pedestrian lane running behind these businesses.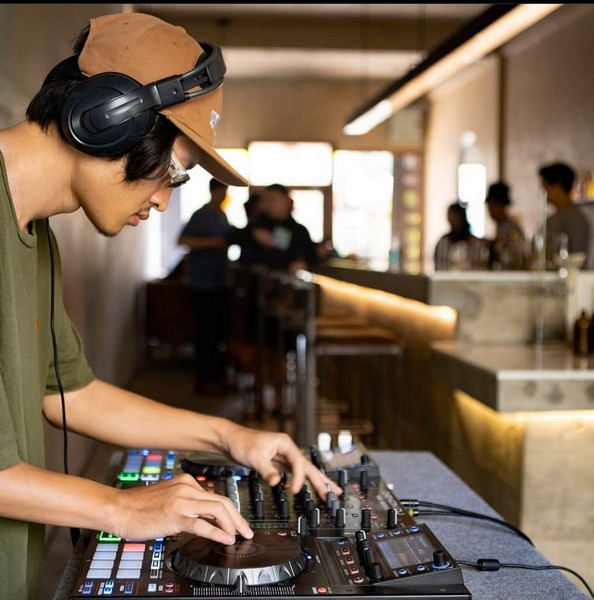 The mood and tone is minimalist yet warm and cosy. A DJ provides the vibes on the weekend, further enhancing the atmosphere. Dedication to both the coffee and cocktail arts are clearly evident. Coffee based creations like 'Eva' with cold brew, green grape, red apple and house made infused honey deserves mention. Gin is the base for several of the signature cocktails, including 'Self Love', which sees Gin, fresh mixed berries, butterscotch, vanilla, lime, and egg white expertly blended and served over ice.
Open 10 am to 5:00 pm daily for their coffee and other non-alcoholic creations. Reopening at 6:00 pm nightly for their cocktail bar alter-ego. More info: https://www.facebook.com/looperandcompany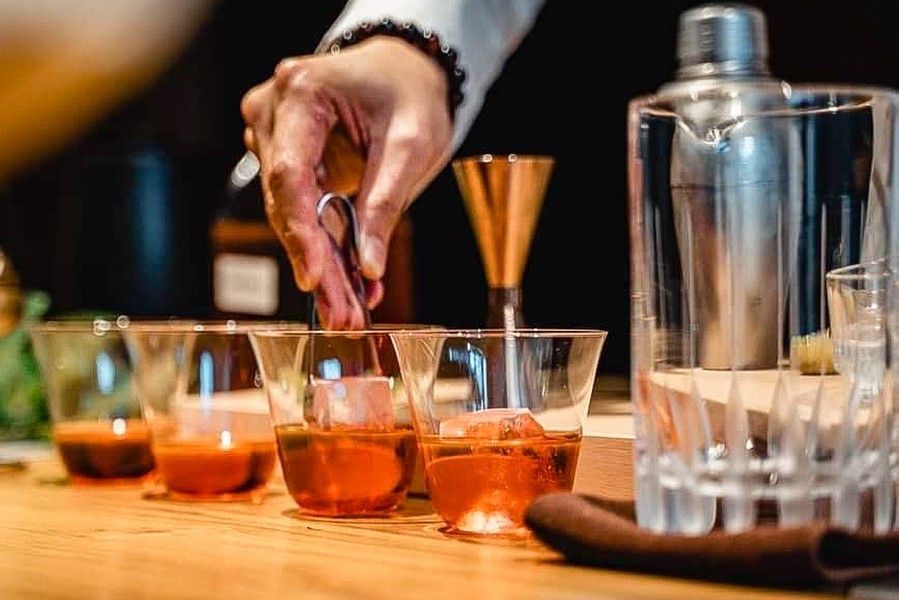 Intangible Bar
Intangible Bar breaks new ground on several fronts. A cocktail bar that operates three nights a week (Friday to Sunday), only seats five guests for pre-booked 5:00 pm or 7:30 pm seatings and does not serve alcohol. Yes, Intangible is hard to define.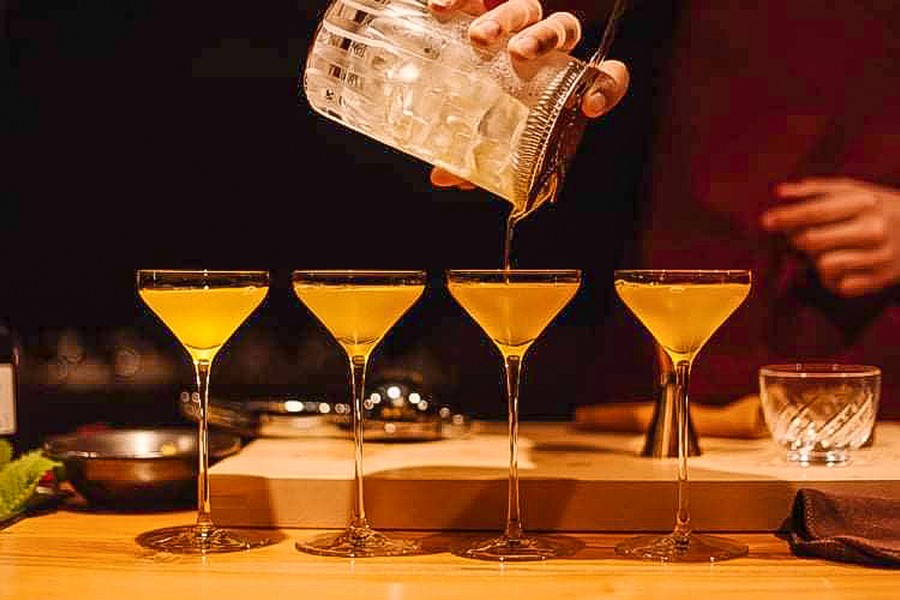 Intangible is the genius of Khun Key, or Keyologist as he prefers who has more than 14 years in the food and beverage industry. Key gave up alcohol a few years back for his well-being, but there is no anti-alcohol agenda here. Having studied natural ingredients and beverages based around tea and coffee, amongst other things, he has created a curated journey that guests travel through for each of the evening's seatings. Along the lines of a Chef's Table, Key's beverage creations are the hero 'dishes' with purposely selected food samplings to accompany. Important to note, this is not the place to go for rehashed mocktails. You are in for a much more exciting journey.
Operating Friday to Sunday only from 5:00 pm. Reservations required. More info: www.facebook.com/intangiblebar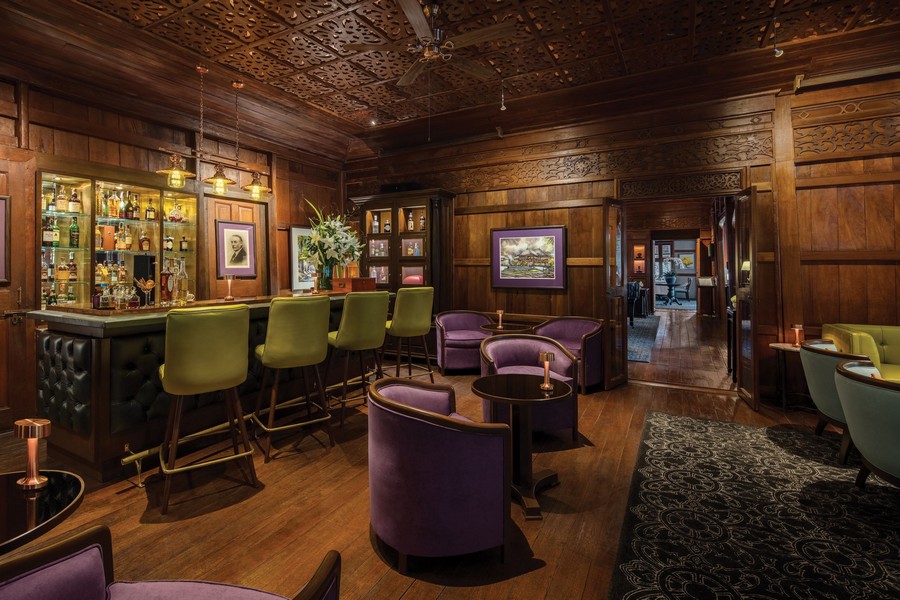 Jack Bain's Bar
Set within the original teak homestead at the 137 Pillars House boutique hotel, Jack Bain's Bar is like a journey back in time – to the era of colonists who called late 19th Century Chiang Mai home while harvesting teak from allotments around Lampung. The honey glow of teak floor, walls and ceiling mixed with the muted tones of the plush lounges, fans whirring rhythmically overhead.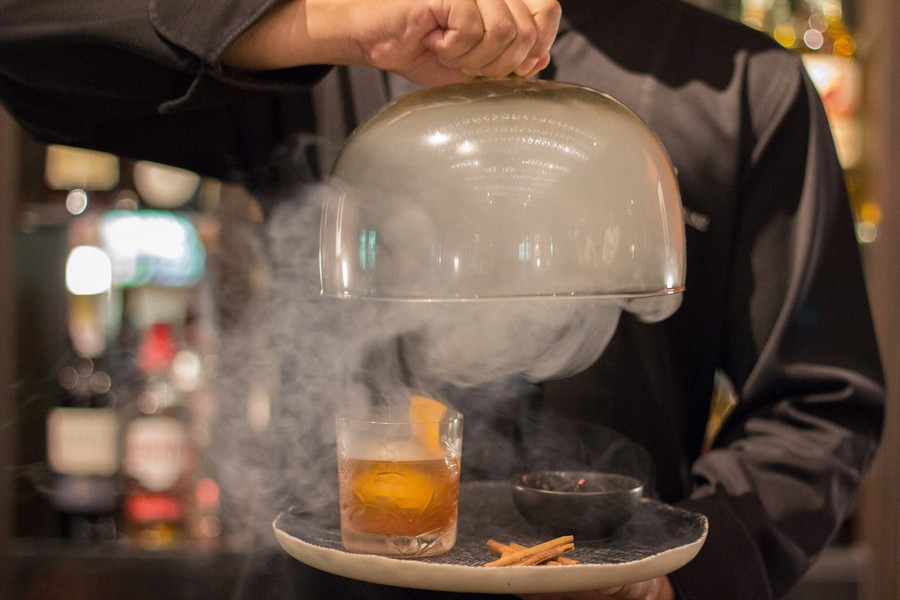 A relaxing haven, the bar focuses on cocktails inspired by both colonial and Asian influences, from contemporary renditions of classics to signature craft cocktails. A Signature, 'The Aged Teak' brings together rye whiskey, sweet vermouth, orange bitter, and fresh grapefruit. 'The Old House' combines chrysanthemum infused premium gin, honey and lime. As well as cocktails and mocktails, the beverage menu boast a comprehensive list of bespoke spirits, extensive wine selection, and non-alcoholic options. With a nod to its locality, the beer list offers the highly regarded Beerlao Dark pilsner from neighbouring Laos.
Open daily from 5 pm with Happy Hour offers available. Visit the hotel's website for more details.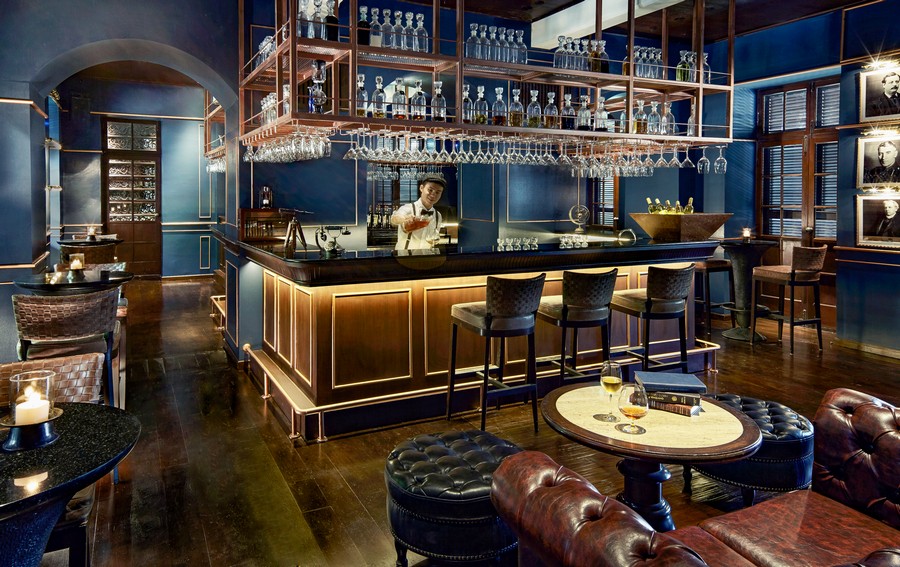 The Service 1921 Bar
Within the grounds of Anantara Chiang Mai is The Service 1921 Bar, located in a colonial building that was the British Consulate some 100 years ago. The bar occupies the ground level, while a restaurant by the same name fills the top floor. The designers ran with a British Secret Service theme when repurposing the building, hence the name. Guests upstairs can take the challenge of finding a hidden dining room only accessible through a secret bookshelf, or hang out in the whiskey room, post-meal. The ground floor is alfresco seating overlooking the lawns or in the timber-panelled bar and 'mission room'. If members of your party are being loose with the truth, then perhaps some time in the interrogation room is in order.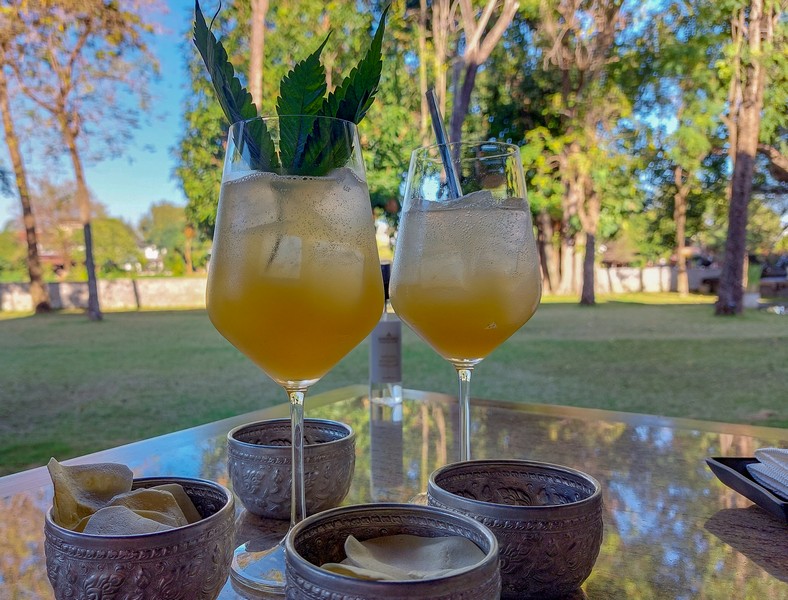 The beverage lists continue the Secret Service theme in naming cocktail collections under Secret, Signature and Royal heading. Gin also makes a strong appearance. Whisky from Scotland and beyond take up nearly two pages of the extensive menu. As is the trend, various Cannabis mocktails and cocktails are now available. A Bar Bites menu helps drinkers keep the celebration going.
The Service 1921 Bar operates daily from 12.00 noon – 10.00 pm. Dining times for The Service 1921 restaurant upstairs vary. Visit the hotel's website for more details.
By Michael Cullen
Image credits: provided by the venues