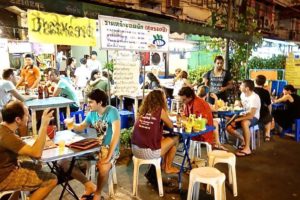 In 2017 there was much controversy in Bangkok when a local government agency said they wanted to rid Bangkok of a lot of its street food vendors and relegate the remaining smaller number to approved designated areas.
The public backlash was instantaneous. For many around the world, Bangkok and its street food are synonymous. Books have been published and television shows created around Bangkok's street food scene.
While the food is usually delicious, sometimes the locale can be less than desirable. Heat, noise and smells can all detract from the overall experience. But what if…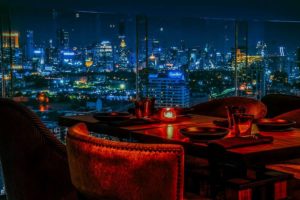 We recently had the pleasure of dining at Bangkok Heightz, located on the 39th floor of The Continent Hotel. The restaurant has paired authentic Thai street food cuisine with an excellent dining spot, overlooking the popular Asok-Sukhumvit area, home to Bangkok's trendiest nightclubs and shopping.
Bangkok Heightz takes Thailand's renowned street food, known for its complex blend of spices, herbs, and flavours, and elevates it to new heights. The restaurant takes all of Thailand's top dishes and brings them to a new level; think luxury street eats with a twist; authentic recipes in a refined environment.
The Thai cuisine here is authentic from top to bottom throughout the menu, found both in the food and the drinks.
On the night we were fortunate enough to dine, we started the evening with a few of their signature cocktails. Highly recommended are the CHAOPRAYA, which is concocted with Vodka, Vanilla Syrup, Lime, Fresh Passion Fruit & Fresh Watermelon, and the fan favorite, their BANGKOK HEIGHTZ, made with Vodka, Absinthe, Cointreau, Ginger, Lime, Apple Juice, Kiwi and Passion Fruit.
Our menu for the evening began with an appetizer and we chose their Chicken Satay. The chicken had been flavorfully marinated in Thai spices and was served with a generous serving of peanut sauce. Starting the mains, we began with a Stir-Fried Chicken with Cashew Nuts which was beautifully presented inside half of a pineapple. Next to table was their Lobster Rad Prik. Normally it's made with shrimp which are covered by a sweet and sour sauce made of tamarind, brown sugar, chilies, and Thai herbs, but here it's served on fine Canadian lobster, boiled exactly for three minutes prior to frying. Always a treat when you can enjoy Canadian Lobster in Thailand! That fine dish was followed by their Grapao Pla, Thailand's signature holy basil, here fried in a tempered wok with chilies and served on delectable Snow Fish. The final main entrée item arrived which was a wonderfully tasting stir-fried Soft-Shelled Crab, covered with a black peppercorn sauce and served with a salted egg.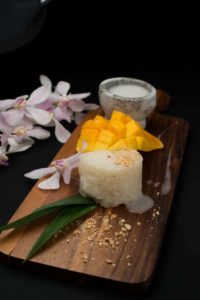 Of course, a meal isn't complete without desert and we stuck with a Thai standard which is a favorite of mine, that being their Mango with Sticky Rice. Again, a beautiful presentation with lots of the sweet coconut cream sauce as an accompaniment.
Using the finest high-end ingredients combined with age-old recipes make Bangkok Heightz one of the best choices for Thai food in Krung Thep.
Along with the fine food and drink, Bangkok Heightz is also trendy and cool place to hangout up above the crowds, as there is a DJ booth pumping out the latest tunes, making it an after-dinner venue as well. For rooftop dining and authentic cuisine, Bangkok Heightz Thai food simply cannot be beat.
Bangkok Heightz, 39th Floor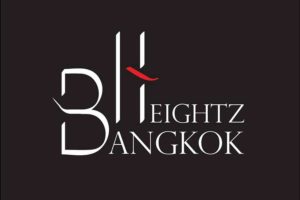 The Continent Hotel
413 Sukhumvit Road, Bangkok
02 686 7000
rsvns@thecontinenthotel.com