Nestled in Bangkok's vibrant Thonglor lifestyle district, the Bangkok Marriott Sukhumvit Hotel stands as a beacon of luxury and convenience, easily accessible via major thoroughfares & BTS. Beyond its 275 opulent rooms and 20 exquisite suites, it is a culinary oasis where guests can indulge in an array of dining options, from the panoramic views at Octave Rooftop Lounge & Bar, the sumptuous offerings at The District Grill Room & Bar to the delightful 57th Street.
Overseeing all restaurants within the hotel is Chef Frederik Farina, a culinary virtuoso. Hailing from Sicily, Chef Frederik's illustrious journey spans over a quarter-century and crisscrosses the world's gourmet capitals, from the rustic charm of Italy and the grandeur of France to the vibrant culinary landscapes of the United States, Thailand, Vietnam, and Laos​.
Octave Rooftop Lounge & Bar: A Symphony of Senses in Bangkok's Skyline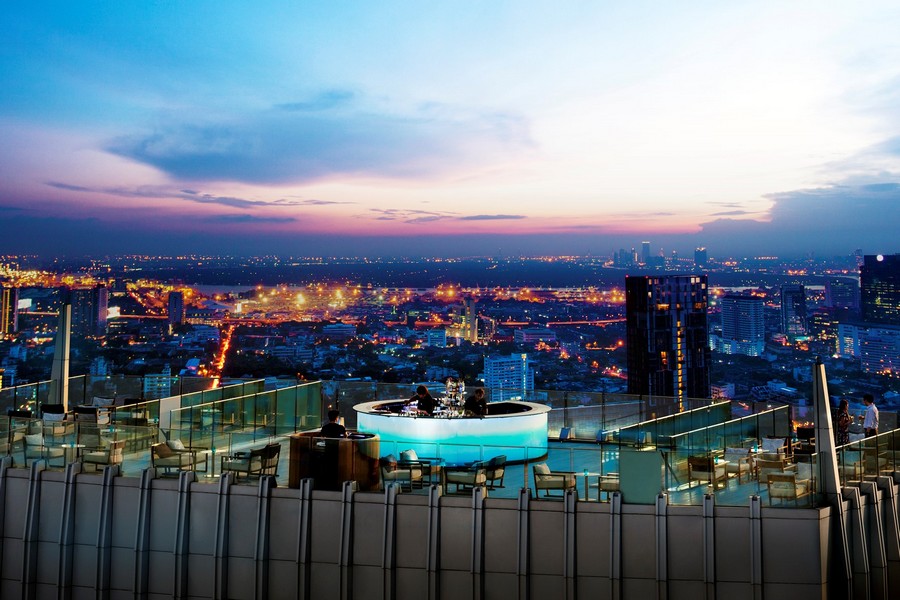 In the heart of Bangkok's bustling Thonglor district, the Bangkok Marriott Sukhumvit Hotel houses a gem that elevates rooftop dining to unparalleled heights: Octave Rooftop Lounge & Bar. Poised on the 45th floor, this chic establishment offers an immersive 360-degree view, seamlessly blending the city's vibrant aura with the serenity of the skies.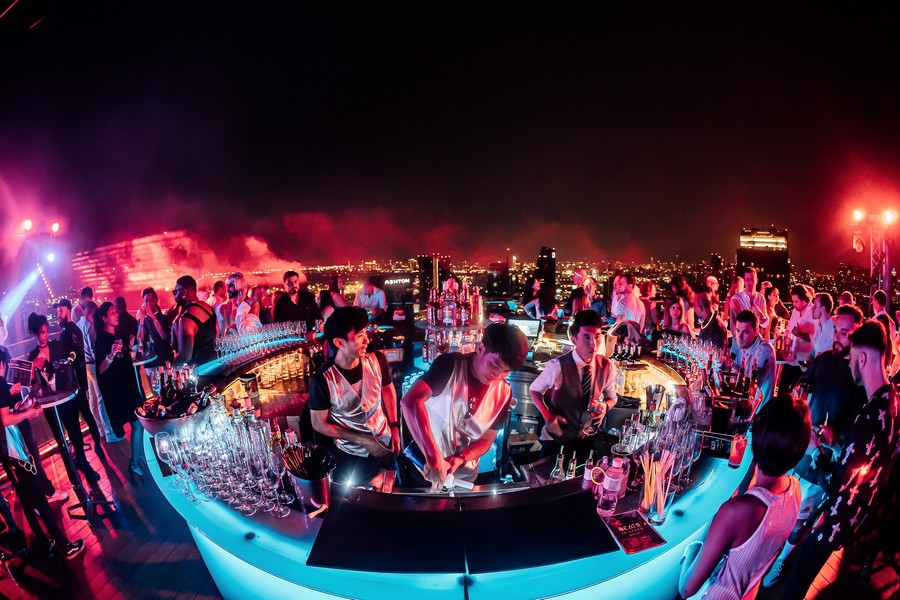 Upon stepping into Octave, the multi-tiered design allows guests to select their preferred vantage point. Whether you're nestled near the bar or perched at an alfresco spot, the view remains consistently mesmerizing. As twilight blankets the city, the ambiance is heightened by a resident DJ's rhythmic beats, casting a spell that promises an unforgettable night in the heart of Thonglor.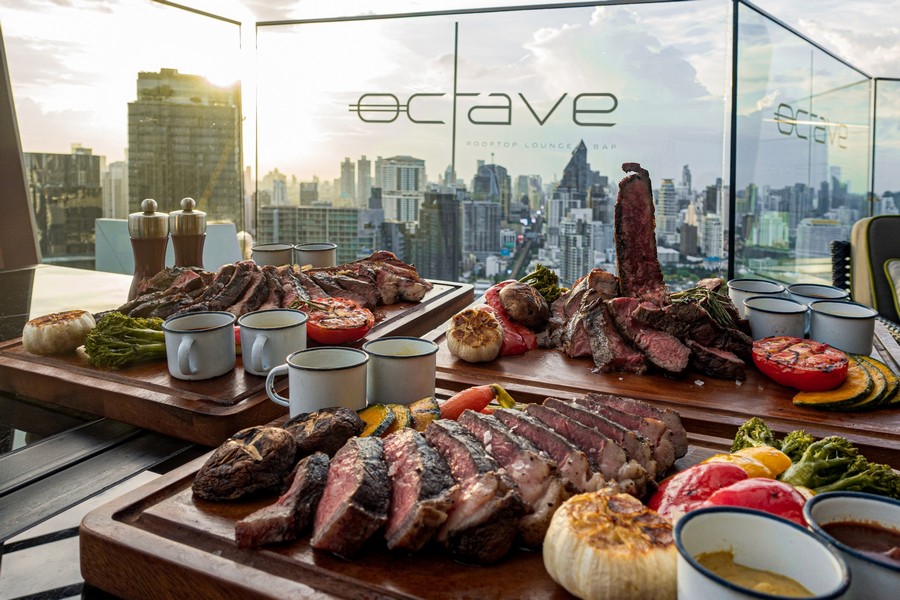 But Octave isn't just about vistas and vibes. The culinary journey here is an ode to contemporary tastes with a touch of tradition. Begin your evening with an array of handcrafted cocktails, each a masterpiece echoing the essence of Bangkok. As you sip, navigate through a menu that emphasizes the ocean's freshest bounties. From luscious oysters to tantalizing tuna, the seafood offerings are a testament to the establishment's commitment to quality.
The tapas-style dishes, perfect for sharing, strike a harmonious balance between Asian inspirations and international flavors. Delight in yakitori skewers, ethereal sashimi, and crispy tempura, or venture into the international terrain with wagyu beef sliders adorned with truffle mayonnaise or the ever-crunchy spiced chicken wings. Octave's signature platters, catering to both seafood lovers and those seeking a more indulgent experience, are designed keeping convivial gatherings in mind.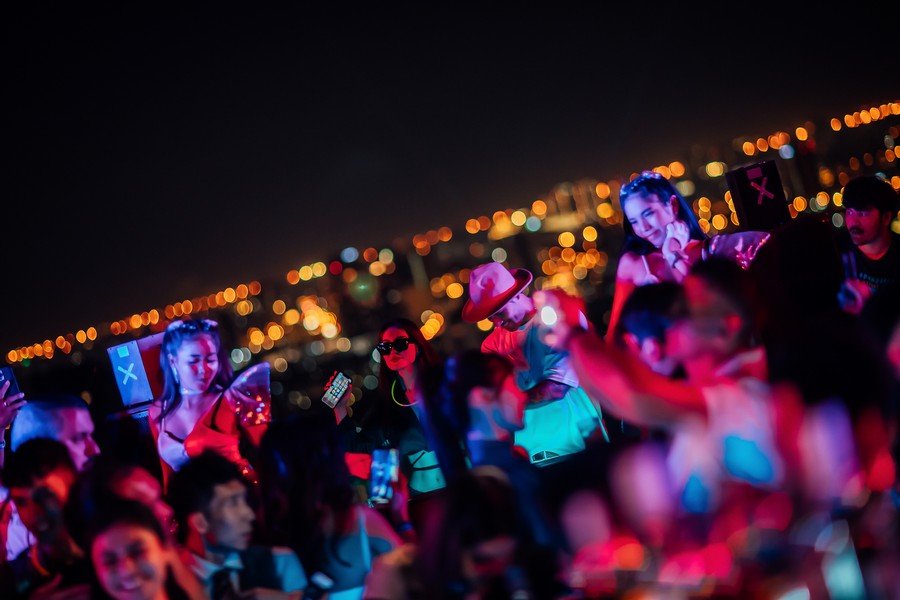 For those planning a visit, it's not just another dining destination; it's an experience. It's where flavors dance, cocktails enchant, and the city's heartbeat becomes the backdrop to an evening of elegance.
Whether you're a Bangkok resident or a traveler passing through, Octave Rooftop Lounge & Bar awaits, ready to serenade you with an evening that resonates long after the night ends.
The District Grill Room & Bar: A Gourmet Rendezvous in Bangkok's Heart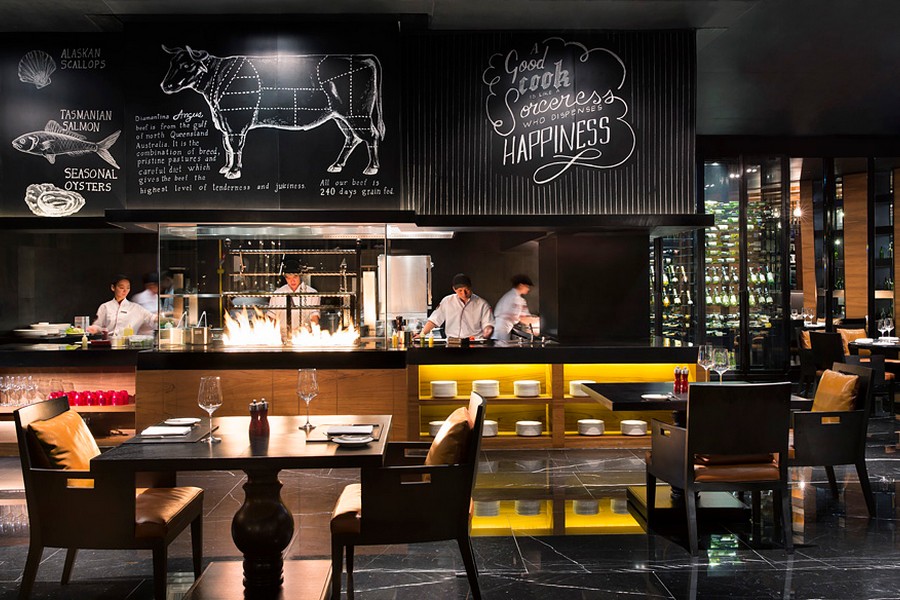 Bangkok, a city known for its vibrant culinary scene, houses an establishment reminiscent of New York's famed Meatpacking District: The District Grill Room & Bar. Located within the prestigious Bangkok Marriott Sukhumvit Hotel, this award-winning venue promises a gastronomic experience that marries opulence with authenticity.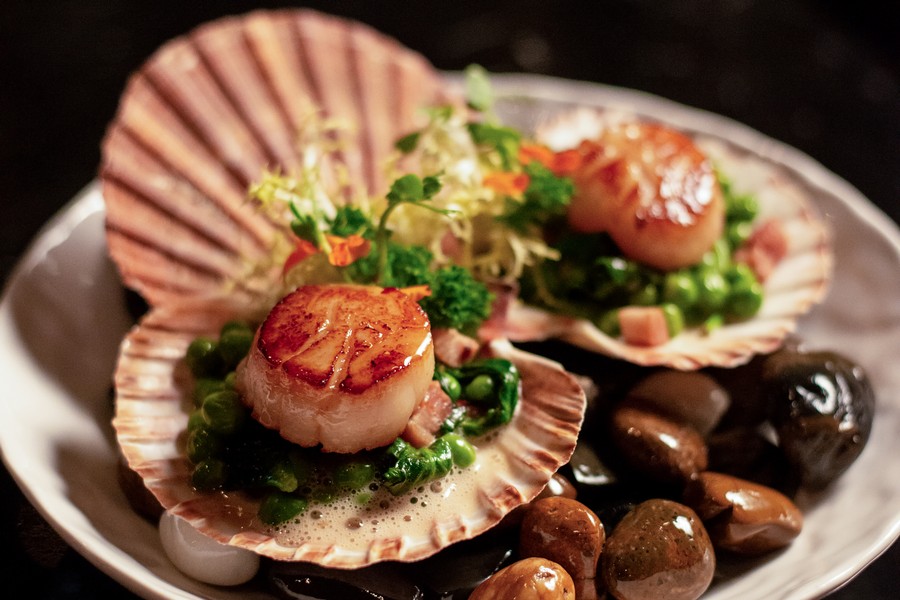 The decor whispers refined elegance, creating an ambiance that instantly captivates. Beneath the grand chandeliers, each table is a stage where culinary masterpieces come to life. And it's not just about the ambiance. With a menu curated for connoisseurs, every dish reflects a passion for culinary excellence. Dive into the depths of the ocean with the tantalizing Hokkaido Scallops, or ascend to gourmet heights with the extravagant Foie Gras. The pièce de résistance is undoubtedly the Japanese Wagyu steak, a testament to the establishment's commitment to offering only the best.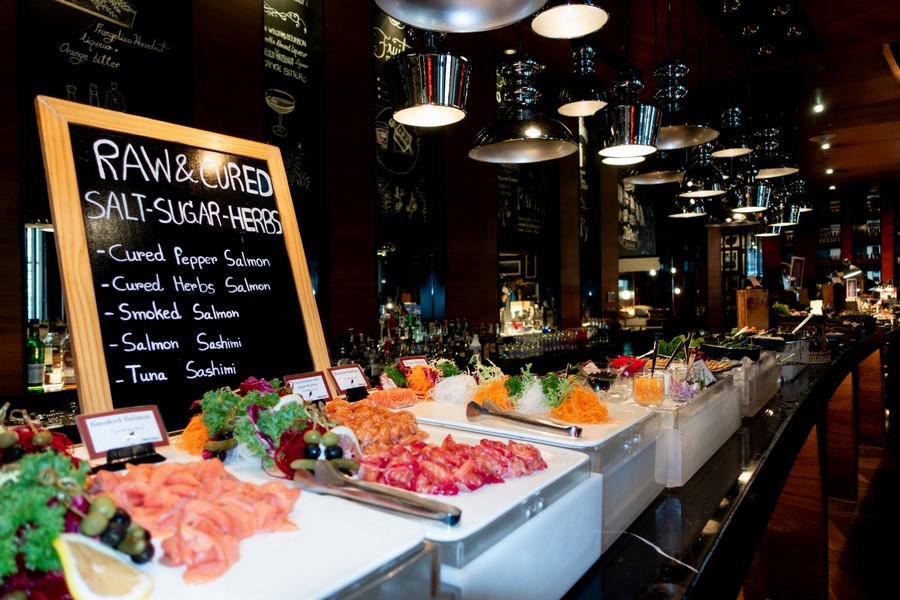 But the culinary journey doesn't end there. Sundays at The District Grill Room & Bar are a celebration in themselves. Renowned as one of Bangkok's premium brunch destinations, their Sunday Bubbly Brunch is an affair to remember. With a buffet that promises endless gourmet delights and à la carte selections crafted à la minute, it's a symphony of flavors waiting to be explored. Whether you're sipping on the finest bubbly or indulging in the freshest catch, Sundays here are an ode to the epicurean spirit.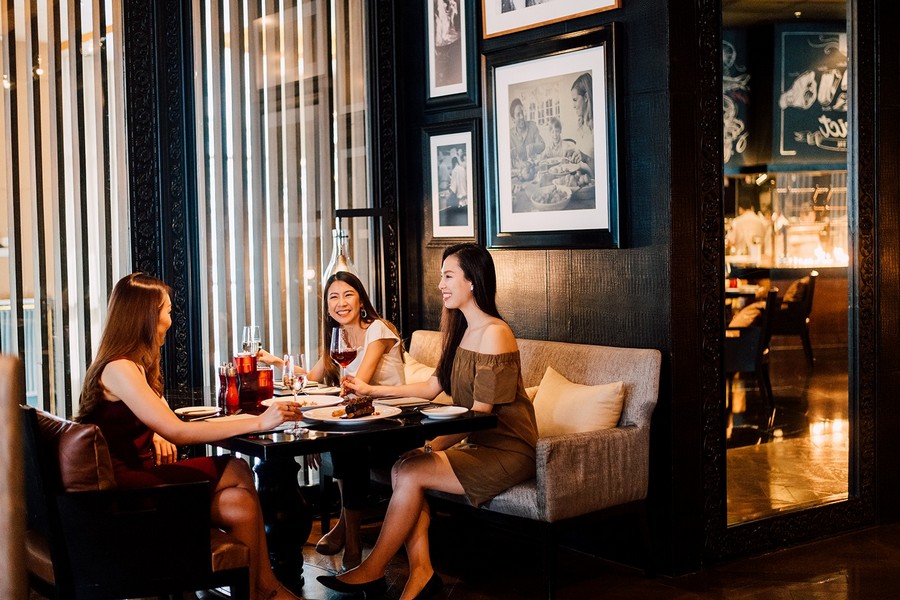 Moreover, the experience is further elevated by a team that's both knowledgeable and attentive. From the moment you step in to the moment you bid adieu, every aspect of your visit is meticulously catered to, ensuring an experience that's as seamless as it is memorable.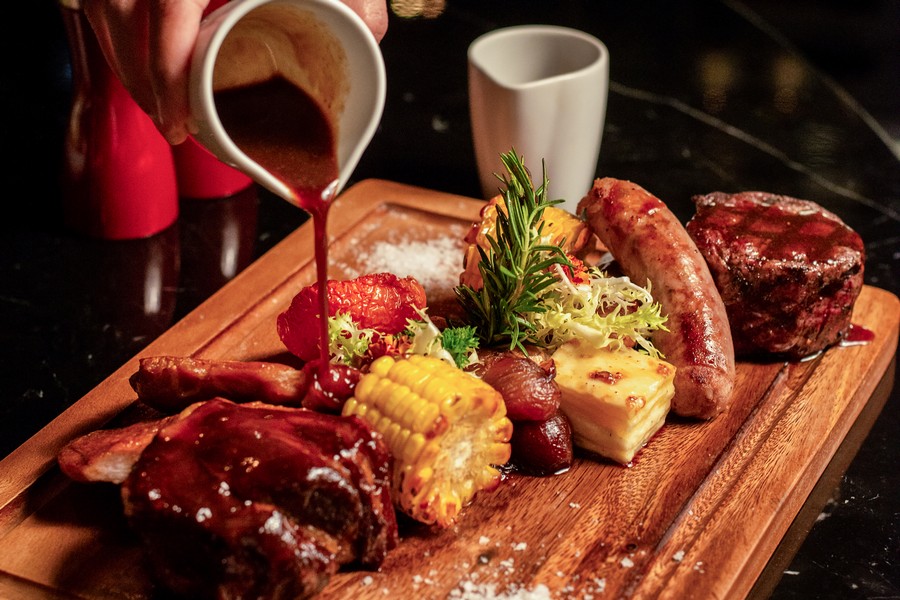 In a city where dining establishments vie for attention, The District Grill Room & Bar stands out. Not just for its exquisite offerings or its impeccable service, but for its ability to transport patrons to a world where every bite tells a story, and every sip is a celebration.
57th Street: Bangkok's Culinary Odyssey in Every Bite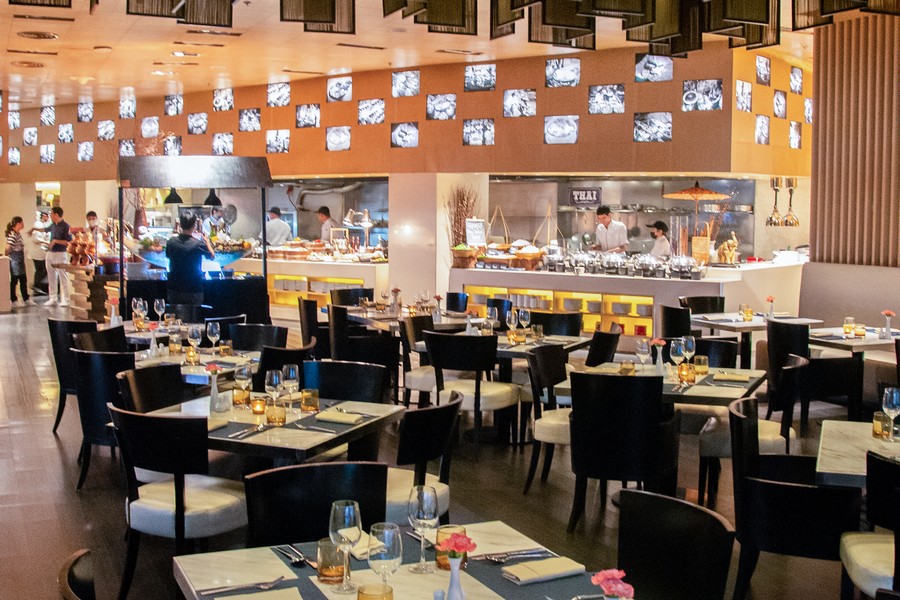 In the heart of the bustling metropolis that is Bangkok, the Bangkok Marriott Sukhumvit presents "57th Street," an all-day dining extravaganza that encapsulates the essence of Thailand's rich culinary tapestry. With its roots deep in the traditions of Thai cuisine, this elegant venue offers patrons an epicurean journey from dawn until dusk.
The decor is a blend of modern sophistication and traditional charm, making every meal here feel like an intimate affair. Whether you're kickstarting your day with a hearty breakfast or winding down with a sumptuous dinner, 57th Street promises an experience like no other.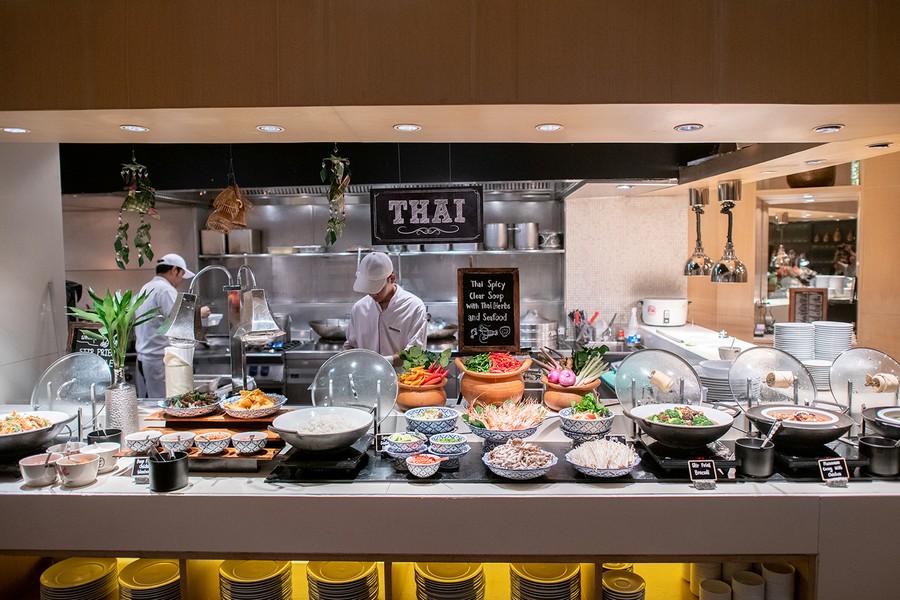 Buffet lovers will be in for a treat. On weekdays, from 12:00 to 15:00, a lavish international lunch spread awaits, with dishes that span the globe. As the sun sets, the dinner buffet, available from Monday to Thursday between 18:00 to 23:00, showcases a delightful array of international favorites. However, the weekend ushers in something truly special. Every Friday to Sunday, from 18:00 to 23:00, "Seafood Night" transforms the venue into a seafood lover's paradise, with fresh catches that tantalize the taste buds.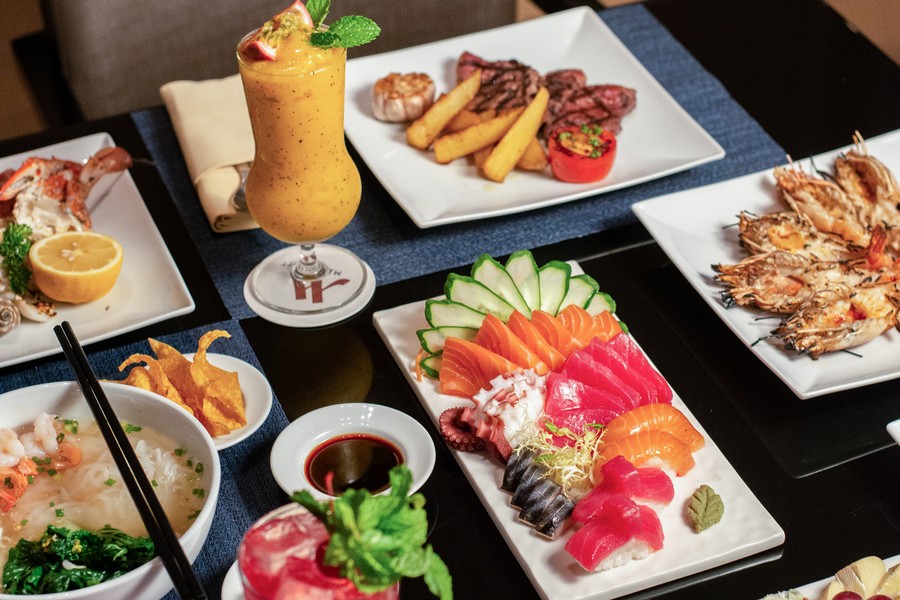 Starting November 4th, 57th Street will add another feather to its cap, introducing the "Asian Saturday Brunch." This weekly event promises a culinary tour of Asia, featuring dishes that celebrate the continent's diverse flavors. As you embark on this gastronomic journey, live entertainment will set the mood, making your Saturday brunch an affair to remember.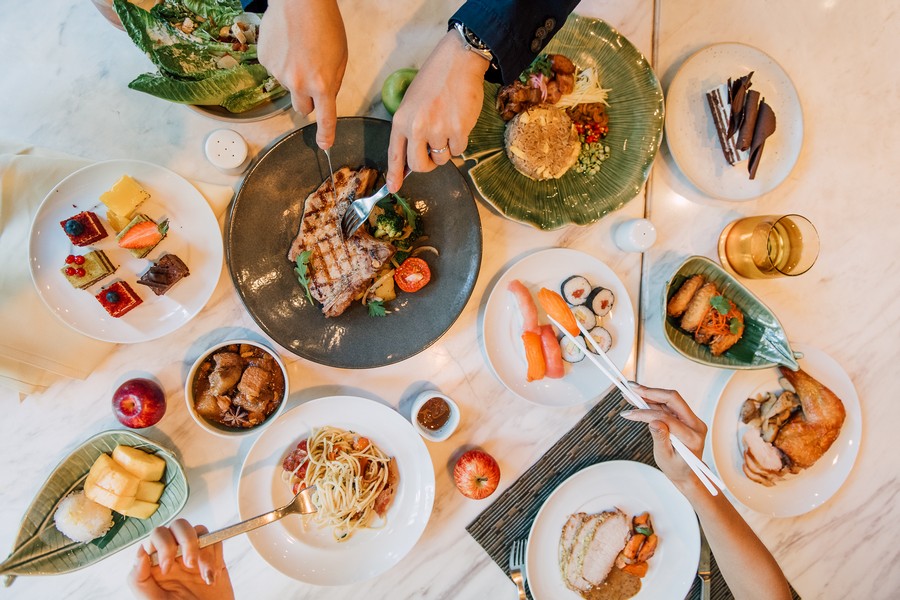 But it's not just about the food. The attentive staff, well-versed in the nuances of Thai and international cuisine, ensure that every dish is a masterpiece. From the delicately plated Hokkaido Scallops to the decadent Foie Gras, and the mouth-watering Japanese Wagyu steaks, each bite is a testament to 57th Street's commitment to culinary excellence.
In a city famed for its food, 57th Street stands out, not just for its impeccable dishes but for the memories it helps create. Whether you're a local or a traveler, make sure to mark your calendar for a meal at this iconic venue.
Bangkok Marriott Hotel Sukhumvit &
2 Sukhumvit Soi 57, Klongtan Nua
Wattana, Bangkok, Thailand, 10110
Tel: +66 2-7970000