I've had the pleasure of staying at the Westin Grande Sukhumvit Bangkok hotel multiple times and have always enjoyed the breakfast which takes place at their "Seasonal Tastes" restaurant.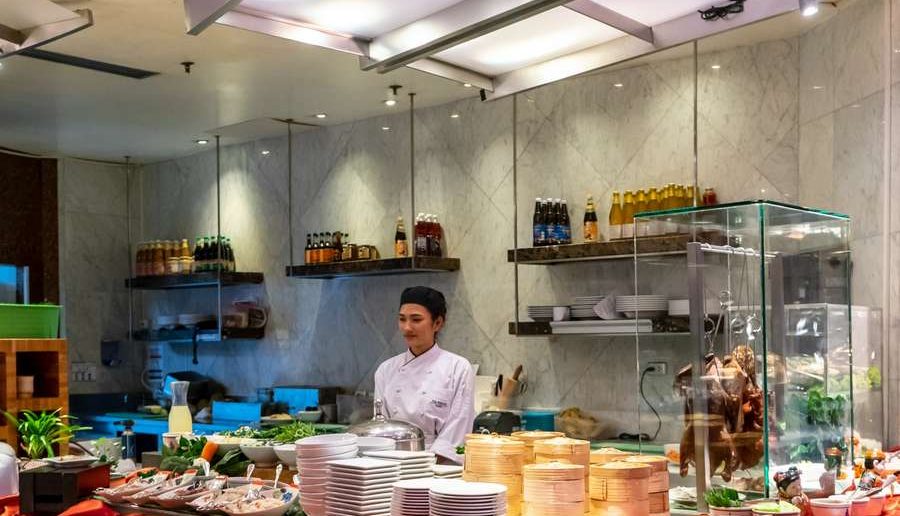 On one of my frequent Bangkok trips I decided to check out Seasonal Tastes for dinner because I had been hearing great things about their weekday dinner buffet. Seasonal Tastes offers an enticing range of gourmet international cuisine in a visually dramatic setting including open kitchens and live cooking stations. Whatever you are craving for, their international buffets seem to have it.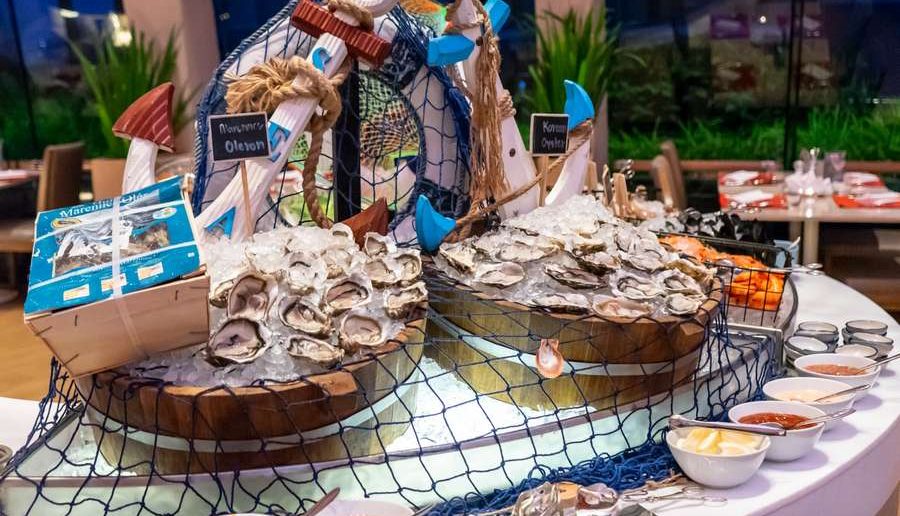 The Buffet is available Sunday thru Thursday and depending on what night you go you'll find delectably different rotating highlights. Appetizers include foie gras, Alaskan king crab legs, and Fine de Claire oysters while a Japanese station features sushi and sashimi. Entrée-size offerings debut at the BBQ station and range from rock lobster and snow fish to Australian beef tenderloin and lamb cutlets.
The Sunday buffet is called "The Best of Everything Signature Items" arraying the rarest, priciest, most premium and popular selections currently flying off the buffet counters Monday & Tuesday's theme is "From the Silk Road" with succulent Chinese BBQ favorites such as: Peking Duck; Cha Siu Pork; Scallops with XO Sauce; Dim Sums; and freshly baked irresistible Egg Tartlets.
If you show up Wednesday or Thursday you'll find their themed: "Smoke House Flavors" starring: Applewood-Smoked beef brisket; Lamb Rack; and Smothered BBQ Pork Ribs. The price for the Sunday thru Thursday buffet is THB 1,390++ per person which includes free-flow soft drinks.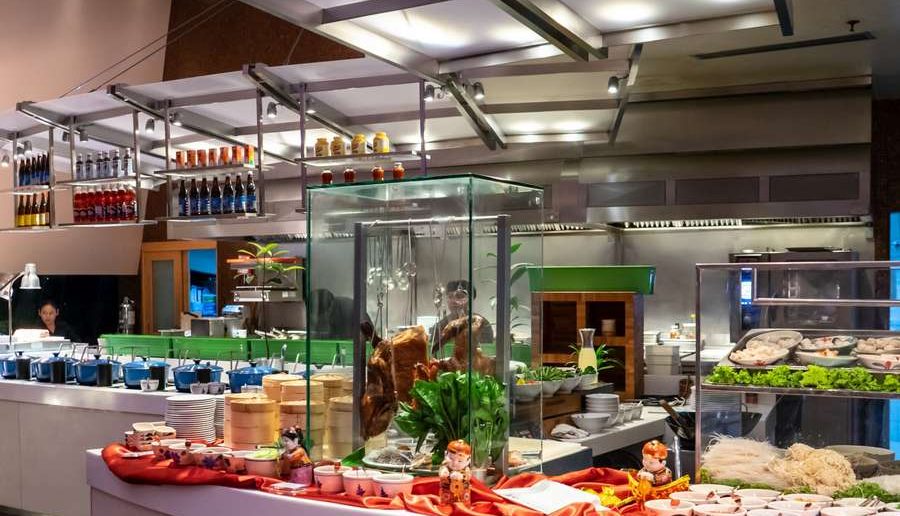 It was a Monday night that I ventured in and the tables were almost full. Always a good sign for an enjoyable dining experience to come. Next to Seasonal Tastes is their lobby lounge which had an enjoyable 4 piece band which made for a great ending to an enjoyable dining experience.
Liaise with friends and business buddies or make it a family affair. Seasonal Tastes offers a 50% discount on buffet prices for children under 12 years old and if you are a Sunday brunch fan they entertain the little ones with a magician, face painting, and a bouncing castle. Bookings via the online store enjoy discounts up to 40%  www.onlinestorewestinbangkok.com.
Seasonal Tastes' buffet is available from 18:00 to 22:30 hrs and is on the lobby level of the Westin Grande Sukhumvit Bangkok. Too easy to get to, It's just down the steps from the Asoke BTS & MRT stations & next door to Terminal 21.
*Advance reservations are suggested and can be made by calling 02 207 8000 or e-mailing fb.bangkok@westin.com.
Seasonal Tastes
Westin Grande Sukhumvit Bangkok
259 Sukhumvit Road Bangkok