Alighting the lifts on the 54th floor of Centara Grand Centralworld feels like you are entering another world. Reminiscent of the Mediterranean Sea, the reception areas blue glazed floor shimmers in the soft light and provides a sense of arrival.
On entry, the imposing bar, curving left and right, commands attention. A prominent illuminated sign on the bar front announces you have entered UNO MAS. Atop this sign, centre of the bar, a dozen or more bottles of sparkling wine sit deep in ice and enticingly lit, as if in invitation.
Dominating all the space behind the bar is UNO MAS's Wine Cellar. And not some dusty darkened room. A futuristic eight-metre-high transparent tower which cossets over 2,000 bottles. Though the cellar is a spectacle in itself, order a bottle from their 200 labelled wine list, and marvel as the 'wine angel' abseils up the internal cellar walls to secure and deliver your selection.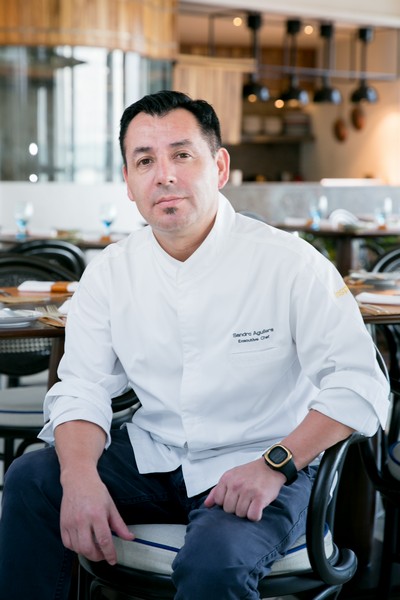 UNO MAS, Spanish for "one more" is about celebrating Spain and its Mediterranean cuisine, sky-high right in Bangkok's heart. Executive Chef, Sandro Aguilera is originally from Barcelona. He has worked at Michelin star restaurants in Barcelona and gained extensive experience elsewhere in his home country, France and Chile before moving to Thailand. UNO MAS has been awarded a Michelin Plate for the last three years (2018 through to 2020) under his guidance.
Following the building's curve with Bangkok's skyline forever present, UNO MAS is split into three unique zones starting with the Wine Cellar. Just past the Wine Cellar is the Tapas & Raw Bar followed by the slightly more formal Dining Deck with these last two zones semi-alfresco. To create the alfresco feel, UNO MAS's designers removed the expansive floor to ceiling glass windows, replacing them with a 1.8-metre glass wall. Above the glass wall to the ceiling is open, allowing diners to experience the cooling breezes at 54 floors above the Bangkok streets. This is a drawcard in itself, and those Bangkok sunsets add the crowning glory.
Moorish design elements and accessories connect the three venues together. An eclectic and warm colour palette of orange, yellow and marine, the striking terracotta hued Moroccan wall features, to the comfortable rustic sofas. All come together to highlight their Iberian Peninsula provenance.
You can hang out at the Wine Cellar, sampling from the impressive 36 wines by the glass, tasting one of their eleven featured Sherry including the 50-year-old Colosía Solera Familiar Palo Cortado from Zerez, the home of Sherry. And perhaps ordering nibbles from the menu to accompany.
In the Tapas & Raw Bar, you can choose the cosy seating for couples besides the panoramic and possibly vertigo inspiring glass wall; tables for larger groups on the elevated wooden deck, or bar stools around the tapas bar counter right in the middle of the action. The Dining Deck continues with impressive city skyline views along with the theatre from the show kitchen. Here chefs use special fire pits and the unique Josper oven to prepare their signature whole roast meats and grilled seafood. Another pit uses orange wood to impart a distinctive flavour to the paellas.
With the menu offering some 40 or so hot and cold tapas, including Pata Negra (Iberian breed of pig) cold cuts, it's hard to know where to start. To solve that dilemma, we chose UNO MAS's "2 Feet of Tapas". We munched our way through delectable morsels like mushroom croquettes, salmon salad, fried baby squid, grilled octopus, Spanish meatballs, cured hams, potato bravas, peppers padrones, gambas (prawns) "pil pil' and more. This is an ideal option for two people, appealingly displayed along UNO MAS's specially made Two Feet timber tapa plank.
Four paella feature on the menu – the traditional chicken and seafood; Lobster with the bottom crusted rice "socarrat"; one heavy in Pyrenees flavours of wild mushroom, black truffle, Iberico pork, and Catalan sausage; and seafood or "mariscos" paella made with creamy "bomba" rice, Maine lobster and the red Carabineros deep-sea prawns. Or for those who can't decide, can I suggest the Half & Half paella. Served in a specially divided pan – one half with the lobster paella and the Pyrenees on the other. Here you have the best of both worlds and paella heaven.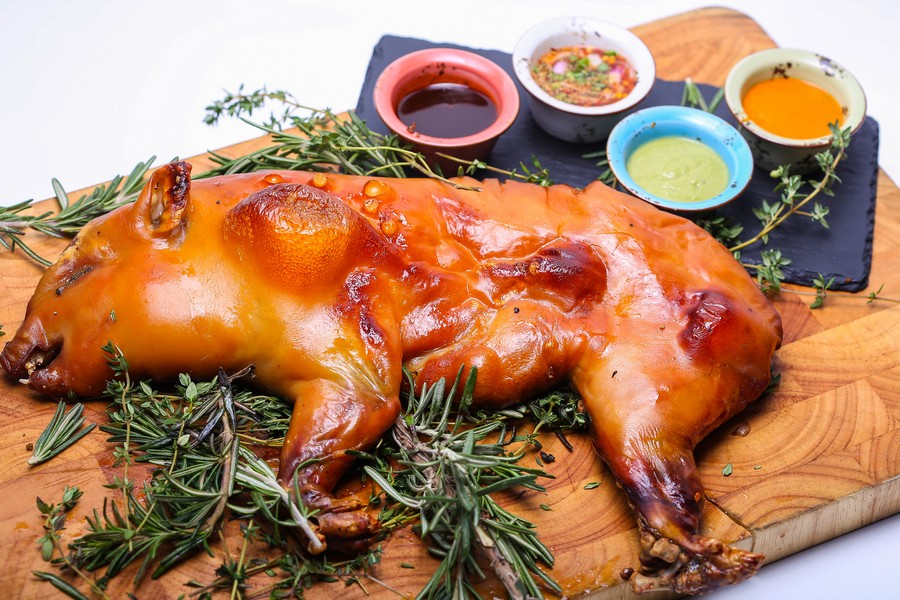 One of UNO MAS's signature main courses is "Cochinillo" or Suckling Pig. The province of Segovia north-west of Madrid is famous for roasting suckling pigs in this style and is a dish that dates back to medieval banquets. Three to four-week-old piglets still on their mother's milk are butchered and roasted very simply, typically in wood-fired ovens. UNO MAS serves half of a roasted suckling pig Segovian style to the table, and in line with tradition, cuts your pork with the dull edge of a plate to demonstrate its tenderness, before theatrically smashing the plate in front of you. Our group can attest to the pork's melt in your mouth tenderness and subtle flavour, and it's complemented with traditional and Thai sauces.
And of course, dessert, including two favourites! Crème Catalan is served with salted caramel ice cream for added naughtiness. The traditional Churros, light and airy Spanish fried doughnuts came with gloriously cocoa-rich Valrhona chocolate dipping sauce. Be sure to ask what's on offer.
UNO MAS opens its doors at lunchtime the first Sunday of every month, for their "Domingo Fabuloso" Champagne Brunch complete with G.H. Mumm Champagne. Displays laden with all the best cold cuts, including Joselito Iberico – named the best ham in the world, and diverse tapas, are just the beginning. Dive into the imported fresh oysters and a mind-boggling selection of seafood on ice including Phuket and Maine lobsters, varieties of crabs and prawns plus a range of condiments and bread. Leave room for the most tempting selection of fruits, chocolates and desserts. This is one bottomless bubbly brunch worth slotting into your calendar.
So, when in Bangkok and looking for some of the best Spanish tapas and speciality dishes, do check out UNO MAS, and like us, you may find yourself lingering or wanting to return for just "one more."
UNO MAS operates daily from 16.00 – 21.00 with tapas and beverages available from 16:00. Meals in the Dining Deck start from 18:00. The Wine Cellar runs till later.
For more details, enquiries or reservations go to www.unomasbangkok.com
email diningcgcw@chr.co.th
or call +66 (0)2 100 6255.
By Michael Cullen