Bangkok, Thailand's City of Angels, is bustling, boisterous, balmy, bewildering, baffling, beguiling, brilliant and perhaps even bodacious. It also boasts a bountiful choice of must-sees and must-dos for residents and visitors alike. For those who love Thai cuisine, especially Royal Thai Cuisine, the Blue Elephant Restaurant and Cooking School is at the top of the must-do list and has been since opening in 2002.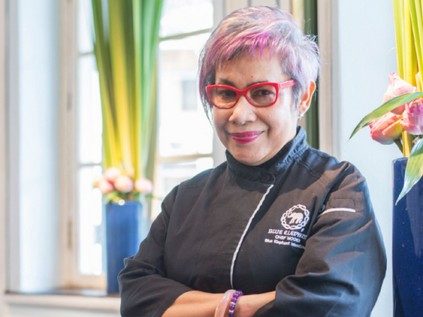 Though a Bangkok institution, the Blue Elephant story started in 1980 in Brussels, where Thai national and now Master Chef Nooror Somany Steppe with her Belgian art dealer husband, Karl Steppe, opened the first Blue Elephant. Recognition and acclaim followed as European diners were introduced to the joyful delights of Royal Thai cuisine. Blue Elephant London, Paris and Copenhagen happened in the 1990s and were followed by Malta, Lyon, plus restaurants in the Middle East and Asia.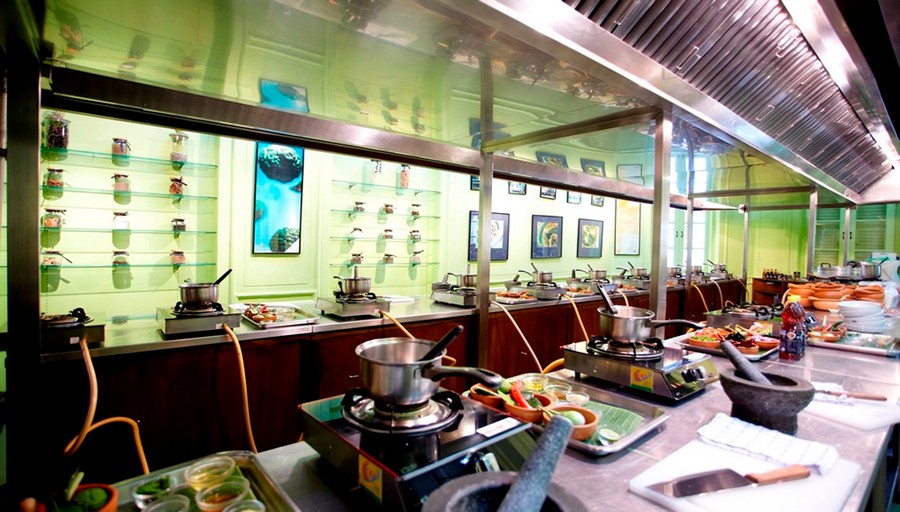 Cooking Schools at Blue Elephant Bangkok, and Blue Elephant Phuket, which opened in 2010, followed. Chef Nooror also created a retail business for those who need to keep their Thai pantry stocked. All produced in Thailand from organic ingredients, her authentic ready-mixed Thai sauces, curry pastes and powders now ship to over 30 countries. Unfortunately, the global pandemic saw several restaurants close, with Blue Elephant Copenhagen, Malta, Phuket and Bangkok still shining bright, as are the cooking schools and packaged food sides of this continuing family business.
Everything about Blue Elephant Bangkok exudes a sense of place and connection to its Thai roots. The three-story neo-classic mansion on South Sathorn Road first opened in 1903 as a department store serving the exclusive riverside residential neighbourhood. The Thai Chinese Chamber of Commerce took ownership and occupied it for some 70 years saving the building from demolition after the war and registering it as a historical heritage site. After building a new tower to house the expanding Thai Chinese Chamber's operations, careful restoration saw the now cream-yellow mansion return to its colonial-era splendour.
Inside, the restaurant flows through several rooms decorated with crystal chandeliers, Thai art and handicrafts, teak floors and louvred wood shutters. Tables are dressed with signature white table cloths, Blue Elephant placemats, polished bronze cutlery, gleaming glassware and fresh flowers. Restaurant staff in traditional attire complete the elegant picture.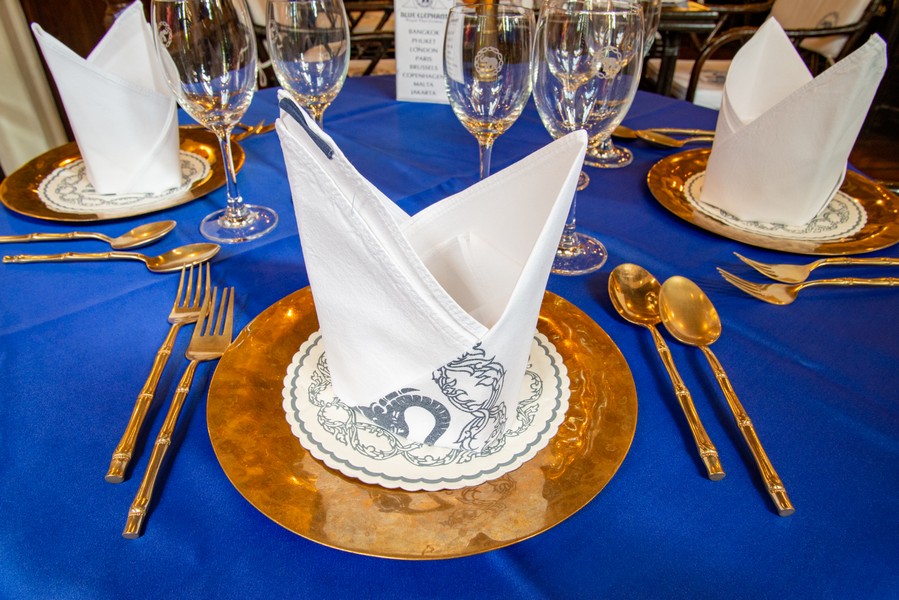 Blue Elephant's menu is in three sections: starters, soups, and mains – made in the tradition of "Royal Thai cuisine". Therefore each dish is prepared as if it were for the King and Queen's dinner table using only the best available ingredients. Careful attention to balancing the spicy, salty, sweet and sour flavours is essential, and dish presentation must also be suitable for such a distinguished table.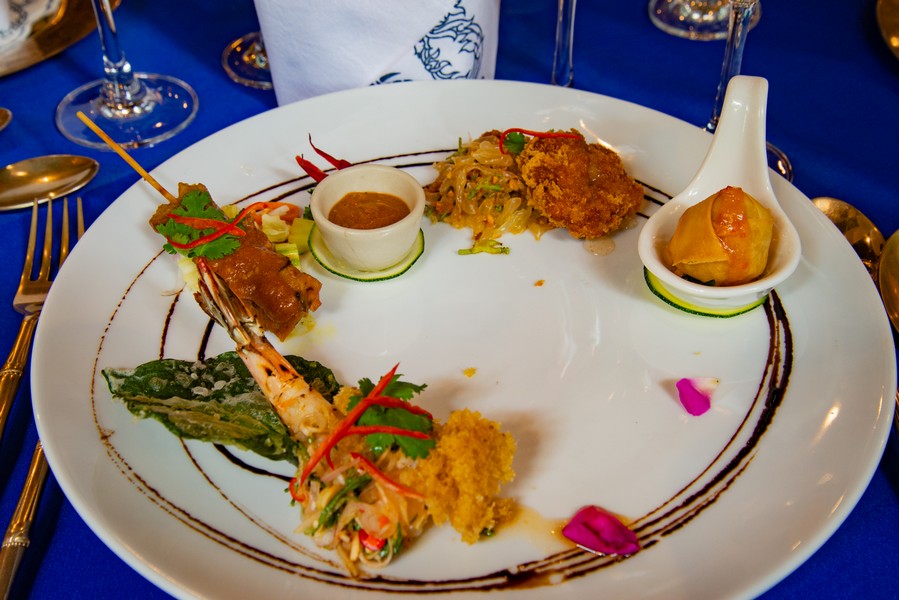 Our Blue Elephant food journey started with a starter sampler platter of four dishes titled Pearl Blue Elephant. A Pomelo Salad with Prawn Cakes featuring organic pomelo from Nakhonchaisri and a fried patty of fresh prawn meat, Thai garlic, and sweet corn. Betel Leaves Cananpe features a succulent grilled Banana Prawn, organic lemongrass and ginger, a tangerine chilli dressing, and a crunchy floss of rice field catfish accompanying tempura fried Betel Leaves.
Rose Spring Roll – rosebud shaped and filled with free-range chicken, glass noodles and shitake mushroom with its own house sweet & sour dipping sauce. Our final sample starter was turmeric-infused Chicken Satay, homemade peanut sauce and pickled vegetables.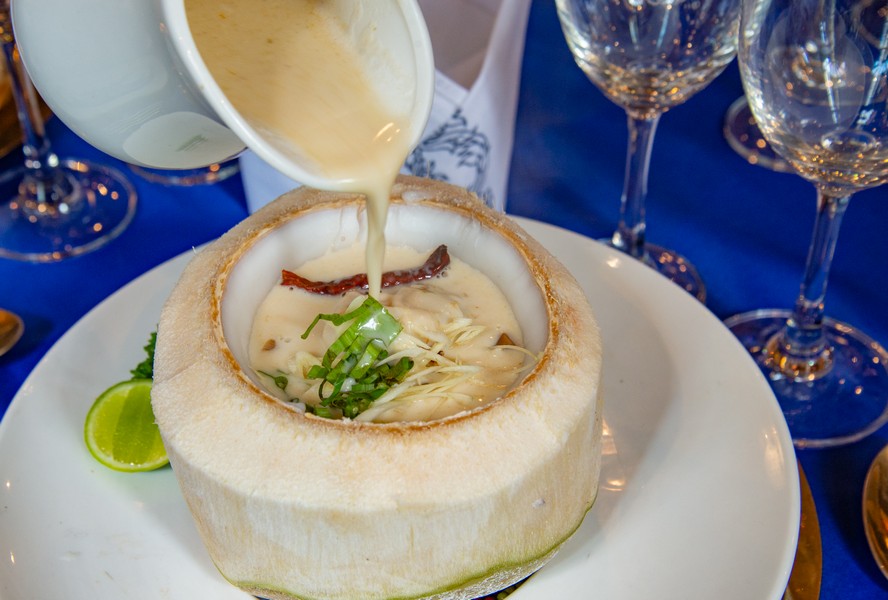 No Thai menu is complete without a selection of soups, and the Maprao Oon caught our eye. A creamy soup of coconut milk flavoured with the gentle heat and aroma of galangal, straw mushrooms and the succulent sweet meat of Blue Swimmer crab. Grandly served at the table with a fresh young coconut as the bowl, meaning you have the bonus of scraping the tender coconut flesh from the shells as you go.
A section of the menu titled "Thai Kitchen of Tomorrow" feature dishes where Chef Nooror and her team have let their culinary creativity go, fusing Thai flavours with European influences. We sampled two of these dishes, and both were outstanding.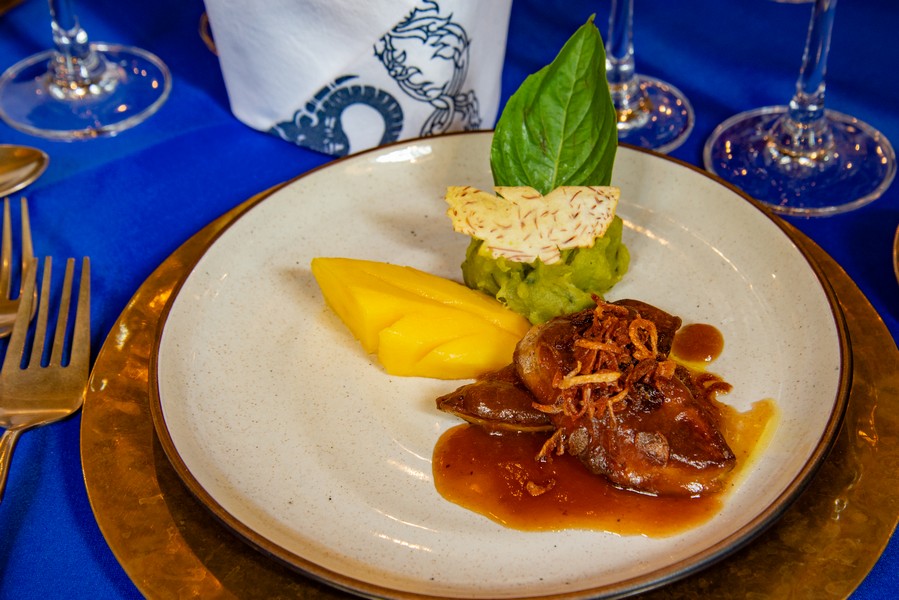 Tamarind Foie Gras Des Landes was created by Chef Nooror at Blue Elephant Paris and had buttery rich, grilled Foie Gras coupled with a sauce heroing the sweet variety of tamarind the central Thailand province of Phetchabun is famous for. It was accompanied by a Thai basil-coloured sweet potato mash and the Kingdom's most cherished "Nam Dok Mai" Mango. The other dish from this section of the menu is Black Diamond Scallops. Fresh scallops marinated in southern Thai spices, skewered on fresh lemongrass stalks, grilled and served with a black garlic sauce and avocado Salsa Dip.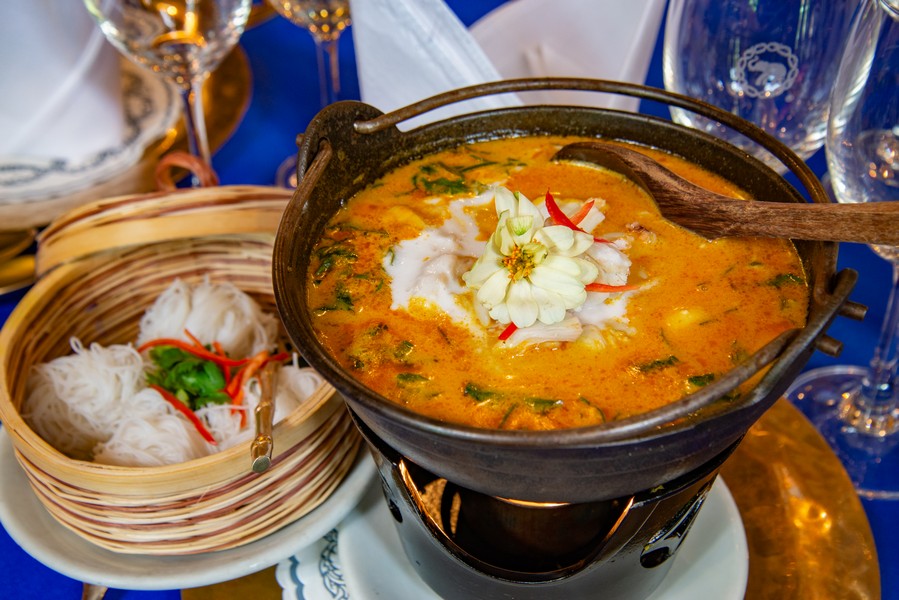 Our three main dishes took us from southern Thailand to a Chef Nooror signature and a dish from their Thai Kitchen of Tomorrow. Starting with the Hot Phuketian Crab Curry, rich and spicy coconut and southern spiced curry sauce, organic betel leaves, and an abundance of Blue Swimmer Crab served with rice noodles. On the menu, the disk is marked with three red elephant symbols to denote the level of spicy heat, with three being the hottest, and the curry lived up to this rating.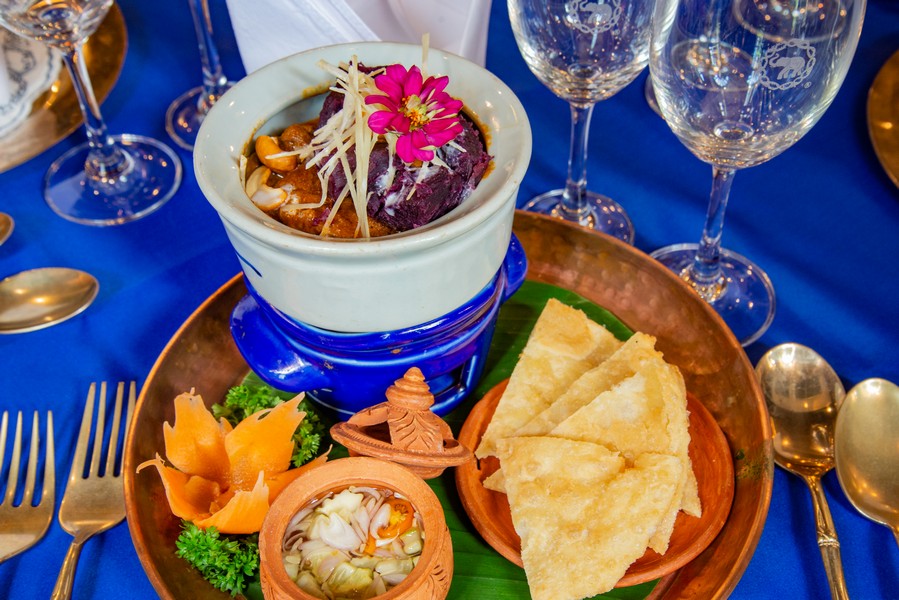 The signature Massaman Lamb Curry brings together free-range, grass-fed Thai Lamb from the Buriram province, sweet potatoes, and Chef's own curry paste simmered in coconut milk and tamarind juice balanced with palm sugar. All topped with roasted nuts and served to the table in a clay pot atop a small burner with Roti and a pickled vegetable sauce. The melt-in-your-mouth lamb and rich, creamy sauce with gentle heat came together exceptionally and is understandably a signature.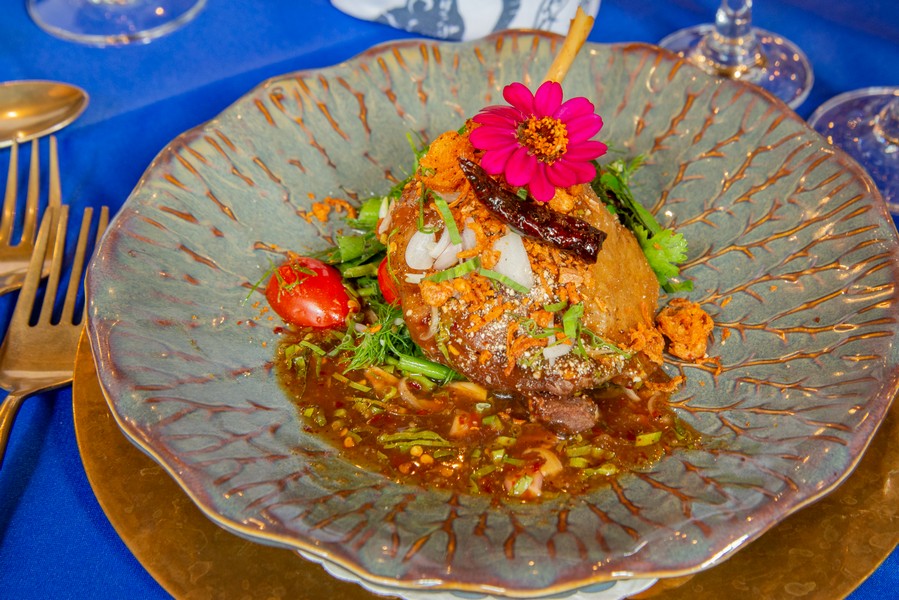 The final main dish fuses the classic French Confit of Duck cooked long and slow in Graisse de Canard (duck fat) topped with caramelized tamarind sitting on a salad of Thai herb and accompanied by a spicy Issan-style Laab sauce. The spice and heat of the bright Laab sauce pairs surprisingly well with the rich duck meat and is a triumph in Thai-French fusion. An added connection with this dish is the farmed ducks come from Chef Nooror's home province of Chachoengsao, immediately west of Bangkok.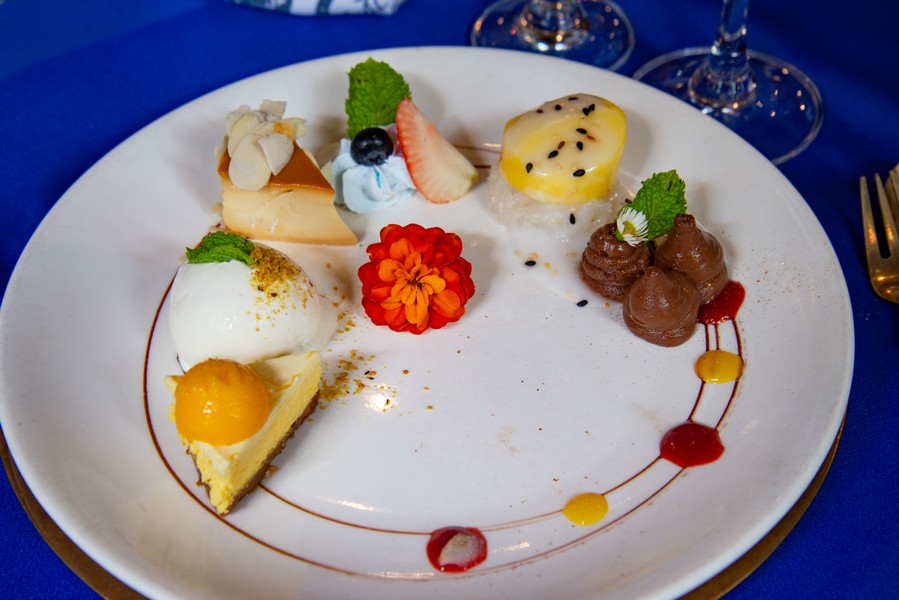 Blue Elephant's menu proclaims that the desserts listed have been signatures since 1980, which is a testament to their appeal and continued ability to please. There is a dessert sampler platter, Star Of Siam, with a taste of the five on offer, plus house-made coconut ice cream. All delectable, though two standouts had us going back for more. The Chocolate Mouse with 70% intense, rich dark Belgium Chocolate and the Forgotten Husband Sticky Rice Pudding – so named because of the impact it is said to have on some diners. A coloured with Butterfly Pea flowers rice pudding, taro, longan fruit, fresh coconut juice, coconut cream and coconut ice cream.
If feeling particularly inspired to delve further into Thai cuisine, having experienced Blue Elephant, their Cooking School is on the second floor of the building. Morning and afternoon classes happen daily with a regularly changing menu. Private lessons for groups up to 12 can also be arranged, perhaps for that special occasion or celebration. Professional Chefs or those wanting to take a serious deep dive can book week long intensive programs.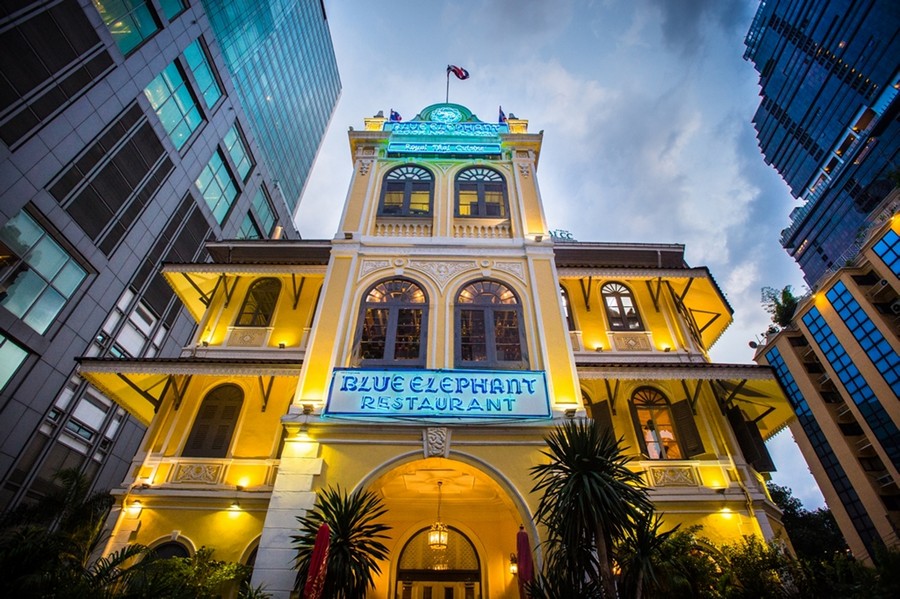 Blue Elephant Bangkok is open for lunch and dinner Monday through Sunday. For more information on the restaurant, reservations, or their Cooking Schools, visit www.blueelephant.com/bangkok/
Blue Elephant Bangkok is an outstanding Thai cuisine dining experience and must-do whenever in Thailand's City of Angels.
By Michael Cullen