Amber Kitchen is a bright, family-inspired restaurant offering classical and contemporary dining, at Hua Hin Marriott Resort & Spa. Given its location in the middle of the resort, outside diners must make their way through the lobby and the resort's lush tropical gardens to access Amber Kitchen.
On a recent visit, we discovered it's well worth the effort for dining offerings like Amber Kitchen's Saturday evening Seafood & Grill Dinner Buffet. This offering is defined as a surf 'n' turf extravaganza featuring only the freshest local seafood and prime cuts. We can attest that the description does not even begin to tell the story of this Saturday dinner buffet.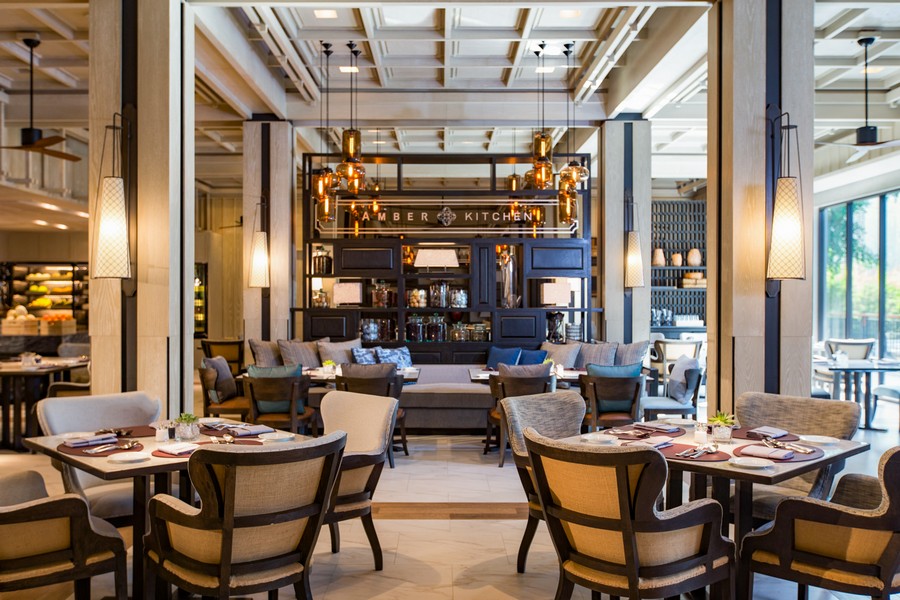 The large, elegant indoor restaurant provides an ideal air-conditioned setting for fun-filled feasts. Those looking for an alfresco setting can opt for the adjacent moonlit dining terrace, surrounded by the resort's loop pools and landscaped gardens. The Scandi-feel décor inside combines bleached timbered walls, textured stone flooring, muted tones of blue-grey, elegant wingback chairs, and functional blocks of black to contrast the neutral tones. All fuse to create a clean, simple, stylish balance between functionality, cosiness, and aesthetics.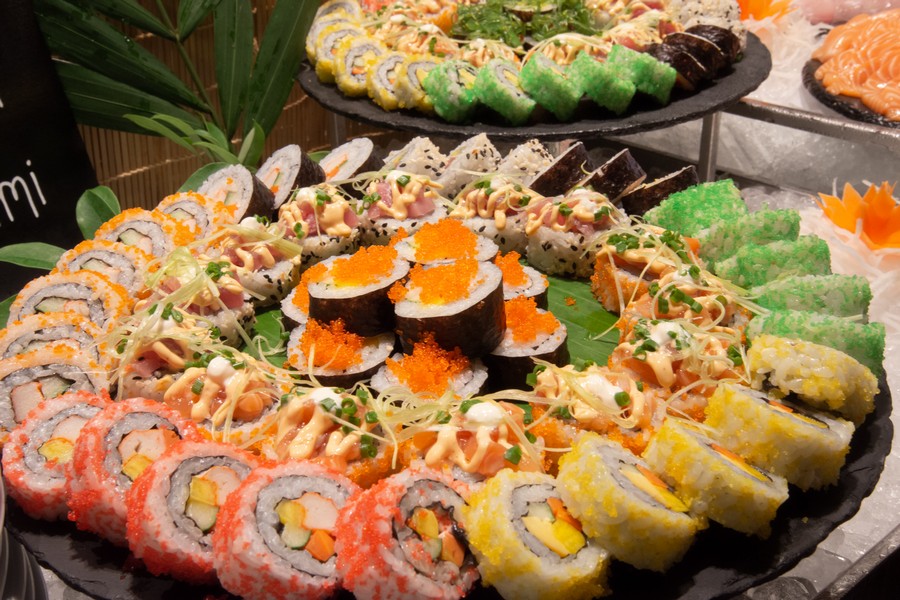 Amber Kitchen's buffets and live-cooking station occupy the restaurant's rear wall and are divided into distinct sections. Start in Japan with freshly made Sushi rolls and gleamingly fresh sliced Sashimi. Stop at the fresh seafood on ice, indulging in oysters, prawns, crabs, squid and mussels. Veer to the Charcuterie section with choices of sliced hams, salami and other cold meats and typical antipasti accompaniments. Perhaps sliced Smoked Salmon or gravlax also needs to be on your plate. No problems, as you can return to gradually work through all that tempts.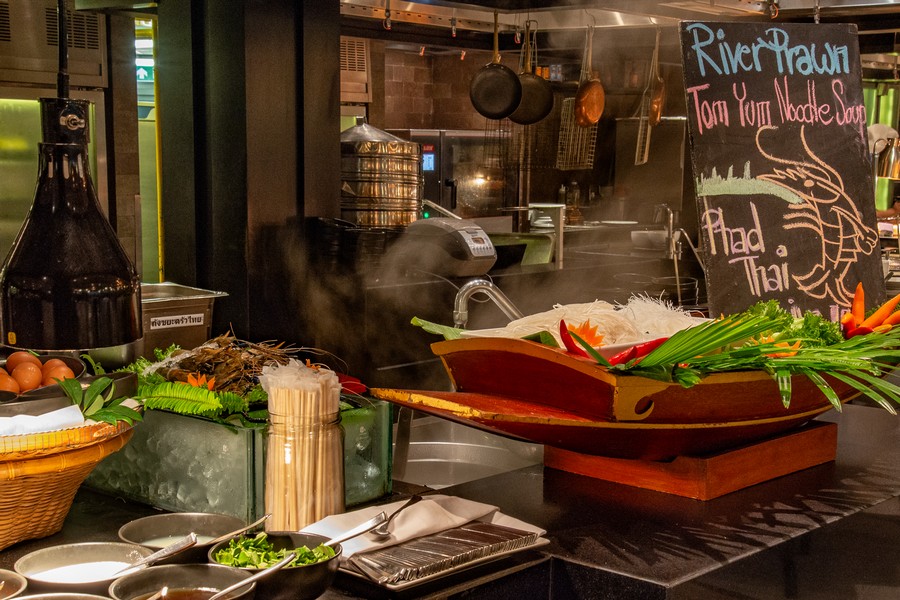 If Thai flavours entice, check out the Fish Cakes (Toht Mun Pla) and the Golden Bags (Thang Thong) or ask the Chefs to cook your preferred Thai noodle dish. Perhaps Tom Yum Goong or Pad Thai cooked to order right before you. The buffet's Italian section has whole Pizza waiting for you to grab a few slices, or stop at the Pasta Your Way and have the Chef create your ideal as you wait.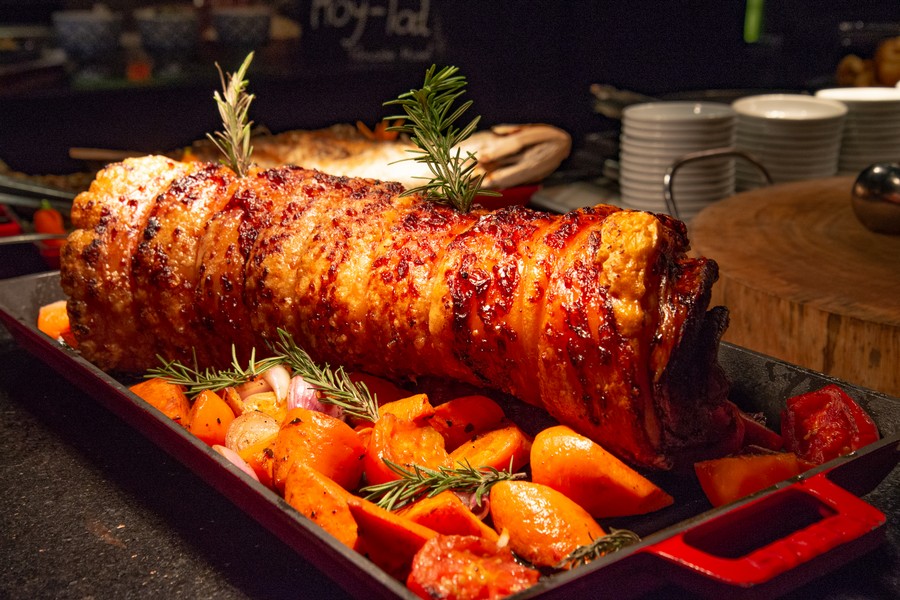 The carving station is laden with choices. Sample from crispy rolled roast pork, beef rib-eye roast, and whole-baked fish. Sauces, gravies, roasted potatoes, Yorkshire pudding, and Mediterranean-style grilled vegetables are ready to add to your plate. On top of all these choices are hot pots of classic French and Italian casserole-style dishes calling to be supped. Fresh chef-made salads and a selection of salad ingredients on ice fill the colourful salad bar.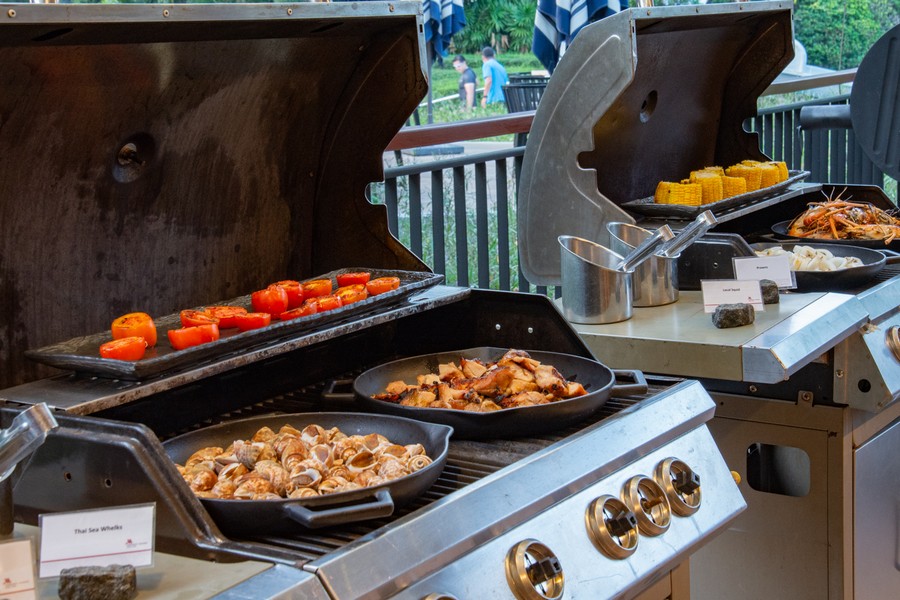 Outside on the terrace, the barbecues are firing with options like Thai grilled pork neck and ribs, grilled whole prawns, local squid, sea whelks, chicken thighs and wings, lamb chops, plus grilled sweet corn and tomatoes. Your buffet and barbecue dining choices can feel a little overwhelming, though we took a measured and no-rush approach as we navigated all the tasty offerings.
If, like us, desserts are an essential component of your dining experiences, your heart will jump for joy at the selection. On the outside terrace is a mango and sticky rice station complete with house-made coconut ice cream for a classic Thai dessert fix. Inside is a dessert buffet divided into three sections. First, a platter-laden table of favourites like crème caramel, red velvet cake, apple tarts, chocolate brownies, mango slices and much more. Individual dessert servings are in an open refrigerated cabinet at just the right height to tempt any children in your party. Then there is the ice cream fridge with a six-flavour selection. And for all kids, big and small, a Fairy Floss (Cotton Candy) station.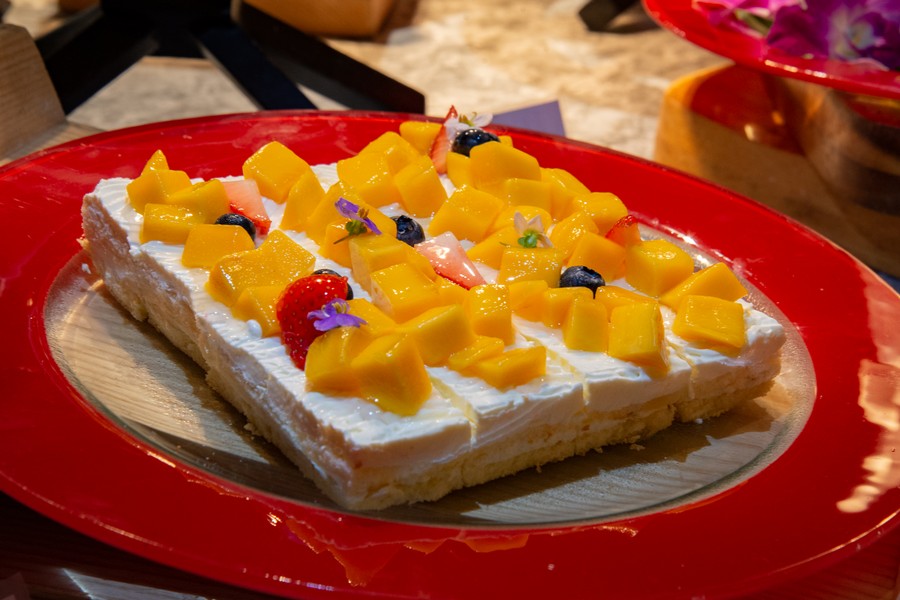 For those who prefer Cheese to finish your meal, a suitable selection of soft and hard cheese is offered at a separate buffet with typical cheese board accompaniments. Amber Kitchen also offers free-flow beverage packages, from a Fine to Drive non-alcoholic option to a Full Bar offering that includes beer, wines, and spirits.
Amber Kitchen's Seafood & Grill Dinner Buffet happens every Saturday evening from 6 pm. Bookings are recommended as it is exceptionally popular, judging by our visit. For more information, call 032 904 666 or visit the Hua Hin Marriott Resort & Spa website.
Michael Cullen