To be recognised among the best restaurants in Thailand is an outstanding achievement. This month's Let's Eat column features Prachuab Kirikhan's only restaurant in Thailand's Top 10 Best Regional Restaurants. Let's explain the Best Restaurants guide first.
In its 18th year, Tatler Thailand anonymously visits and ranks the best eateries in Bangkok and five key regional areas of Thailand. Establishments are assessed in food, setting, drinks and service, and scored out of 100. Andreas Italian Restaurant & Grill achieved number four with an outstanding score of 91.
Chef and owner Andreas Bonifacio opened Andreas in 2014 and has continued to build the restaurants reputation, with the 2019 Tatler Thailand Best Regional Restaurant listing the latest recognition. A Michelin star trained chef with 28 years of culinary experience. Originally from Trieste, Italy, Andreas has spent 14 years in Thailand including ten in Hua Hin.
Entering and ascending the broad staircase at Andreas takes us into a long slim dining room with intimate lighting. Timber floors add a warm tone while the floor to ceiling glass windows provide an airy feel. Wine glasses glint in the soft light. Staff escort us to our table with a quiet assuredness. Menus arrive and drink orders happen almost instantly. We feel we are in for a good night!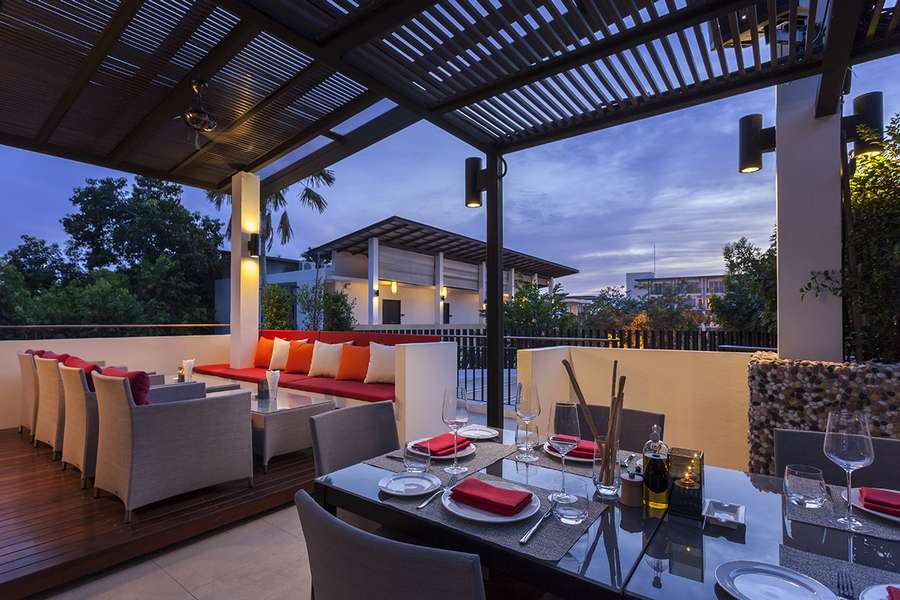 The restaurant has two dining areas. The airconditioned first floor where we are, with its glass-walled wine cellar and open kitchen. A bar area is on the rear patio along with a spiral staircase leading to the open-air roof-top covered terrace with comfortable, booth-style seating. It's the balmy, breezy and leafy outlook of this roof-top dining area that immediately captures the imagination. Dare I say, a Mediterranean feel with a tropical twist.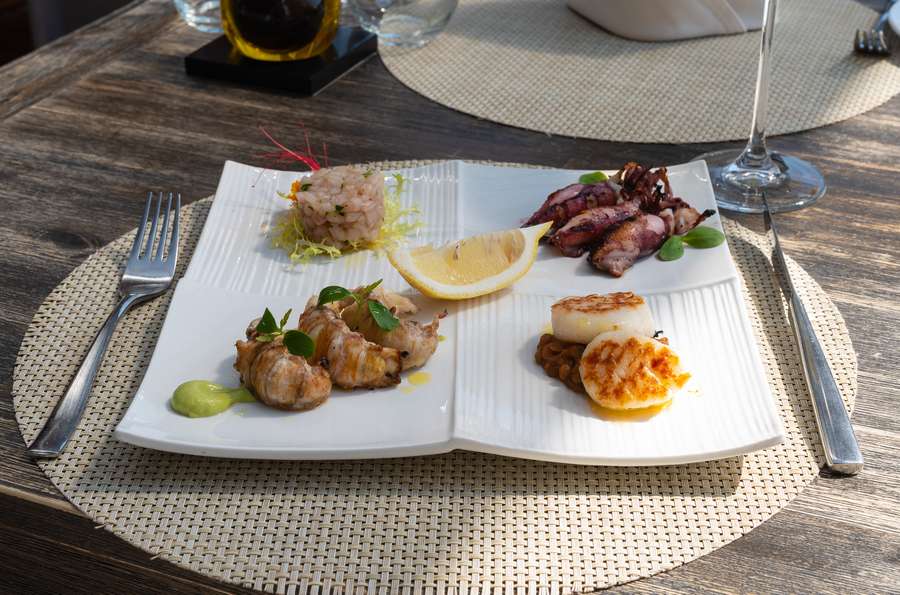 Three dishes from the starter menu set off our Andreas food journey. 'Il grande antipasto di pesce' – a quartet of seafood. Plump scallop, succulent local prawns and tender squid fresh from Pak Nam Pram – all freshly grilled. The final seafood on this antipasti plate is Tartare of Hamachi. Japanese Yellowtail Jack with it's rich, smooth and buttery flavours and somewhat smoky taste. Perfect to round out this plate of delectable seafood textures and flavours.
Next, grilled Tomino – a cheese from the region of Piedmont. This individual small and round of cheese with a thin rind enclosing a soft and ivory centre is grilled and served with ever-so-thin tantalising tendrils of sliced Italian Speck. A smoked and cured pork, typically from the Tyrol region of Italy. The plate is finished with large brown mushrooms quartered, breaded and fried. Contrasting yet complementary flavours where the produce shines.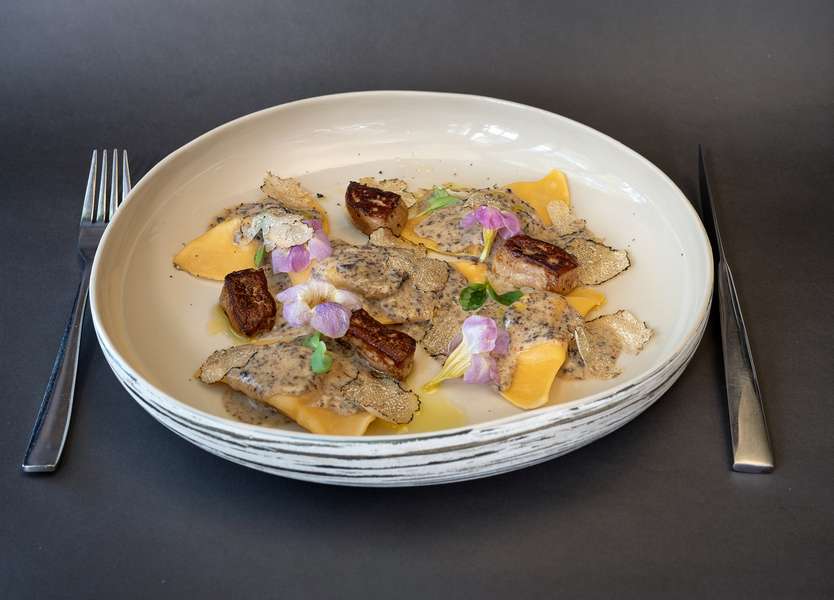 Our final starter is crescent-shaped agnolotti pasta filled with duck confit, topped with a cream sauce and pan-fried foie gras and shavings of black truffle. A well-balanced plate of rich, gamey heaven.
Shared amongst the table is our middle course, Risotto with porcini mushrooms. Creamy, yet rich with the flavours of the stock and porcini, the arborio rice plump and still al dente in the centre.
Our mains take us to verdant cattle grazing pastures as well as the Southern Ocean. An oven-baked Tasmanian salmon fillet served with grilled asparagus and hollandaise sauce. The salmon – a delicate shade of soft pink, moist, flaky, and easily coming away from the skin. From the pasture, a slow-cooked (24 hours) Veal "Ossobuco" served with polenta and saffron-infused risotto. Deliciously tender meat which had all members of our party going back until the plate is wiped clean of every morsel of the melt-in-your-mouth veal and its hearty sauce.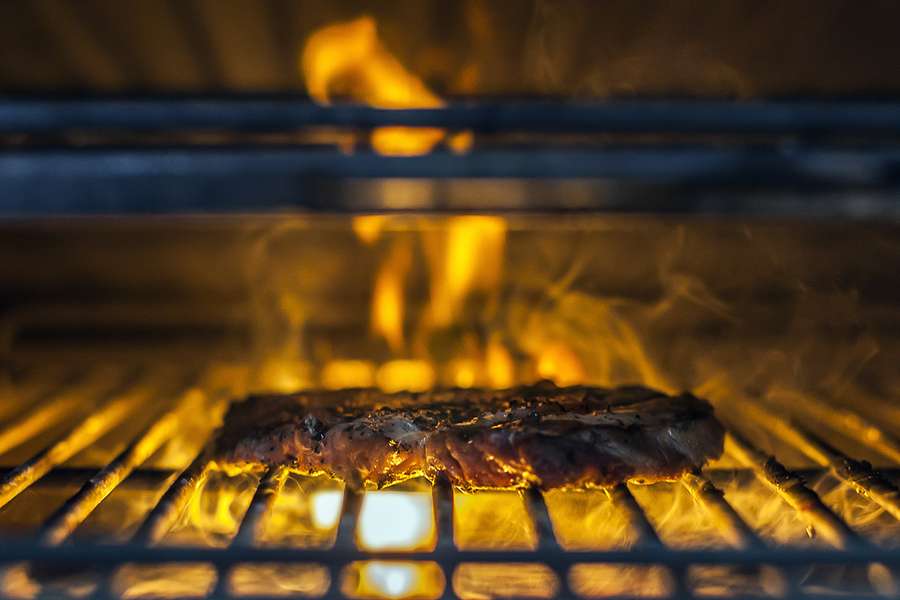 Andreas prides itself on its grilled meats with the menu featuring export quality beef, and lamb from Australia. In fact, Andreas is so committed to presenting these meats in their best possible way he has imported from Spain, a Josper oven grill. A grill connoisseur's dream machine!
Not too hungry and looking for something simple? No problems as the wood-fired pizza oven on the rear patio is always ready, with the menu offering eight options.
Wine can be the perfect accompaniment to food and Andreas wine list currently boast 230 labels with all the renowned Italian regions featured plus labels from other outstanding wine-growing countries. This could be the most comprehensive wine list in Hua Hin.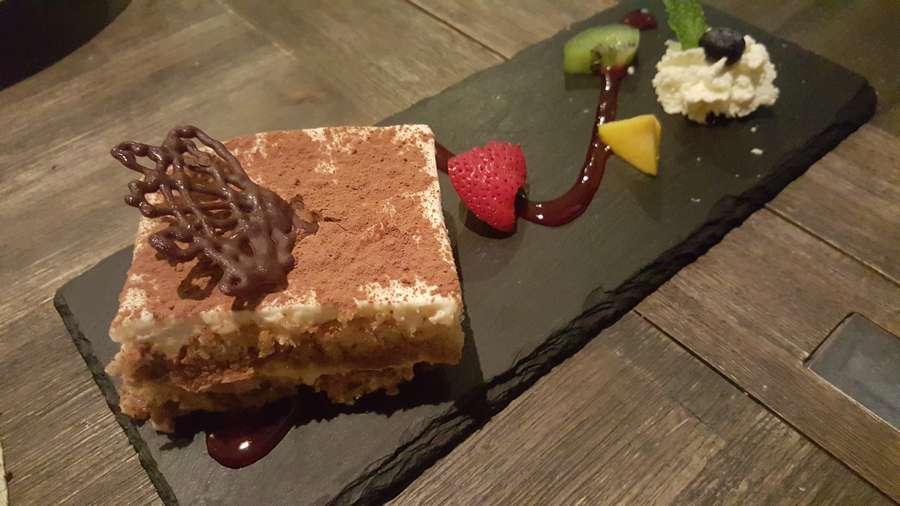 The dessert menu offers many tantalising and tempting choices from Gelato or a selection of Italian cheese to vanilla-infused Crème Brule or panna cotta, moulded chocolate lava cake, a hazelnut and chocolate mousse, as well as everyone's favourite, tiramisu.
The dessert that caught our attention, though was zabaione. A dessert said to come from Piedmont or Venice, depending on which historian or food author you believe. A warm blend of egg yolks, wine, in this case, Masala, and sugar combined over a double boiler. The outcome – a warm, creamy, wine-scented froth that's soothing and comforting yet elegant all at once. A glorious cloud of pure pleasure which Andreas serves in a stylish glass with a scoop of vanilla gelato at the base. Dolci Bellissima!
Parents with children may find Andreas 'Family Pizza Day' which happens every Saturday from 12 to 1:30pm a fun option. Children make their own pizza from rolling out the base, to adding the sauce and toppings. These are then baked in the wood-fired oven. Parents can share the family creation or order something additional from the menu. Book ahead to avoid disappointment.
Andreas tells us to watch out for a new addition around November this year. The ground floor of the building will open as a more casual dining option. Come with a group, order some of the soon to be offered half meter-long pizza, indulge in some of the on-tap quality house wine, or start tasting your way through their new whisky bar. Exciting new additions to look forward to.
For enquiries, reservations, or to learn more about Hua Hin's only restaurant to make it onto the 2019 Tatler Thailand Top 10 Regional Restaurants listing, visit www.andreas-ristorante.com or phone 099 910 1018.
By Michael Cullen