Rated by TripAdvisor as one of the top two of Hua Hin's Italian restaurants, Baan Thalia is Italian cuisine of exquisite quality and superbly presented in a refined setting 'hidden' away in the long-established and highly regarded Anantara Hua Hin Resort. A revelation to the Let's Eat team and one we have now added to our favourites list.
Walk through Baan Thalia's doors and be transported to another place. The tropics are replaced by autumnal colour tones from rich chocolate woods, contrasting warm fabric textures, soothing cream walls, and eye-catching suspended light features. It feels like you have entered a dining establishment somewhere in northern Italy–perhaps Milan, Parma, Bologna or Modena. Thankfully, the warm welcome of the attentive and highly professional Thai service staff helps ease you out of your time-machine moment.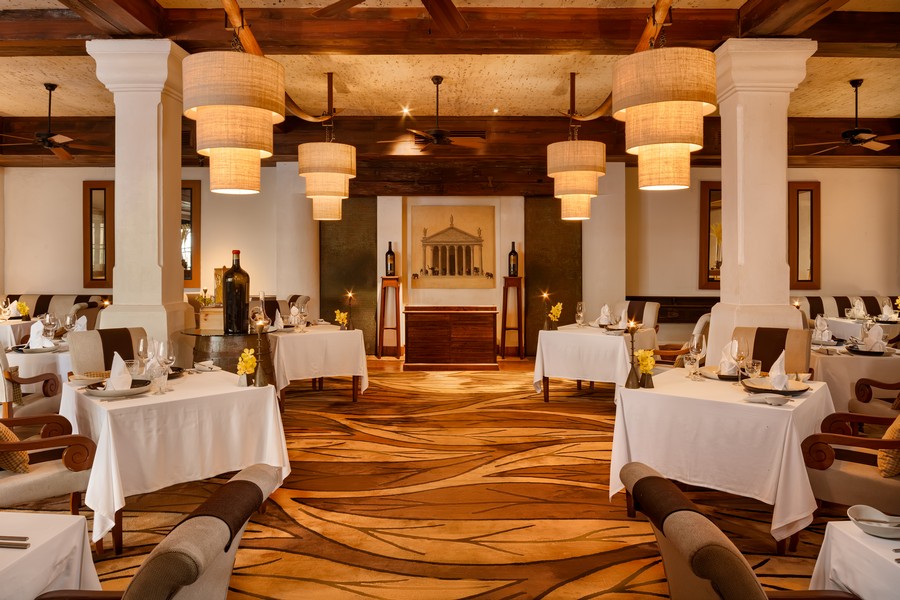 A complete selection of aperitif and pre-dinner beverages are available. However, menus listing a curated selection of wine by the glass and another of Italian Classic and Baan Thalia Signature cocktails caught our attention. Perhaps a Negroni or Bellina from the classics or an Italian Sour with Amaretto and Galliano from the Signature cocktail list. Decisions were made, and with our pre-dinner drinks in hand, fresh house-made bread arrived, accompanied by roasted garlic cloves, olive oil, balsamic, tapenade, and Chef's tomato salsa.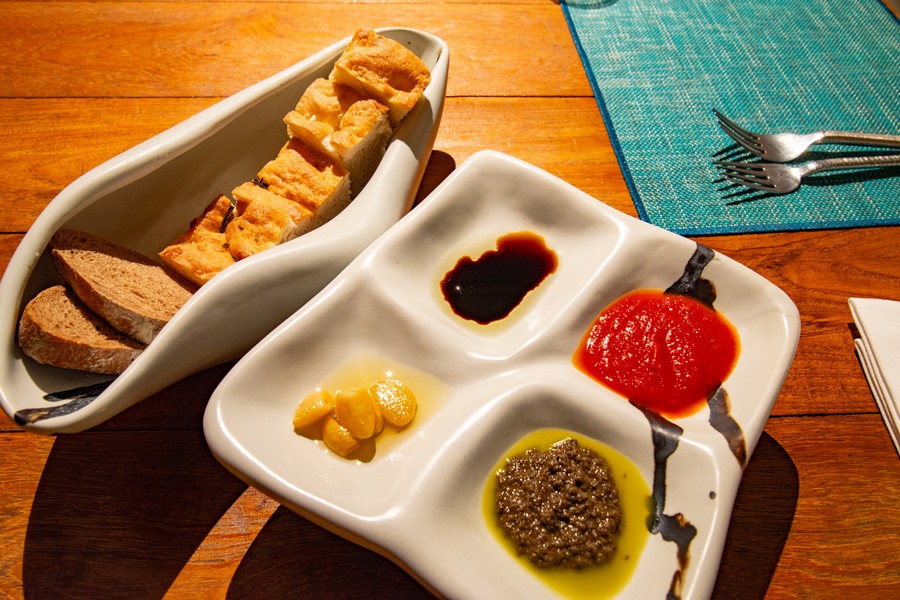 A complimentary Amuse Bouche of chicken parmesan topped with light-as-a-feather potato espuma is presented to announce the start of our Baan Thalia food journey. We move to three dishes from the Antipasti section of the menu. Salad Caprese with Buffalo mozzarella cheese, cherry tomato, basil, and aged balsamic vinegar. The Hua Hin-made Del Casaro mozzarella favoured by many of Hua Hin's chefs with its rich, creamy centre is a delight. At the same time, the gentle bite of the cherry tomatoes adds the counterbalance.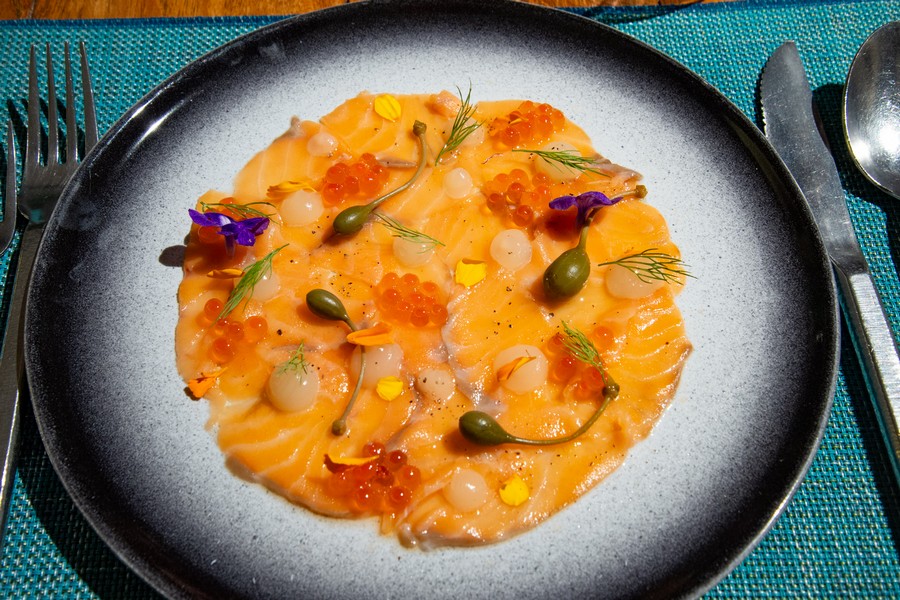 Salmon Carpaccio – the thinly sliced fish, salmon roe, lemon gel, caperberries, dill and edible flower petals are presented as a jewelled picture on the plate. The salmon's richly flavoured, luxurious texture, with contrasting pops of salty roe and the sharpness of the lemon gel and caperberries, came together in harmonious mouthfuls. Our final starter was Chef's Antipasti Platter which is ideal for sharing. Prosciutto, coppa ham, salami Milano, two kinds of cheese, baby bocconcini, grilled and pickled vegetables with rocket salad and fig compote.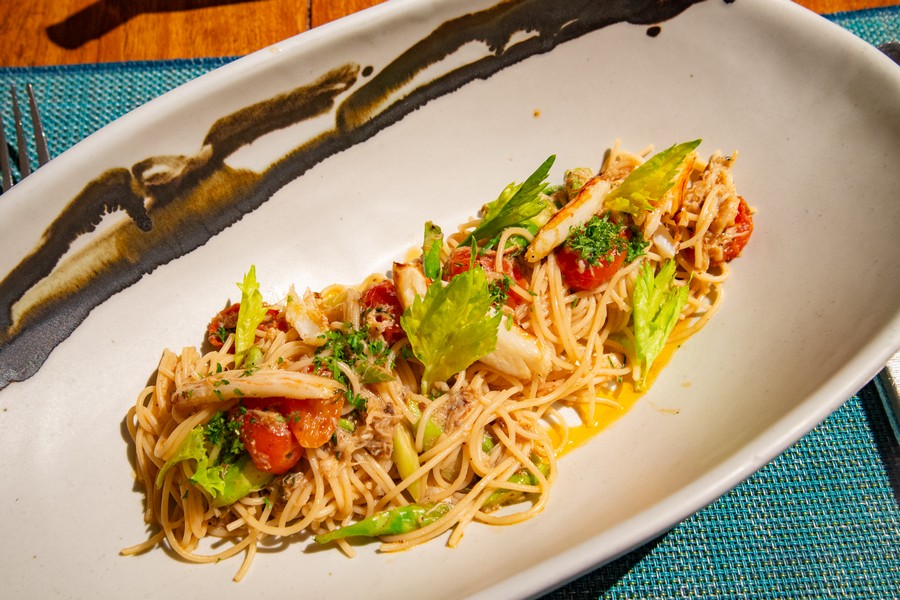 From the Pasta section of the menu, we sampled the Crab Capellini. Pasta Cappelini sits between the very fine angel hair and the thicker spaghetti and proves to be a perfect vehicle for the local crab meat with hints of garlic and chilli, fresh asparagus tips and cherry tomatoes. The next dish, from The Mains section of the menu, continued the local seafood theme.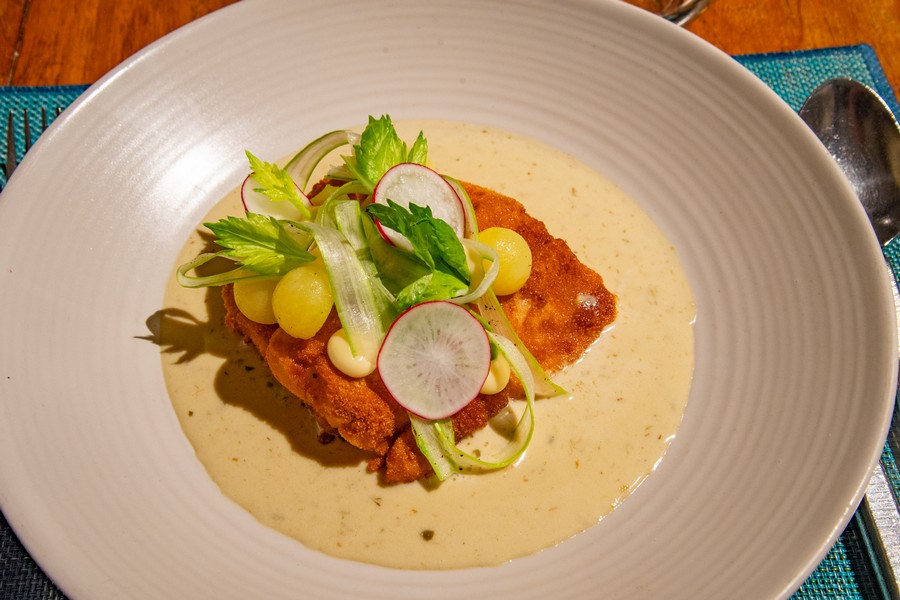 Seabass Milanese. Milanese is the technique of breading meat or seafood and pan-frying it. Our lightly breaded and fried seabass was juicy and flaky inside. The breaded crust held the fish fillet together and came atop a caper cream sauce. The tangy brininess of the capers helps tame the cream's richness and marries well with the seabass. Slithers of raw fresh asparagus, radish, and petit balls of boiled potatoes accompany the dish.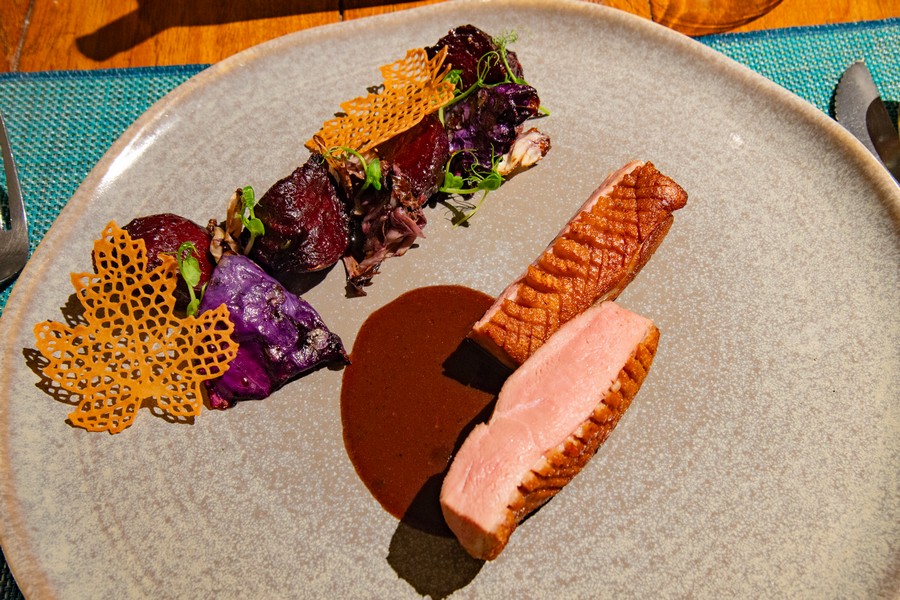 Our final main dish was Chef's 10-day dry-aged Duck Breast. Rendered and cooked to blushing pink, the duck breast was delightfully tender. It was partnered with baked beetroot, radicchio and a sauce of local mulberries. "Salt Baked", the beetroot pieces are encrusted in a shell of salt and egg white which help retain the root vegetable's natural moisture and flavour while baking. Once free from the oven, the sweet earthy beets are sauteed with the radicchio leaves, calming the radicchio's sharp bitterness and proving an ideal partner with the rich duck meat.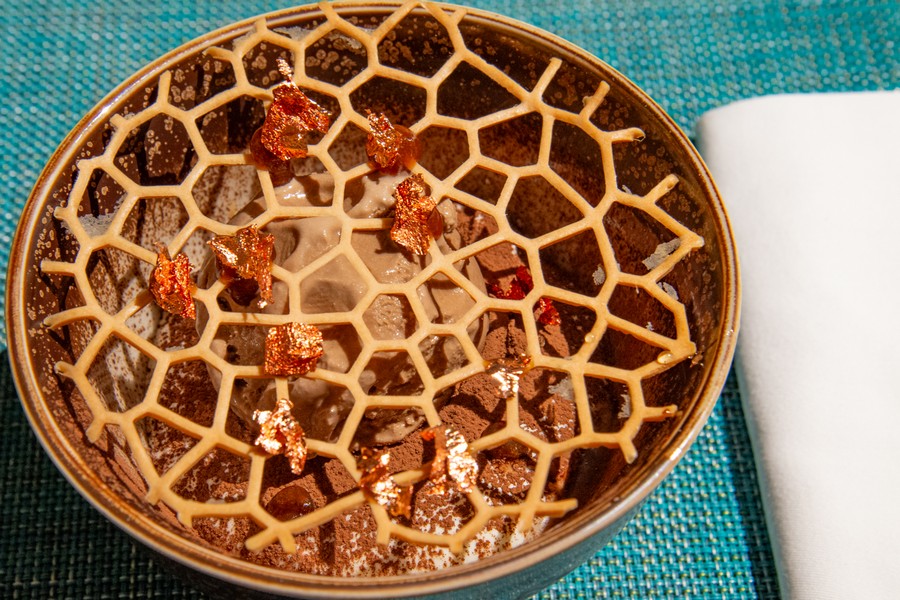 Dinner is never complete without dessert, or that's how the Let's Eat team thinks. And Italy has so many memorable sweet treats, so onward we forged! First, Tiramisu. However, the Chef's imaginative presentation of this classic has it arriving in a bowl with a scoop of double expresso ice cream. Across the top is a baked wafer-thin lattice-shaped Tuile and pieces of edible gold leaf, creating a luxurious mystery and intrigue.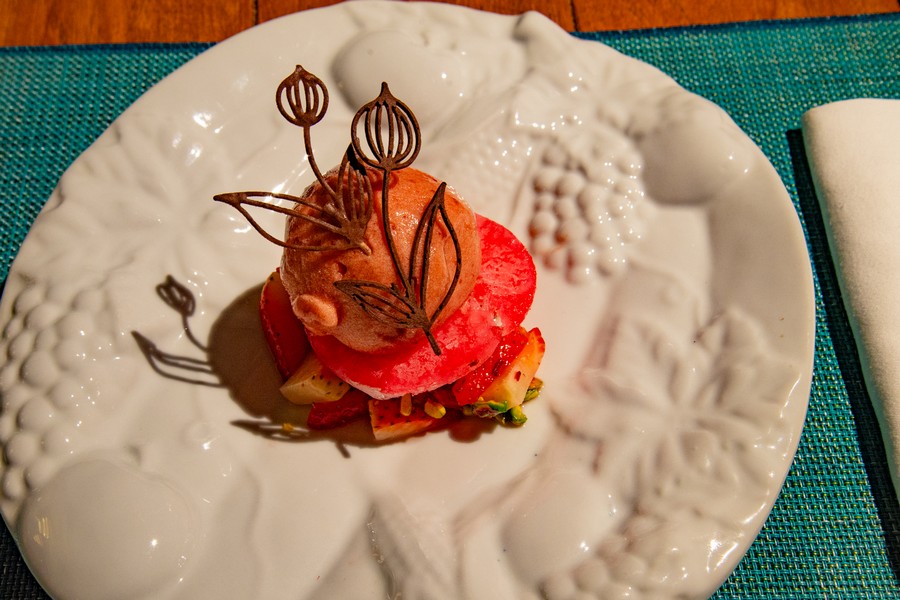 Strawberries are always a delight, and in this dessert, Chef has paired them with pistachio in a parfait served with strawberry and balsamic sorbet and diced fresh strawberries. A gentle cheek puckering delight. Finally, the Textures of Chocolate. Chocolate ganache, a brownie-style chocolate cake, chocolate truffle, chocolate soil and dark chocolate ice cream. And that ice cream – if Chef set up a market stall just selling that, the ice cream machine would run continuously to satisfy demand.
If, like us, Baan Thalia is a new-to-you Hua Hin Italian restaurant, you may want to add it to your must-try list. Open daily from 6 pm, this could be your new ideal venue. Be it a romantic date night, group or family gathering or for those special celebrations. For more information, contact details or reservations, visit https://www.anantara.com/en/hua-hin/restaurants/baan-thalia.
Michael Cullen