Cha-Am situated resort SO Sofitel is a playground for families and couples from Bangkok and international visitors looking for time together and fun beachside escapes. Now Hua Hin and Cha-Am residents can take advantage of SO Sofitel's facilities without the sleepover, thanks to their "Eat & Play at SO" locals offer.
Families or groups of friends can spend the whole day enjoying all the recreational facilities. Simply spend a minimum of 1,000 THB net per table (for a maximum of 6 people) for lunch or dinner at either the White Oven or Beach Society restaurants to take advantage of all the fun. More details at the end of this article.
Given our obsession with all things food and inspired by the "Eat & Play" offer, the Let's Eat team visited SO Sofitel Hua Hin to sample the Beach Society restaurant's dinner dining options, and here are our discoveries.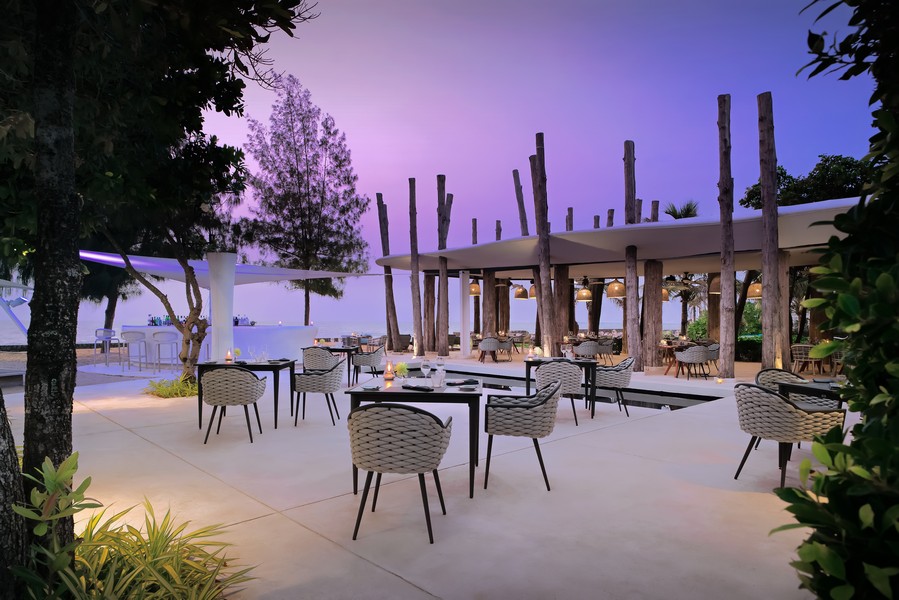 As the name suggests, Beach Society is located beachside and is about alfresco dining with the ocean as your outlook and cooling sea breezes as accompaniment. Its lunch and dinner menus offer a modern western culinary style with French influences. Lunch is about lite bites, sandwiches, burgers, pizza, or a selection of main dishes.
Dinner has a more sophisticated feel though still with a relaxed resort feel. Dine with your toes in the sand under the towering Casuarina trees and gentle waves lapping on the sand just a few meters away, or undercover yet still open-air with tropical ceiling fans lazily whirring overhead and candles twinkling on the tables. Staff are attired in La marinière, those deep blue and white striped shirts reminiscent of a sailors' uniform from the French Navy.
Three delectable starters kick off our food journey. First, Yellow Fin Tuna Tartare presented simply in a circle on the plate. Finely diced cubes of raw tuna and cucumber are flavoured with Yuzu, a traditional Japanese citrus fruit, soy, and sesame seeds. Petit dollops of Japanese mayonnaise, thin slices of radish and fine crisp shards of black squid ink tuile top the tartare. Parsley oil in the centre finishes the presentation. This skillfully balanced dish is all about delicate flavours coming together in a pleasingly elegant way.
Next, pan-seared French Foie Gras is accompanied by caramelised cheeks of mango, toasted brioche triangles, mango, and five-spice jus, and shards of cashew nut Croquent. Crouquent is a French type of nut brittle, and its light crunch ideally contrasts with the rich and buttery duck liver, while the mango and spices add a soft Asian touch to the dish. Our last starter is southern Italian summer on a plate. Fresh Hua Hin made Burrata cheese served with fresh rocket (arugula), cherry tomatoes, basil pesto, and roasted pine nut.
Wild Sea Bass fillet pan-seared sitting atop sauteed julienne of green bean, lemon cauliflower cream, and a sauce of chorizo and watercress is our first main dish. The paprika tones of the chorizo work exceptionally well with the firm, creamy-white, slightly oily flesh of the grilled sea bass.
Our next main dish is from the Thai cuisine focused White Oven menu. Miang Goong Pao or grilled jumbo prawns served Thai style with fresh herbs and vegetables, rice noodles plus Thai Seafood Sauce and Nam Jim Jaew. Three delectably sweet and smoky grilled prawns weighing in at just over a kilo is ideal for Thai style sharing. This is seafood indulgence on a plate. There is an option to order 500 grams of these Jumbo prawns, which could be more suitable for one person.
Beach Society menus do have a good selection of quality grilled meats. However, we had the fortune to preview the upcoming 'Steak Society' promotion which includes six steak offerings from Australia, the USA and Argentina. Top of that list is an Australian Wagu Tomahawk, typically weighing around 1.2 to 1.3 kg which we had the pleasure of sampling.
This tomahawk is a meat lovers delight. Cooked on the bone to our liking and served with an assortment of sides: grilled vegetables, creamy spinach gratin, parmesan truffle fries, roasted garlic, and three sauces chimichurri, blue cheese and homemade BBQ sauce. To a chorus of grateful oohs and aahs, our tomahawk was presented to the table, then taken away, sliced and returned. Oh, what a treat we had!
For news on the 'Steak Society' promotion, which will run for lunch and dinner at Beach Society, keep an eye on the resort's social media. Additionally, White Oven will be offering a 'Seafood Showcase' promotion for lunch and dinner, including the Miang Goong Pao we enjoyed. Both promotions will be available in July and August and can be linked to "Eat & Play at SO."
Did we have room for desserts? Probably not, though, given we were here, we had to sample Executive Chef Tobias Schwarzendorfer's sweet offerings. Our selection included a Non-baked Chocolate Cheesecake, caramel sauce, a hazelnut crouquant (brittle), and vanilla ice cream. The cheesecake was light with a chocolate mousse texture and not cloying or overly sweet and, therefore, a delight.
Next was the White Chocolate Ball – two half-spheres of finely tempered white chocolate filled with a scoop of house-made coconut ice cream, joined and sat on a mango and passionfruit coulis. A dark chocolate sauce is poured over the ball at the table for added decadence and a little theatre.
Described as Mango Meets Yoghurt Meets Meringue, the final dessert was mouth-sized pieces of fresh mango and banana sprinkled with black sesame seeds. This light and healthy combination was accompanied by petit dollops of yoghurt and raspberry coulis and befriended by crisp yet chewy miniature meringue kisses. A 'naughty and nice' ending to a delightful food journey.
Returning to the "Eat & Play at SO" locals offer mentioned at the beginning of this article. By spending a minimum of 1,000 THB net per table (for a maximum of 6 people) for lunch or dinner at either the White Oven or Beach Society, your party of friends or family can spend the whole day enjoying the recreational facilities. That includes three swimming pools, one of which has its own Wibit floating obstacle course, tennis and pickleball courts, mini-golf, resort beach, plus 2.2 km of paved track ideal for cycling, running, or surf skating for the kids.
You may want to play some, eat some and then play some more. That's totally up to you. Vouchers to gain access to recreational facilities are available from both restaurants. A market atmosphere is created on the resort lawns Saturday and Sundays between 7 and 11 am. Cicada Market artisans take up residence, offering their crafts and art for your shopping pleasure and add to the already vibrant atmosphere.
For more details on the "Eat & Play at SO" promotion or to book, check out this page on the So Sofitel Hua Hin website. To further explore the resort's dining options, visit this page on their website or phone the hotel directly on +66 3270 9555. Additionally, SO Sofitel Hua Hin's Facebook page is an excellent place to stay abreast of local promotions.
Our experience suggests that the trip to So Sofitel Hua Hin is well worth the effort.
Michael Cullen