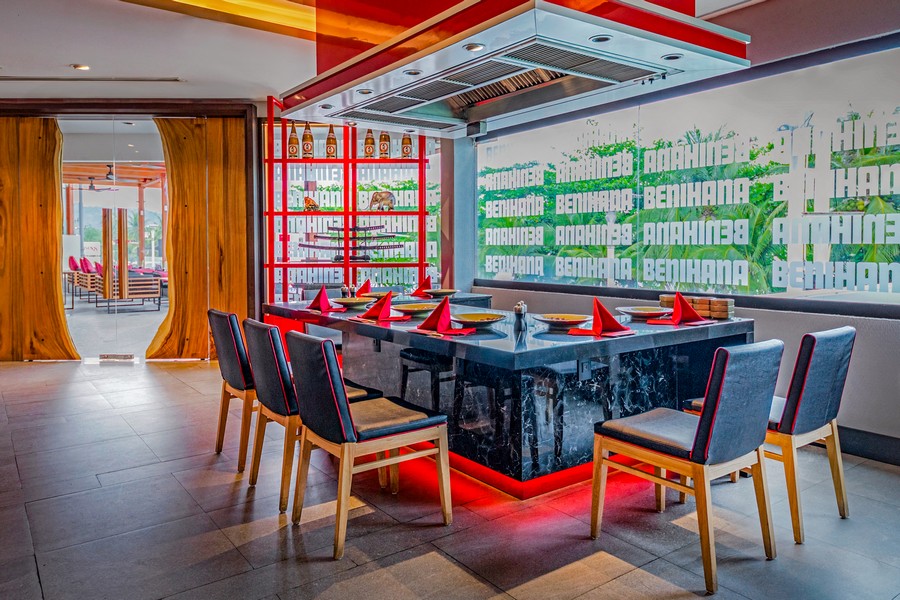 Ascend the stairs from Central Pattaya's Beach Road and treat yourself to outstanding Japanese food in the spacious, light-filled, Benihana. Bright swathes of candy-apple red contrast with muted blacks of the ceiling and chair coverings, yellow birch on the dining chairs and soft grey of the tiled floors round out the colour palate. This welcoming environment with a bright and minimalist feel to the décor invites you to linger. Seating is available around the communal teppan grills, at the Sushi counter, or for families and groups, in one of three private dining rooms, each with its teppan grill as the central feature.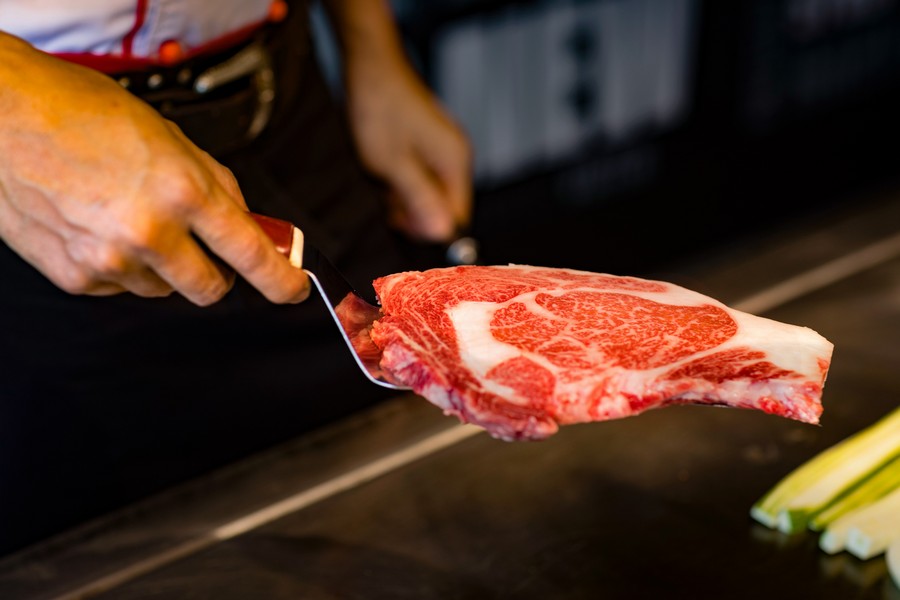 Teppanyaki grill houses are said to have originated in Japan after the conclusion of the second world war. Teppanyaki derives from the words' teppan' (iron plate) and 'yaki' (grilled, boiled, or pan-fried). Typical ingredients used for teppanyaki are beef, shrimp, scallops, lobster, chicken and assorted vegetables, with the Teppan Chef's skill and showmanship bringing theatre to the dining experience.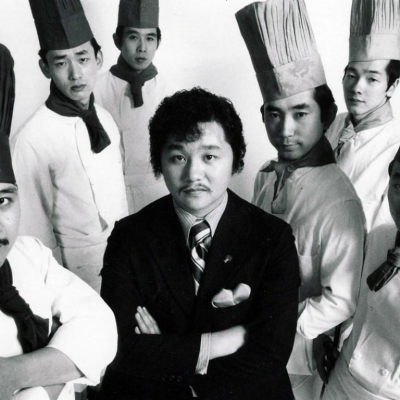 The Benihana story started in New York City in the 1960s when 25-year-old Japanese national Hiroaki (Rocky) Aoki opened a small four-table restaurant on West 56th Street. Rocky learned about the restaurant business while growing up in his family's Café in Tokyo after WWII. He had come to the US in his early 20s as part of Japan's official Olympic wrestling team. Starting a business was his opportunity to stay.
He named this new business Benihana, the same as the coffee shop operated by his parents in Tokyo. Benihana is also the name for the red safflower plant and the only thing growing out of the bombed ruins of their family's Tokyo business following WWII. Rocky's concept was for meals to be theatrically prepared by a knife-wielding, joke-telling chef at a teppanyaki table. The first flushes of success came a year after opening when the New York Herald Tribune gave it a rave review.
The business soon became a darling for celebrities. It ultimately meant Rocky had to move to bigger premises with the Teppan concept retained, if not becoming more theatrical, while maintaining the focus on excellent quality ingredients. Benihana now has franchised restaurants in the United States, Europe, the Middle East, Asia, and Central and South America.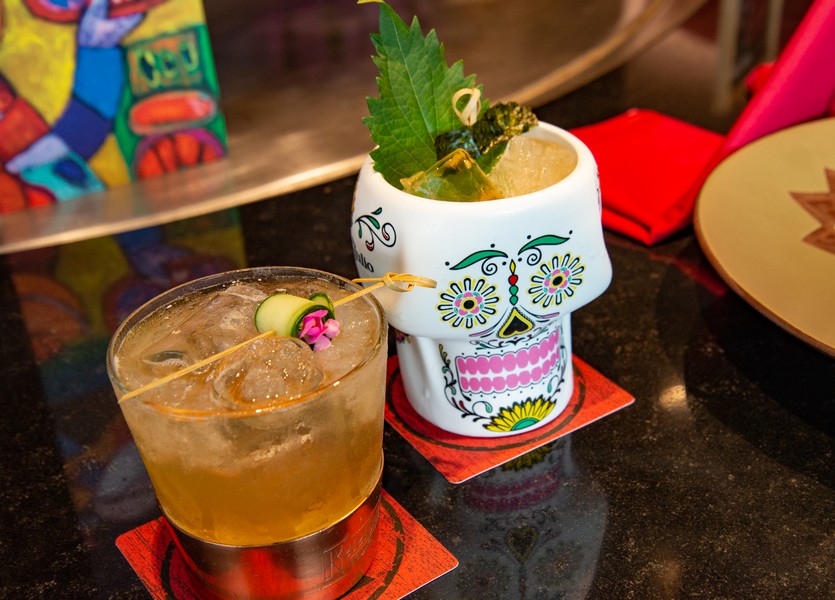 Sipping signature cocktails is how we kicked off our Benihana Pattaya experience. Ume & Momo blends the cultures of Mexico and Japan using Don Julio Blanco Tequila, often referred to as "silver" tequila, with Momo Umeshu Peach liqueur from Japan's Wakayama prefecture and served in a Tiki mug. We also sample the vodka-based Hana in the Garden. A tribute to Japanese Gardens with coriander, cucumber and pineapple flavours.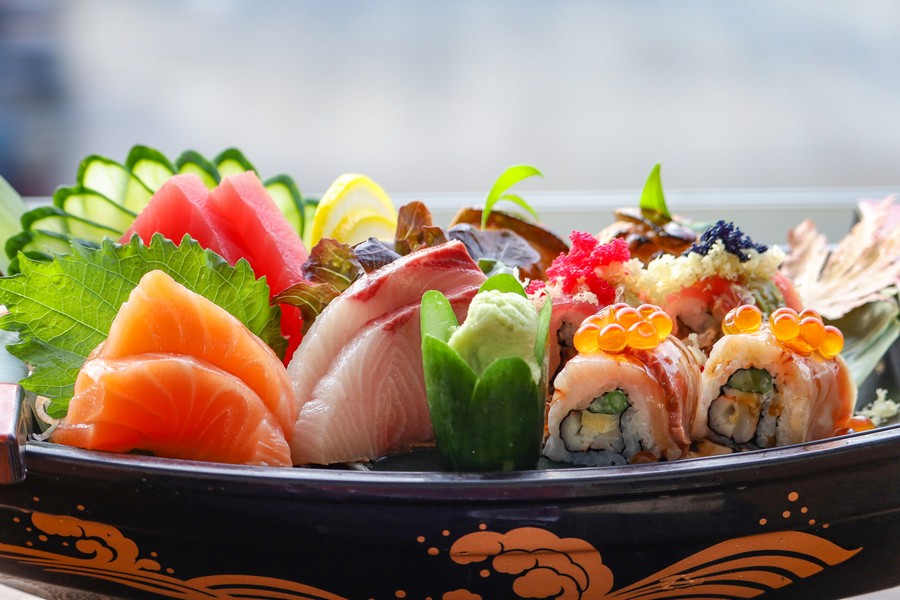 Choices for starters included Sushi rolls, Nigiri, plus Sashimi-grade sliced fresh raw seafood. The made-to-order and beautifully presented Crispy Mushroom Sushi was a great start. Black sesame seeds infused rice rolls wrapped around avocado and asparagus, topped with a shitake mushroom tartare and tempura crumb. A feast for the eyes and taste buds. Those looking for cooked starters will find tempura, gyoza and other choices on the menu.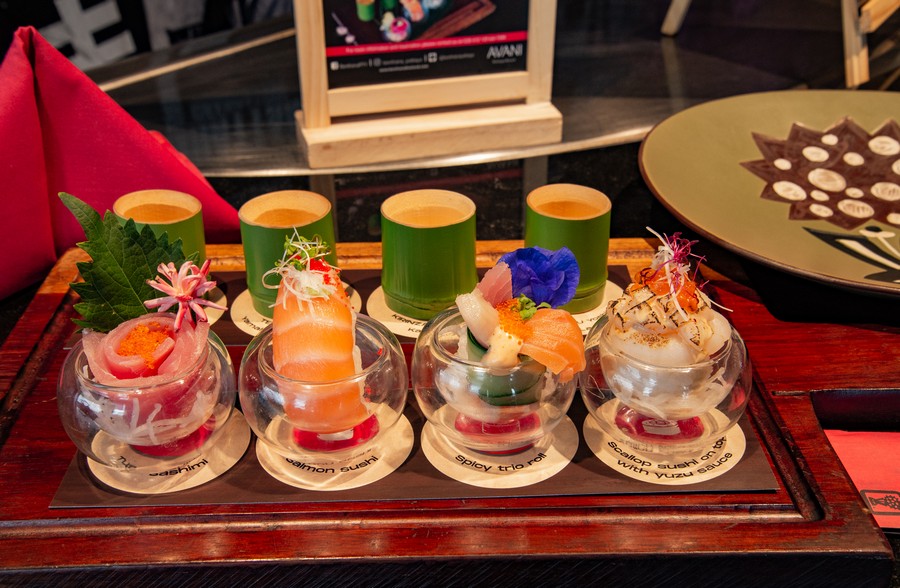 To truly get with the Japanese tone and theme, we opted for the Sake Flight featured on a table-top promotional flyer at our Teppan table. Four different Sake matched with one of the restaurant's signature sashimi or sushi roll dishes. The saki are from various Japanese regions and of different brewing methods with alcohol by volume ranging from 9 to 17 percent. Their flavour profiles also range from dry to sweet. The four food-saki matchings were spot on. For example, the raw, rich Tuna Sashimi went perfectly well with the semi-sweet and slightly warmed Yuki No Bosha with its perfect balance of acidity and umami.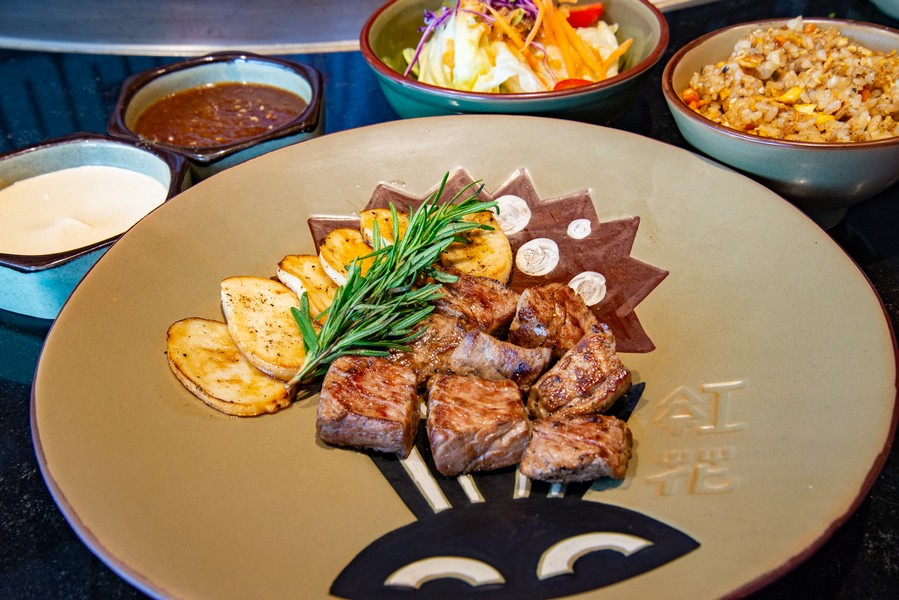 For traditional teppanyaki mains, diners can choose from seafood or beef ordered a la carte, cooked in front of you on the Teppan grill. Your order comes with an appetiser of shrimp and grill-cooked vegetables, a light and palate-cleansing Japanese onion soup, Benihana salad, and rice. Alternately, choose one of the teppanyaki combinations or their Ichiban (best or signature) sharing sets for two. We chose a combination of scallops, salmon, king mushrooms and Australian beef.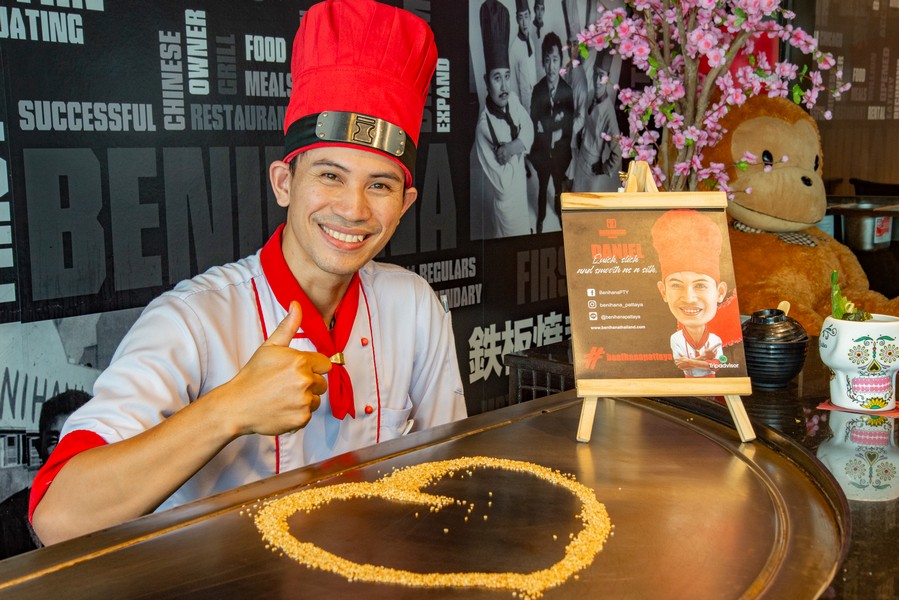 And so our Teppan Chef, Daniel, got the work, first with the shrimp starter, while showcasing his humour, grill and performance skills. Be it the rhythmic tapping of his steel spatula when he brings it to the grill, the flamboyant application of condiments like sesame seed, salt or garlic butter. The precise slicing of the shrimp, followed by the cute placing them as hearts on the grill to flipping of the grilled vegetables. Panache – yes, and equally skilled cooking from Chef Daniel.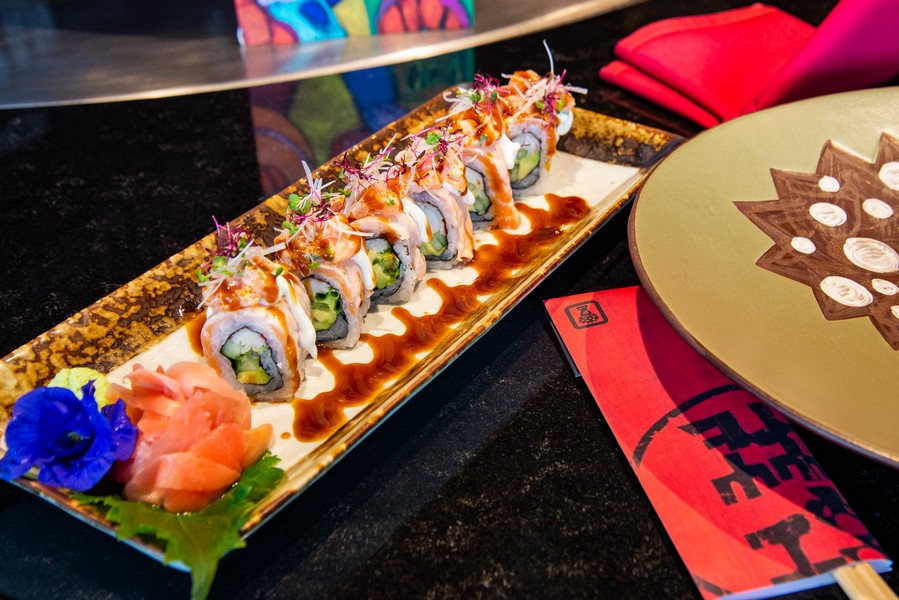 Fried rice accompanied our next set of dishes and was cooked before us on the grill. First came the theatrics with the eggs, as Chef Daniel first tossed whole raw eggs and caught them in his Chef's hat while still wearing it. Or launching a whole raw egg into the air and neatly slicing it in half with his upturned knife as it fell back to the grill. Then bowls of the fried rice launched from the Chef's grill spatula swirling through the air to land right side up in front of each diner.
To go with the rice, scallops and salmon were served, and then the beef, accompanied by sliced king mushrooms, all cooked as requested. Each dish is served with matching unique sauces. The accompanying salad with ginger dressing rounded out our mains. Teppanyaki is undoubtedly all about putting the fun into the excellent quality and nicely grilled food. Chef Daniel had it down pat!
Benihana Pattaya's menu offers an enticing selection of desserts. The Flaming Banana Cobbler is described as perfect for sharing. It is banana bread pudding with caramel, crumble, fresh strawberry and vanilla sauce – and as the name suggests, arrives flaming at the table. The Smoked Tokyo Tiramisu and the Hiakkado Cheesecake Brulee also caught our eye. We will have to make room to sample these when next we visit.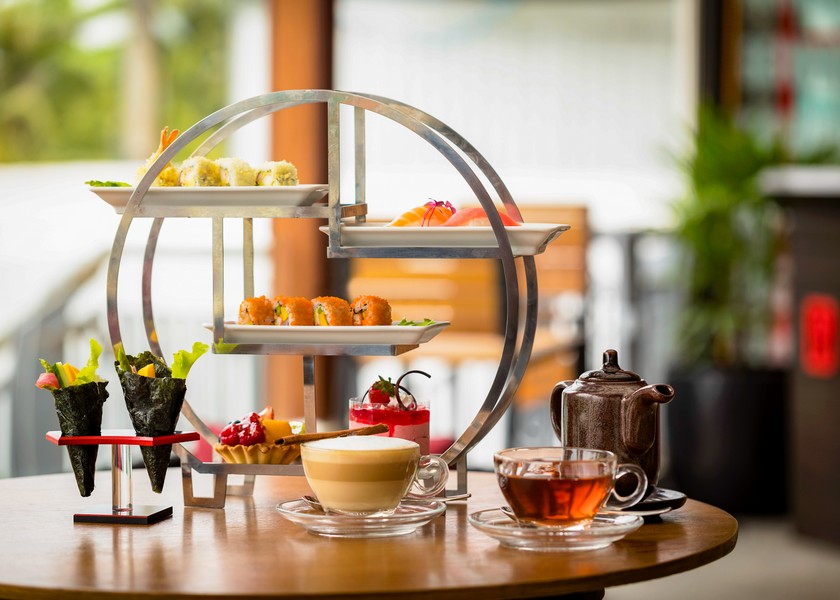 Given its location right on Beach Road, Benihana Pattaya is casual dining and is open daily from 12 noon to 10 pm. Their undercover outdoor terrace overlooking all the beach road happenings is ideal for pre or post-meal refreshments and sundowners. Or perhaps you could drop in for their Sushi High Tea every afternoon from 2:00 pm – 5:00 pm. Enjoy California and Temaki rolls, nigiri sushi, fruit tarts, chocolate cake and more. All whilst relaxing in the sea breeze.
Benihana restaurant details and menus can be found at www.benihanathailand.com/avani-pattaya-resort. Call (66) 38 412 120 ext. 1395 for more information and reservations, or email benihana.vpat@avanihotels.com. Benihana Pattaya – a fun, fulfilling and highly entertaining dining option when next in Pattaya City.
By Michael Cullen