Avani+ Resort on Hua Hin's northern border is well known to locals for its highly popular monthly "Wine Me Up" themed events. Local foodies and social souls rave about the exquisite food, quality beverages, and captivating music this fun event provides. Perhaps, the Resort's beachside restaurant and bar, Brezza, is less known to locals. Thanks to a recent visit, the Let's Eat team can recommend adding Brezza to your dining-out list.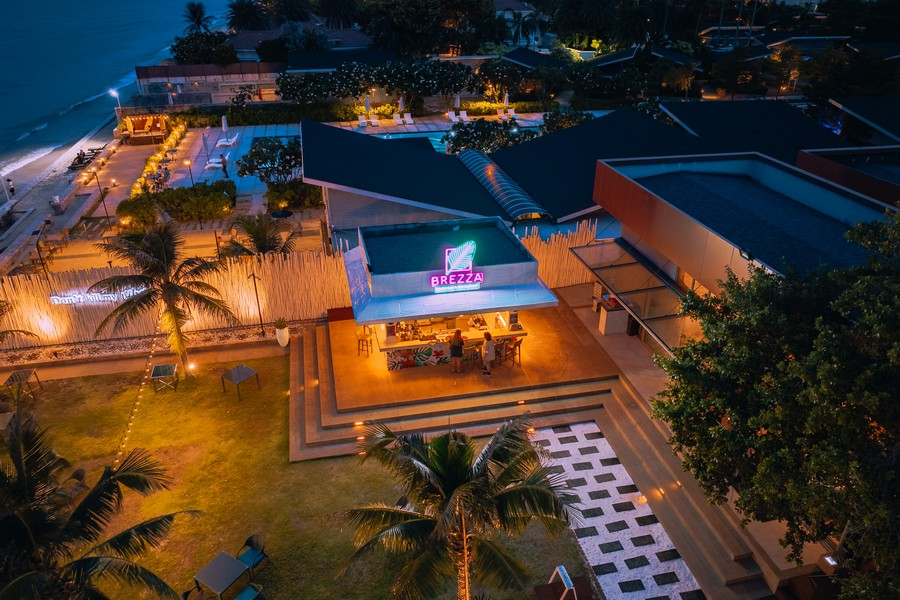 Brezza's setting, overlooking the beach and azure Gulf of Thailand waters, takes full advantage of its namesake, the ocean breeze. Be seated at tables atop the seawall for the best views, the gentle lap of water on the sand below your calming soundtrack, or on grassed areas immediately behind. This laid-back alfresco dining epitomises what Hua Hin life is all about.
Brezza's attentive staff will tempt with signature cocktails as you peruse the extensive Thai and European menu choices. Given the oceanside location, there is a seafood-forward emphasis across Brezza's food offering. Vegetarian diners will also find a complete menu section dedicated to them, including dessert choices. And with ninety per cent of the produce used being sourced locally, freshness is at the forefront of Brezza's modern food offering.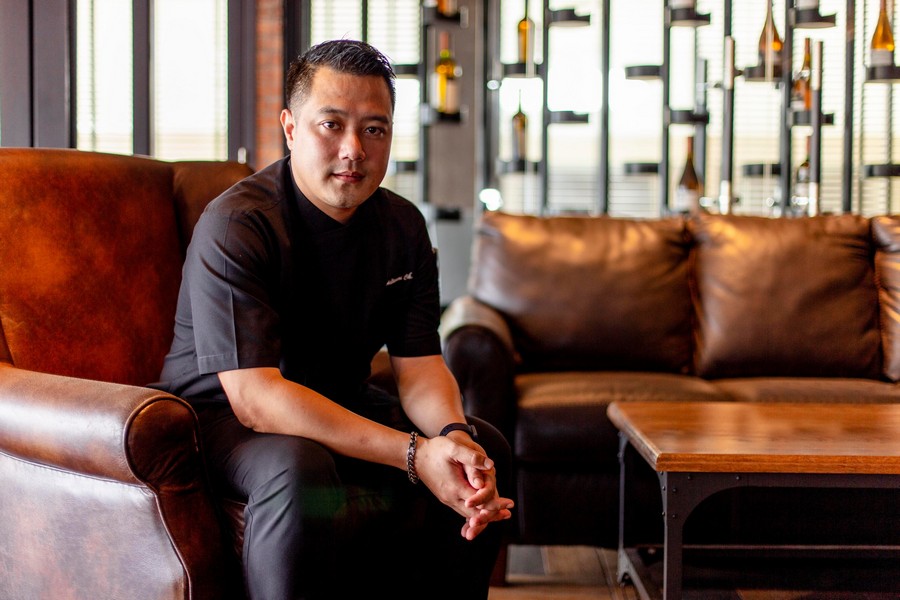 Michelin star-trained Executive Chef "Gibb" Adtavorn Charoonpontithi oversees food operations at Avani+ and Anantara Hua Hin Resorts. From our Brezza experience and last month's visit to Baan Thalia at Anantara, we have been genuinely impressed with Chef's influence on both Resort's food offerings. Its generosity, refinement, exquisite flavours, venue-specific styling, and modern presentations without the over-the-top showiness are to be applauded.
Whether it be date night, a romantic outing, or a family or friends gathering, we recommend a family-style sharing approach to your food ordering to make the most of Chef's generosity. The restaurant's wine list has an excellent selection of quality wines by the glass and a curated list of sparkling, white, rose and red bottled wines from across the world. Our food journey started with the delivery of complimentary miniature-sized flatbread pillows accompanied by Aioli.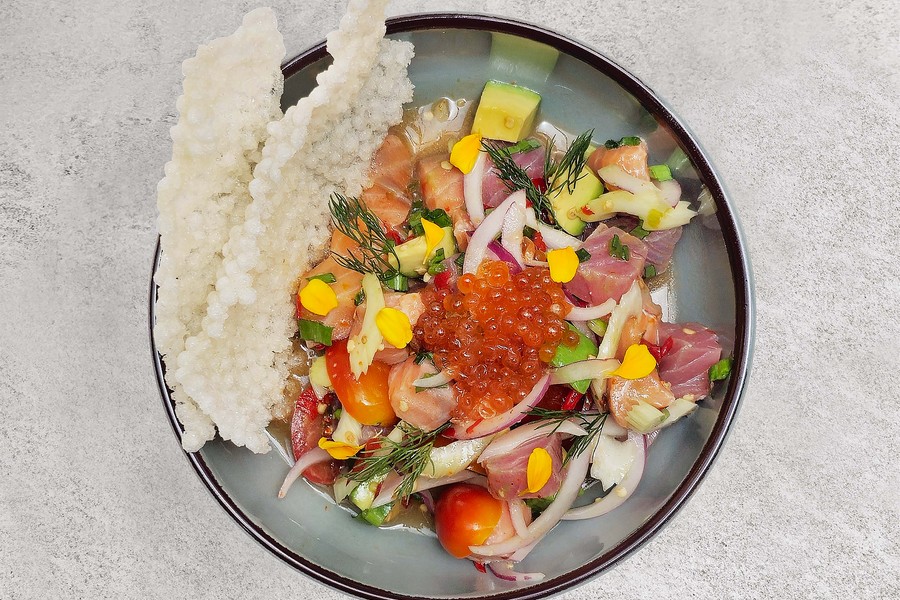 For starters, we sampled three salad dishes. A larb-style tuna and salmon salad with avocado and crunchy rice crackers. The Brezza Salad with grilled prawns and chicken breast pieces with a classic Cocktail Sauce dressing. And a Salmon Salad with grilled salmon fillet, fresh salad leaves including radicchio, clove-spiced beetroot pieces, orange and avocado, all topped with generous dollops of salmon roe. All the salad dressings were served on the side, providing a choice of the amount to add. A fresh, light and seafood-centric start to the meal.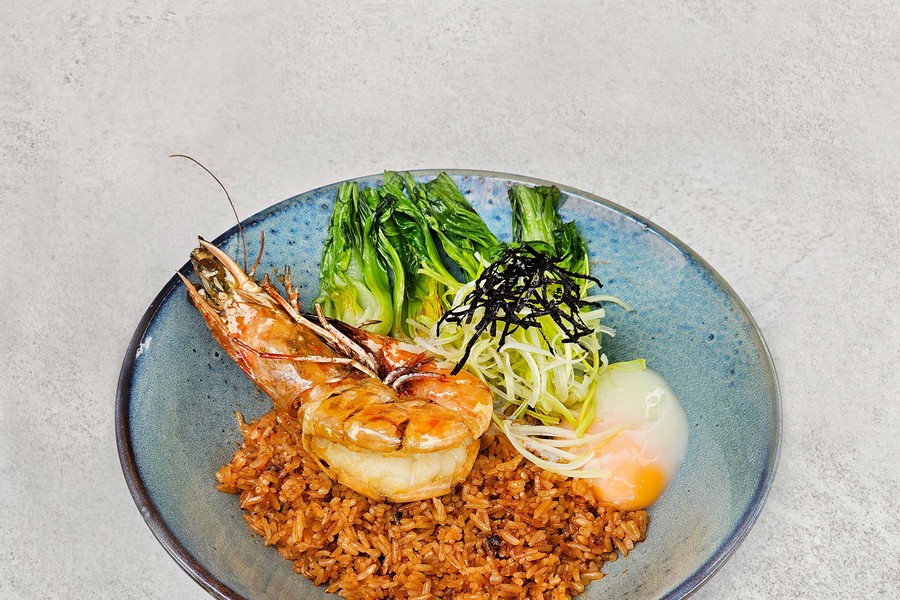 For mains, we chose two Asian dishes, seafood pasta and a beef dish from the European side of the menu. First, Fried Rice in Shrimp Fat – shrimp fat is all the flavour-rich elements in the prawn heads. This tasty rice is topped with a grilled jumbo prawn, steamed bok choy and a luscious sous-vide cooked egg. Next, a creamy, spiced red curry with duck. The duck breast, rendered and cooked to blushing pink, was sliced and served atop the curry sauce along with barbecues lychees. The smoky flavours on the duck and lychees heightened the taste sensation of this rich curry.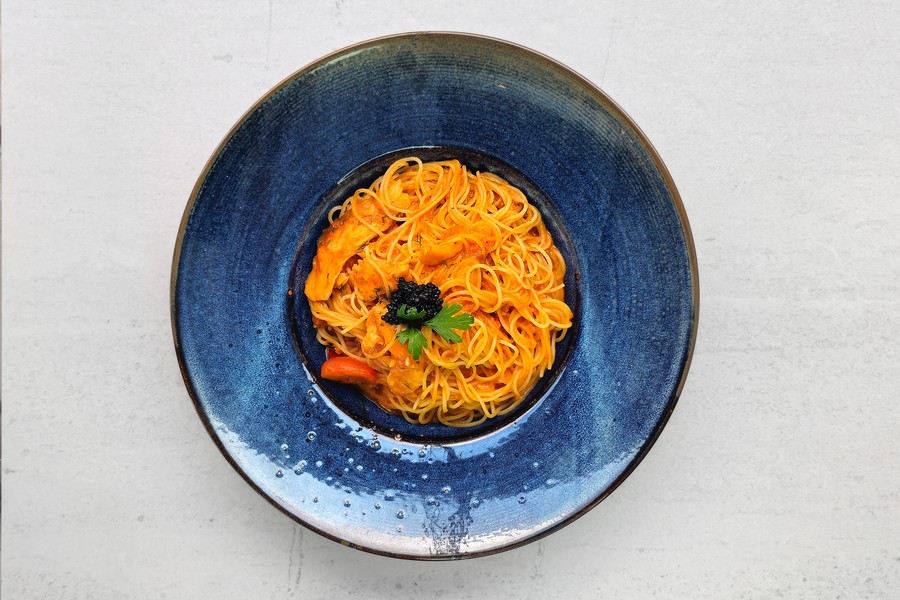 Our Angel Hair Pasta dish was filled with slices of fresh salmon and flavoured with a creamy tomato and vodka sauce. For added luxurious extravagance, the pasta was topped with caviar for that extra salty seafood pop in your mouth. Finally, an aged Australian 220-gram beef steak. Cooked to our liking and served with sauteed spinach and grilled king oyster mushroom with Chef's beef sauce on the side. The cut of the beef is called Picanha and is exceptionally popular in Brazil. It can be called Rump Cap or Sirlon Cap in other parts of the world. It is cherished for its beautifully tender and juicy flavour when grilled while not being an overly expensive cut of meat.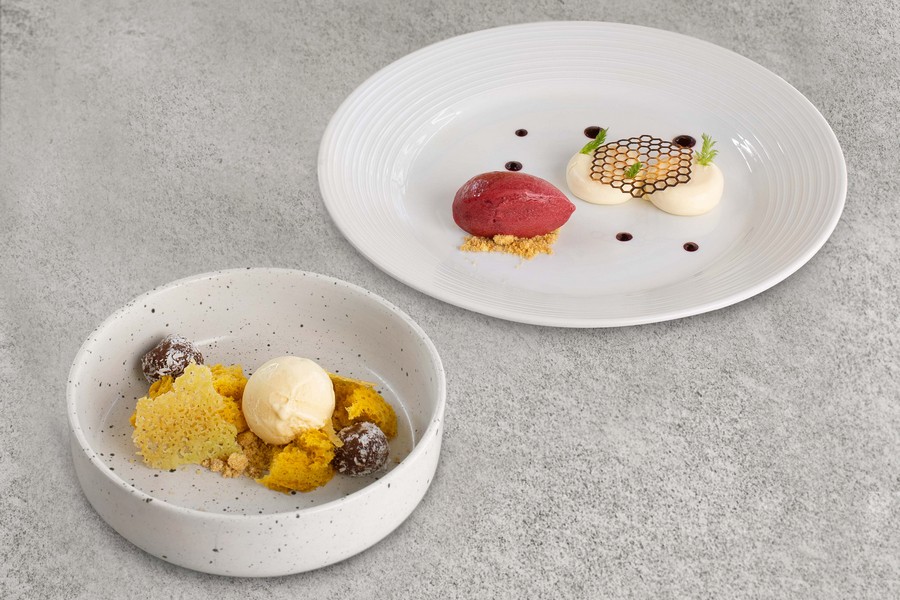 Given the feast we had sampled, we kept dessert to two dishes. Chef's unbaked cheesecake – two cream cheese-flavoured disks of delight accompanied by a mixed berry ice cream. And a dessert heroing the local region's palm sugar titled Reflections of Brezza. Light as air cake sponge, a biscuity crumb and a palm sugar-flavoured ice cream with an appealing light caramel essence. Fitting dishes to end our Brezza food journey.
Brezza regularly offers dining promotions like their BBQ Seafood Feast featuring a wide variety of the freshest seafood paired with international delights. However, the promotion all Hua Hin foodies need to watch for is their forthcoming "Unveiling Wagyu's Secrets", indulging in the unparalleled flavour, tenderness, and quality that makes Wagyu beef a true culinary masterpiece. Highlights include – grilled wagyu tenderloin with truffle potatoes; Wagyu strip-loin fried rice; Wagyu rib-eye with baked spinach and wedges; Thai-style crying tiger Wagyu; the 48 hours beef cheek, and much more. Available till the end of October 2023. Watch Avani+ social media channel for details.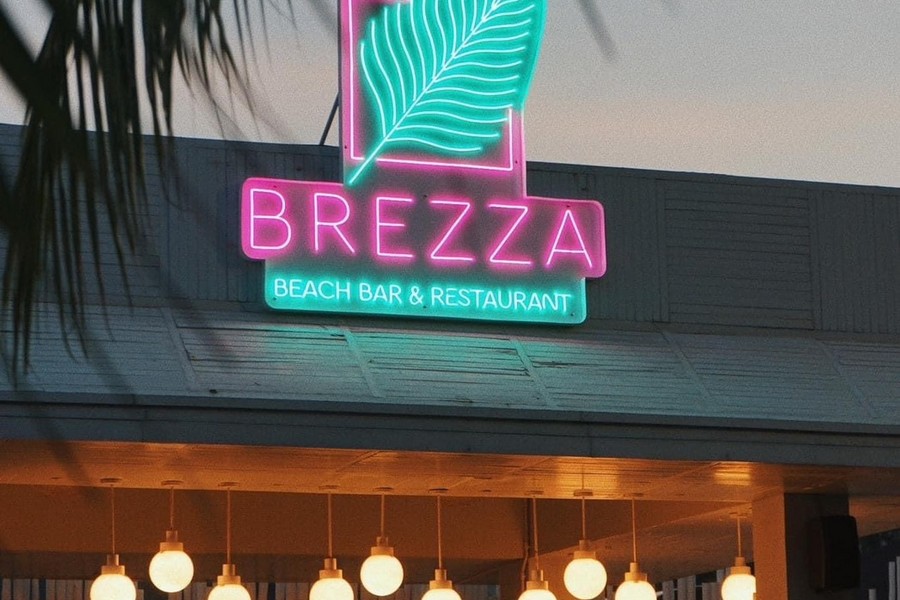 Avani+ Hua Hin's beachside restaurant and bar, Brezza, is worth adding to your must-try list and operates daily from 11:30 am to 11 pm. Their Happy Hour from 4:30 to 6:30 pm with a buy 1 get 1 offering is ideal for relaxing over your chilled beverages while taking in the sunset colours and end-of-day beach activities. For enquiries or reservations, call 032 898 989 or email fb.vhhv@avanihotels.com. For further details, visit https://www.avanihotels.com/en/hua-hin/
Michael Cullen