Opened in December 2021, Flavours Restaurant is a positive and happy addition to the Hua Hin dining scene. Conveniently located on Petchkasem Road, immediately adjacent to the Sombat Bus Station in central Hua Hin, Flavours offers generous, well-executed, excellent quality European cuisine. Flavours has already become a new favourite for many Hua Hin residents and visitors.
Bangkok born and well-established Hua Hin resident Kate Durongpong-kasem honed her hospitality skills in the US before returning to help manage her sister's popular Hua Hin dental business. But the hospitality industry never leaves the blood, so Flavours was born with business partner Jamie Knight. To complete the Flavours team, Thai national Chef Lionel brings his significant European (Lausanne in Switzerland) experience to the team.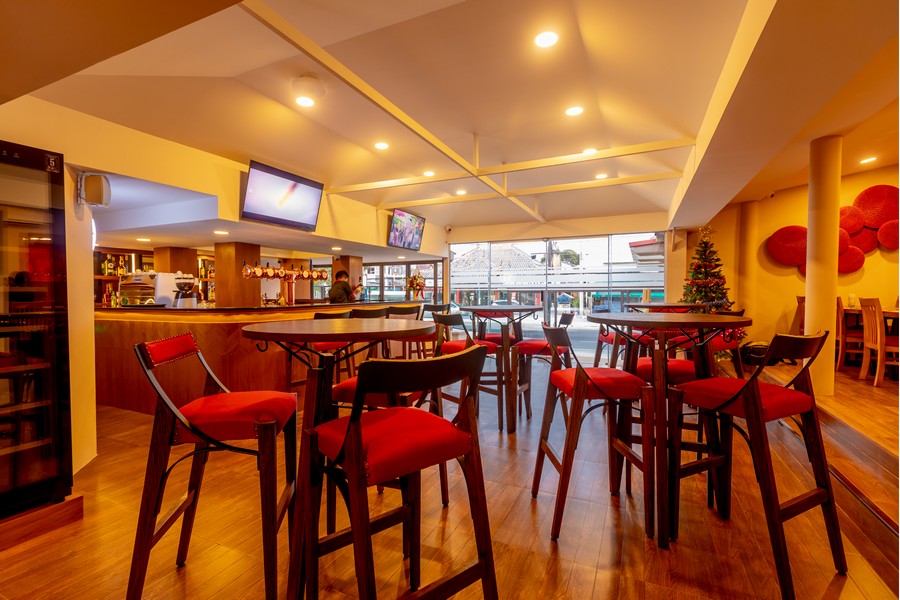 Clean white, muted timber and warm vermilion tones with flashes of vibrant red set the welcoming décor. Lots of natural light at the front adds to the open feel, with aircon providing an extra comfort factor. Flavours bar is the ideal starting point for any visit with classic cocktails, quality wine plus imported and local beers on tap. Contemporary background music added to the ambience during our visit, while live music is available evenings.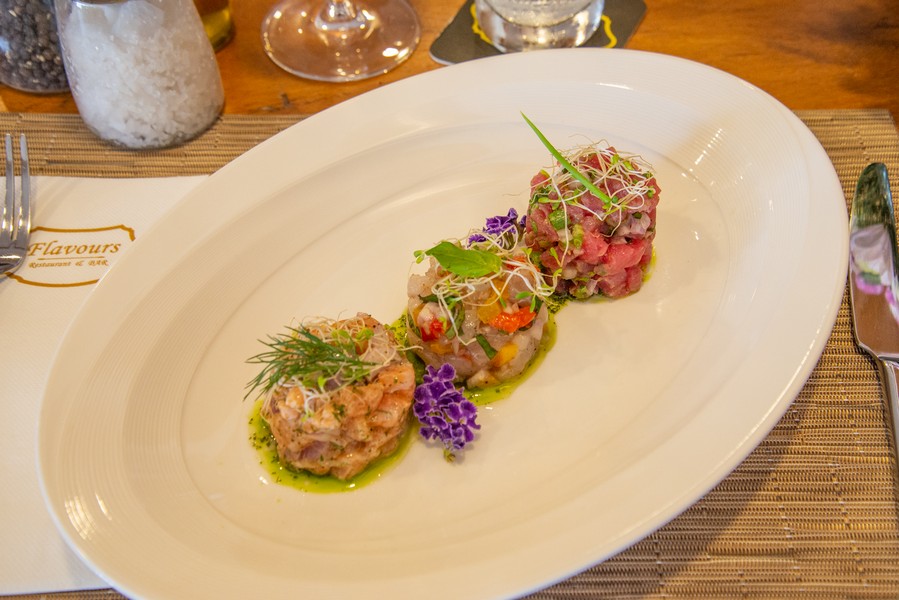 Our Flavours food journey began with these starters. A Sea Trilogy Tartare presented as three cylinder-shaped mounds of fresh diced seafood. One was finely cubed fresh tuna with hints of sesame oil, another delicately cut seabass with touches of sweet red pepper, and then salmon with lemon and herbaceous dill oil. All delicately decorated with micro herbs and edible blossoms.
Next, a trip straight to a Spanish beachside chiringuito for the Garlicky Shrimp & Chorizo. As the name suggests, plump prawns and rounds of paprika rich chorizo sauteed in oil and garlic. And to ensure that none of the sauce remains, slices of crunchy garlic bread on the side. A definite crowd-pleaser. And finally, Avocado Crab Salad – plentiful meaty crab pieces atop lime-fresh diced avocado, rocket, and a pomegranate dressing with salmon roe. A happy marriage of flavours.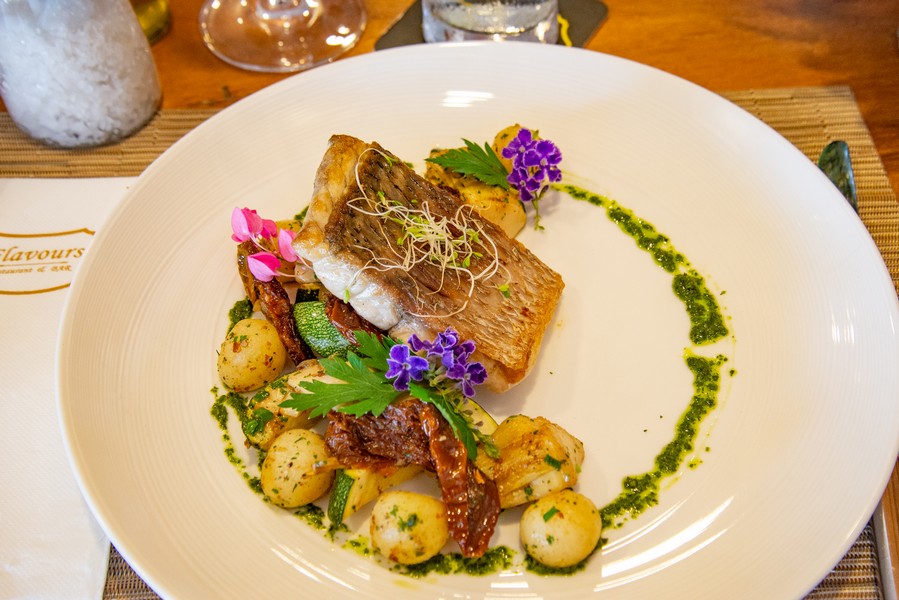 Main course dishes included Pan-Fried Seabass and Summer Veggies. Crispy skinned seabass filet with perfect flaky flesh perched upon a medley of artichoke hearts, sun-dried tomato, zucchini and petit potato balls accompanied by fresh oregano oil. Pork Tenderloin Medallions with Creamy Mushroom Sauce came with a hearty helping of herby green potato mash, oven-baked baby carrots and cherry tomatoes. Classic cookery perfectly executed.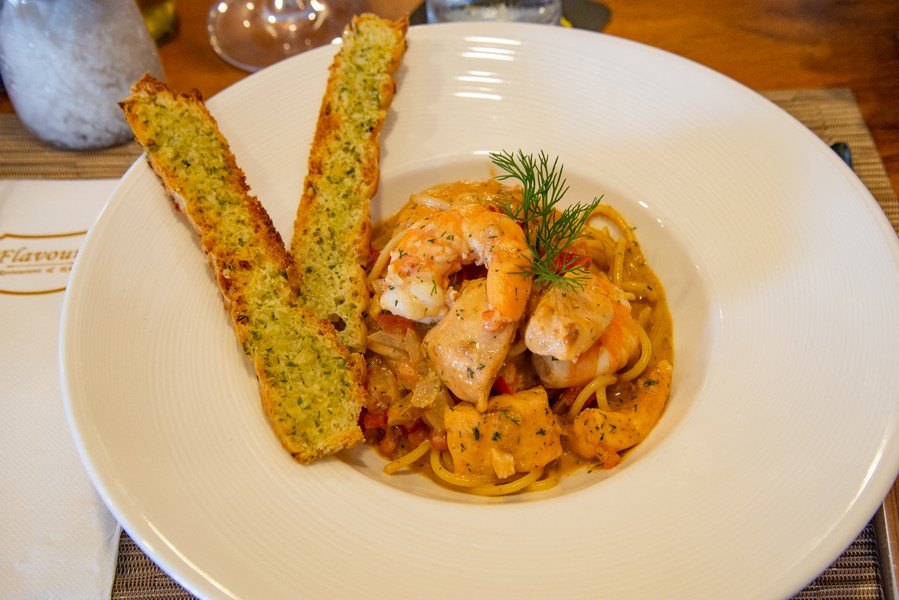 A bountiful bowl of Shrimp and Salmon on a Seafood Bisque Pasta rounded out our mains. The deep rich seafood flavours of the bisque with a touch of cream made for the perfect pasta sauce, and the dish as is would have been very pleasing. Yet, the lavish addition of straight-from-the-pan salmon pieces and plump prawns with two fingers of crisp garlic bread rounded out this bowl of deliciousness.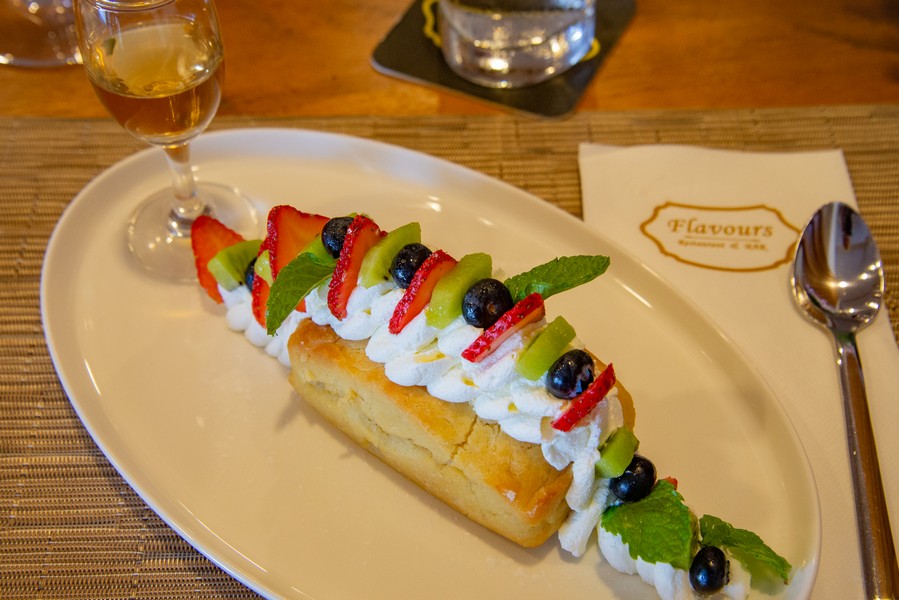 Sweet treats are a must, at least in the minds of the Let's Eat team, so we could not let the opportunity for desserts slip by. Flavours' menu provides an appealing selection of seven dishes, with some enticing titles for extra temptation. Stanislaus The Drunkard, for example, is rum baba – a lovely yeast-risen cake, often studded with dried fruit and soaked in a rum syrup. Chef Lionel serves his topped with pipings of whipped cream, sliced fresh fruit, berries and some additional rum syrup on the side.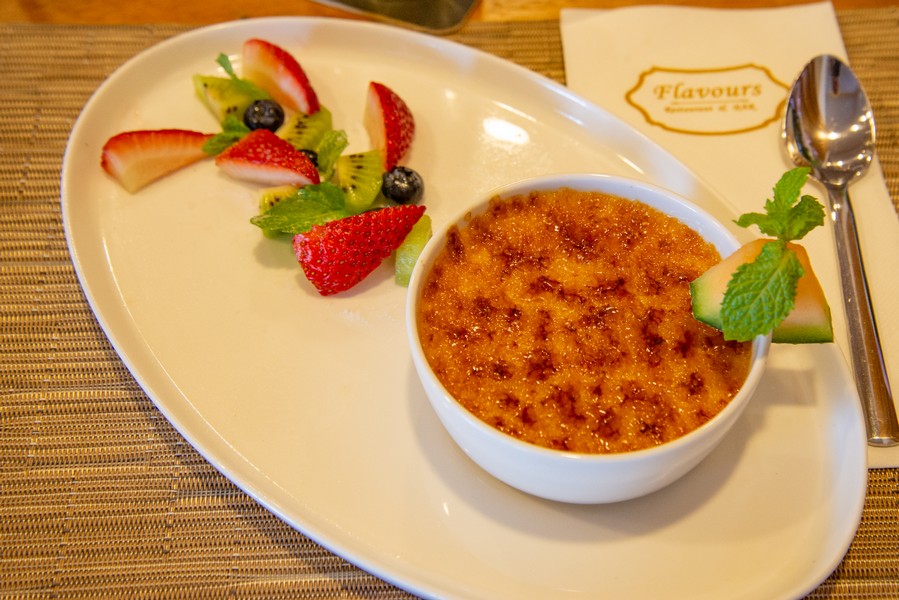 Grand Marnier Crème Brulee – the title alone and the promise of brandy orange liqueur flavoured soft-set warm creamy custard with the caramelly burnt sugar crust on top is enough to order this dessert. So we did, and it lived up to expectations. The fresh fruit on the side helped to (slightly) dimmish our guilt. Chef Lionel combined two of our personal favourites in his Dark Chocolate Mousse & Salted Butter Caramel for our final dessert. Be sure to dig through the layers to get both on your spoon. You will thank Chef Lionel (and us).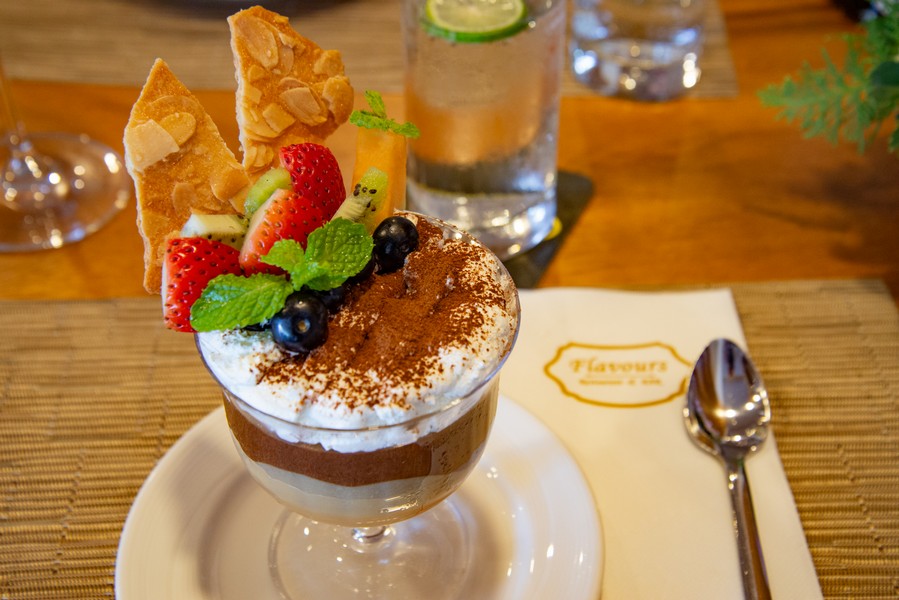 Flavours Restaurant & Bar operates six days a week from 12 noon to late, closing every Wednesday. Happy Hour happens from 12 to 5:00 pm daily. Their "Light Fare" section of the menu has some great options for a snack while enjoying a refreshing beverage.
Several more substantive dishes on the "Light Fare" page could be great lunch options. Owner Kate tells us that the Greek Lamb Meatballs served with bread, feta and olives has already become much requested, as have the two burgers on the menu. In fact, the Southwestern Beef Burger is currently available as a lunch special and comes with a local draft beer.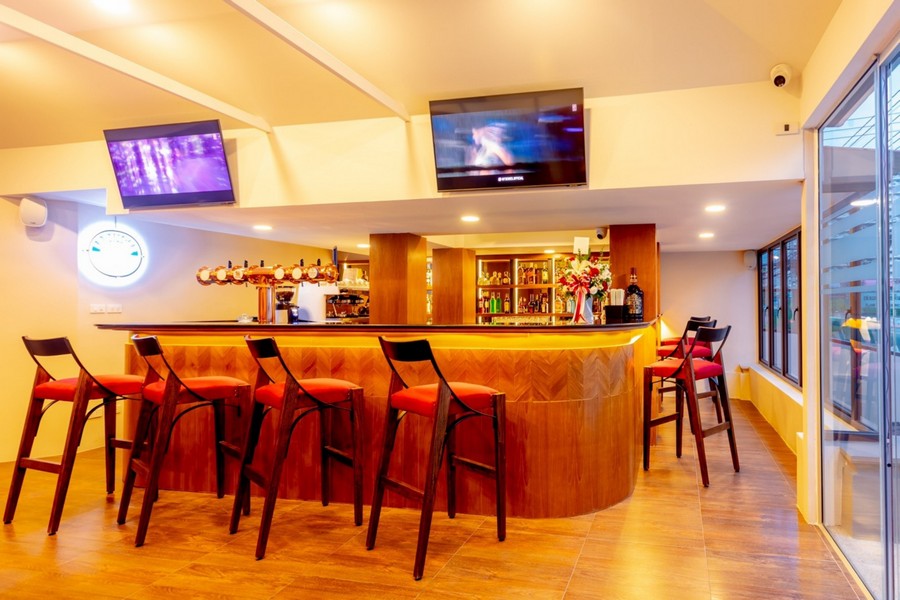 Flavours Restaurant & Bar can easily accommodate groups for get-togethers, small drinks events, group or family dinners, and special celebrations. Their comprehensive menu means that you can regularly visit as you work your way through the variety and selection on offer.
For more information or to make a reservation, call 063 515 9951, or email: flavours.huahin@gmail.com. Alternately, visit their Facebook page for the latest offers and a copy of their menu. www.facebook.com/flavours.huahin
Flavours Restaurant & Bar – a positive and happy addition to the Hua Hin dining scene.
By Michael Cullen