Have you ever walked past a restaurant or café and said to yourself "That looks really nice. I must try that one day!" I have, and thankfully I can now cross one of those restaurants off my list. And given our party so enjoyed the experience, I have to tell you about it!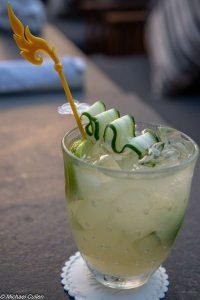 Hagi Japanese restaurant is part of the Centara Grand Resort in central Hua Hin, yet it sits outside of the resort in a prominent street corner position. The polished timber floor of the main dining area sits slightly raised from the road. The wooden theme continues with the dining furniture complete with comfy cushions. Near the entry is a bar area – an ideal place to start. Try one of their Sake inspired cocktails from the extensive list. I can recommend the 'Sake Caipirinha' a delectable combination of Saki with lime juice, green tea, and wasabi syrup.
Hagi's atmosphere is open air and Hua Hin's wonderfully balmy evenings are one of its many charms. Don't fret if the weather looks inclement as the restaurant has sturdy awnings that when opened would cover the entire dining area very effectively.
Our visit coincided with Hagi's Monday evening Japanese buffet. It's an all-you-can-eat culinary tour of Japan. And what a fantastic journey it turned out to be!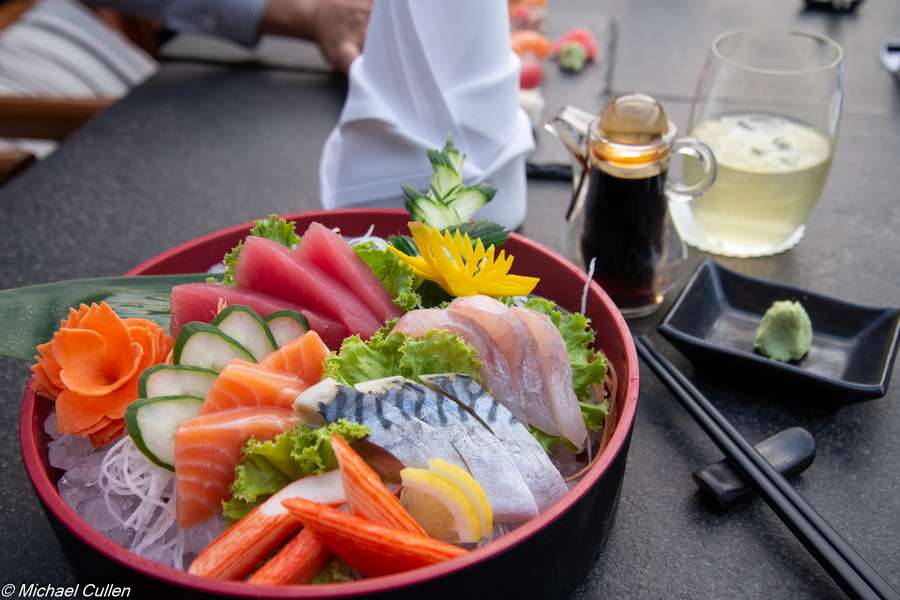 Off to the right of the outside dining area is an air-conditioned room focused on starters and desserts. First up, an eye-catching display of fresh sliced Sashimi presented within a fish-inspired ice sculpture. And what exceptional quality these thin slices of raw seafood were. Although I could have spent my whole evening just focused on the Sashimi, there were so many other options to taste and appreciate. Let's start with the starter or appetiser selection.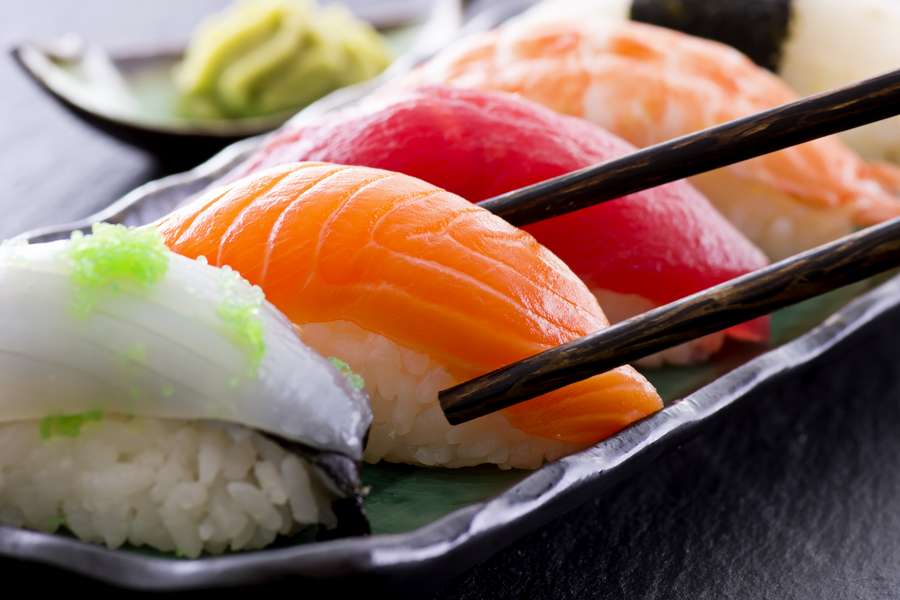 Delicate Nigiri or "hand pressed" sushi – small portions of rice topped with wafer-thin slices of fresh seafood or seared meat. Next a delightfully colourful range of Maki – rolls of sushi rice with a variety of fillings wrapped in a sheet of nori (seaweed) and sliced into rounds. Think 'California Roll'. There were dainty bowls of Japanese salads like spicy Salmon, a soba noodle salad, and more. Then the 'poke bowls' – small bowls part filled with sushi rice and topped with different fillings. I particularly liked the Spicy Minced Pork with Thai Herbs Poke. Another large carved ice display topped with freshly shucked oysters dominated the corner of the room, and a 'must visit' for oyster lovers. There was also a small selection of hot starters including one of my favourites, Gyoza Japanese dumplings.
Having worked our way through the Sushi, Sashimi and other starters it was time to explore the buffet stations in the main dining area. For Soba noodle lovers there is a Miso and Yakisoba noodle station where Chefs create dishes to order. Then two separate Teppanyaki grills. The first serving grilled seafood and a selection of vegetable dishes. There are also hot serving dishes with a choice of rice and other sides.
The second teppan specialised in meats like chicken, pork and duck – small pieces quickly cooked on the grill as is the way with this style of cooking and served immediately. A selection of sauces were available for indulging. The crowning glory of this cooking station was the wagyu beef. Delicately cubed and grilled before being seasoned and served. Melt in your mouth tender and oh so delicious! The final station was tempura with the chef regularly cooking small batches of vegetables and seafood in that ever so light yet crispy batter. Once again, I had to go back for more!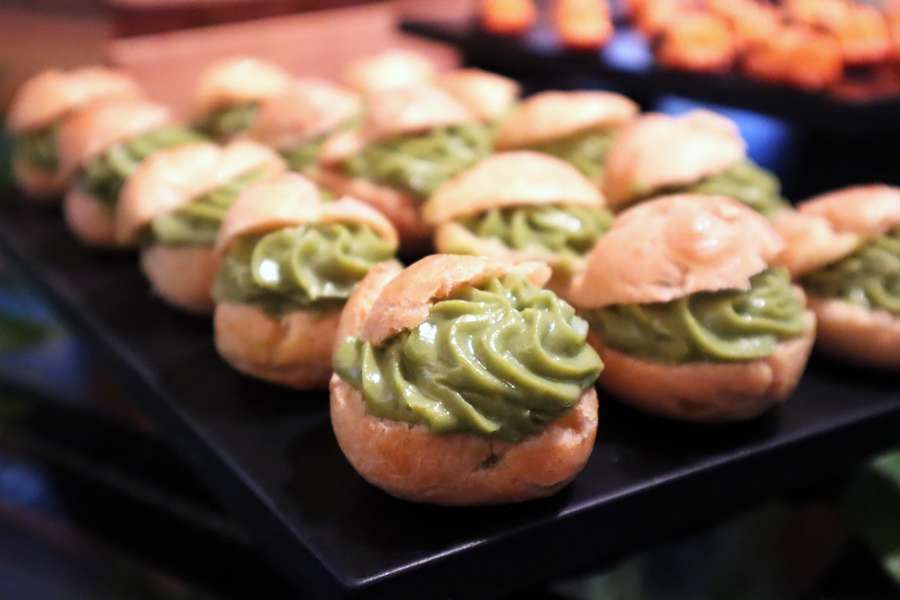 After all of that, our party needed to rest before contemplating desserts.  Japanese food is very much about eating with your eyes before engaging the other senses. Hagi's dessert display was a perfect representation of that. Beautifully presented delicate portions designed to tempt and tantalise. The smallest of fruit tarts, profiteroles filled with a green tea cream, petit squares of Japanese blueberry cheesecake, and a selection of Macarons, just to name a few. There were also platters of fresh sliced tropical fruit. For the ice-cream lover – creamy as you like vanilla, or Matcha tea flavoured ice-cream which I found very enjoyable and not overly sweet.
Hagi Japanese restaurant offers the "Culinary Treasures of Japan" all-you-can-eat buffet only on Monday evenings. The buffet is available from 18:00 to 22:00 hours, April – October 2019 and is priced at 1,200++ THB per person.
Tuesday to Sunday, Hagi restaurant opens at 17:00 for à la carte dining. For April and May, Japanese Sous Chef, Narongsak Thongchue, and the Hagi culinary team invite all connoisseurs of Japanese cuisine to experience their latest "A New Japanese Flair" promotion. A new à la carte selection sure to satisfy your Japanese food cravings.
If, like this writer, you have passed this restaurant and thought "I must try that" then now is the time and the Monday evening "Culinary Treasures of Japan" buffet is an excellent introduction.
Hagi restaurant can be contacted on +66 (0) 3251 2021-38;
email hagichbr@chr.co.th; or web.
by Michael Cullen