Editor's Note: With the temporary closing of all restaurants by the Government due to Covid 19, we are pleased to revisit our dining adventure at the Palm Bistro Restaurant in Hua Hin on February 2019. Not all dishes mentioned below are currently available however you can view their take-away menu by clicking here.
The Palm Bistro also has weekly specials which you can find on their facebook page. Through the month of May, the Palm Bistro is offering a 20% discount on all takeaway or delivery items (within local area.)
Eight years in business is quite an achievement, and even more so when it's in the sometimes fickle restaurant game. That's exactly what the restaurant we visited recently proudly boasts. They have to be doing something right to keep the doors open and customers coming back for all these years, despite competition opening up across Hua Hin constantly. So what is it that makes 'The Palms Bistro' a constant in Hua Hin's forever changing food scene?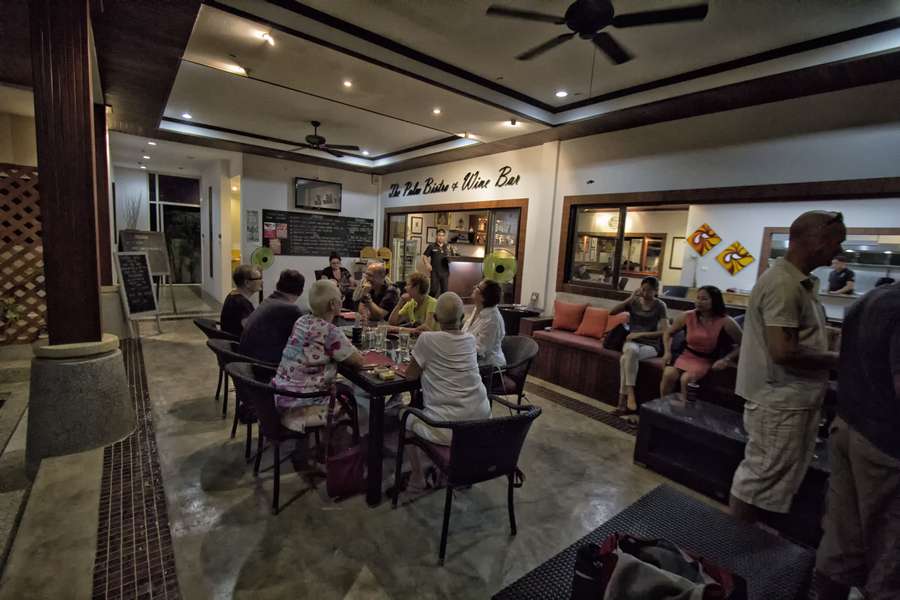 The large undercover relaxed, open-air seating options are certainly inviting. Welcoming staff got us to a table and settled very quickly ensuring drinks are ordered, and menus delivered. The large blackboard – full of specials and recommended dishes, makes deciding what to eat more of a challenge than expected. Choices! Choices! We would not be able to eat all that attracted us in one sitting.
Our group decided to share starters with a generous portion of Chefs Chicken Liver Pate served with wholemeal toast and surprising tasty pineapple chutney. This was accompanied by a platter of hummus, artichokes, baby gherkins and olives with two styles of toast. All Mediterranean taste delights.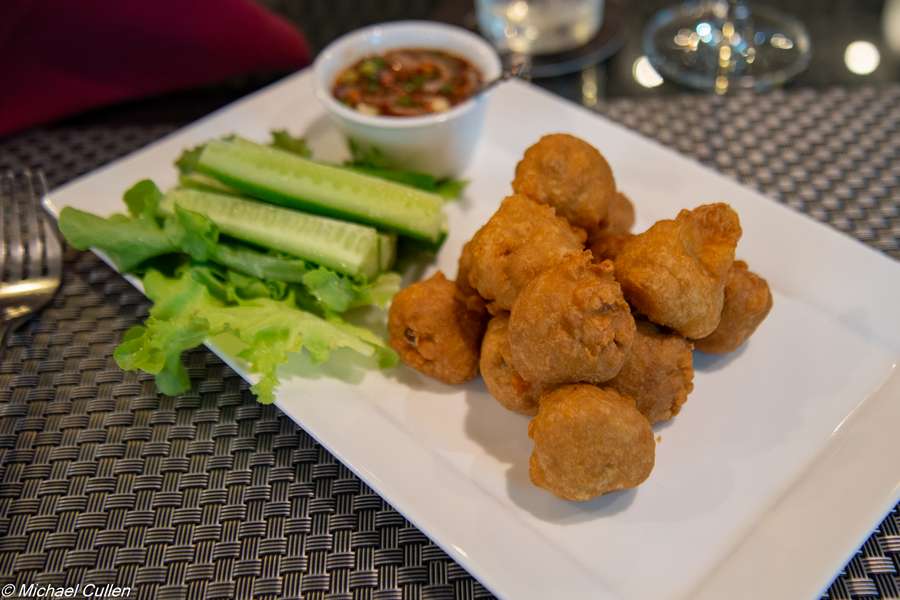 To round out our starters we chose the deep fried spicy Pork Larp balls (Larb Moo Tod) from Palm Bistro's Thai menu. A gentleman on the neighbouring table complimented us on choosing the Larb Moo Tod. In fact, he recommends this dish as the best possible accompaniment for a cold beer and now having tasted them I can see where he's coming from.

For mains, we mixed the dishes up again. Firstly two from Asia. Thai red curry Duck – delicate slices of duck breast with baby Thai eggplants and cherry tomatoes in a well-balanced red curry coconut soup served with steamed rice. And a Chicken and Spinach Balti curry served with steamed rice and a 'fresh from the pan' fluffy Roti bread.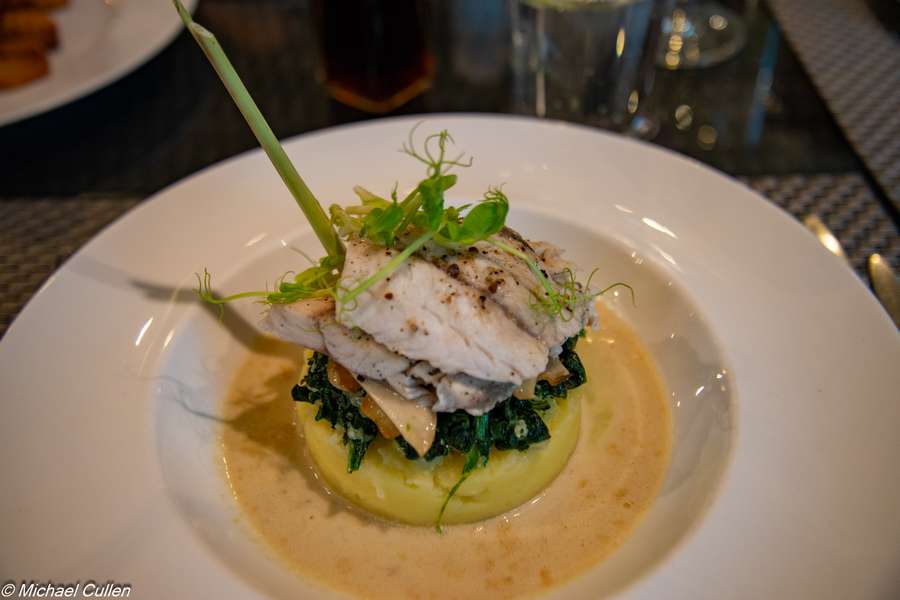 Next a fusion dish which Palm Bistro do so well. Steamed Sea Bass fillets served like a layered tower atop sautéed mushroom and spinach, and at the base, potato mash in a bowl of lemongrass flavoured coconut cream. What a great combination and presentations. Delicate steamed fish, creamy mash, the 'just right' infused coconut cream and the textures of sautéed spinach and mushrooms.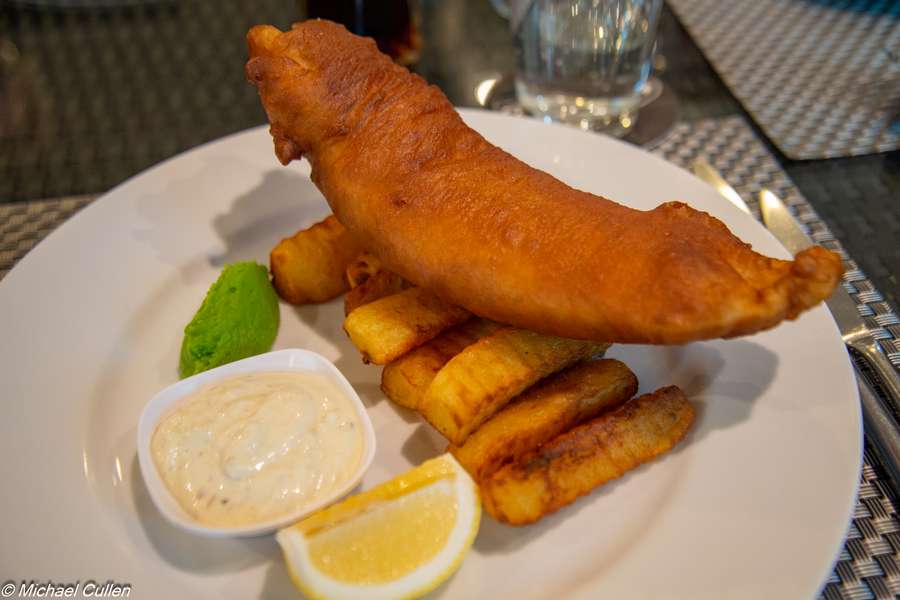 And for our final main dish, we went with the recommendation of another friendly diner who said we must have the battered Fish and Chips. By his assessment – the best Fish and Chips east of London! And judging by his Austrian or German accent, I don't think this was some blind nationalistic recommendation. The batter was crispy and crunchy yet still thin and evenly cooked. The generous piece of fish inside moist and perfectly cooked and the large chips worthy accompaniment as were the mushy peas and tartare sauce.
When venturing out for an evening like this, dessert must make an appearance! The Chef's fresh baked Sticky Toffee Pudding, and by our assessment at least, the 'to die for' Chocolate Brownie. Both served with vanilla ice-cream and whipped cream. Pudding heaven!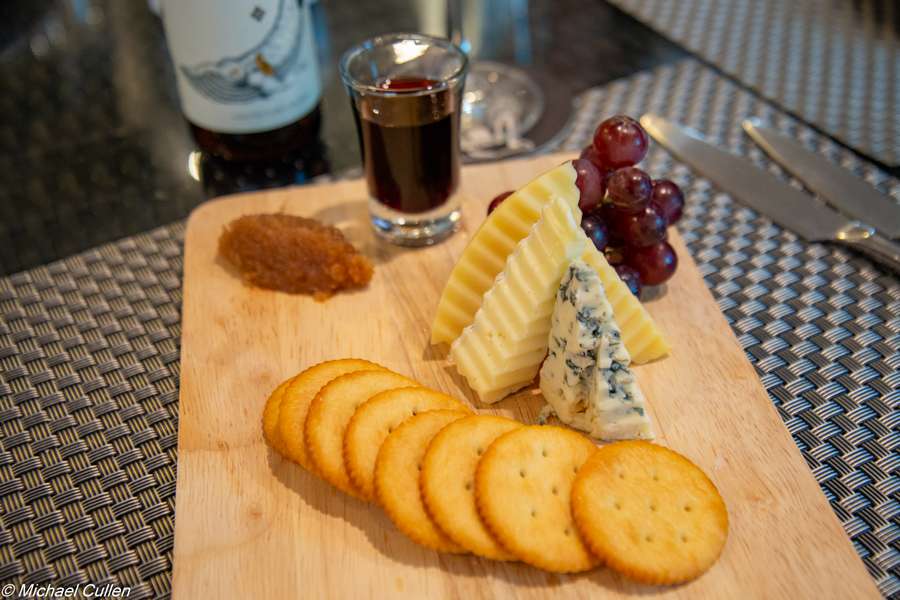 For the not so sweet tooth on our table, the cheese platter with Port got my vote. Four different cheese, crackers, Pineapple chutney, grapes, and a glass of Port wine. What's not to like about that offering to finish a meal – or at least, that's how this correspondent thinks.
The atmosphere was relaxed yet professional and service throughout the evening was attentive with staff happy to describe dished as they arrived and also ensuring drinks were regularly replenished.
The Palm Bistro offers breakfast and lunch options from 10:30 am to 2:30 pm daily. Their Lunch Special of a Wrap with fillings like Prawn or Chicken Caesar Salad, Cajun Chicken with Bacon and Chilli Mayo, or for a vegetarian option, Feta and Spinach with a spicy tomato sauce. Or Paninis with typical Mediterranean fillings. Your Wrap or Panini is served with your choice of French Fries or Chef's Soup of the Day – all for 199 Baht. There is also a selection of burgers or sandwiches if not taking the lunch special.
Wanting an early dinner, then why not take advantage of the 'Early Birds' special available to diners from 5:30 to 6:30 pm Tuesday to Saturday, and get two courses – starter & a main or a main and a dessert, for only 320 Baht.
If roast lunches are your thing, then the Sunday Lunch Club is worth checking out. Every Sunday Palm Bistro's famous roast lunch is served 1:00 to 5:00 pm. A delightful quarto of Roast Lamb, Beef, Chicken & Pork. You can choose either a duo or single selection. All served with Yorkshire pudding, roast potatoes, spring onion mash, seasonal vegetables and gravy.
Palm Bistro also prides itself on its selection of English Ales, Ciders and American Craft Beers – with several of these available on tap just as the connoisseur would prefer.
The Palm Bistro's eight-plus years of continuous operation is outstanding. More information on The Palm Bistro's offerings plus details of their locations can be found here. www.thepalmbistro.com

By Michael Cullen