Life experiences shape and mould us, and our ability to harness and channel these builds our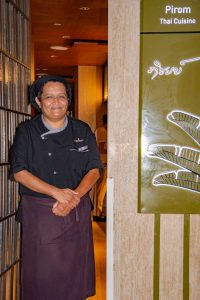 strength of character. So, it was for Khun Jasvir San-Ghera. As the oldest girl in her family, it fell on her to help her mother and grandmother shop for food supplies at the local markets and help in the kitchen preparing the daily meals. "I would have preferred to be outside playing" she confides but that was life in this Thai family household.
Jasvir aspired to be an artist and after school, secured a role in the ice carving kitchen of a prestigious international hotel in Bangkok. Her Head Chef taught her the skills of drawing and painting so that she may produce inspiring artistic ice sculptures. Seeing more significant potential in her, Jasvir's Head Chef pushed her into the cooking side of the hotel's kitchen. Reluctant at first to move away from her beloved artistic work, Jasvir soon found her true vocation.
Now, with more than thirty years passed, Chef de Cuisine Jasvir San-Ghera, or Chef Mama Duu as she is more affectionately known, heads up the kitchen of Pirom, Intercontinental Hua Hin's Thai restaurant. Having gone through a refresh and relaunch in December 2019, Pirom under Chef Mama Duu focuses on Thailand's four culinary regions: North, South, Central and Northeast and the specialities within each.
Chef Mama Duu's lifetime of culinary experiences, her family kitchen secrets and intimate knowledge of Thai food traditions, along with her exceptional creativity and artistic eye come together in a celebration of Thai cuisine. And so, our Pirom food journey started.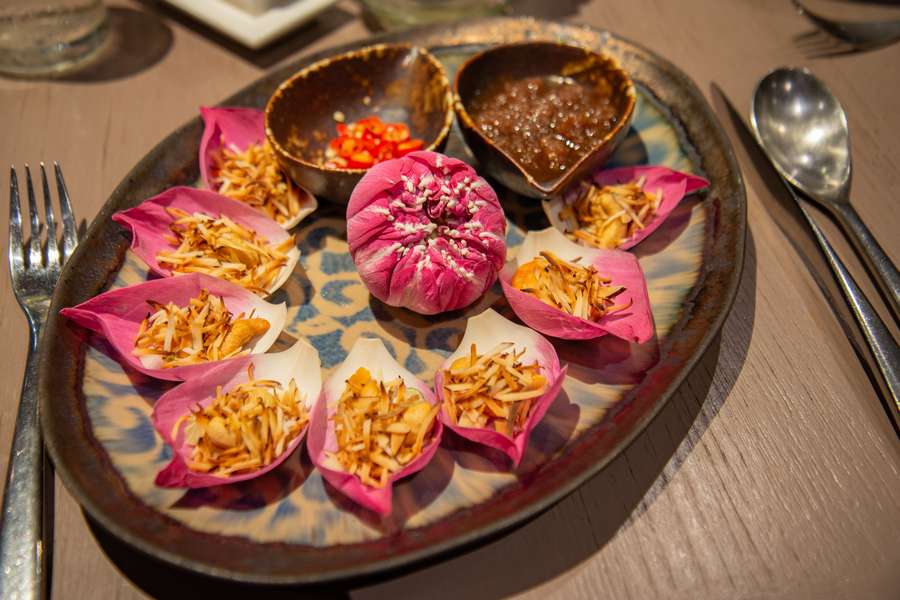 Mieng Khun – historically a snack where small amounts of crispy toasted coconut, roasted peanut, dried shrimp, lime, shallots and ginger are placed in a betel leaf to create a bite-sized parcel. Pirom's version uses pink lotus flower petals instead of the betel leaf bringing a softer herbaceous note to the dish. Chef's thick paste of sweet-sour and salty shrimp, palm sugar and tamarind sauce is the crowning glory.
Mar Hor, which translates as 'galloping horses', is another canape style starter. Presented with simple elegance, pieces of fresh pineapple pushed back together to form a round and topped with the sticky caramelly sauce typically made from coriander root, garlic and ground white pepper, fried together with chopped shallots, minced pork and shrimp meat, along with crushed roasted peanuts, and seasoned with fish sauce, and palm sugar — a mouth teaser and pleaser.
Our final starter was Pooh Jah that had minced pork mixed with the sweet meat of Spanner Crab which is placed back into the crab shell and deep-fried. It was present simply with Chef's dipping sauce and the delicate Antigonon (coral vine) flowers.
Our group enjoyed three main dishes. Ped Rom Kwan Rad with sauce Ma Kham – savoury smoked duck breast wonderfully complemented with the subtle sweetness of tamarind honey sauce. Tom Yum Goong Nam Khon – a classic Thai dish but enhanced by a Chef Mama Duu twist. Spicy lemongrass soup with prawns and home-made sweet chilli paste gave a luscious texture with creamy coconut milk. Theatrically presented, with the Tom Yum liquid added to the bowl of prawns and other ingredients at the table.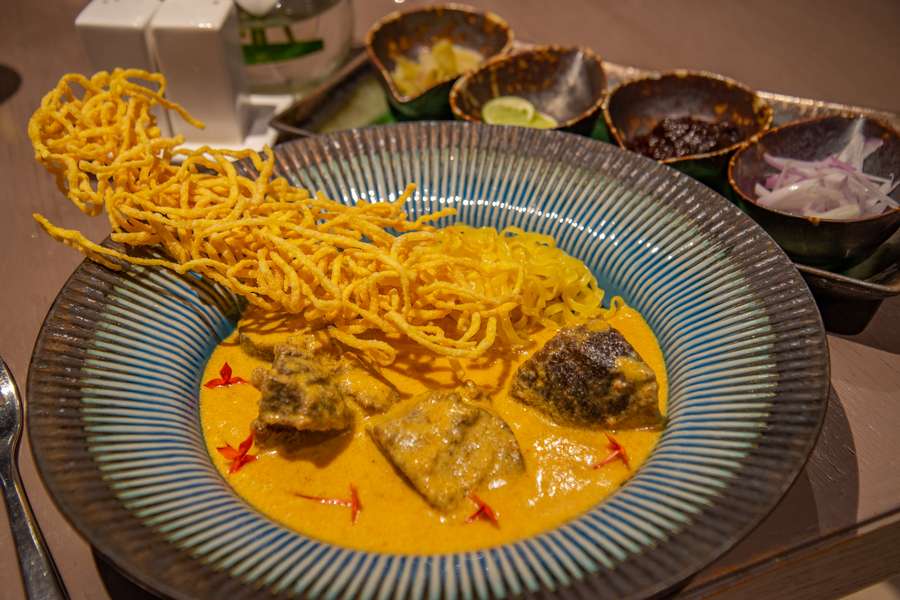 The final main was Khao Soi Hang Nue – this famous Northern Thai noodle dish with egg noodle and beef in spicy curry sauce. The melt in your mouth beef, soft and crispy fried egg noodles, the condiments of shallot, pickled vegetables, lime cheeks, and most importantly the incredible flavour derived from the homemade curry paste – savoury, hearty and deeply satisfying.
For two of our desserts, Chef Mama Duu has reinterpreted two European classics in a contemporary Thai style.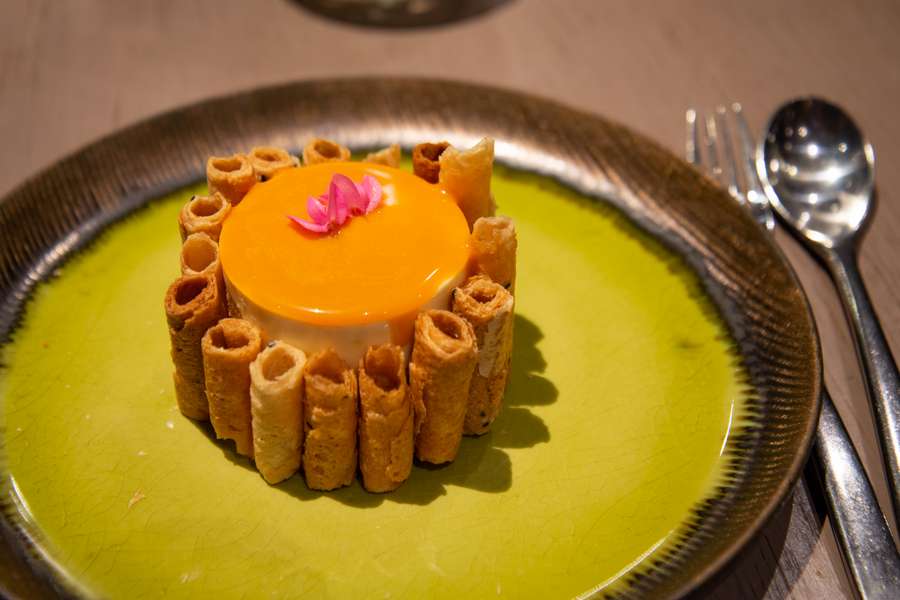 First, her Tea-Ramisu – taking an Italian classic with a robust Thai tea essence instead of coffee. The creamy texture of tiramisu is maintained and encircled with crispy wafers. The other – Panna Cotta Nam Tan Ta-Node. A Thai take on panna cotta made from coconut milk with palm tree sugar and melon, and complemented with a coconut milk ice-cream coloured and flavoured by purple sweet potato.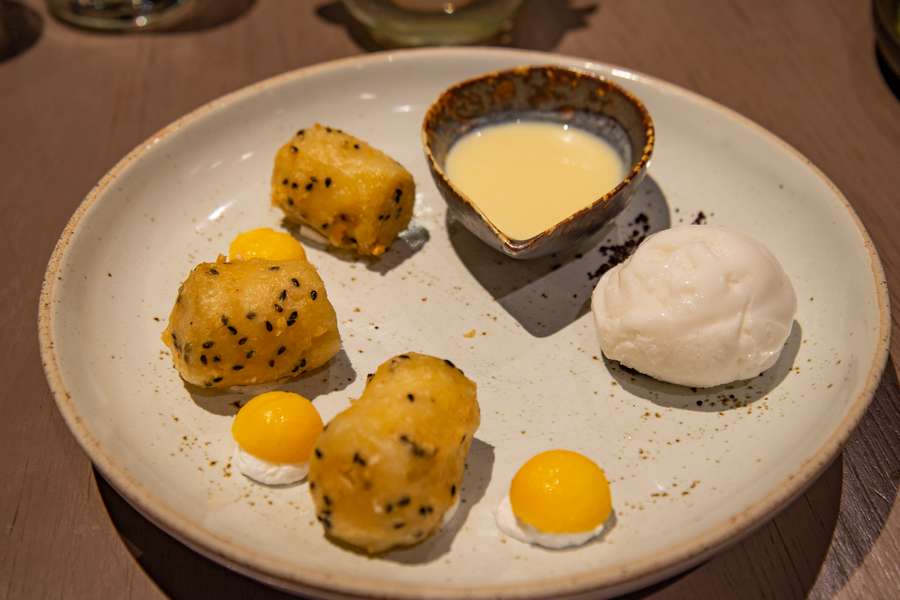 The final dessert and an Asian classic was Kluay Tod – crispy banana fritter and smooth coconut ice cream. A hot-and-cold tropical fruit dessert of equally varied texture.
Pirom's reworked menu features classic and contemporary dishes along with special tasting and sharing selections great for families and groups. Also new are pairing menus that combine Thai dishes with alcohol and non-alcohol beverages such as Thai wines and herbal drinks.
Guests have a choice of distinct dining settings – undercover alfresco dining on the timber deck overlooking the gardens, or intimate tables in their own salas sunken into and surrounded by a shimmering water feature, or inside and close to the open kitchen.
The delicious flavour of Thai food has its basis in a combination of four elements – sour, salty, sweet, and spicy. The dishes our group experienced during our Pirom food journey indeed demonstrated the exquisite skill of Chef Mama Duu and her team in balancing these sometimes competing flavours. Chef Mama Duu confided in us that she has tried to add one more element to this combination – Yummy – and our group believes she had achieved that lofty aim.
Pirom restaurant is open daily from 12.00 pm to 3.30 pm for lunch and from 6.30 pm to 10.30 pm for dinner. For further information visit www.huahin.intercontinental.com pirom For reservations call +66 (0) 32 616 999 or email ichh.dining@ihg.com
By Michael Cullen