For restauranteur Anders Hagstedt, it's as if his time on the Royal Coast has come full circle. Hired in 2007 to set up the then newly opened Black Mountain Golf Club's food and beverage operations, he finds himself there again. Here's the story.
Moving on from Black Mountain, Anders created Prime Steakhouse, situated right in the middle of Hua Hin's center. Since opening in 2009, Prime Steakhouse has forged an enviable reputation and became a favourite for both Hua Hin residents and visitors.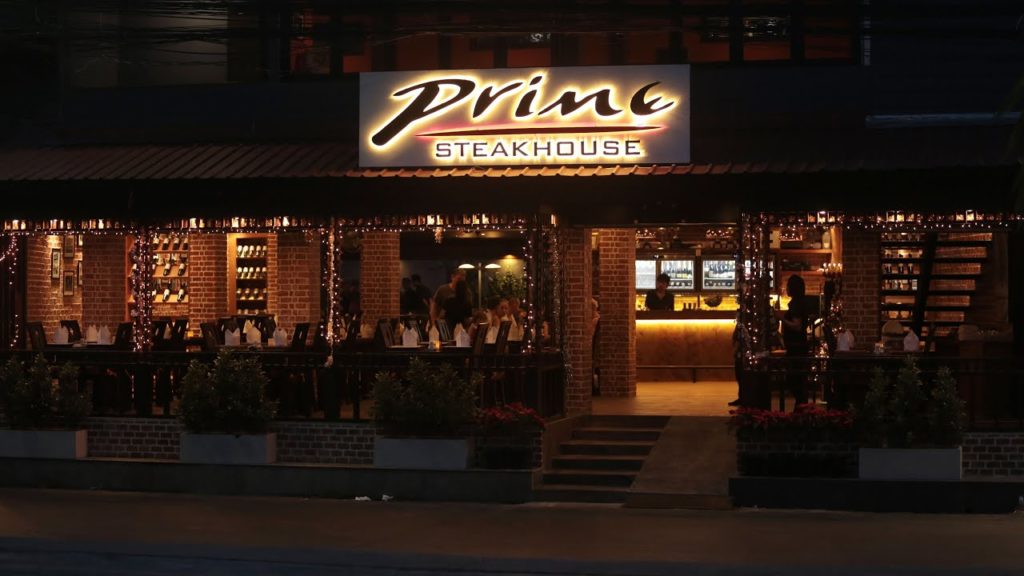 As with so many hospitality businesses impacted by the COVID pandemic and subsequent lockdown in early 2020, Prime had to close its doors. Now many months later, Anders has once again taken over the food and beverage facilities at Black Mountain Golf Club, and in doing so, given Prime Steakhouse a new home.
Great news for their strong local following while a new cadre of diners are now being introduced to Prime.
HOT Magazine recently had the opportunity to visit Prime Steakhouse in its new setting at Black Mountain, and what a setting it is. The large alfresco dining area with its vaulted ceiling, timber, and burnt orange tones overlook the course's original back nine. The sweeping lines of this championship course stretch out before you, with Black Mountain as the ultimate backdrop. A cooling afternoon breeze adds to the welcoming ambience.
Our food journey started with two versions of a classic Swedish dish called Skagen, from the Starters menu. Skagen was created by a well-known Swedish restaurateur, Tore Wretman, just after the second world war and is named after a fishing port in Denmark. The dish is typically served as a starter at Swedish dinner parties and is exceptionally popular in Swedish restaurants.
The original Toast Skagen is prawns in a spiced mayonnaise served on a toasted bread crouton and topped with white fish roe (caviar), and this is also how Prime do theirs with the prawns diced for more luxuriant eating. A twist on the original is our second starter – this time Skagen with crab meat instead of prawns and served on half an avocado with hints of dill and lemon. Creamy deliciousness on a plate.
Our final starter is an Italian classic – locally made Burrata cheese, Parma ham, and sundried tomatoes served on olive pesto smeared toast. Flavours of the Mediterranean all on one plate. Anders did confide that this was a Chef Gordon Ramsay recipe which he has adapted.
For mains, we chose the Snow Fish, which we learnt is actually Patagonian Tooth Fish. A cold-water fish found in the southern Atlantic, Pacific, Indian and Southern Oceans. Our 'Snow Fish' fillets were sauteed in butter served atop a Mediterranean tomato sauce with capers, olives and potatoes as an accompaniment. A melt in the mouth delight.
Our other two mains hero beef as you would expect when dining in a renowned steakhouse. First, a Beef Fajitas served on a sizzling plate. Super tender slices of beefsteak atop the sauteed bell peppers and onion served with warm wheat tortilla bread, guacamole, jalapenos, salsa and sour cream. A crowd-pleaser for sure.
One page of the Prime Steakhouse menu is dedicated to Wooden Platters. Our choice was the imported from Australia, Angus Beef Tenderloin, cooked to medium-rare and fenced in by generous pipings of Duchesse Potatoes. Think mash potatoes but even more yum! Our steak platter was also graced with an oven-roasted bulb of garlic, a generous serve of bearnaise sauce plus bacon wrapped green beans. In summary, indulgence plus.
Did we need desserts – probably not, though our willpower is always particularly low when wait staff present an appealing sweets list? So, on our food journey goes.
First out of the kitchen was a Crème Brule, that classic French dessert of rich vanilla creamy custard topped with caramelized sugar. The sugar topping creating a crust that makes a delightful cracking sound when tapped with a spoon. It was a perfect combination of vanilla and caramel flavours. We also dived into the Chocolate Brownie with that delightful crust on top and the not too heavy brownie fudge inside. The accompanying vanilla ice-cream and fresh strawberries added to the pleasure. Finally, a vegan, sugar and gluten-free dessert option – which came together as a generous scoop of Prime's own Pistachio ice-cream.
Breakfast is available from 6 am to 11 am, and look out for a new breakfast menu in January 2021. Prime's main menu operates from 11 am to 9 pm, including a full selection of Thai favourites. For those needing some nourishment but not a full meal, check out the snack menu. A children's menu is also available, which includes a selection of fun kid's drinks, fruit and milkshakes.
It seems that Anders has invested the same quest for quality product and ingredients in Prime's beverage offerings. Examples of this include the stocking of Fever-Tree Tonic Waters and Ginger Ales. And to accompany these quality mixers, do consult the drinks menu for a masterfully curated selection of fine Gins and Rums.
The same attention to detail can be seen in the wine list, starting with the excellent house wines – by the glass or bottle. A smattering of organic wines can be found across the main wine list, which even extends to French Grand Cru and Italian Valpolicella DOC wines. Pleasingly, the wines appear to be well priced, making it easier to select a quality wine to accompany the excellent food on offer.
Given the Clubhouses facilities, private functions and catering are in demand. Be it the rooftop lounge ideal for cocktails or drinks gathering to the air-conditioned wine cellar dining room with its plush banquette seating and panoramic outlook. Talk to Anders to create a menu or event adapted to your needs.
From our visit, it seems that Prime Steakhouse at Black Mountain, with its dramatic setting and sizeable facilities, is going from strength to strength. Although located within the Clubhouse, this is a dining venue for all – be it a group of friends catching up for lunch or dinner or your next special event.
Prime Steakhouse can be found on Facebook and the web at https://primehuahin.com/. Call 032 618 620 to contact them directly for further information or reservations.
Michael Cullen