Our modern world seems to be so focused on living in the moment. Seeking out the next 'best thing'; chasing the latest trend; being seen at the newest happening. Respect for tradition and admiration of 'long-established' does not always appear to have currency with many in this fast-moving modern-day world.
But for some, it's a pleasure to discover an establishment that first opened its doors 15 years ago, and continues to prosper. This chic bistro now has its own stunning resort attached and all 'hidden' away in beachside Nong Kae on the southern end of Hua Hin's main beach. Many believe that this oceanfront restaurant with its sophisticated yet laid-back vibe helped put Hua Hin on the food map for discerning travellers.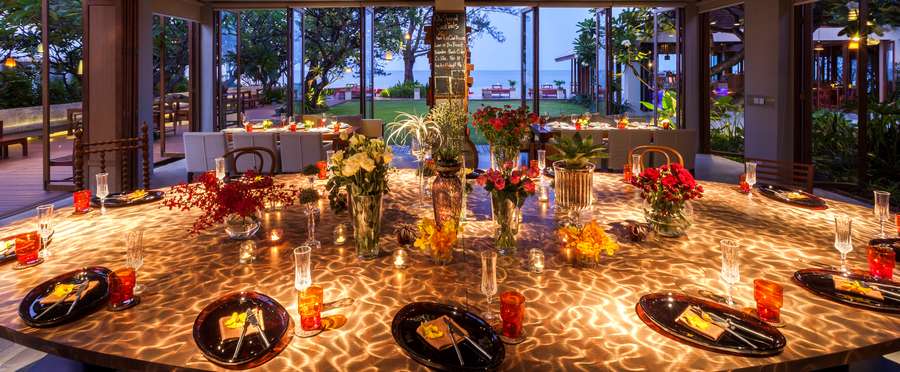 We are talking about Let's Sea Restaurant and Beach Front Bar. Open for breakfast, lunch, dinner and after dinner. Let's Sea welcomes both resort and outside guests.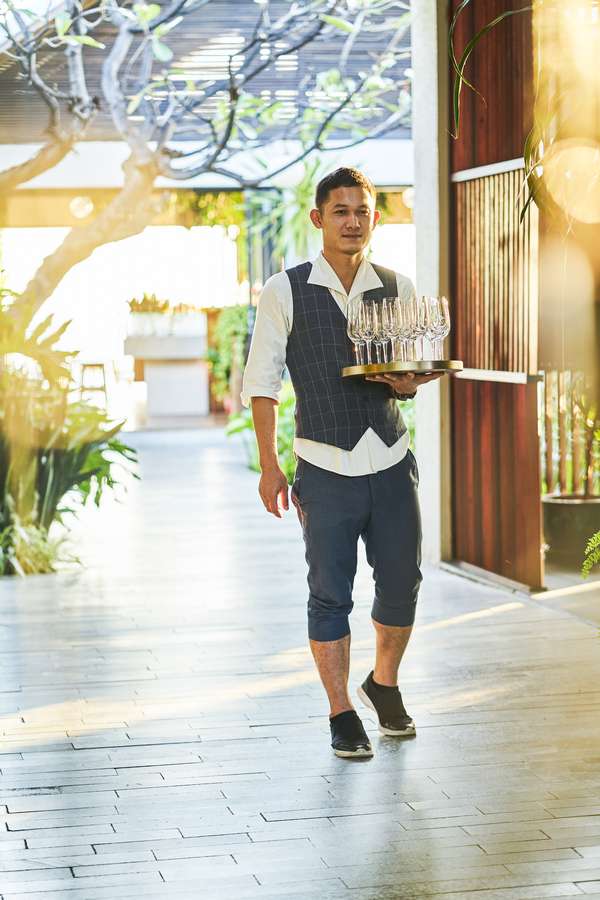 Friendly staff greet and enquire as to your need while ushering you in. Ocean views are immediate and constant, no matter where you are seated. Inviting individual daybeds have pride of place oceanfront. Linger as you sip that relaxing beverage or savour tasty snacks from the menu.
Cascades of soft lights fall from the giant frangipani tree with tables set around its base for dining under the stars. Your constant companion is the breeze on your face, the scent of the ocean, and the hypnotic pulse of waves tumbling over golden sands.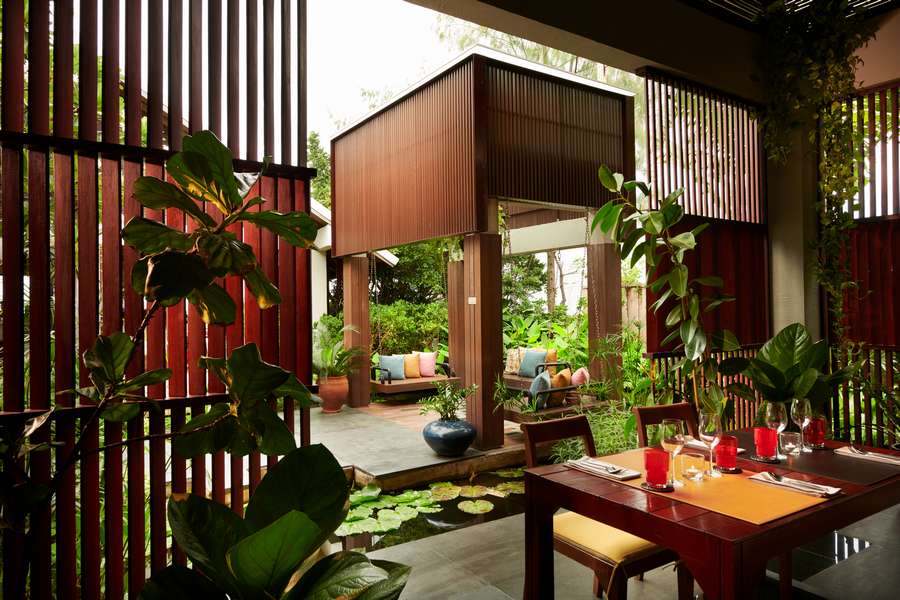 Throughout the dining areas, there are warm hues and the reassuring feel of the timber flooring. The clever use of sculptured lotus ponds, partial wall divides, and strategically placed plants give each area an intimate and private feel. The floor to ceiling retractable glass wall allows the sea breeze in or protects against its bite.
Seated inside, our group opened our Let's Eat food journey with a selection of Thai starters. A perfectly balanced spicy salad of tangy pomelo topped with large grilled prawns. Tang Mo Pla Haeng – mouth-sized balls of juicy, sweet watermelon dusted with feather-like, fried, golden sprinklings of aromatic salmon. Meang Kana – a classic Thai snack which you wrap yourself. Top the individual Kale leaf with a combination of diced ginger, lime, cashew nut, red onion, chilli and roasted coconut sauce. Fold the leaf around the filling and down it goes in one tasty mouthful.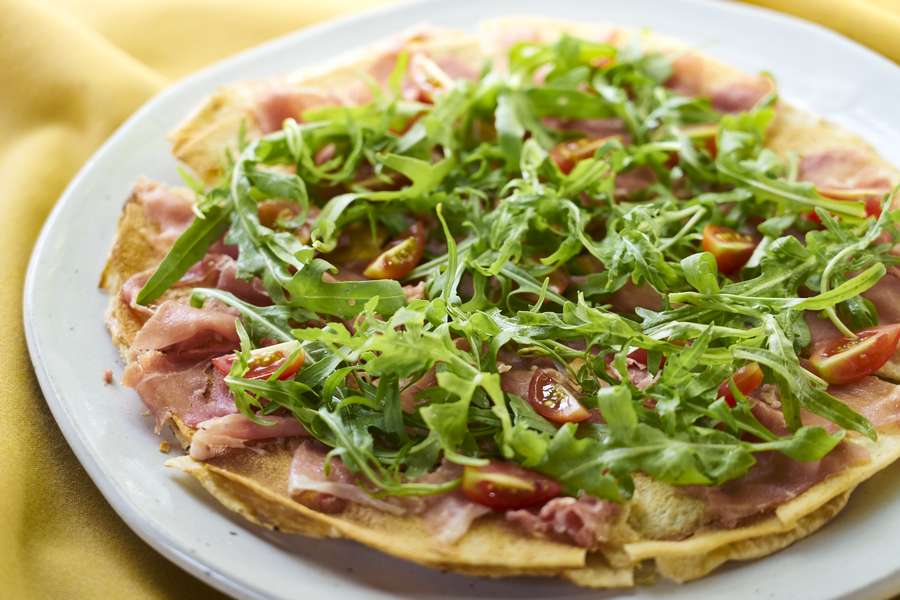 At the suggestion of our exceptionally attentive service person 'Peter', we next tried a dish from the Pasta and Pizza section of the menu. Pizza with mascarpone, Parma ham and rocket. Let's Sea's Chef uses two wafer-thin pizza bases with the cream cheese sandwiched between the two and topped with the classic Parma, rocket, and a hint of truffle. A new and well-received, taste sensation for all in our group.
From the Thai main course section of the menu, our group shared two dishes. Choo Chee Kung or king tiger prawns in red curry sauce. This authentic home-style dish with its flavourful red curry sauce and hints of fresh kaffir lime leaf, delightfully accompanied the butterflied, still in the shell, grilled king prawns. Our other Thai dish was Panaeng Nua or spicy beef curry. Both packed the expected heat, yet also displayed the ideal balance of sweet, sour and tangy. To accompany, we were offered the choice of steamed jasmine, organic brown, or wild black rice. Great to have had these options.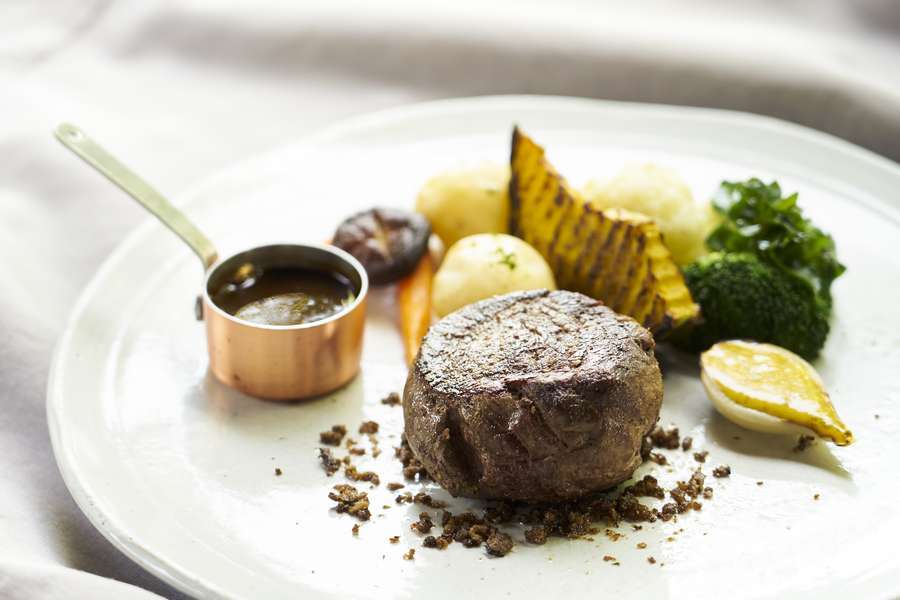 The last main came from the international main course section of the menu, and once again at the knowing suggestion of server 'Peter'. A piece of prime quality Wagyu beef tenderloin cooked to our liking and served with an ideal selection of vegetables and a rich 'want more' meaty sauce. To our delight and surprise, we were offered a choice of steak knives in varying sizes, colours and styles to fit our preference and hand size. What a very service and customer orientated idea! As hoped, the Wagyu beef was a flavoursome, 'melt in your mouth' delight.
Dessert did not disappoint with our group sharing three – an Almond Cake with vanilla ice-cream; Thai fried banana; and a Sticky-rice filled spring roll served with mango and a caramel sauce. A fitting end to a very satisfying meal and a testament to this restaurant's long-held reputation.
If in the area and looking for late-night snacks and suitable accompanying beverage, The Beachfront Bar is ready to welcome you. If afternoon tea is more your thing enquire about their "Tea Set". Breakfast is served from 7 am.
Let's Sea Restaurant can be found at 83/188 Soi Huathanon 23 Khao Takieb. For reservations or information call +66(0) 32 536 888 or email info.huahin@letussea.com.
With its outstanding oceanfront location and enviable reputation, Let's Sea is well worth seeking out.
By Michael Cullen