Secreted in a residential zone away from Hua Hin's restaurant strips does not deter diners from seeking out the regional cuisine of Little Spain. Opened during the pandemic, Little Spain is the brainchild of Vanessa Humbert and her partner Roberto Spina. Such is the authenticity of the food, the Embassy of Spain has just bestowed on them "Restaurants from Spain" certification.
Little Spain is the realization of a dream Vanessa has long held – her own restaurant showcasing the food of her beloved home country, Spain. A native of Menorca, one of the Balearic Islands located in the Mediterranean Sea and belonging to Spain, Vanessa comes from a long line of restaurant operators. She calls herself a cook, not a chef, as she has no formal training and uses recipes from her mother and other family members as her inspiration.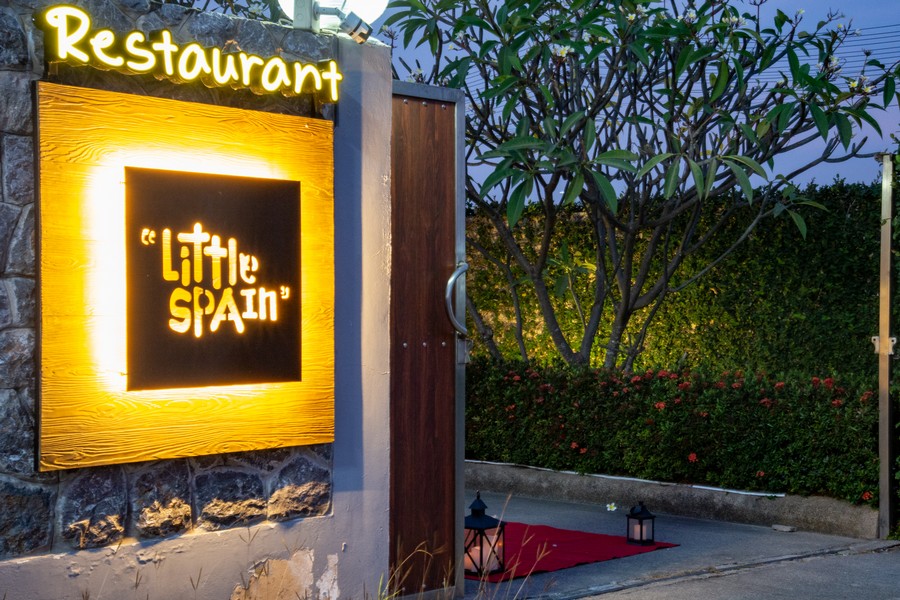 HOT magazine's Let's Eat team recently visited Little Spain to see what all the buzz was about. Little Spain is situated in a residential single-story home that has been converted into a restaurant. The red carpet is rolled out to welcome diners down the long entrance driveway. Though many guests head straight to the dining area at the rear, we'd recommend stopping in the inviting, alfresco lounge bar at the front of the property. Perhaps some sangria or a La Pomada cocktail made with Menorca's locally distilled gin, Xoriguer. A relaxed setting and ideal for easing into the Little Spain experience.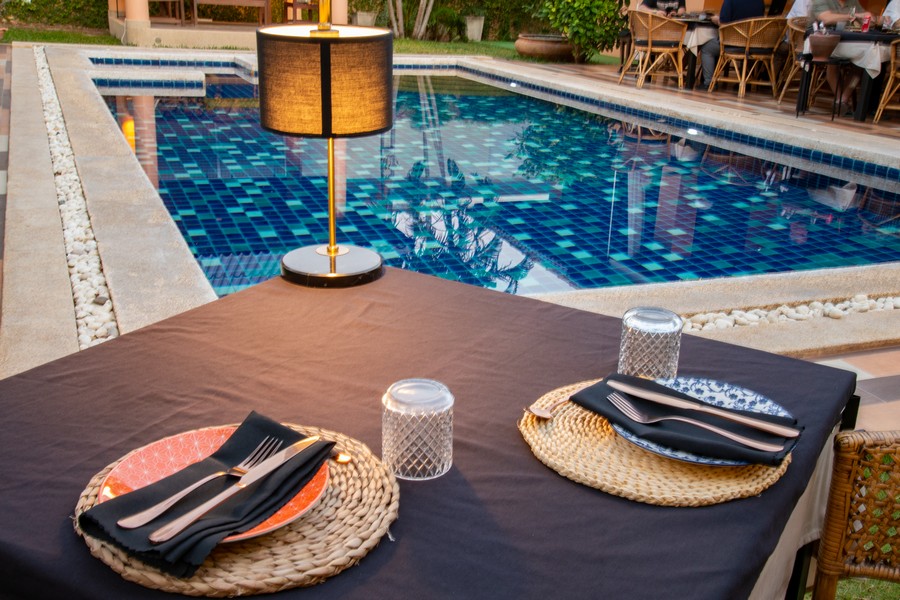 Move through the house to the dining room, an open-air covered terrace overlooking the swimming pool, with a raised Sala and manicured lawns. Subtle lighting adds a warm, romantic feel. Attentive staff or hosts Vanessa and Roberto quickly settle you at your table. With seating for a maximum of 40 people, reservations are recommended. Or take a leaf out of the Spanish dining tradition and book for later in the evening.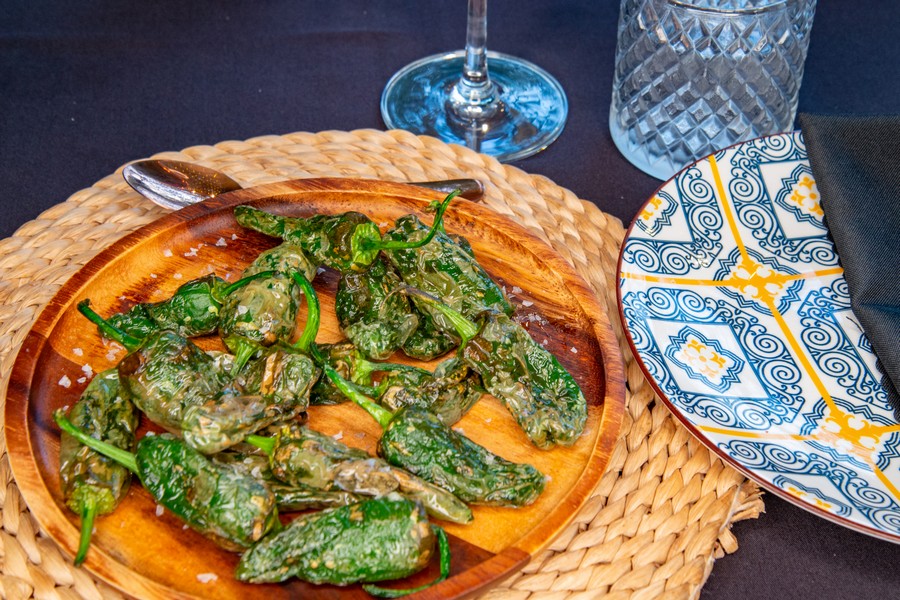 Little Spain's menu provides a thoughtful selection of tapas, pintxos, plus imported Spanish cold meats and cheese to kick off your meal. Our food journey started in the north-western Spanish province of Galicia with Pimientos de Padrón. Small, bright green peppers from the municipality of Padrón are fried and sprinkled with salt. These peppers are picked earlier in the ripening process, have a herby aroma and are not hot owing to the absence of capsaicin. A perfect example of the origins of tapas – tasty bite-size morsels to have with drinks.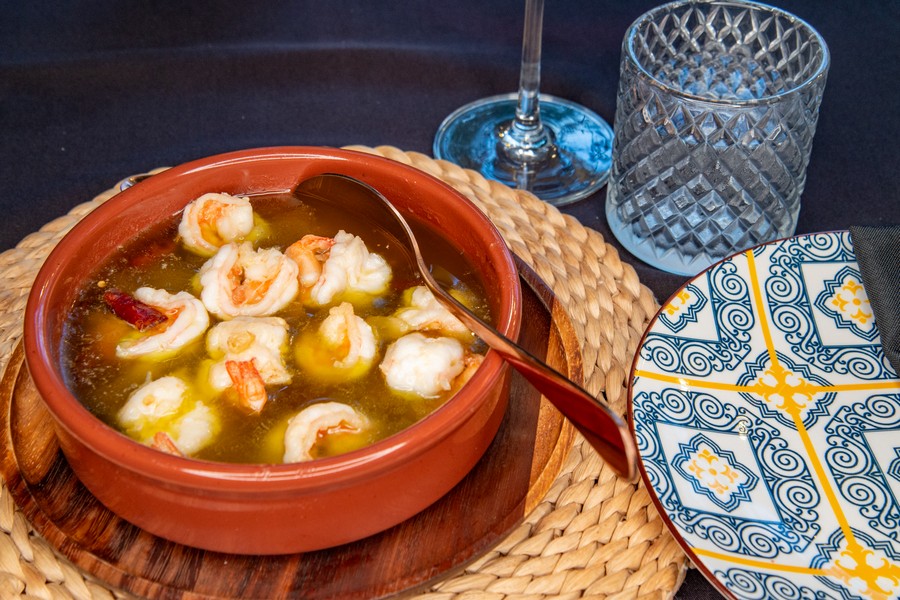 We quickly went to the Basque country. This region's style of tapas is called pintxos – toasted bread topped with whatever the establishment chooses and often held in place by a toothpick. Our Pintxos Jabugo featured crusty bread with a house-made tomato spread topped with wafer-thin slices of Iberico ham. And to round out our tapas exploration, Gambas al Ajillo. Fresh local prawns cooked in Spanish extra virgin olive oil with garlic and hints of chili. Delicious prawn and that oil they sat in – yum and ideally mopped up with the fresh crunchy bread provided.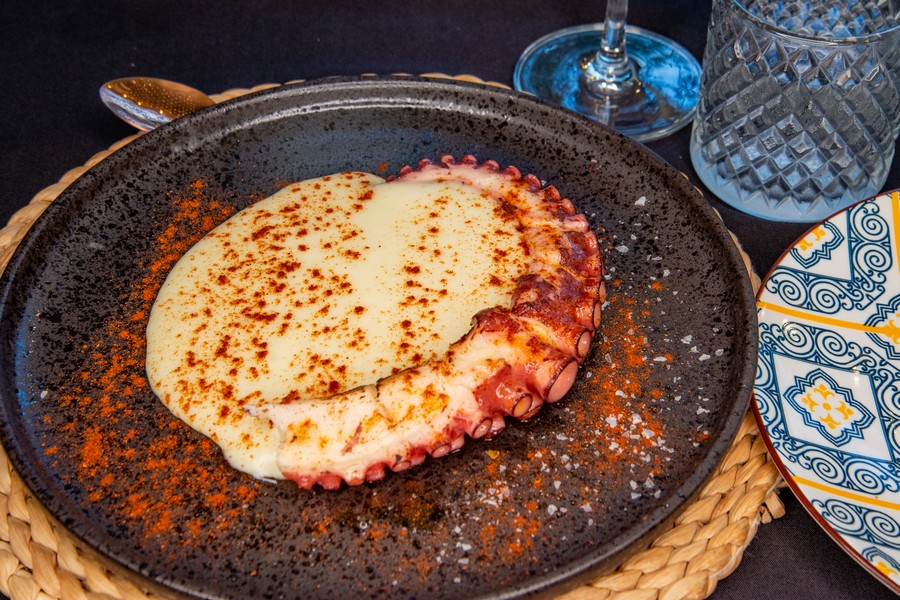 From the specials blackboard, we tried Pulpo a la Gallega, an octopus dish typical of Galicia in Spain's northwest. Little Spain's version is an octopus tendril, cooked respectfully to a nice al dente consistency and served with a deliciously creamy potato mousse. Keeping with the seafood theme, from the menu's main course section was Mussels Marinera. Mussels imported from Spain cooked to Vanessa's father's recipe. Soft and succulent mussels with that tomato, onion, chilli and secret ingredient sauce that just had to be slurped up, with crusty bread in hand.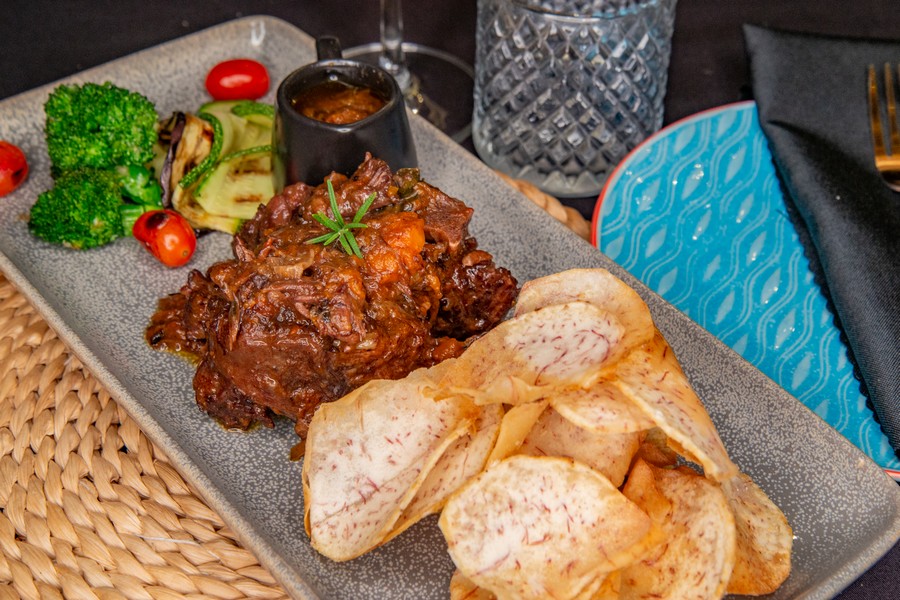 Two Carnes (meat) dishes rounded out our discovery tour of Little Spain's main courses – both from their 'Specials' blackboard menu. First, Rabo de Toro a la Cordobesa. Although eaten throughout the country, especially during the cold months, this slow-cooked oxtail stew originates in Andalusia, traditionally. This is comfort food on a plate, the type a Spanish grandma would make, and family members would make special trips home just so they could have it again.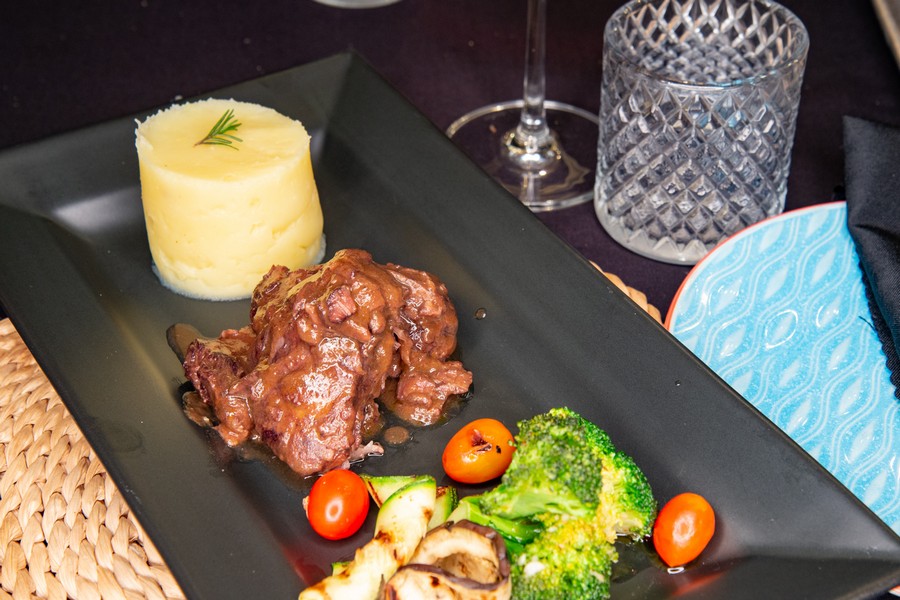 Our other main was Carrillera de Cerdo Iberico or Iberican Pork Cheeks. The distinctive Black Iberian Pigs are native to Portugal and central and southern Spain. Their diet of acorns and elements of the natural forests gives the pork meat a nutty flavour. Little Spain's version has the pork cheeks simmered for four hours and served with potato mash. The rich meat falls apart with a great depth of flavour, scrumptious even!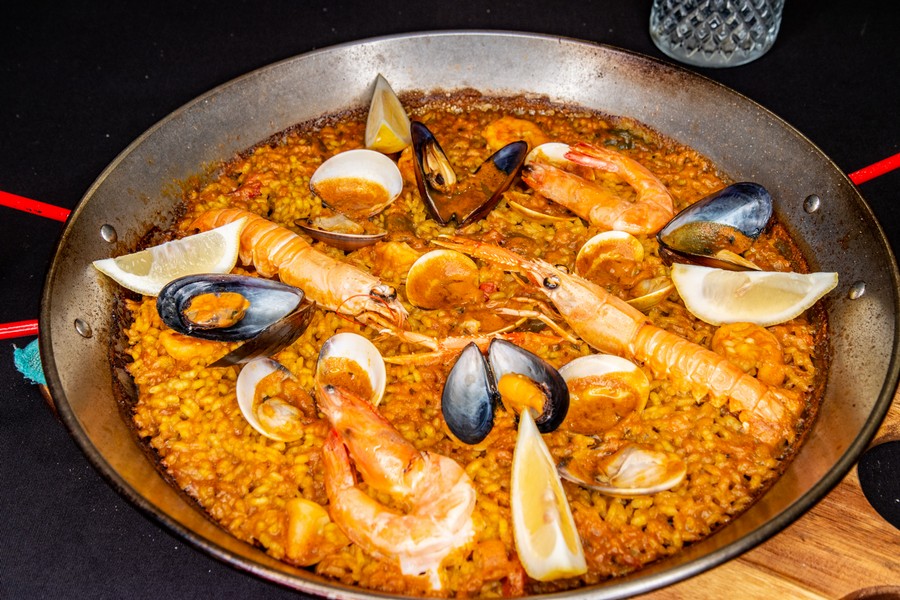 Another popular dish is the Seafood Paella which serves two. Order it if you must, or come again for their paella nights every Tuesday evening. And for a special treat, try one of Menorca's most famous dishes – Caldereta de Langosta – the island's highly revered Lobster Stew. Vanessa's family recipe ensures authenticity.
Little Spain's dessert selection varies, so consult the sweets-specific blackboard menu. Regular favourites include Cream Catalana, Churros con Choc, and Arroz con Leche – a Spanish rice pudding. We sampled and enjoyed each immensely, with the Cream Catalana as the standout for our palates.
Little Spain opens for dinner Tuesday through Sunday and closes Monday. Happy Hour is available between 5:30 to 7:30 pm nightly with a buy one get one offer. They also host a Sunday Brunch for a fixed price for two people, including a set of six tapas, one litre of Sangria, or a bottle of Prosecco. Their Tuesday paella night happens from 5:30 to 7:30 pm, and for a set price includes paella for two plus two tapas from their selection, along with a litre of Sangria. All details are on their Facebook page.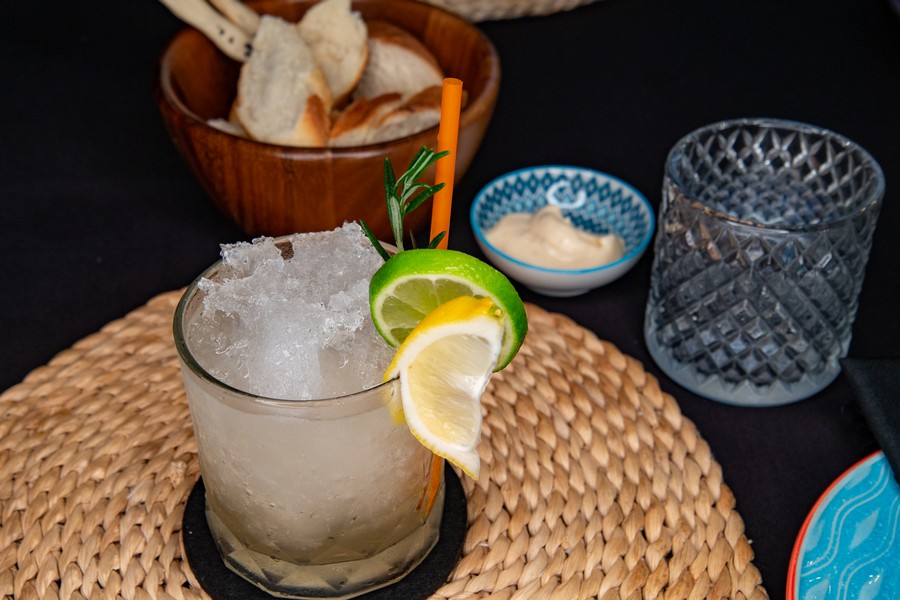 Little Spain has brought traditional Spanish food to Hua Hin and is worth adding to your dining list. We do recommend booking to ensure you reserve your table. Enquiries or reservations can be made at 0808912595, by email to littlespainhuahin@gmail.com or via social media. https://www.facebook.com/littlespainhuahin
Michael Cullen