First established within Raffles Singapore in 1896, the historic Bar & Billiard Room (BBR) has served as the backdrop of many unique Raffles stories. The 124-yearold building started as a club during British colonial rule and continues to
be the social gathering space of choice for travellers and the local community.
The much-loved Bar & Billiard Room continues to evolve. Returning with a new chapter in 2019, though interrupted by the pandemic, OSTERIA BBR by Alain Ducasse reopened its door in August 2021. At OSTERIA BBR, celebrated master chef Ducasse has delved into his decades of culinary exploration and gourmet discoveries from Italy, creating a menu
of modern and energetic Italian dishes with authentic flair.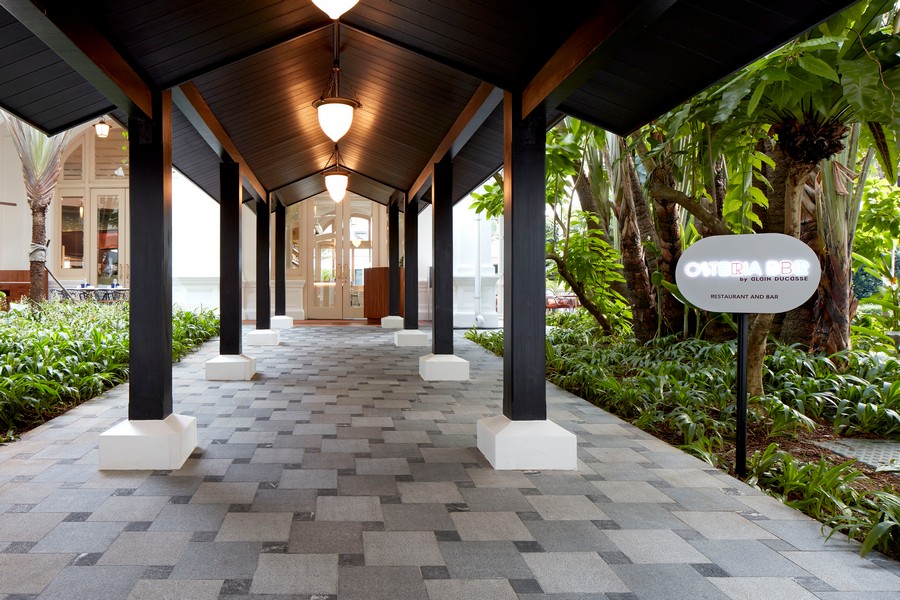 When challenged with designing the restaurant, acclaimed Paris-based firm Jouin Manku created a contemporary setting while retaining striking architectural features like the expansive window, pillars and original floor tiles in honour of the historic Raffles Bar & Billiard Room. Their design has the open kitchen as a prominent feature, with an overarching bronze canopy topped with a striking blue sculpture reminiscent of fish swimming across the sea, extending to the vaulted ceiling.
The dark timber tones are gone, with the bar and open kitchen all bright white, enlivening and opening up the space. Terracotta tones and darker shades of red in the upholstery and seating add splashes of colour, as do the ultramarine blue water glasses adorning each table setting. Enveloped and hidden by the tropical gardens, the alfresco dining terrace facing Beach Road is particularly inviting in the evening.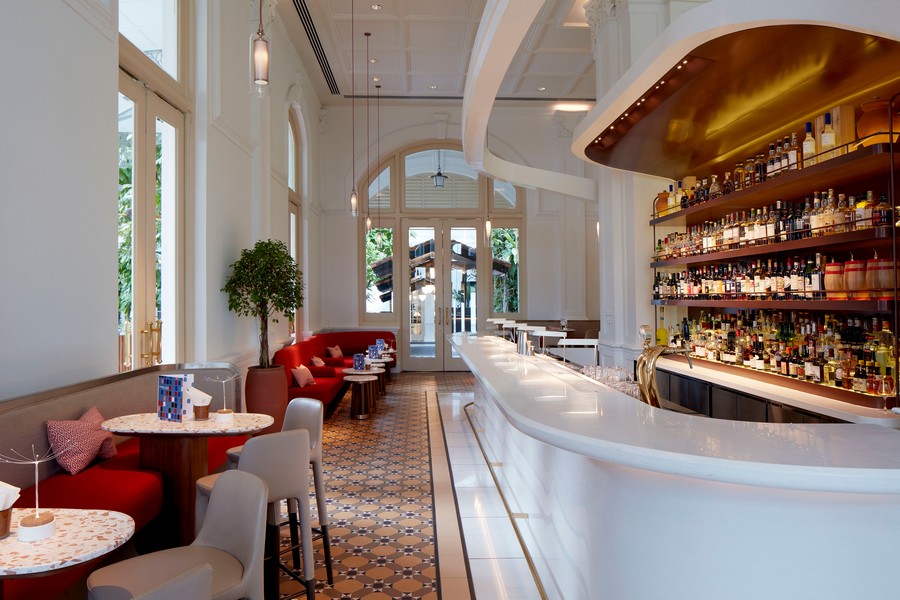 Chef de cuisine Natalino Ambra leads the OSTERIA BBR kitchen brigade. In line with Chef Alain Ducasse's vision, Chef Ambra, originally from Prato in Tuscany, draws on his Italian heritage to take the osteria to the next level. This young Chef's culinary experience includes time at Rosewood's Castiglion del Bosco within the UNESCO-listed Val d'Orcia in the Tuscan wine region of Brunello di Montalcino. He has also worked in Dubai with Arman properties and in Shanghai at the prestigious Ritz-Carlton.
On entering the elegant, lively BBR, I recommend spending a little time in the cosy bar for an aperitivo, cocktail, wine, or, perhaps, sampling the on-tap Birra Menabrea from Italy's Piedmont region. Their Camparitivo Happy Hours on Thursdays to Mondays from 6 to 8 pm, with choices like Campari Spritz, Aperol Sour, and Garibaldi, are a fantastic way to ease into the evening.
Once ensconced at your table or perching at the counter seating encircling the open kitchen, the menu provides choices from ala carte with its produce-driven antipasti dishes, freshly-cooked pasta and risotto, seafood,
grilled meats and wood-fired pizzas.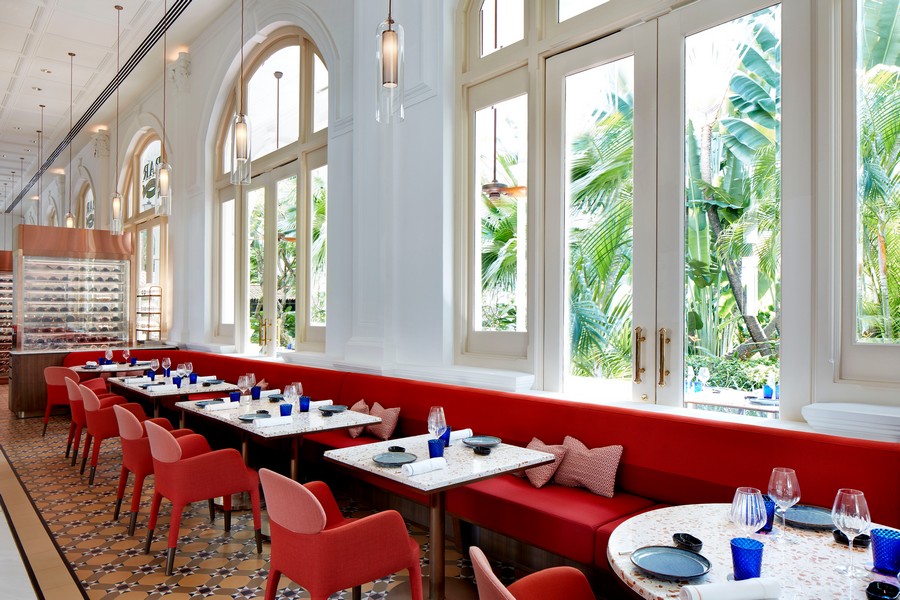 If you are unsure what to select, the curated Tentazioni (Temptation) menu takes you on a handpicked journey of seven signature dishes, with a wine pairing as an additional option. Lunch diners also have the choice of a two or three-course set meal.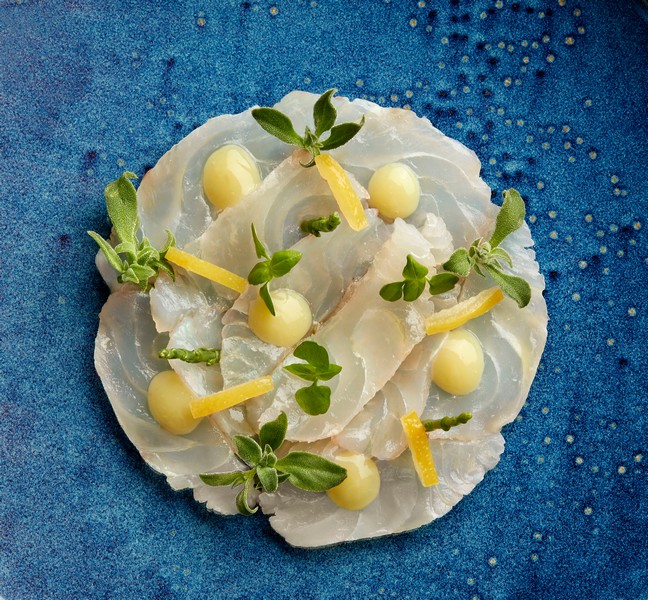 Menus are seasonal though signature antipasti dishes like Marinated Sea Bream enlivened with the famous Amalfi lemons or the Sicilian Mazara del Vallo Red Prawn Tartare and caviar stand out. For pasta, try the Sea Urchin Risotto or Eliche di Gragnano featuring fresh fusilli pasta with juicy Maine lobster. Straight from the wood-fired pizza oven, the Cetara Pizza celebrates the village by the same name on the Amalfi Coast village known as the Land of Anchovies and especially its revered anchovy sauce.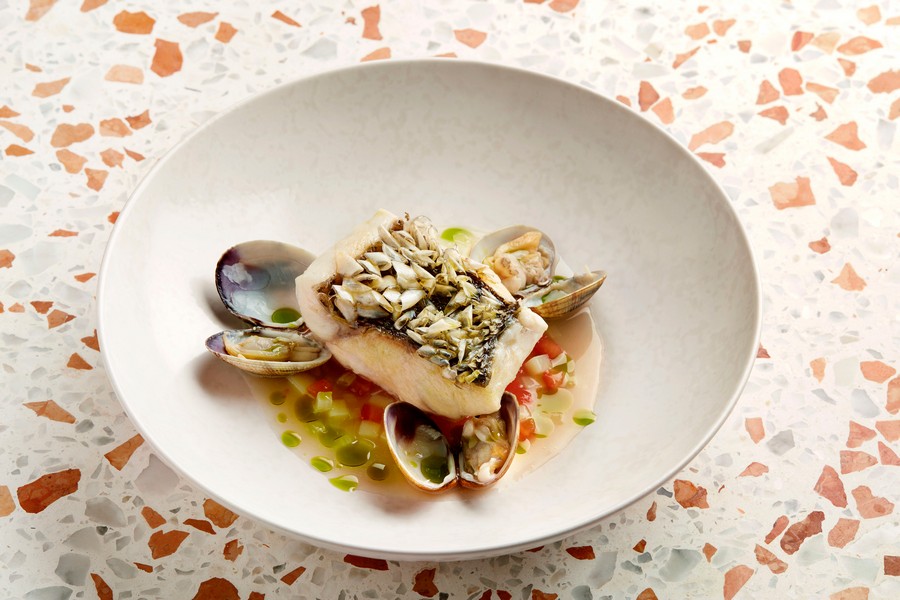 Dishes on the Secondi (second or main plate) that caught our attention include Crazy Water Sea Bass with clams. As did the Rack of Lamb with Artichoke or Chef's Cacioucco-style Fish Soup. A refined take on this classic fish stew, native to the western coastal towns of Tuscany.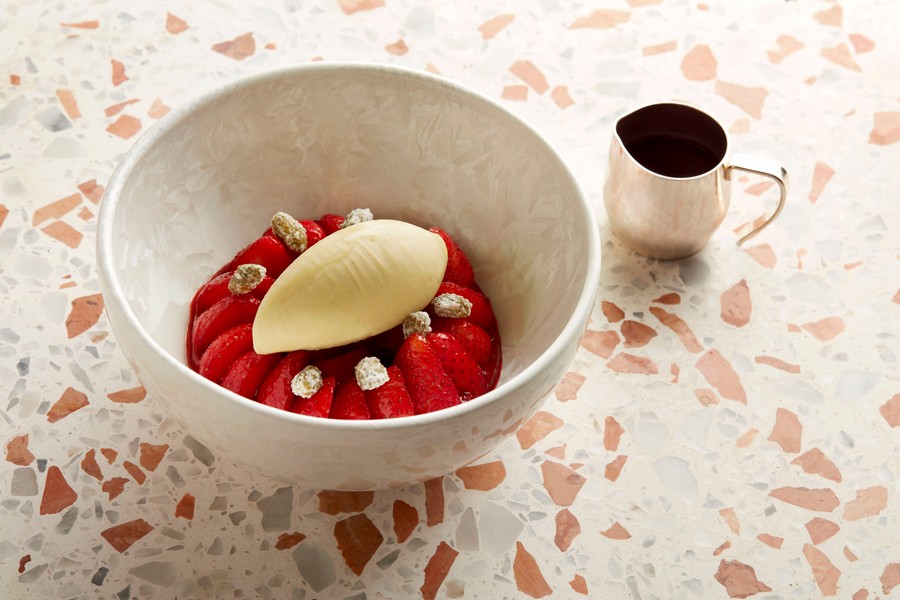 Round off the meal with a selection of classic Italian desserts such as tiramisu and affogato, though I suggest the Fragola e Pistacchio (strawberries with homemade pistachio ice cream). And you cannot pass up one of Chef
Ducasse's most famous dessert creations – Baba al Limoncello Panna Montata (Baba with Limoncello and whipped cream).
Sundays at OSTERIA BBR are all about Brunch with a 120-minute free-flowing epicurean experience featuring delectable Italian pleasures alongside curated Champagne, wines and cocktails. Specialities to savour include fresh oysters, burrata, a fine array of Italian cold cuts and artisanal cheeses, scrambled eggs with sea urchin and caviar, fresh made pasta and lobster. This is indulgent brunch dining. Modern, energetic, vibrant and accessible OSTERIA BBR by Alain Ducasse offers myriad dining and bar experiences on each of its five days of operation. It is a place to meet, exchange and discover. Already thrilling the culinary senses of local residents, it offers an aspirational spot for global travellers when they return to the city.
For reservations or to learn more about OSTERIA BBR by Alain Ducasse at Raffles Singapore, visit www.osteriabbr.com.sg
By Michael Cullen
Photos courtesy of Raffles Hotel Singapore.